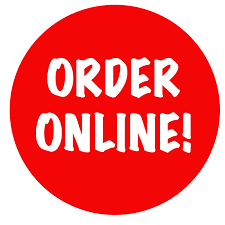 Looking for a great Middle Eastern restaurant? Look no further as Kazbar has it all. From catering to a 200 seater restaurant which includes al fresco and air conditioned spaces, and also offers home and office catering - this restaurant dishes out amazing treats.
I sauntered over to Kazbar on a Wednesday evening about 5pm and watched the different spaces casually fill up. Sipping on a cocktail "From Beirut with Passion" that had fresh cucumber strips, mint, gin and tonic it was entertaining to say the least.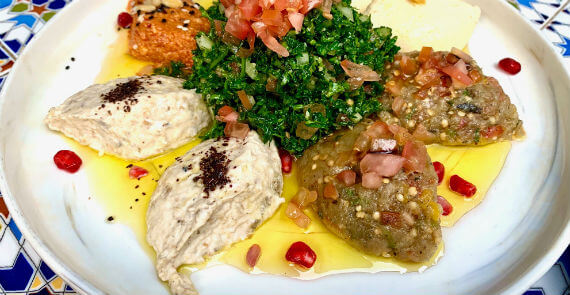 Kazbar Cold Mezzah Platter
From corporate groups after work to families and individuals, people ordered different things. I was savouring the cold mezzeh platter which had a colourful array of homemade dips with pita bread.
I decided to sit outside on a high table with designed tiles, this in itself so beautiful to the visual patrons like me. Lights in brass lamps that hang from the ceiling at the bar, add warmth to Kazbar that makes me want to stay.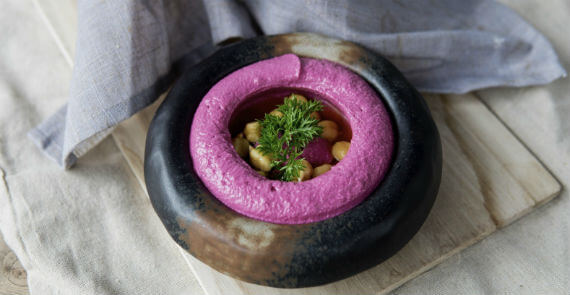 Kazbar Beetroot Hummus
A delightful meal for one if you are looking for a late meal to go with a glass of wine. This was not only healthy, I could taste the top quality olive oil and herbs which are carefully selected and imported directly from the Middle East.
Kazbar has been around for more than 17 years and has two owners - a Lebanese and a Mexican, both of whom know their food ever so well. Creating an ambience of the Middle East with boudoir-type lounge chairs on the inside I decided to have the hot mezzah platter here.
A combination of falafel, cheese and spinach boreks, sambousek and kibbeh this was accompanied with a yoghurt dip. Typically I would have been full from these fried delicacies but interestingly I was not.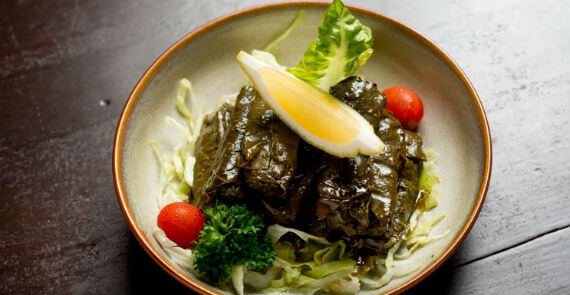 Kazbar Warak Anab Middle eastern herbed rice, tomato, parsley, mint and onion all stuffed in refreshing vine leaves and slowly cooked for 3 whole hours
I gathered it must be the quality of olive oil and ingredients used, that made all the difference. The falafels were crunchy on the outside and soft on the inside. I could have a dozen if I was at Kazbar again.
The best thing about almost everything I had from both platters is that they were vegetarian. I felt Kazbar would be a very easy place to organize a party of 10 or more and I would not have to worry about dietary restrictions. There was something for everyone.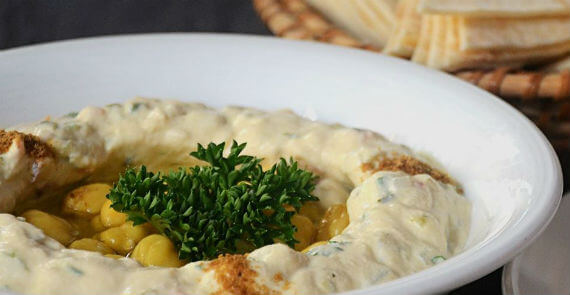 Kazbar hummus beiruti - a delicious variation of our traditional hummus
By the time I had the hot mezzah I decided to try the Lebanese house pour red wine. This was my first try of wine from the Middle East and I really enjoyed it.
Looking at the menu of food options just in the mezzeh department, I felt the menu was so varied and interesting that I would have to come back again to try the other options.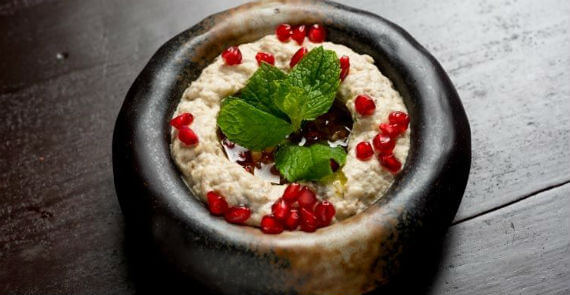 Kazbar char smoked eggplant and tahini, garlic and lemon juice garnished with extra virgin olive oil and pomegranate seeds
While there were wraps in the mains section, I decided to save that for lunch another day and try something from the Kazbar Specials menu. By this time I was yearning for a bit of meat that Middle Eastern restaurants do so well.
The mixed grill platter was my choice as it came with five different varieties of meat. Labelled the "ultimate meat platter" it certainly was! I wish I had a bigger tummy to eat it all but alas, all I could manage was a small piece of each.
Kazbar is famous for their air-flown New Zealand lamb chops. Nothing out of the ordinary you might say but let me tell you this was extraordinaire! Tender to the bite and full of flavor I could tell this meat was marinated for at least 24 hours.
The taste of spices and succulent lamb chops were out of this world. This is a must when you are next at Kazbar. Served with harissa, a spicy dark red condiment this was made doubly delicious.
A sip of wine and I was onto the other meats – shish taouk, shish kebab, lamb and chicken kofta kebabs, all of which were so tasty. Recommended for bigger groups of people as everyone can savour a piece from each meat and order more of what they like.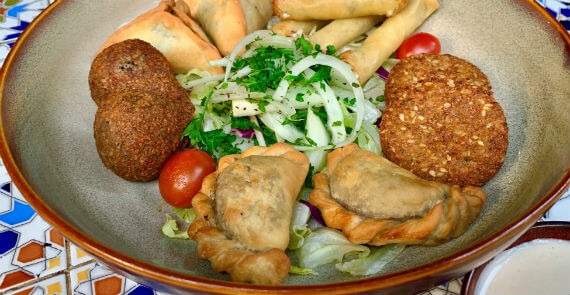 Kazbar Hot Mezzah Platter
Other delights on the menu were seafood, stews and vegetarian meals which I didn't get a chance to try. Definitely a must do on my next visit to Kazbar.
Located in Capital Square in the CBD, this little stunner draws corporate crowds at lunch and in the evenings. Kazbar also does catering for events. I could see myself using their services especially at festive seasons when I am time poor.
For the reasonably priced good portions that I experienced, I would highly recommend this beautiful enclave, if you are ever craving for a Middle Eastern meal.
And even if you feel like a cocktail and snack this is such a super place to be, especially towards year end when the weather is cooler. Sitting al fresco while people-watching is the thing to do.
As the run up to Christmas approaches I know many of us will be looking for catering and dining options. I hope I have placed Kazbar at the top of your mind!
A. Capital Square 3, 25 Church St, Singapore 049482, #01-03