8ASH is the new F&B kid on Ann Siang Hill. A multiconcept modern casual diner, 8ASH is a retro-outfitted 40-seater restaurant that houses three distinct brands under one roof.
Guests can enjoy American and Japanese cuisines under house brands Mirai Burgers , Hoshi Hill and famed fully vegan Love Handle Burgers, in an array of luxe-comfort dishes meant for sharing. Nestled in a cosy nook of Ann Siang Hill - the acronyms forming the namesake of 8ASH - the newly renovated shophouse boasts a tech-driven kitchen on the first floor, with dining space on the second.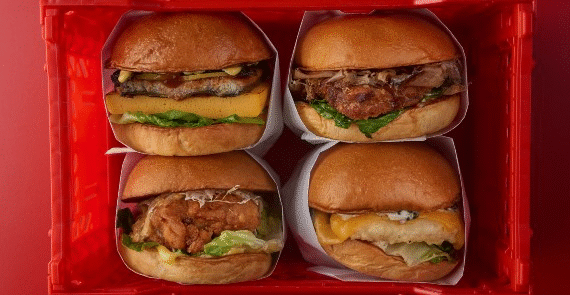 Prior to opening, 8ASH operated solely as a dark kitchen serving the online delivery and takeaway needs of the various brands under the Group. To celebrate their launch, 8ASH will be offering an irresistible promotion! Be the first 150 in the queue on either the 4th, 5th, 11th, or 12th of November from 5-9.30pm and purchase burgers and signature dishes at just $1. Follow 8ASH's social media for more information.
The retro neon-lit dining outfit is helmed by head chef Addis Tan, who has an illustrious background in some of Singapore's most prestigious establishments such as Garibaldi and Ricciotti with over 14 years of experience under his belt and who is an ardent supporter of plant-based fast good food.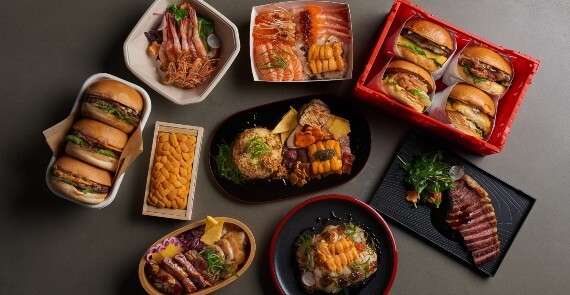 American and Japanese influences are heavily found across the brands, materialising in the form of the food available on the menu. Think iconic burgers and Japanese bowls, remastered with premium ingredients such as caviar and ikura freshly flown in from Hokkaido, where 8ASH gets most of its ingredients from.
Mirai Burgers is the American-Japanese burger concept under 8ASH, offering creations that use classic Japanese flavours and cooking techniques, and showcases them in such as the Ultimate Fish & Caviar Burger ($22) and Yuzu Karaage Burger ($14) - the former of which comprises of hake filet and caviar tartrate enveloped in fluffy brioche, while the latter is fried chicken in yuzu kyosho batter, American slaw and mature cheddar.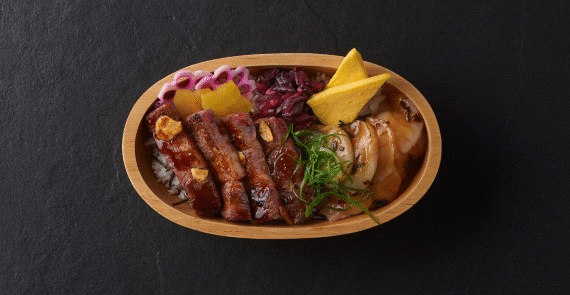 Love Handle Burgers is the other burger concept under the same roof and is fully vegan with a mouth-watering array of burgers made with the award-winning meat substitute Impossible(™) patty. All about sizzling and flavourful plant-based ingredients for everyone's pleasure - vegans and meat-eaters alike can rejoice with the delectable selection of approachable and indulgent options that overturn stereotypes of vegan cuisine. Local flavours are also reinterpreted in the vegan "Ramli" ($15), a perfect choice for fans of the pasar malam food icon, the Ramly Burger.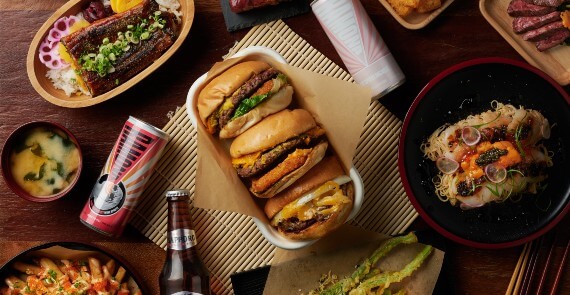 Apart from the burger options, Hoshi Hill is the label that brings to the table casual-luxe Japanese set meals such as their Hokkaido scallop chilled somen ($25), topped with tangy ponzu jelly and ikura. Sharing is caring, and this is exemplified in their Hoshi Wagyu Steak ($18), where friends can tuck into perfectly tender Australian rumpsteak with a marble score of 8 to 9.
To complement the mouth-watering mains, 8ASH also serves up scrumptious sides and bar snacks such as Japanese salad, charred spicy edamame with shichimi, aburi salmon and Hokkaido scallop. Accompanying these savoury morsels is an exciting alcohol selection that includes Lost Coast's Peanut Butter Chocolate Milk Stout and Ramona Sicilian Lemon Spritz. This chic yet cosy space exudes retro-cool vibes and is definitely the perfect Instagram- worthy spot for the modern diner seeking quality indulgent grub.
INFORMATION
a. 8 Ann Siang Hill, Singapore 069788
w. www.8ash.sg
Comments
I rolled in to 8ASH for one of the first days of service and it was exceptional. A diner feel although nothing cheap and nasty whatsoever. The staff are young, vibrant, experiences and all over you with some of the best service I can remember from a joint of this standing. The interiors are well thought out. Downstairs is a multi purpose kitchen which literally takes up the entire bottom floor of the three story shophouse ( level 3 closed for Staff access only). It boasts an open plan kitchen and bar service area - so all diners for dine in or takeaway can see the operations in full swing which adds an air of theatrics to your visit in a world where Live Performance is on hold - 8ASH gives a nudge towards entertaining you with their service, food and hospitality. Food wise there are so many options to choose, there will be something for every taste. The burgers are perfect. Go for a Pork Belly Burger. The bun is not heavy at all but brioche in texture, yet in taste was unique and delicious. Burgers are a mouthful but I could easily take two burgers with my hungry appetite especially as it was Saturday and I did have a slight hangover from the night before and really needed to fuel up. If you are a fan of progressive Javanese dining you are going to LOVE 8ASH. Their Hokkaido Scallops Chilled Somen ($25), topped with tangy ponzu jelly and ikura was just wonderfully refreshing. The serve is massive so make sure you do sharing plates which really is the only way to dine here. But I suggest to stick to your own burger order....they are sooooo good you will not want to share. Bravo. Can't wait to return and dig deeper into the menu next week, and the week after, and the week after.....
Cool and hip new restaurant on Ann Siang Hill. A twist on "Fast Food" - *ASH feels like you are being really naughty but, with vegan burgers and the freshest seafood; your body can still be a temple! Don't worry meat-eaters there are normal burgers too but, I would highly recommend the vegan mushroom burger. You would have no clue it's not meat! Their scallops are also to die for but, be careful when ordering they are really big portions so great for sharing. The decor is along the lines of an American diner, super cutesy booths, Tables and leather chairs in bright bold red, whites and blues, a total change from the norm, loved the whole experience from the staff and their service to the food and beyond. 8ASH has success written all over it. Encouraging to see a new kid on the block in such challenging covid times