Winston Churchill's favourite Champagne was Pol Roger - although your journalist is more fond of Billecart-Salmon. It is claimed that between 1908 and 1945 Churchill had over 40,000 bottles of Champagne opened for him. His daily routine was alleged to have consisted of a large breakfast at 7.30am, a weak whisky and soda at 11am and champagne with his lunch.
As someone who enjoyed so much Champagne, it is perhaps not surprising that he has quotes attributed to him about the drink. One has a touch of Lily Bollinger - who was the head of the Bollinger Champagne business: "Champagne. In success you deserve it and in defeat, you need it."
Fortunately Singapore is inundated with some excellent Champagne brunches, making competition very fierce. As most seasoned readers will know, brunch - a portmanteau of breakfast and lunch - is regularly accompanied by some form of alcoholic beverage served with it - usually champagne. Brunch originated in England in the late 19th century - how typically Victorian! - and became popular in the United States in the 1930s. 
When arriving at the Beach Road Kitchen, the diner is confronted by a formidable buffet. The spread includes an enchanting selection of local and international delicacies - celebrating freshness in its offerings and a wide variety of live stations with chefs in attendance.
The amount of shellfish is overwhelming and it is all beautifully presented. It is all so fresh that I am sure that a couple of the crustacea twitched, but while all prepared to perfection, sadly it was missing the spicy chutney relish usually found at these kinds of offerings. The meats were all, again, cooked perfectly, but as an Englishman, I do expect some sort of hot gravy to go with meat. The cheeses were simply epicurean, as was the anti-pasti.
Amazing Normandy oysters were delectable and were washed down beautifully with a fine Moët Chandon 2012 Extra Brut Grand Vintage - which is showing well, unfurling in the glass with an expressive bouquet of ripe yellow orchard fruit, peaches, toasted nuts, warm bread and honeycomb. 
On the palate, the Moët Chandon 2012 Extra Brut Grand Vintage is medium to full-bodied, broad and fleshy, with a tangy but ripe core of fruit, nicely integrated acids and a pinpoint mousse, concluding with an attractively fruit-driven finish. The 2012 reflects both the concentration of the vintage and Moët's push for riper fruit, and it is already quite accessible.
The lobster thermidor was a little disappointing and would have benefited from not being tepid. And while an attempt at Laksa was appreciated, we are a tough crowd - and it didn't contain enough coconut milk.
The string balloon lady was extremely charming and made those reviewing this fabulous champagne brunch amusing little objects d'art - my son loved his golden crown - as modeled by Expat Choice founder John Gordon.
Unlimited bubbles with fine cheeses, premium roasts and seafood all came in at a very competitive $168++ per person. Sundays from 12 pm to 3 pm. Worth recalling that Churchill also said: "Remember, gentlemen, it's not just France we are fighting for, it's Champagne!"
Posted by Alexander Knight Singapore
What Expat Choice Media Had To Say
Sunday Champagne Brunch at Beach Road Kitchen  Available Sunday, 12pm to 3pm $168++ per person - inclusive of free flow champagne, wines, cocktails & beers.   
There is no better way to spend a Sunday over a bubbly brunch buffet with free flow champagne, wines, cocktails & beer. If you're looking for a brunch with a little bit of something to suit everyone in your party, Beach Road Kitchen is the place to head to, with a glorious Sunday brunch of delights that guests can discover at leisure in a lively and warm atmosphere.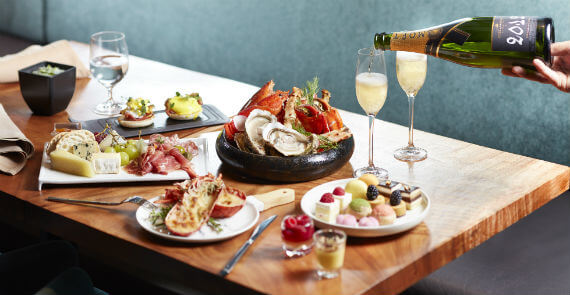 A feast for the senses beckon with over 100 selections highlighted by a Cheese and Charcuterie Station, Seafood on Ice from a temperature controlled Seafood Room, Pizza Oven, Charcoal Grilled-to-order meats, a spread of Local Favorites and a dazzling array of Dessert Showcase.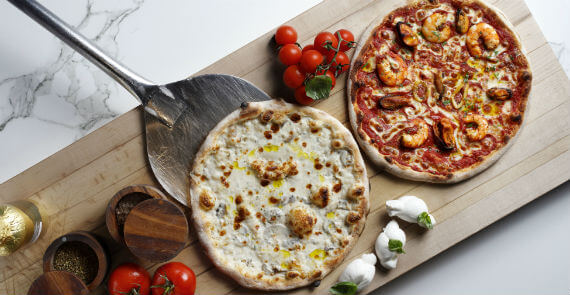 The culinary offerings guarantee to appeal to different whims and fancies. Seafood lovers will especially enjoy the wide spread of seafood offerings in the chilled seafood room and charcoal grill.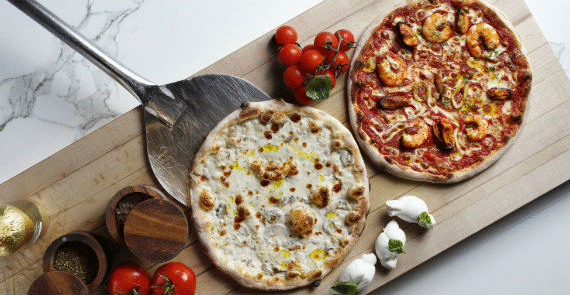 Options are a plenty - imported oysters shucked fresh to order, chilled shellfish like crab, lobster and crayfish on ice, even fresh whole fish like seabass, snapper and other seafood delights like scallops on the half shell, and tiger prawns, barbecued over the charcoal grill to perfection for your enjoyment.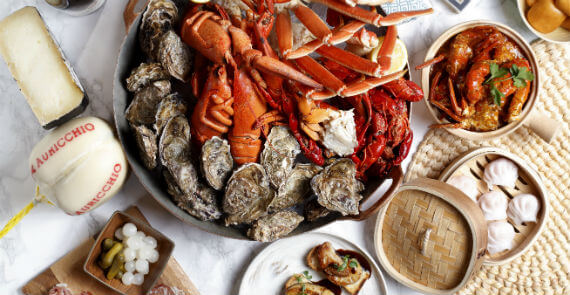 Brunch classics lover will be delighted with the Eggs Benedicts selection of salmon, ham, and more.  
 
New specials taking centrestage this season include Lobster Thermindor with generous chunks of lobster meat, egg yolks, brandy and mushrooms that are stuffed into a lobster shell, drizzled with cheese and baked to perfection.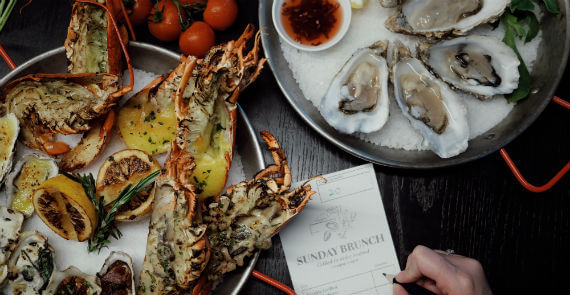 Meat lovers can indulge in carvings from Roasted Whole Spring Lamb (which uses a special breed of lamb from New Zealand famed for its delicate flavour), Roasted Tomahawk making their debut at Beach Road Kitchen's oven-baked section.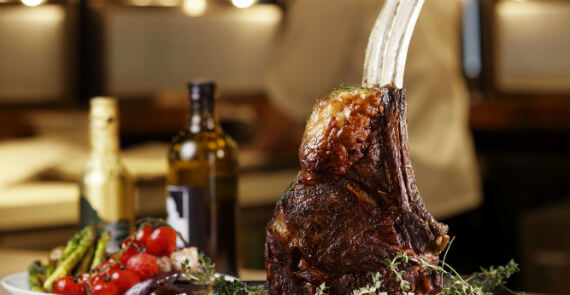 While you are enjoying your brunch, keep a look out too for our Chef's Pass-Arounds, sampling plates of off-the-menu dishes not available on the buffet, prepared off-the-cuff in small batches by our chefs. Entirely based on their creativity and the ingredients available, guests can expect different surprises, such as the Truffle Mushroom Pizza.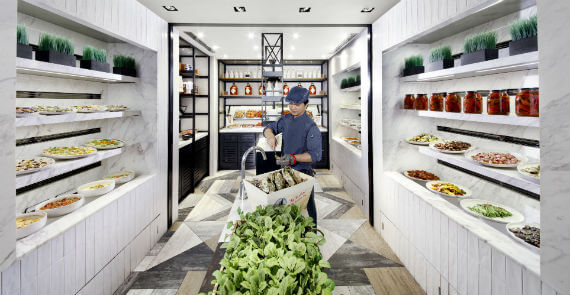 Ladies with a sweet tooth will be especially pleased with Beach Road Kitchen's dedicated dessert section with its impressive array of western pastries and cakes, Asian-style desserts, local nonya kueh, and a live station for fresh waffles and crepes served with a variety of sauces, sweet condiments and ice cream.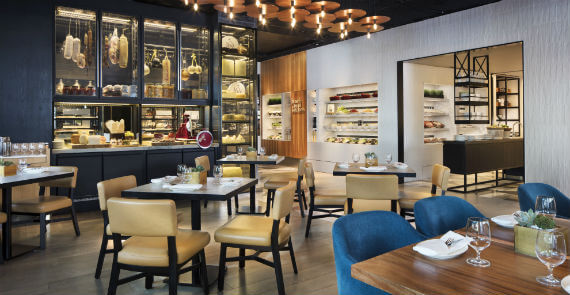 Kids too will be especially thrilled with our candy wall display, featuring a selection of sweets, gummies and marshmallow that  they can help themselves to. If that is not enough to keep them occupied, Beach Road Kitchen's Sunday Brunch also includes a kids activity corner, where the young ones can  enjoy guided activities such as cupcake decorating and pizza making while the parents enjoy their brunch.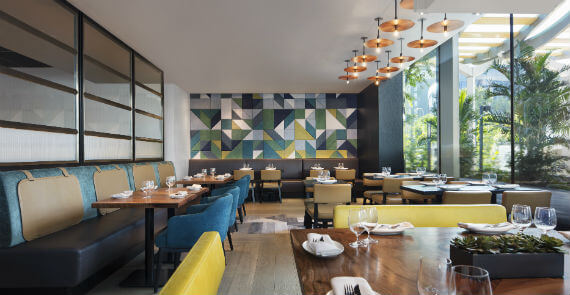 For those who enjoy their brunches boozy, don't miss Beach Road Kitchen's free flow Moet Grand Vintage 2012. If bubbly is not your choice of tipple, look out for the Sunday Brunch Mobile Bar as it makes its rounds offering a choice of three brunch cocktails, either by the glass, or free-flow, if you want to make your brunch truly indulgent. After all, what brunch experience is complete without some drinks to keep the conversation flowing?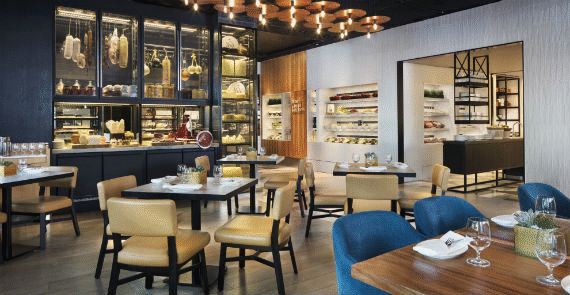 The restaurant interiors evokes a warm and welcoming atmosphere, immediately setting the mood with modern interior design that combines natural elements like wood, metal and stone into the sitting and serving areas. The floor to ceiling glass windows also add to the relaxed atmosphere, letting in lots of natural daylight during the breakfast and brunch hours. 
For more information or enquiries, contact [email protected]

Comments
Same same but definitely different, Beach Road Kitchen is a boutique offering of the usual buffet brunch. A Sunday Brunch that is well thought out, Beach Road Kitchen impresses with their selection and presentation of buffet favourites. A warm welcome, a seamless walkthrough and introduction to Beach Road Kitchen greeted me on arrival. Check. The tone was set for what was to be a very pleasant Sunday brunch. I lie, it was amazing. Presentation of Buffet - tactile use of space. And what a beautiful presentation of the different stations. Of particular highlight - the temperature controlled cold room with alcoves for items such as the cheese, charcuterie, Japanese cold noodles, Fine de Clair oysters, sushi, sashimi that were all so beautifully plated. The space is really well-designed for an enjoyable, leisurely browse-through. The Food is Excellent Seafood and shellfish lovers, you have to check out their seafood station. Fresh and of high quality, the different types of crab, alaskan crab included, lobster, prawns, clams and mussels beautifully arranged on crushed ice definitely makes this station my favourite stop. Carving station I really couldn't fault the meat section either, not with Beef Tomahawk, lamb biryani, ribs, lamb chops and a salt baked fish calling out to me. Overall, a very well-balanced, well-represented array of food items that will have you eating for hours. I particularly love the mix of unique local, Asian and international food items. The laksa was delicious, the Peranakan desserts were aplenty, the chili crab was sweet and savoury as expected. I even found some really unusual items such as Vietnamese pork terrine, Japanese cold noodles with choice of marinated clams and chilled tofu with century egg. Beach Road Kitchen is definitely not your usual run-of-the-mill Sunday brunch, it is a boutique version of a buffet which ticks the boxes for quality, variety and ambiance. I'll definitely be back.
Could this be the best Champagne Brunch in Singapore? Winston Churchill's favourite Champagne was Pol Roger - although your journalist is more fond of Billecart-Salmon. It is claimed that between 1908 and 1945 Churchill had over 40,000 bottles of Champagne opened for him. His daily routine was alleged to have consisted of a large breakfast at 7.30am, a weak whisky and soda at 11am and champagne with his lunch. As someone who enjoyed so much Champagne, it is perhaps not surprising that he has quotes attributed to him about the drink. One has a touch of Lily Bollinger - who was the head of the Bollinger Champagne business: "Champagne. In success you deserve it and in defeat, you need it." Fortunately Singapore is inundated with some excellent Champagne brunches, making competition very fierce. As most seasoned readers will know, brunch - a portmanteau of breakfast and lunch - is regularly accompanied by some form of alcoholic beverage served with it - usually champagne. Brunch originated in England in the late 19th century - how typically Victorian! - and became popular in the United States in the 1930s. When arriving at the Beach Road Kitchen, the diner is confronted by a formidable buffet. The spread includes an enchanting selection of local and international delicacies - celebrating freshness in its offerings and a wide variety of live stations with chefs in attendance. The amount of shellfish is overwhelming and it is all beautifully presented. It is all so fresh that I am sure that a couple of the crustacea twitched, but while all prepared to perfection, sadly it was missing the spicy chutney relish usually found at these kinds of offerings. The meats were all, again, cooked perfectly, but as an Englishman, I do expect some sort of hot gravy to go with meat. The cheeses were simply epicurean, as was the anti-pasti. Amazing Normandy oysters were delectable and were washed down beautifully with a fine Moët Chandon 2012 Extra Brut Grand Vintage - which is showing well, unfurling in the glass with an expressive bouquet of ripe yellow orchard fruit, peaches, toasted nuts, warm bread and honeycomb. On the palate, the Moët Chandon 2012 Extra Brut Grand Vintage is medium to full-bodied, broad and fleshy, with a tangy but ripe core of fruit, nicely integrated acids and a pinpoint mousse, concluding with an attractively fruit-driven finish. The 2012 reflects both the concentration of the vintage and Moët's push for riper fruit, and it is already quite accessible. The lobster thermidor was a little disappointing and would have benefited from not being tepid. And while an attempt at Laksa was appreciated, we are a tough crowd - and it didn't contain enough coconut milk. The string balloon lady was extremely charming and made those reviewing this fabulous champagne brunch amusing little objects d'art - my son loved his golden crown - as modeled by Expat Choice founder John Gordon. Unlimited bubbles with fine cheeses, premium roasts and seafood all came in at a very competitive $168++ per person. Sundays from 12 pm to 3 pm. Worth recalling that Churchill also said: "Remember, gentlemen, it's not just France we are fighting for, it's Champagne!"