Gourmet burger joint Burger Frites opens its first outlet at the heart of Joo Chiat Road, boasting a finger-licking selection of the best classic steak burgers in the East
Combine the makings of a French chef with decades worth of culinary experience and an avid passion for food and people and what do you get?
The recipe for the perfect burger joint, of course. A spin-off from his first steakhouse success in 2015, Burger Frites aims to replicate the same dedication to the classics by bringing back the good old American burger on a silver platter.
True to its motto of "Quality Food, Quality of Life", Burger Frites promises an uncompromising commitment to quality ingredients. With an acute eye for detail and a nostalgic desire to retain the authentic, Burger Frites honours century-old traditions of burger-making. Sourcing the best U.S. Angus beef patties from butchery and bread from bakery to ensure quality and freshness, Burger Frites also offers their homemade sauces for an added personal touch.
Established in 2019, Burger Frites was inspired by Founder Alexandre Pini's avid passion for food and his love for steak.
A spin-off from his first steakhouse success in Singapore, Alex seeks to replicate the same dedication to quality and value for money at a faster speed. The name "Burger Frites" itself epitomises the perfect blend between the French and the English classics.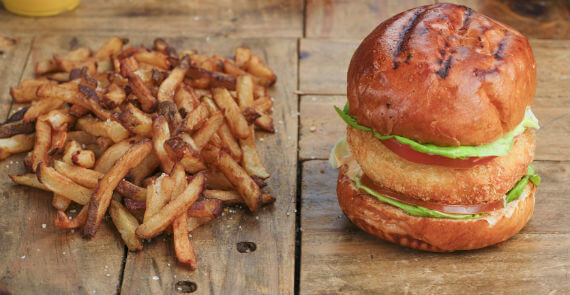 Captivated by a sense of global community experienced during his earlier travel stint, Alex aims to encapsulate the same cultural diversity in the inspiration of his latest endeavour. The gourmet burger joint offers a kids' menu and play area where families can come together and there is something for everyone.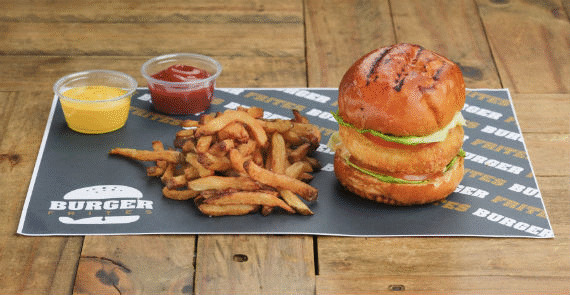 While sinking one's teeth into the handheld gourmet burger, the soothing teal colours, leather-covered seats and warm lighting of the humble eatery adds a taste of modernity to the traditional gastronomic experience.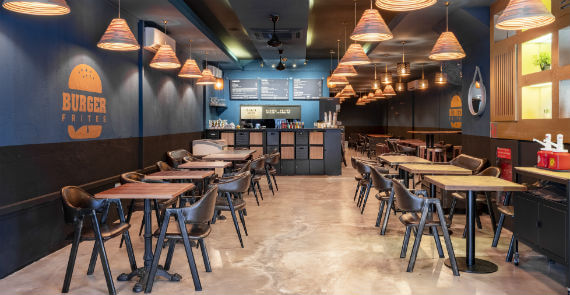 In his constant search for new ideas and innovative methods to create new foods, Alex seeks to refine the classic burger and fries duo with his own twist.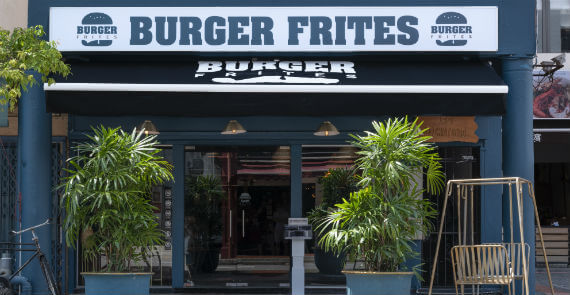 With an acute eye for detail and a nostalgic desire to retain the authentic, Burger Frites honours century-old traditions of burger-making, serving only the best farm-raised beef and hand-crafted French fries, one potato strip a time – the perfect fusion of the traditional and the new for the young at heart.  
 
Artisanal buns from bakery, 180G premium quality Angus patties from butchery & cooked flame-grilled, fresh vegetables, homemade French fries cut in house & double-fried. This is how Burger Frites do burgers.  
Comments
If you are looking for a burger in the East then Burger Frites is the place for you. Designed with soft shades and counter service, it is sparsely decorated. The space gives patrons the sense of a restaurant rather than a fast-food type joint. Burgers at Burger Frites are gourmet. With just 3 patties to choose from – beef, chicken or brie that is the first step in ordering your burger. Then decide on the burger bun – just burger, or with cheese, or with bacon and the last option for very hungry appetites, the cheese and bacon. For those who have an even healthier appetite one could go for the "double your patty" option. Gluten free buns are also available for those who need it at a surcharge of $3. In the main all burgers at Burger Frites cost between $16 to $19 if you don't add anything on. Quite well priced I'd say for a prime location on Joo Chiat Road, an eating enclave in the East. Frites are served in a cup and strewn on a tray so there is plenty for patrons to eat. You will never leave hungry at Burger Frites. Should you choose to have your frites with sauce there are a few to choose from – creamy pepper, chipotle mayo, smokey BBQ, ketchup, mustard and chilli. I had the 180 gram juicy Angus beef burger imported from Australia. I can't believe I scoffed the whole thing down so easily as I usually have trouble finishing a 120 gram steak. It must have been the ketchup and mustard sauces that added to the juices of the medium grilled patty. I would recommend you order this burger as it was really moist and juicy. There is no other way to eat a burger at Burger Frites than with your hands. With sauce running down my fingers I had the full experience of devouring this gourmet burger finger licking style. If in a large group there are snacks that you could order at Burger Frites. Crispy chicken drumsticks, mozzarella sticks, Jalapeno cream cheese balls and chicken tenders are up for grabs. For healthier patrons, Burger Frites also serves a mixed salad. On the dessert menu are chocolate brownies with pecans and cookies with mixed nuts. Devilish and delicious. A great way to end the meal after a very large burger at Burger Frites. If you have kids in tow there are kids burgers and nuggets both with fries. But what is exciting are the fruit popsicles / ice creams that are formulated in Italy and crafted in Singapore. Something for everyone it would seem. So gather your friends and family if you are in the East and wanting to try Burger Frites which only opened 2 months ago and is seeing it's steady stream of patrons. You could easily make it your local hangout.
How good is this Burger joint on the East Coast.
Alexandre Pini, Founder of Burger Frites Born and raised in France, Alex cuts an imposing figure in the kitchen, even when he is not cooking. With an avid passion for food and people, Alex's introduction to the world of culinary arts began at an early age. His plans as an engineer was eclipsed by his desire to make a mark and start his own F&B business. Deciding on a different career path, Alex embarked on a one-year long travel stint after his graduation, where he travelled across cities from Brazil to Hong Kong to find the perfect place to build his culinary career. With a driven entrepreneurial mind and an unbending intent on perfecting his craft, Alex worked hard as an apprentice in renowned restaurants across cities to hone his skills and learn the ropes. Combined with his engineering background, Alex's acute business sense equipped him with the relevant skills and knowledge to break down and master the nitty gritty details of F&B operations, from the kitchen to the shop front. During this time, Alex also volunteered in San Francisco as a member of the French Chamber of Commerce.