After a string of wine and whiskey fairs over the past few weeks, let's put the spotlight on beer Yes, Craft beers to be exact.
Singapore has seen a growing presence of unique craft expressions from all over the world, encompassing flavoured beer, IPAs, ciders and more. Just like any liquor, beer can be far more complex in flavour than their mass-market counterparts.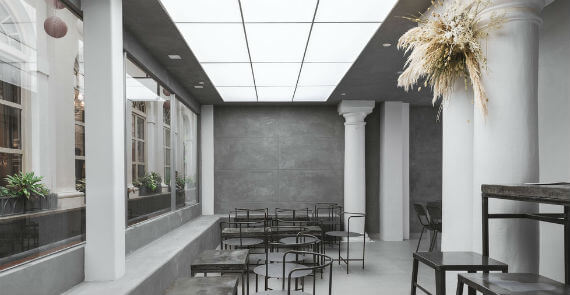 Photo credit: Almost Famous
Almost Famous serves up local and international brews in a sleek, monochromatic space offering Pints at $14-$16. Despite the seemingly simplistic interior design, meticulous attention is paid to every minute detail, from furniture design to tableware, menu boards, and even the coasters. You will engage with 16 taps of rotating beers, including those from Pasteur Street Brewing Company (Vietnam), Brewlander & Co. (Singapore),  Stone & Wood Brewing Co. (Australia) and BrewDog (Scotland), and Young Master Brewery (Hong Kong). There is also a dedicated tap pouring Pilsner Urquell (Czech Republic). If beer isn't your thing, there's a small selection of house wines ($10) and the bar snacks are great, which include Chicken & Waffles ($14), a deconstructed take on the Southern classic,  bite-sized Onion Churros ($10) with sweet and spicy dip, Tom Yum Gyoza ($10), and the delicious Encierro Garlic Wings ($27), fried in garlic aeoli. contact and location Located at Chijmes, 30 Victoria St, #01-06 187996, +65 9772 1787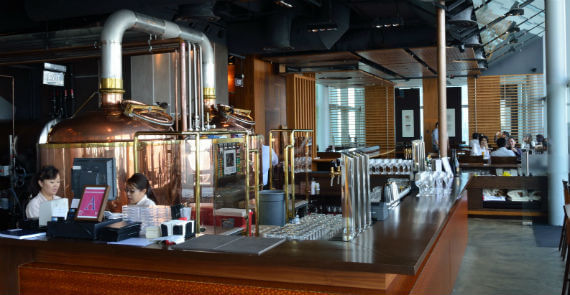 Photo credit: LeVel 33
LeVeL33, the World's Highest Urban Craft-brewery is a concept which presents an unparalleled dining experience complete with one of the best views of Singapore's Marina Bay and city skyline. Residing in the penthouse of Asia's best business address™, the Marina Bay Financial Centre (MBFC), LeVeL33 is the epitome of urban penthouse dining. contact and location. Located at MBFC Tower 1, 8 Marina Boulevard, #33-01 018981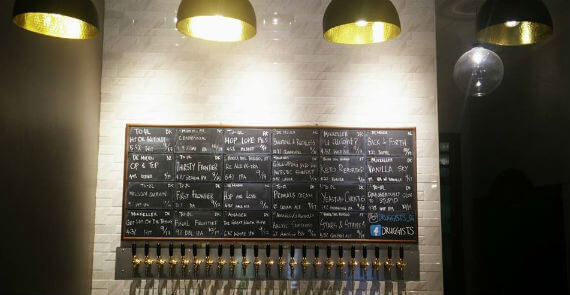 Photo Credit: Druggists
The beers are a little on the pricey side, which makes sense considering many of the beers are sourced from small batch brewers as far away as the Europe and the US. The atmosphere is pretty chilled and the interiors somewhat minimalist. Druggists is a 5 minute's walk from Lavender MRT station. Get on to Horne Road and walk towards Jalan Besar Sports Stadium. You'll reach a T-junction, turn left and we're just few doors down. contact and location Located at 119 Tyrwhitt Rd 207547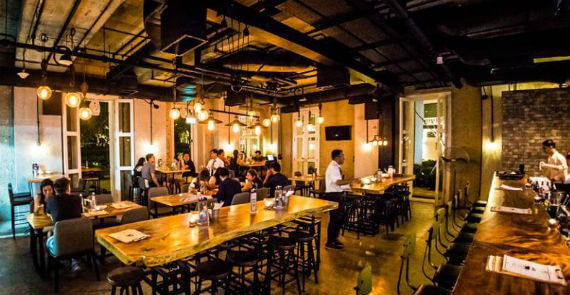 What used to be an actual military armoury is now a trendy watering hole for the hip after-office crowd at South Beach Towers. Set amidst the bustle of Beach Road, The Armoury stands out as a lively gastro bar and a destination for exotic craft beers. Revel in the hearty array of western cuisine, ranging from our spread of charcoal-grilled fare to our burgers that surprise with an Asian-inspired twist. Unwind with a range of international craft beers and refreshing beer margaritas. contact and location Located at 36 Beach Rd 189677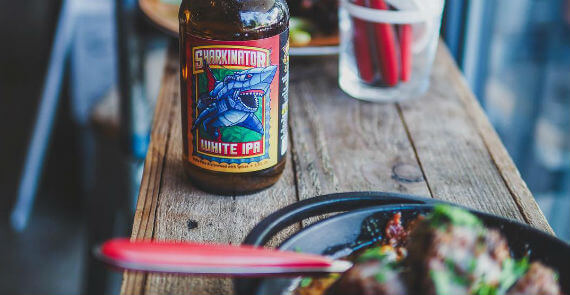 Photo credit: Nickeldime Drafthouse
Rarely do you have neighbourhood joints as cool as Nickeldime Drafthouse, so if you live in Novena, consider yourself lucky. The bar serves up 19 different beers on tap, sourced from Asia to America, and a dizzying array of bottles. To supplement your session, they've got satisfyingly greasy grub like burgers, garlic fries and their signature sourdough pizzas, as well as live soccer matches televised for ardent fans out there. contact and location Located at #Novena Regency, 275 Thomson Road, #01-01 307645, +65 6265 5118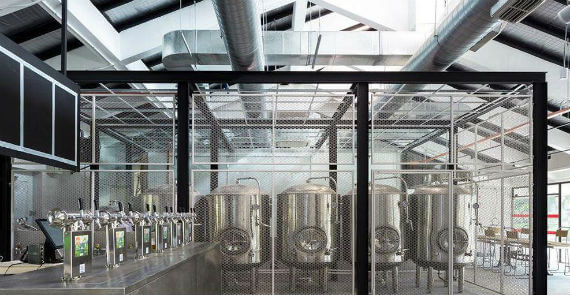 Photo Credit: Little Island Brewing Co.
Based in coastal Changi Village, Little Island Brewing Co (LIBC) crafts beer that is authentic, down to earth and delicious and houses the micro-brewery, bar, kitchen, restaurant and alfresco area. Enjoy top-notch slow-cooked roasted meat that will elevate the dining experience to another level - the beer belly pork is marinated in coffee, chilli and cumin and is served with salsa verde, while the 15-hour smoked beef brisket comes with Memphis slaw, horseradish dressing and chimichurri sauce. contact and location Located at Blk 6 Changi Village, #01-01 509907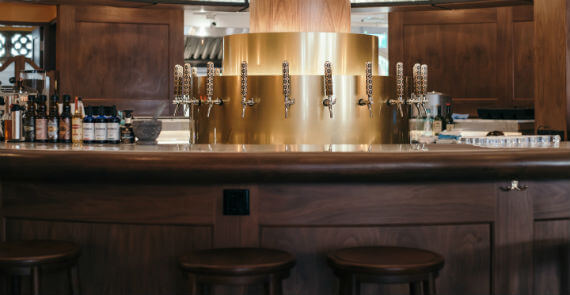 Photo credit: The Guild
A collaboration between Hong Kong's Young Master Brewery and Chef Vinny Lauria, The Guild is a restaurant and bar focused on thoughtfully handcrafted offerings, from culinary to craft beer, delivered with old fashioned hospitality and warmth. Housed at 55 Keong Saik Road, The Guild serves up comfort food highlighting locally sourced ingredients and an extensive drinks menu that includes 19 different taps of independent craft beer, natural wines and cocktails based on small batch spirits. contact and location details Located at 55 Keong Saik Road, #01-01 089158, +65 9042 3900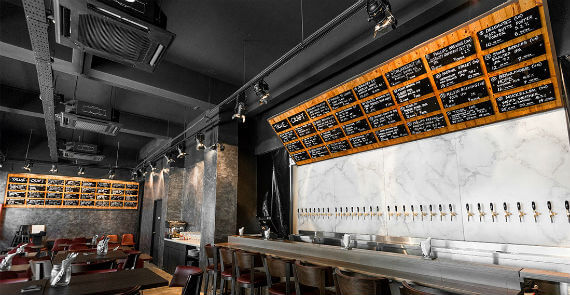 American Taproom started with a simple idea for something good, to offer the largest selection of craft beers on tap in Singapore and pair it with American comfort food.  You will be introduced to some of the most interesting beers available from around the world, and you can rest assured, the kitchen churns out the highest quality American bar food, using only fresh premium produce. With 30 active taps on a spritely rotation, one can confidently say, "There is no place like American Taproom in Singapore!"  contact and location details. Located at 61 Waterloo Street, 01-23 180261, +65 9632 1570
Comments
Orh Gao Taproom is another interesting mention. In a country where having a beer in the kopitiam counts as a part of national culture, it's no wonder we have waves of craft beer bars parked in prominent coffee shops around the island. Orh Gao Taproom is one such beer post parked in the heart of Botanic Gardens. Known as Killiney Kopitiam by day, the whole space becomes a taproom come 4pm. No kopi kettles will be in sight. Instead, you have a bar serving up ten different beers on tap, which rotates seasonally, alongside a lengthy selection of bottled brews from craft producers around the globe. To add to the appeal, Orh Gao Taproom also serves Asian-style bar bites like har cheong kai chicken wings to line your stomach as you plough through some pints.