According to World's 50 Best, the restaurant community in Asia requested that the rankings go on "to shine some positive light into the darkness"- and Singapore snags 7 of the 50 Best in Asia.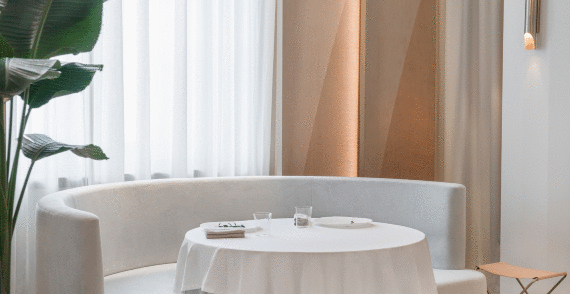 Odette is No. 1 on the list of Asia's Best Restaurants. Odette [official]
On Tuesday 24 March 2020, the restaurant ranking group behind the World's 50 Best Restaurants list released its annual list of Asia's 50 Best Restaurants. For the second year running, Singapore restaurant Odette took the No. 1 spot during a virtual announcement that replaced the usual awards ceremony.
The Asia's 50 Best Restaurants ceremony, originally planned for a gala event in Saga prefecture in Japan, was canceled in late February due to the spread of COVID-19. In a "message of unity," World's 50 Best content director William Drew explained the decision not to cancel the rankings altogether: "We believe that restaurants and chefs in Asia not only deserve recognition, but also need our support right now. Furthermore, the gastronomic community in Asia has specifically asked that we proceed with this edition of the list, albeit in a very different form to usual, in a bid to shine some positive light into the darkness."
The World's 50 Best Restaurants organization has also compiled a list of ways to help restaurants in the wake of the pandemic and is aiming to stay connected to what's happening to restaurants now via a survey, even as it presses on with restaurant rankings.
Here, the full list of Asia's 50 Best Restaurants:
2. The Chairman, Hong Kong
3. Den, Tokyo
4. Belon, Hong Kong
5. Burnt Ends, Singapore
6. Suhring, Bangkok
7. Florilege, Tokyo
8. Le Du, Bangkok
9. Narisawa, Tokyo
10. La Cime, Osaka
11. Les Amis, Singapore
12. Vea, Hong Kong
13. Indian Accent, New Delhi
14. Mingles, Seoul
15. Gaa, Bangkok
16. Sorn, Bangkok
17. Il Ristorante Luca Fantin, Tokyo
18. Mume, Taipei
19. Neighborhood, Hong Kong
20. Fu He Hui, Shanghai
21. Jaan by Kirk Westaway, Singapore
22. Wing Lei Palace, Macau
23. Sichuan Moon, Macau
24. Nihonryori Ryugin, Tokyo
25. Seventh Son, Hong Kong
26. JL Studio, Taichung
27. Toctoc, Seou
28. Zen, Singapore
29. Sazenka, Tokyo
30. Ministry of Crab, Colombo
31. Amber, Hong Kong
32. 8 1/2 Otto e Mezzo Bombana, Hong Kong
33. Lung King Heen, Hong Kong
34. Hansikganggan, Seoul
35. Ode, Tokyo
36. Raw, Taipei
37. Locavore, Bali
38. Paste, Bangkok
39. Bo.lan, Bangkok
40. La Maison de la Nature Goh, Fukuoka
41. Ultraviolet by Paul Pairet, Shanghai
42. Corner House, Singapore
43. Shoun RyuGin, Taipei
44. Toyo Eatery, Manila
45. Bukhara, New Delhi
46. Sushi Saito, Tokyo
47. 80/20, Bangkok
48. L'Effervescence, Tokyo
49. Inua, Tokyo
50. Nouri, Singapore
Asia's 50 Best Restaurants 2020 [Official]
Comments
Calling the global gastronomic community: let's stand together, stay connected and help each other : Author - William Drew - 20/03/2020 "With the food and drink world experiencing the unprecedented impact of the international pandemic, 50 Best's Director of Content shares a message of unity Solidarity and support. This is what we can offer to each other in these uniquely difficult times. As Covid-19 takes a stranglehold on all our businesses, routines and ways of life, it reminds us to focus on what really matters. Every day we are speaking to chefs, bartenders and customers who tell us new stories of hardship. And with each person we speak to, our resolve grows: in times of crisis, we need to use the strength of our network to help others." READ The Full Message here: https://www.theworlds50best.com/stories/News/a-message-to-the-global-hospitality-community-from-50-best.html