The Broadway sensation Aladdin will make its Singapore premiere at Marina Bay Sands, with performances beginning on July 21, 2019.
This English-language production will play its first and only Asian stop at Sands Theatre. Boasting the most lavish sets and spectacular costumes ever to be seen on the Sands Theatre stage, this production is not to be missed.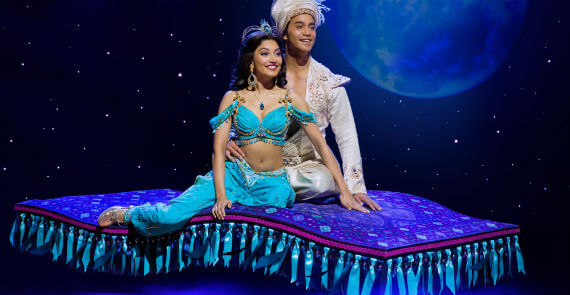 Based on the Academy Award®- winning animated film, Aladdin made its world premiere to critical acclaim at Broadway's New Amsterdam Theatre on March 20th, 2014.
It quickly established itself as one of the biggest new blockbusters in recent years, breaking 14 New Amsterdam Theatre house records and welcoming close to 10 million people worldwide.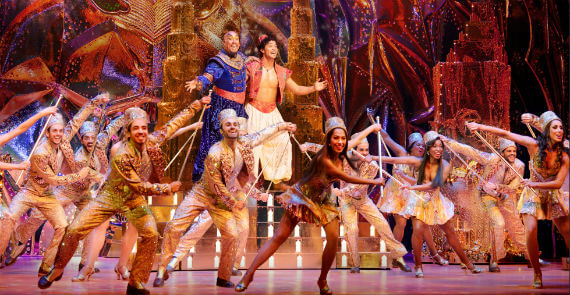 This spectacular production boasts a cast of 34 and a staggering 337 glittering costumes, which feature 1,225 different fabrics, 712 different styles of beads and almost 500,000 Swarovski crystals. 40 tonnes of exotic flying scenery and 60 tonnes of automation and staging will be transferred to Singapore in more than 30, 40' sea containers to recreate the fantasy city of Agrabah including the colourful marketplace, the lush palace of the Sultan and his princess daughter Jasmine and the legendary Cave of Wonders.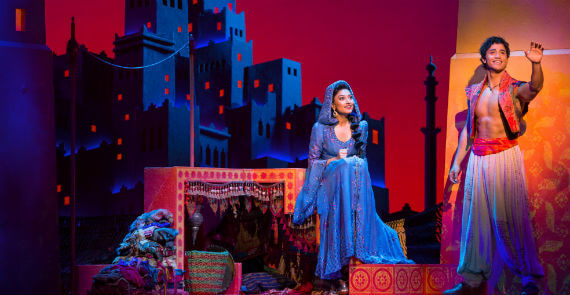 The talented principal cast features Gareth Jacobs in the role of the Genie, Graeme Isaako as Aladdin and Shubshri Kandiah as Jasmine.
This new production features a full score, including the five cherished songs from the Academy Award-winning soundtrack and more written especially for the stage.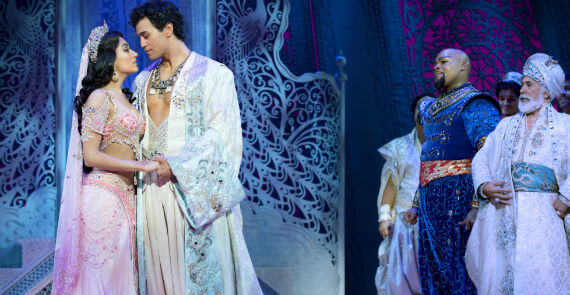 The animated film Aladdin was released by Disney in 1992 and was a critical and box office smash, grossing over $500 million worldwide (not adjusted for inflation) and becoming the highest-grossing film of the year.
Guests are able to book Marina Bay Sands' Show and Dine packages, where they can enjoy discounts and exclusive dinner menus from signature restaurants such as db Bistro & Oyster Bar, The Bar at Waku Ghin, CUT, and Adrift.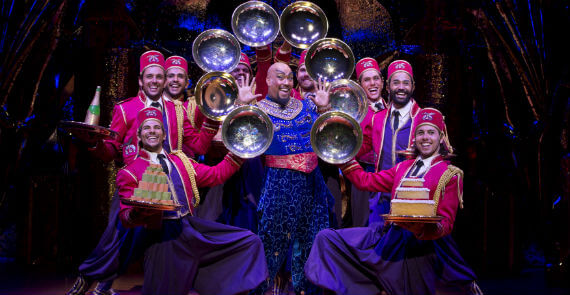 These packages are priced from S$100 and are available for booking at www.MarinaBaySands.com/Packages
Tickets From $68* * EXCLUDES THE BOOKING FEE OF $4 SGD PER TICKET FOR SINGAPORE BOOKINGS |
INTERNET www.MarinaBaySands.com/ticketing or www.sistic.com.sg
PHONE +65 6688 8826
IN PERSON AT Marina Bay Sands Box Offices (Museum, Theatre, SkyPark, Retail Mall and Hotel Tower 1 Lobby. )
For more information please log onto www.MarinaBaySands.com
Comments
What an astounding success this show is. Perfectly cast, The Musical has all the glitz and glamour expected of a Broadway spectacular harking back to the good old days of tap and big production numbers. Jasmine, played by Shubshri Kandiah is simply gorgeous with impeccable timing, delivering her lines - and her songs with control and conviction. Aladdin played by Graeme Joseph Isaako Purcell is the ideal suitor both musically and chemistry wise for Jasmine, together they take the audience on a romantic journey. The magic Carpet scene was definitely the staging highlight of this duo and the audience couldn't believe their eyes. But then there is the role of the genie who brings the story alive in our imaginations. Gareth Jacobs was spectacular, resounding, quick, flexible and one hell of a talented craftsman at every turn. The Genie's more than 12 minute scenes, singing, dancing while inserting comedy at its most rapturous was nothing short of Brilliant. All the characters from the Disney Movie are in this show, the jester, the villain, the thieves.... the list goes on...This is a must see show. Even if you are a little dubious about musicals, don't be about Aladdin - The Hit Broadway Musical. Book it before you simply can't get tickets. This show will sell out.
What an amazing performance and production of Aladdin here in Singapore! Breathtaking sets, mind-blowing special effects, over 300 lavish costumes and a fabulous cast bring the magic of Disney's Aladdin to life on stage.
From the producer of The Lion King, the beloved story of Aladdin comes to life in this spectacular new musical. Breathtaking sets, mind-blowing special effects, over 300 lavish costumes and a fabulous cast bring the magic of Disney's Aladdin to life on stage. Featuring all the songs from the classic Academy award winning film, including "Friend like Me", "A Whole New World" and "Arabian Nights", prepare to experience the unmissable theatrical magic that is Aladdin.