An exciting 4-hands collaboration between Chef Stephan Zoisl & Chef ArChan Chan is happening this Austrian National Day. LeVeL33 celebrates Austrian National Day over three days from Monday 26 October to Wednesday 28 October 2020 6pm
LeVeL33, the World's Highest Urban MircoBrewery, presents an unparalleled contembrewery dining experience complete with one of the best views of Singapore's Marina Bay. Chef Stephan Zoisl will be presenting his Austrian dishes with beer touches from Chef ArChan. This menu is best paired with Austrian wines which will be presented by Vinothek Leopold.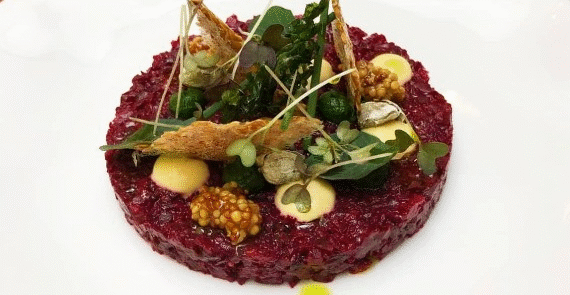 4-Course $89 ++ with wine pairing + $50 ++ per guest. The meal features Tatar vom Rind; Beef tartare, confit egg yolk, fried capers, Dijonnaise, Italian parsley gel, nasturtium, beer malt chips 2018 Stagård Riesling "Handwerk", Kremstal. Saibling Szegediner Art Butter poached Artic char, crisp Szegediner style cabbage, crème fraîche, Lager pickled fennel 2018 Alex Zahel Selection Rosé, Biodynamic, Vienna (Limited edltion)
Zwiebelrostbraten Roast beef sirloin, potato crème, shallot chips, pickled pearl & red onions, caramelised onion crème, fermented leek, Stout jus 2017 Kerschbaum Cuvée Impresario, Mittelburgenland (Magnum) and finish with the Mürbteig - Apfelstrudel Spent grain short crust pastry, braised apples, marinated apple strings, vanilla ice cream, Stroh rum, IPA caramel 2009 Farthofer Mostello Pear Dessert Wine, Biodynamic, Mostviertel Vegetarian menu available
Visit the website here for more information.
Call +65 6834 3133 or email to [email protected] Strickly Limited Seating available.
INFORMATION
a. MBFC Tower 1, 8 Marina Boulevard, #33-01 018981
s. www.facebook.com/LeVeL33CraftBrewery
Comments
Every year on October 26 Austrians celebrate their country's declaration of permanent neutrality after World War II and its regained status as an independent and sovereign nation on October 26, 1955. Monday 26 October 2020 is the actual National Day. Did you know one way to celebrate Austrian National Day is to run, walk, hike or bike on the day itself. The motto is "Fit on National Day" and many people all over Austria go on "fit marches." Austria is a great place to be fit and play outside. Of course, Austria has mountains, hills, flat places, rivers, lakes and lots of green space, so this is the perfect celebration.