Hero Video Credit: Banyan Tree Hotels & Resorts
For a quick weekend getaway, most residents of Singapore board a plane (budget flights are all the rage) and head to popular beach destinations in far off locations such as the Philippines, or closer to home, Indonesia, and the popular Thailand - just 90 minutes flight due north.
However, if all you want to do is relax in a plush villa, pamper yourself to a rejuvenating spa treatment and tuck into mouthwatering cuisine, then Bintan is right at your doorstep.
There is more than just golf here. The island which makes up part of Indonesia's Riau Archipelago has become an upscale resort destination boasting a diverse range of water sports and gorgeous secluded beaches.
And it is only 45-minute ferry ride from Singapore.  In this article, we introduce you to the best resorts in Bintan. Enjoy!
The Sanchaya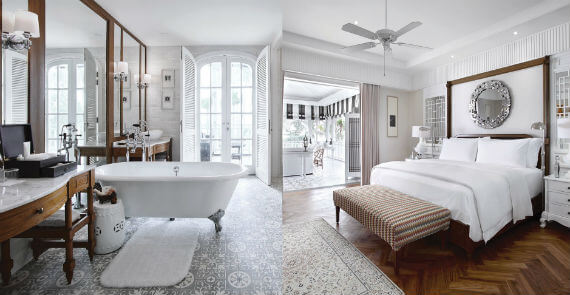 The Sanchaya almost needs no introduction. Set on the pristine sands of Lagoi Bay, the luxurious Sanchaya Bintan is a short transfer from Singapore. From Changi International Airport, it takes 15 minutes to Tanah Merah Ferry Terminal, where high-speed ferries are waiting to whisk guests to the island in 45 minutes.
The Sanchaya is the only property on Bintan with its own VIP lounge in the terminal, specially created to ensure guests enjoy a seamless arrival and departure experience. Express immigration and customs clearance is handled by The Estate Artisans. Registration takes place prior to arrival in The Sanchaya Lounge at Bandar Bentan Telani Ferry Terminal, a mere 15-minute drive from the property.
contact and location details T. +62 770 692200 A. Lagoi Bay, Bintan, Indonesia, 29155 Lagoi, Indonesia 29155
The Canopi Bintan
Hero Video: UAVisuals
The Canopi Bintan located in Treasure Bay offers a glamorous experience on Southeast Asia's largest man-made saltwater lagoon. The resort offers nature, adventure and luxury on Bintan Island, in Indonesia just an hour from Singapore. This is a perfect retreat for families, couples, solo travelers and corporate guests.
The resort sits amidst greenery and it offers 100 safari-themed tents where you can camp luxuriously with your own private patio, garden and rainforest shower. All of our accommodations have complimentary Wi-Fi and air conditioning. Glamping (Luxury camping) at its best, bell tents surrounded by the southern hemispheres largest lagoon pool at 6.3 hectares! Or indulge yourself in a gourmet BBQ under the stars or go on an adventure with an ATV ride through the private mangrove nature park. Definitely a place to visit
Banyan Tree Bintan Villa Resort
>
Hike in a rainforest teeming with giant trees and lush life, hillside terrain, secluded beaches and the sweet song of birdlife. Immerse yourself in a natural sojourn on Bintan island. Banyan Tree Bintan delivers views of the South China Sea stretching into the horizon where the tropical sun meets the coastline.
Unwind and relax on the resort's private beach in Bintan, tee off on an undulating championship golf course and be pampered at the acclaimed luxury spa in Bintan. Be mesmerised at Bintan's only all-villa establishment of beautifully decorated villas in traditional Balinese style, each raised with stilts and set on hillsides.Banyan Tree Bintan
contact and location details T. +62 770 693 100 A. Laguna Bintan Resort,, Jalan Teluk Berembang, Lagoi 29155
The Residence Bintan
Hero Video: Cenizaro Hotels & Resorts
Seek sanctuary in the holistic retreat of The Residence Bintan, where a restorative indulgence beckons. Savour the abundance of space and closeness of nature at the idyllic Asian village, with a luxurious modern twist. Built in harmony with its surroundings, the resort spoils you with a luxurious sense of space and panoramic views. The idyllic retreat combines the rural charm of a traditional Asian village with a luxurious modern twist.
The Residence Bintan offers 127 terraces and villas overlooking lush gardens and the tranquil bay. All terraces and villas pair clean contemporary lines with hints of local Indonesian style, designed to embrace the beauty of the natural surroundings. Additionally, the dining establishments offer everything from gourmet creations to modern interpretations of classics, all prepared using local produce, including some from the vegetables grown in the resort's gardens.
contact and location details Google Map: here
Cassia Bintan
Hero Video Credit: TODAYonline
Bold, vibrant and striking – Cassia sets the stage for owners and guests to live in the moment. The new brand by the multi-award-winning Banyan Tree Group targets savvy and informed travellers with their cleverly configured spaces and a menu of personalised services. Located within Laguna Bintan, Cassia Bintan is only a 6-kilometre drive from Bentan Talani Ferry Terminal, and offers spectacular views of the South China Sea.
Comments
I recommend Cassia to friends in Singapore (but I would say better for couples) as this resort has much cool looking graffiti all around the compound and feels very young with energetic vibes. The resort is considered new as it is finished in August 2017. All the furniture and rooms looks new and very clean and tidy. As for an ocean view room The staffs at the front desk are very polite and knowledgeable. There is also a bus to pick you up from ferry terminal. The beach areas and pool were well maintained by staff who are very attentive. They have a monthly event of releasing babies turtle back to the sea which is so cool.
The Sanchaya is a bliss - Stunning venue - Impeccable service - Great food and wine We had such a great time and will be back for sure. Alison Bayiha Bertholon recommends The Sanchaya on Facebook. Such a beautiful hotel! Facilities are superb as is the hospitality. Food is excellent and the spa was amazing. I would definitely return. Summer Brunning recommends The Sanchaya on Facebook. Stunningly beautiful beach-side location with incredible French Colonial inspired architecture and styling. This place must be on everyone's "bucket list". Grant Feltham recommends The Sanchaya on Facebook.