Image Credit: Rumours Beach Club Facebook Page
Unwinding in Singapore often means heading to the beach. One of the most beneficial things to do for grounding yourself is to feel the sand beneath your feet.
But surf and sand are not the only reasons we love the beach, we also love to visit the waters edge because we can kick back with tropical cocktails enjoying the ocean breeze while lounging on a comfy chair or enjoying a delicious brunch. All this and much more like venue swimming pools and weekend beach walks, you're going to love the beach bars in Singapore if you haven't discovered them already.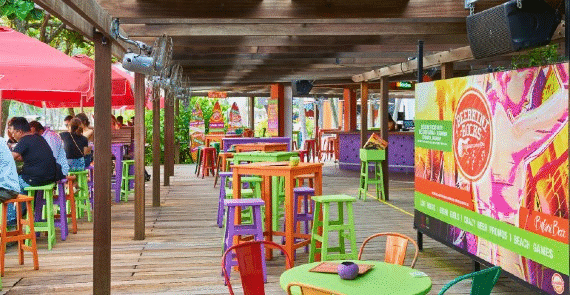 Image Credit: Bikini Bar Singapore Facebook Page
Serving chilled beers and margaritas, Bikini Bar boasts of an ambience resembling a beach bar in Bali and nails it to quite an extent. We love playing pool here while grooving to the lively music. The parties here are quite a blast too and are a fun way to spend your weekends. The menu offers a decent variety of bar bites to go with your drinks but you might consider going some place else if you're looking for a hearty, filling meal.
INFORMATION
A. 50 Siloso Beach Walk, #01-01 Sentosa 099000
S. www.facebook.com/BikiniBar.Singapor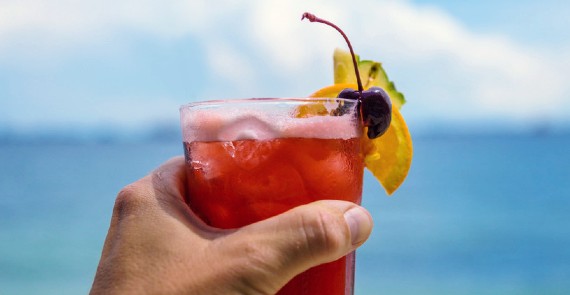 Image Credit: Coastes Singapore Facebook Page
Enjoy the sun and the ocean as you plop yourself on one of the sunbeds or deck chairs at Coastes. Tap your fingers to the upbeat music and sip on a Frozen Flavoured Margarita, a Pina Colada, a chilled beer or a non-alcoholic beverage. This is the perfect place for a laid-back day or a romantic evening where you can watch the sun go down together. We love the variety on the menu ranging from tacos and fish and chips to wholesome breakfasts to keep you satiated.
INFORMATION
A. 50 Siloso Beach Walk, #01-05 Sentosa 099000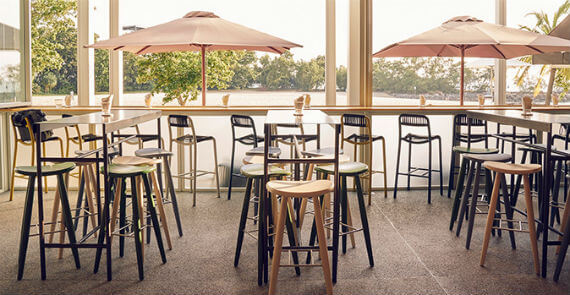 Inspired by Barcelona's vibrant beach culture, FOC Sentosa brings Mediterranean spirit, cuisine & drinks to Sentosa. OK, we know that FOC Sentosa offers some great beach party days and evenings throughout the year, but on the other hand - they also have a quieter, more chilled vibe more than not. If you stay through to Sunset the bar has a great view and you'll enjoy sipping on refreshing mixes.  An exciting combination of Brunch, Lunch, Dinner and all-day dining is available where you will enjoy Greek and Mediterranean, Seafood, Spanish/Basque and a delicious Tapas Bar selection. more information here
INFORMATION
A. 110 Tanjong Beach Walk 098943
F. www.facebook.com/FOCSentosa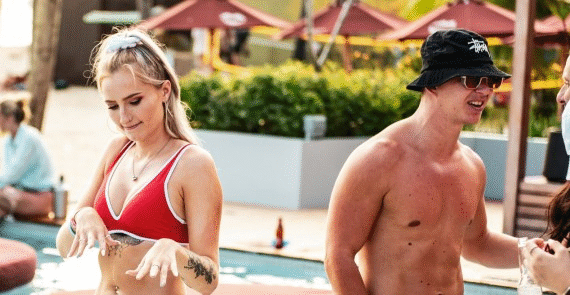 Image Credit: Rumours Beach Club Facebook Page
The one beach club in Singapore to make you feel like you're on a vacation is Rumours' and nope this isn't just hearsay. Experience beach fun like no other as you strut about in your favourite bikini and decide to lounge on the mattress at one of the three pools at the club. They serve kickass cocktails, enough to keep the buzz going and have a dedicated bar and grill for you to binge on treats like BBQ Pork Ribs, Rumours Fish & Chips and Buffalo Wings.
INFORMATION
A. 40 Siloso Beach Walk, Singapore 098996
S. www.facebook.com/rumoursbeachclub/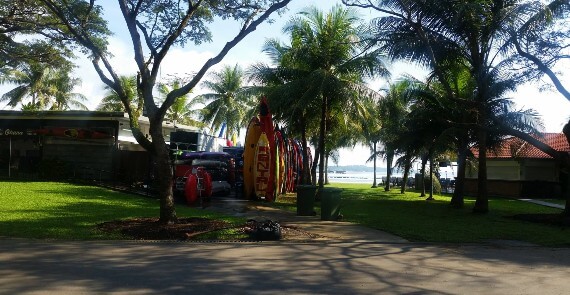 Image Credit: Adventurepaddlers Ohana Facebook Page
For those who'd like a little adventure on their weekends, can head to Ohana Beach House offering water sports via Adventure Paddlers. You can go kayaking, stand up paddleboarding, and even learn to do the latter with dogs. Their day trips are full of fun, stories, culture and a lot of nature. Plus, they teach you a lot about fishermen, Kampong way of life and much more. Once you're back from your mini-adventure, you can binge on pizzas, pastas, burgers or even a grilled pork belly.
INFORMATION
A. 131 Pasir Ris Rd, Singapore 519148
W. www.adventurepaddlers.com.sg/ohana-beach-house/
S. www.facebook.com/Adventurepaddlers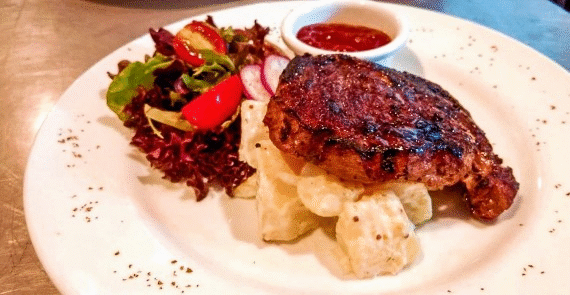 Image Credit: Georges Group Facebook Page
Each time we enter Georges, it always seems like we've entered a party especially on the weekends. This place has been around for many years and is a hub for regulars. The vibe is so friendly, you're sure to blend-in in no time. The sizzling grill items on the menu here are incredibly tasty, and we love the Georges Burger, Beer Battered Fish and Black Pepper Tenderloin Steak. Get awesome deals on ice-cold beers and enjoy game screenings on the weekends; like we said, there's never a dull moment here.
INFORMATION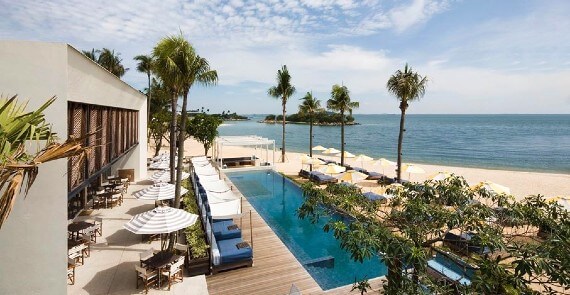 Image Credit: Tanjong Beach Club Facebook Page
Possibly one of the best beach bars we've come across on the island of Singapore is Tanjong. The bar's got a relaxed, laid back vibe on the weekdays where you come to take a break from the crazy workload and rejuvenate with a lazy lunch or a chilled drink as you plonk on their daybed. On the weekends Tanjong is a hub for party-goers as it hosts some of the craziest beach parties on the island.
INFORMATION
A. 120 Tanjong Beach Walk 098942
Comments
So true - Unwinding in Singapore often means heading to the beach. One of the most beneficial things to do for grounding yourself is to feel the sand beneath your feet.
Bringing the likes of Bali beach bars to our shores, Bikini Bar a colourful beachfront venue which is a hot favourite with urbanites and the young at heart. This upbeat and vibrant beach bar boasts a wide range of ice-cold beers, cocktails and great music. Buzzing with life on a sunny afternoon all the way till late night, Bikini Bar is the perfect place to be. Whether it's catching live sports, lazing the afternoon away or simply playing some beach games, Bikini Bar has it all!
Enjoy the incredible atmosphere with carefully crafted cocktails and a mouthwatering menu. While we are excited to take you back to sunshines, sunny blue skies and sandy beaches, we'd also want to assure you that you will have that well-deserved peace of mind when you chill out with us. Our food is the core focus for us. Every dish we created is handcrafted with love, passion and most definitely quality control on every plate we serve. Serving variation and keeping it excited is our motto to offer customers with seasonal yet innovative creation. This is what makes us proud to serve you with the menu. Find out more below on our menu offerings ranging from brunch, day and up until late night dining options with alcohol beverages here at Siloso Beach Sentosa. Menu - http://www.rumours.com.sg/documents/rumours-becah-club-menu.pdf