Image Credit: Marina Bay Golf Course Facebook Page Video Credit: Insider TV Marina Bay Golf Course with Su-Ann Heng
Lush green lawns, a panoramic view and golf clubs, sounds like the perfect way to spend your time?
We feel the same about golf and with a membership at the right club with picture-perfect golf courses, you'll be able to play your favourite game at every given opportunity.
We've narrowed down the best golf courses in Singapore just for you with plush greens all around, well-maintained grounds and even a pro shop so you can play with the best equipment. Check them out!
Image Credit: Laguna National Golf & Country Club Facebook Page
Boasting of two gorgeous 18-hole championship courses, Laguna National has been around for more than two decades and has recently got a facelift. Their premium courses would want you to tee off right away but there are more reasons to be a member of this prestigious club - a swanky member's lounge, spa facilities, fitness centre, cafe, and a fully-equipped golf shop. You can also make it a golfing retreat by booking a room at the adjoining Dusit-Thai hotel.
INFORMATION
a. 11 Laguna Golf Green, Singapore 488047 488047
s. www.facebook.com/lagunagolf/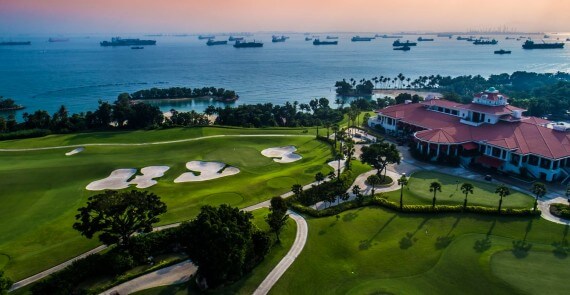 Image Credit: Sentosa Golf Club Facebook Page
Holding the accolade of 'World's Best Golf Club 2019' given by World Golf Awards, Sentosa Golf Club is a place to behold and of course, to play golf. Beginners can take golfing lessons at their academy and once you play on lush lawns of The Serapong and The New Tanjong, you'd want to play at every given opportunity. The club hosts fun events and even offers bookings for hosting functions like weddings, private parties and corporate events.
INFORMATION
a. 27 Bukit Manis Rd, Singapore 099892
s. www.facebook.com/SentosaGolfClub/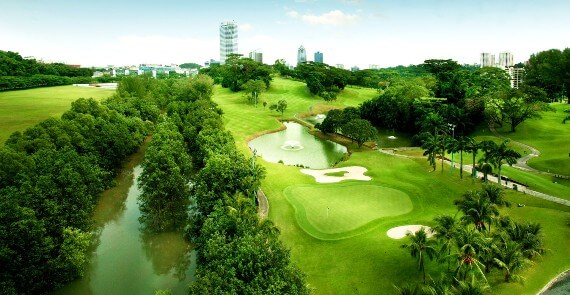 Image Credit: Keppel Club Facebook Page
A challenge for a beginner and a pro, the golf course at Keppel Club spreads out to 5,917 metres. Enjoy a fun game of golf or choose from the many sports facilities the club has to offer - badminton, billiards, swimming, tennis, gymnasium. To make it a family place, the club also has interesting activity rooms like karaoke theatre, mahjong rooms, jackpot lounge, TV lounge & reading room. Do enjoy a sumptuous meal at one of their restaurants offering a variety of cuisines.
INFORMATION
a. 10 Bukit Chermin Rd, Singapore 109918
s. www.facebook.com/keppelclubsg/
Video Credit: Alan Tụ Nguyễn Champions Public Golf Course
Don't let your golf game go to rust. Spend time playing your favourite sport at the 9-hole golf course at Champions Golf Complex. They have a golf academy for those looking for golf lessons and training by experts including the legendary Alan Murray. They have a reliable pro shop if you need new equipment as well as two awesome restaurants for you to enjoy a delicious and hearty meal after playing.
INFORMATION
s. www.facebook.com/pg/ChampionsGolf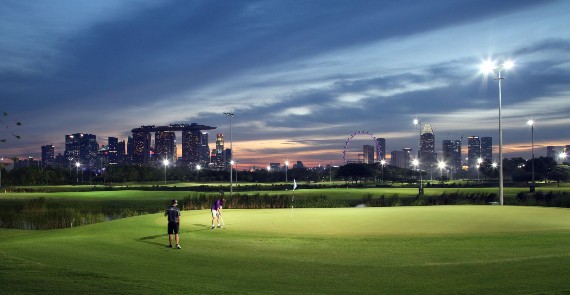 Image Credit: Marina Bay Golf Course Facebook Page
Enjoy a challenging game of golf at Marina Bay Golf Course, an 18-hole public course with a lovely green stretch boasting of 85 pot bunkers to make your game fun and stimulating. The complex has a 6-hole putting course and practice greens for a short game. Their driving range can accommodate 114 range goers at once and with their tracking technology and a touch-screen console you can practice your swings and mark your performance. They also have a Star Golf Academy for those who require training from scratch or regulars who want to fine tune their game. 
INFORMATION
a. #01, 80 Rhu Cross, 01, Singapore 437437
Comments
A golf course with a beautiful city view? Marina Bay got it for you. It is Singapore's only golfing facility which is fully opened not just for pro-golfers but also for beginners. Book your tee time at the Marina Bay Golf Course and practice your swing at the 18-hole championship golf course. For budding golfers, drop by the MST Golf and grab a pair of golf shoes plus some clubs! After a day in the course, hangout at the dedicated VIP lounge and order a few post-game snacks. INFORMATION a. #01, 80 Rhu Cross, 01, Singapore 437437 e.
[email protected]
t. +65 6345 7788 w. www.mbgc.com.sg/ s. www.facebook.com/marinabaygolfco
The design of the par 72 championship course attempts to connect to the history of golf – traditional links of Scotland and the beginning of golf - with its few water hazards and in particular, its 91 pot bunkers. These bunkers not only serve as one of our dramatic features, they are also geared to provide hours of challenges and excitement to golfers. The signature holes of the quality course include the 651-meter par-6 4th hole and the par-3 13th, complete with island green design.