If you've been following our weekly blog you will have noticed we usually kick it off with some kind of interesting art news. This week, we thought we'd share a little about ourselves. Interesting? You be the judge.
Here goes:
We are originally from Australia but have lived overseas - London, New York, currently Singapore - for 20 years.
For those of you who don't know, Addicted is a Mr and Mrs team. We've been married for 16 years.
Our CEO is Hercules, a 14-year-old (supposedly) pure-bred toy poodle. We're convinced his mother had an affair with a Cocker something but we're not allowed to talk about it.
Addicted turned 5 (hundred million years) this month.
Our first artwork purchase took place sometime in the late 90s. We still have it.
Blair can draw Fred Flintstone, El can draw an elephant's butt (commissions available).
And if that doesn't do it for you, rumour has it, Frida Kahlo's ghost is haunting her old digs. Boo! Happy Halloween and welcome to this week's triplet Art Fix featuring art by the poetic A. Selvaraj.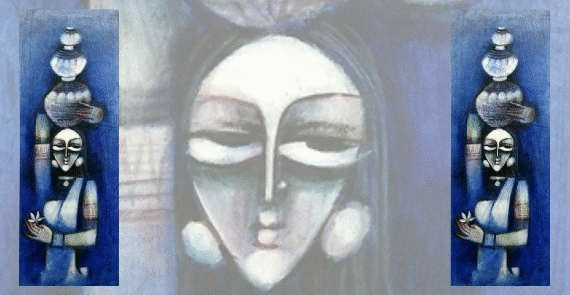 If you'd like to learn more about A. Selvaraj you can read about him here: A. Selvaraj: The Sensuousness Of Dance Or, if you need more info about the artwork, give us a shout at [email protected] or [email protected].  
Want to see our Enchantresses on your wall? Check out our Apptastic See It On Your Wall.
Until the next one, "It's Halloween, everyone's entitled to one good scare."... – Brackett, Halloween (1978)
Blair & El xox 
Comments
You May Also Like: https://www.expatchoice.asia/shop/tunku-khalsom-butterfly-effect G'day Expat Choicers! Butterflies have captured the imagination of artists for centuries, think back as far as the ancient Greeks who linked them to the human soul. The fascination continues with our new Addicted family member, the awesome Tunku Khalsom. An Interior Architecture graduate (2006), Khalsom has a background in design, but in recent years has been firmly focused on her dynamic art. As a self-taught abstract artist, she is revered for her work which exudes fluidity and stunning colour, whilst embracing the concepts of life, love and change. Khalsom's mantra is, "always changing, always growing" and is expressed through the movement in her art, working predominantly with inks for their perfect fluid nature.