Apple has finally announced its newest store located at Marina Bay Sands will be opening from today, 10 September 2020.
The unique and yet to be iconic glass structure sits over the body of water and offers a 360-degree view of Singapore's skyline — a work of structural ingenuity where 114 pieces of glass are held by 10 vertical panels. The result is a dome that glows in the night adding to Singapore's already awesome evening Marina Bay vista.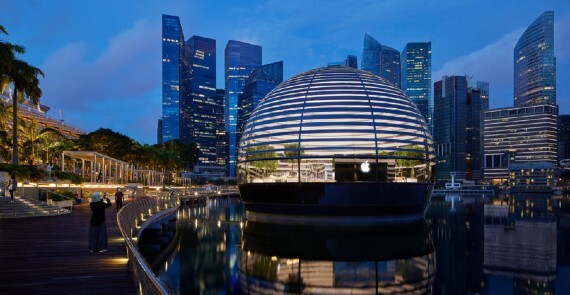 "We couldn't be more excited to open the breathtaking Apple Marina Bay Sands in Singapore, building on our commitment to this special place that began more than 40 years ago," said Deirdre O'Brien, Apple's senior vice president of Retail + People. "Our passionate and talented team is ready to welcome this community to our new store and deliver the care and support that our customers around the world love."
Once your booking is confirmed, guests will be able to browse Apple's product offerings on wooden tables not unlike those at the Orchard store, and the space will similarly be flooded by daylight. It is also connected underground to The Shoppes at Marina Bay Sands, leading up to the dramatic view of the cityscape.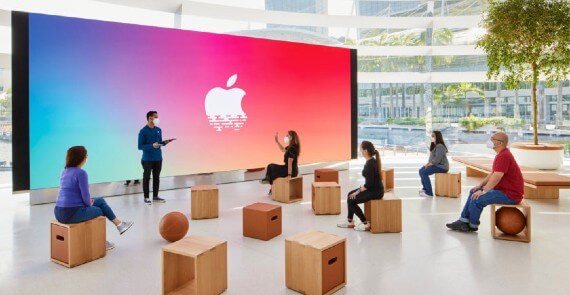 The massive space also has a Video Wall which will be used for Today at Apple sessions to feature Singapore's artists, musicians, and creators once it resumes in a post-Pandemic era. There is also an underwater Boardroom for developers and entrepreneurs to meet with Apple's team members.
The store is staffed by a 148-person strong team who can speak over 23 languages and is set to be on the tourist trail once our borders open again.
For now, Apple Marina Bay Sands will throw its doors open on 10 September 2020 at 10am. Visitors will have to register for appointments as vigorous health restrictions and safe distancing measures still apply. Expect capacity to be tightly controlled.
Click here to book slots.
Comments