Hero Image: Andre Chalson managing director of Singapore-based Mead Pte Ltd
Like many seasoned expats, these days are much more about finding new and unique local experiences to enjoy now we are all stuck on the little red dot.
Whether it be for client events or special birthday occasions in our intimate groups of five, I'm always on the lookout for something with that "je ne sais quoi", the x-factor so to speak.

One such experience has recently launched in the trendy Tanjong Pagar street of Bukit Pasoh – located in the shophouse address of Tatler Asia's offices. Of course we have all heard of Tatler - curator of Singapore's leading luxury lifestyle magazine – the place to be seen for society's elite.
But now we can all experience a little of the chic Tatler lifestyle via their very own in-house food and beverage pairing experiences. The bar is an upscale and intimate setting with a luxe metallic table providing the perfect vantage point for the wall of premium spirits showcased behind. It exudes a classy and exclusive ambience sure to impress even the most sophisticated VIPs.

Our experience involved a Sake and Food pairing and Andre our debonair Sake sommelier took us on an enlightening journey of this pure and often underrated premium beverage. We sampled three different top quality sakes, all from the Nagasaki region of Japan (on Japan's most southerly main island of Fukuoka).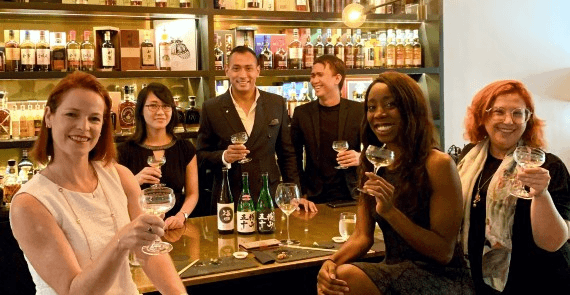 Expat Choice Singapore contributors Elika Tesker, Miriam Walter Feiler & Rebecca Assice attending The Tatler Bar Private Sake & Food Pairing Experience
We discovered that sake is made from only four ingredients – rice, water, yeast and koji (a type of fungus) – making it one of the purest and least processed forms of alcohol around (perfect for those trying to lead a healthier but not too restrictive lifestyle).
We also discovered the quality of sake is determined according to how "polished" the rice is (how much of the rice husk is milled away during the production process). Sake polished so that only 60% of the rice remains is known as "Ginjo" sake while the top-shelf "Daiginjo" has had at least 50% of the rice polished away.

All three sakes were outstanding to taste, light with elegant flavours ranging from the sweet muscat grape of the Yokoyama Goju White, to the ripe apple fruitiness of the Yokoyama Goju Black to the more creamy subtle sweetness of the Fukuda Tokubetsu where 65% of the rice is polished away.

To accompany these fine sakes, we were served a delectable platter of Japanese sushi, sashimi and pickled dishes – each expertly paired with one of the sakes to more fully bring out the flavours of both.

This is indeed a classy, high-end experience that is well worth consideration for a unique, informative and delectable event for clients, colleagues or even those oh so hard to impress expat friends.
TheTatlerBar.com is a result of Tatler Asia's ongoing strategy to expand its digital services to complement its existing comprehensive luxury lifestyle offering. This initiative is in addition to the recent launch of the digital platforms Tatler Homes Curates and Tatler Style in August and September respectively. "We're very excited to be able to bring covetable pieces and experiences an accessible manner to our community.
Andre Chalson who hosted the above mentioned Sake and Food pairing event at The Tatler Bar is the founder and managing director of Singapore-based Mead Pte Ltd, which specialises in the import and distribution of craft sake and shochu, quality Japanese produce, seasonal seafood, and wagyu.
Mead provides exclusive sake, shochu, and fresh ingredients from Japan to progressive restaurants in Singapore, including Tippling Club, Lerouy, Odette, Burnt Ends, La Dame De Pic, Butcher's Block, Restaurant Jag, Adrift, and Spago, as well as coveted Japanese eateries like Sushi Kou, Shoukowa, Jinjo, and Takayama. His passion for absolute premium quality beverages drives him in his pursuit to search for top quality sake brands and to discover the stories behind them; introducing the brand stories to drink lovers in Singapore. 
Andre started his sake journey under the tutelage of 3rd generation sake meikiki, Hironori Hayashi of Sakenomise Hayashi in Fukui, Japan in 2017. He is accredited as a certified International kikisake-shi (sake sommelier) by the Sake Services Institute in Japan and was one of 25 people nominated internationally for the prestigious Sake Samurai (2019) Award/Title in Japan.
Visit tatlersingapore.com and follow us at @tatlersingapore on Instagram