Tablescape brings the comforting allure of their bread trolley straight to your doorstep with its brand new Bread and Butter Set. The charming gueridon service has been part of the Tablescape experience from the beginning; tableside rituals and warm discreet service add a touch of magic to dining out.
Recapture that Tablescape magic at home with their Bread and Butter Set, comprising a generous selection of five different types of artisanal breads, two fresh house-churned butters and a delicate, rich Truffle Oil. The set is also beautifully and sustainably packaged, making them perfect gifts. Each loaf is wrapped in recyclable brown paper bags, then enclosed in a beautiful re-usable canvas tote.
For guests who choose to pick up their purchases rather than have them delivered, it's a lightweight bag that's easy on the shoulders and arms even when it's full of bread – and just as importantly, the classy neutral hues, reminiscent of bread and butter, perfectly match any outfit.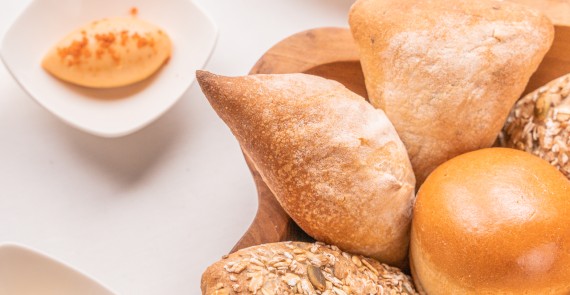 The launch set introduces a new bread item: a large Sour Dough round loaf, crusty on the outside, beautifully aerated on the inside – with a gentle, delicate sour tang to every bite. The large loaf, presented in its own wicker basket, anchors the set. The other four bread items are some of their most popular selections from the bread trolley – rotated seasonally, so there'll always be something new and fresh for the palate. Each flavour comes in a pair, and for the launch set, the four breads range through the spectrum of flavours.
The Brioche is lovingly made with lavish amounts of butter to create a luscious golden mini loaf – sweet and rich, soft and pillowy, so that every bite feels as if you're biting into a buttery cloud. The mini Baguette, a classic and always a favourite, is an excellent example of how simplicity can also be made perfect with care and fine technique. Each palm-sized Baguette hits the right spots with its hearty crust and fluffy chewy interior.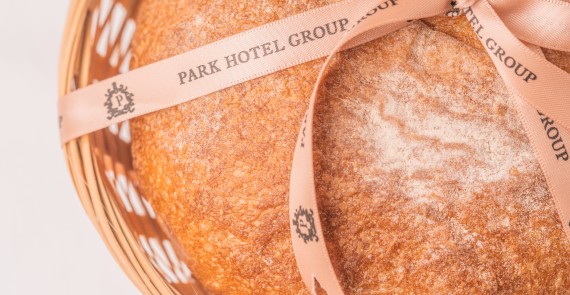 Fans of Tablescape Restaurant and Bar located on level 3 of the Grand Park Hotel will be overjoyed at the inclusion of the Onion Bread in the launch set. Made with red onions, the Onion Bread is a treat to the senses with its light yet sweet-savoury aroma and flavours. For people who enjoy textures, the Multi-Grain Bread offers a landscape of seeds and grains on its crust that represents some of the ingredients in fluffy interior. Think oat and rye flakes, pumpkin, flax and sunflower seeds as well as sesame seeds: a positive cornucopia of fragrance and flavour.
And just like you would get from the trolley, the set comes with the best possible accompaniments – two sets of different butters in mini jars, always freshly churned. Two jars contain Tablescape's signature housemade butter. A splendid complement to any bread from the selection, it's both light and creamy with a smooth, milky aftertaste, and always served unsalted so you can always taste the freshness of the high quality cream they use.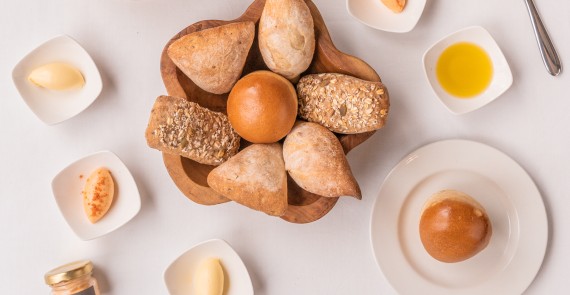 This thoughtfulness also means you can add your own preferred gourmet salts on each buttered bite to transform it into something different every time. The set also comes with two mini jars of housemade Lobster Butter – an exciting, exclusive accompaniment created especially for the set. After making a rich lobster bisque from scratch with ingredients such as lobster shells and mirepoix, the bisque is then reduced to 5% of its total volume, becoming a rich concentrate.
This concentrate is then blended with the fresh butter to create this Lobster Butter. Every bite is a gentle wash of oceanic umami, both sweet and savoury; and a luxurious punctuation to breakfast, lunch, dinner and that mid-afternoon snack! For a break from all the butters, Executive Chef Armando thoughtfully includes a Truffle Oil – its elegant richness mirrored in the dainty dropper bottle the oil is housed in.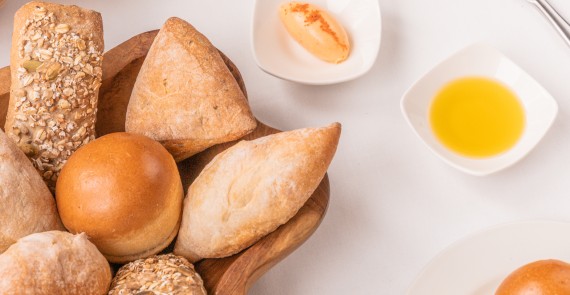 The dropper bottle is also a reminder of Tablescape's steadfast consideration for the guest; diners will find it a tidy way to use the oil – just a gentle squeeze of the dropper for the preferred quantity. And wary diners need not be concerned: the Truffle Oil is so fine that even if bread is completely saturated with it so that your senses are enveloped with its delicate earthy richness, it still leaves your palate clean.
Bread and the making of it have always been something extraordinary to those who know. A few basic ingredients – flour, water, yeast; a little labour, a little patience, and a little love - and it becomes comforting nourishment that is more than the sum of its parts. Perhaps this has always played a role in the temptation that is Tablescape's bread trolley, and what plays a role in the temptation that is Tablescape's Bread and Butter set, available on their e-shop now.
Officially opened in January 2018, Tablescape is a Modern European restaurant and bar located within the luxurious Grand Park City Hall. Featuring gueridon service, classic dishes with a contemporary twist, and an interior of neoclassical beauty, guests are transported back to a time when dining at a restaurant was a special moment in life. The bar brings together an inspired list of artisanal cocktails, wines, and craft beers to complete the dining experience, and create an exquisite destination for all-occasion dining in the heart of Singapore's historic civic and business district.
Available daily, with one day's advance notice. Price: $48 nett (Promotional Launch Price)
INFORMATION
a. 10 Coleman Street, Level 3 179809
Comments
Set to be City Hall's latest dining destination, Tablescape is located on level 3 of the Grand Park hotel. Guests can expect a contemporary, upscale restaurant and bar serving modern European classics complemented by a curated menu at the bar. Focused on delivering hearty, comforting perennial European favourites with unobtrusive service that can be enjoyed time and again. Pairing artisanal cocktails, an extensive premium wine and craft beer list with the food served, the Tablescape experience connects tradition and modernity in a truly beautiful setting in the heart of Singapore's city centre.