The founder of www.expatchoice.asia John Gordon caught up with Mel Reid in Singapore who launched FaceWedge Reusable Facemasks. With each purchase you will be giving back to the environment.
FaceWedge is a premium cotton lightweight Face Mask brand with an environmental aim to protect the planet from plastic pollution. Every mask donates to our partner SevenCleanSeas, taking plastic waste from the sea in South East Asia. I'm delighted to meet you Mel, and hear more about your story. What a wonderful initiative. Can you share more with our readers about FaceWedge?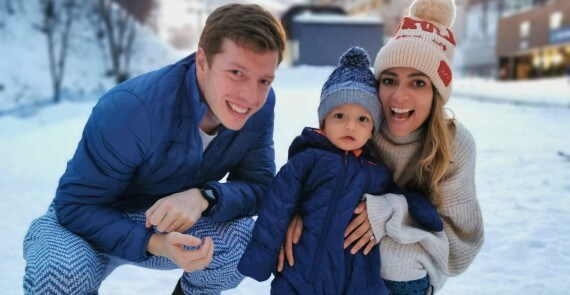 Image Credit: The Reid Family, founders FaceWedge
My husband and I have been working and living in Singapore for 7.5 years and we have a 2 year old son.  As keen divers have always been passionate about the environment and particularly the oceans.  Supporting environmental causes has always been close to my heart which is how we ended up getting involved with Seven Clean Seas on beach clean ups here in Singapore.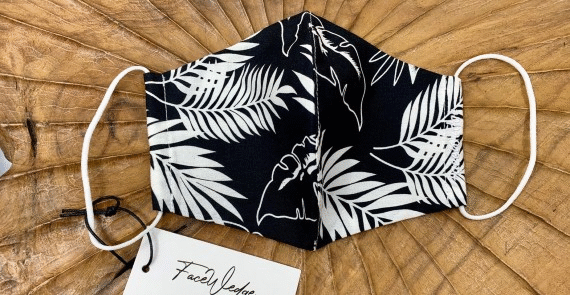 One afternoon during circuit breaker we were shocked at seeing disposable masks coming up in the news on beaches and in oceans and we realised quickly that this was becoming a new problem. Having struggled to find masks that we felt were suitable to the climate here (many were too thick, not fitted etc) I started making my own masks before deciding I wanted to do more and try and stop my friends using disposables.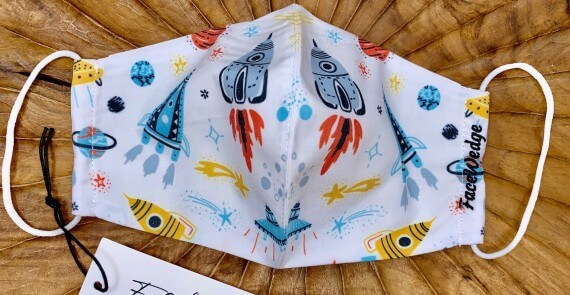 I couldn't make enough of the masks, so now we get these made externally working close with an Asia based production team. After some trial and error we settled on a design and style that we felt worked for the Singapore climate. We work together designing new prints every month.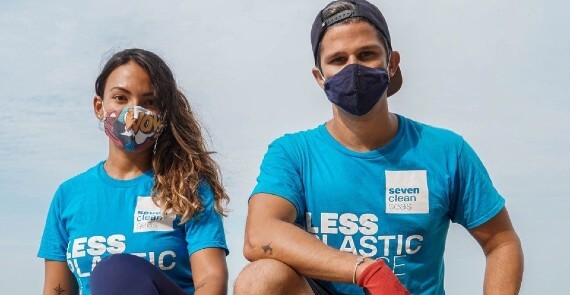 Image Credit: Tom and Pamela who run SevenCleanSeas​
We knew Tom at Seven Clean Seas for years, we loved his cause and really early on always wanted to raise awareness and get involved somehow. Partnering with them was exactly the path we wanted to follow!  Working with a local team, doing local projects where we can see the impact of the work was really important to us and we also hope that this is important  to the people in Singapore.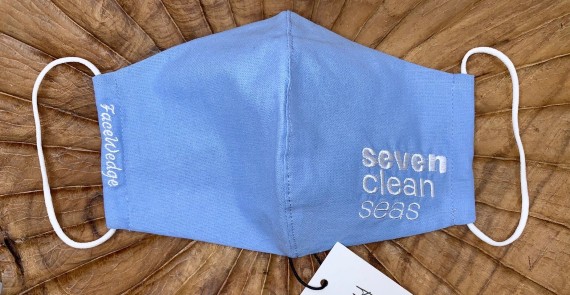 Our masks are double lined but light enough to breathe really comfortably in the Singapore climate without overheating you!  They are fitted and 3D face shaped to help keep the mask off your mouth and act as a comfortable barrier.  We have also had great feedback from people that wearing glasses as other masks tend to steam them up.  The elastic can be pulled though adjusted if our standard length is too long or too short which means extra comfort for longer wear.  All our face masks can be washed and reused multiple times.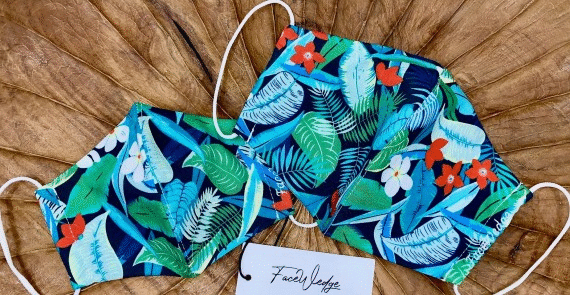 We have tried to focus our masks at a couple of demographics; The city workers who need/want smart more stylish masks.  Those that interact with kids so primarily teachers and parents, those that want something fun for their general day to day and lastly children.  We also had to get a couple of sea life ones in for those that are equally as passionate about marine conservation as we are!
"Ultimately every day we leave our house we see a sea of blue or green medical, single use face masks. If we can make small impact on this and raise some awareness then I know we are making a difference."
The stark reality of where your disposable masks end up is becoming harrowing each day. Help FaceWedge Face Masks mission by avoiding further disposable masks making their way into our precious oceans. Every mask donates to FaceWedge Face Masks' partner Seven Clean Seas, an environmental organisation which takes plastic and other marine life damaging trash out of the sea here in a South East Asia.
5 Masks Sold = 1KG of plastic pulled from our oceans! Help FaceWedge Face Masks by avoiding further disposable masks making their way into landfills and waterways. Protecting our Planet and our People.
Premium cotton face masks that are Eco friendly, Soft, Super breathable, Washable, 3D face shaped and double layered
You may purchase 3 kids sizes and 2 adult sizes below
Sizing 
Kids S  - 9.5cm x 15cm (2-3 years old)
Kids  M - 10.5cm x 17cm  (4-7 years old)
Kids L  - 12cm x 19cm  (8-14 years old)
Adult - 13.5cm x 21cm 
Adult XL - 15xm x 24cm
INFORMATION