Bask in the season of merriment at The St. Regis Singapore with a host of luxuriant experiences specially curated for the season of giving from 30 November through the month of December.
Alongside distinctive getaways in our well-appointed guestrooms and suites, relish indelible gastronomic experiences offering a mélange of classic and contemporary highlights created for the most discerning epicureans – gourmet takeaways, contemporary French cuisine at signature establishment Brasserie Les Saveurs and time-honoured Cantonese cuisine at Yan Ting.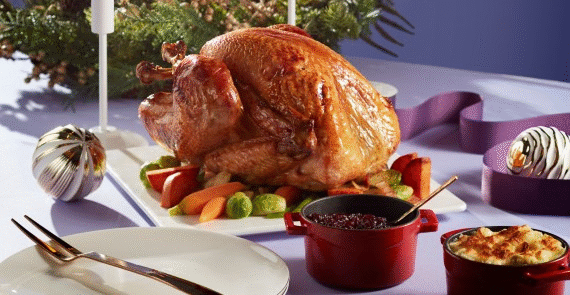 Come together with those that you hold dear for intimate merry feasts, complete with a slew of handcrafted sweet and savoury specialties, perfect as bedazzling centerpieces.
Indulge in mesmerising Christmas take-home delights including succulent Whole Roasted Turkey with Buttered Brussels Sprouts and Truffle Mashed Potato ($198.00+) and the delicious Marinated Salmon with Citrus Zest ($52.00+). The main picture above highlights the Côte de Boeuf with Roasted Potatoes ($164.00+) and Whole Roasted Sea Bass with Provençal Ratatouille ($72.00+) and signature Smoked Salmon infused with The St. Regis Singapore Tea Blend ($52.00+).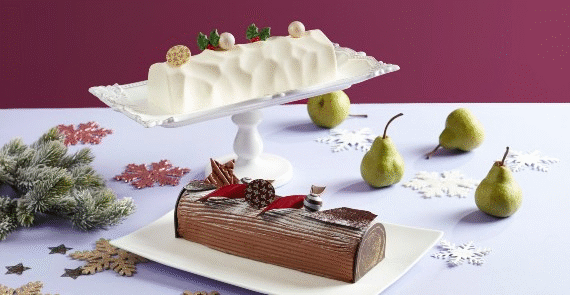 Completing festive dining tables is the quintessential accompaniment of Yule logs. Take your pick from a sumptuous collection of beautifully handcrafted St. Regis Logcakes, such as an alluring bittersweet favourite of Chocolate Decadence ($82.00+), comprising swathes of chocolate buttercream and Ariaga dark chocolate cream layered between a rich chocolate sponge, speckled with dark chocolate pearls for that added crunch, and a fragrant Chestnut Pear ($85.00+), featuring pear yuzu crémeux, chestnut crémeux, chestnut bits and chestnut sponge atop a bed of pailletee feuilletine, sheathed beneath a chestnut bavaroise cream.
Gourmet take-home delights and St. Regis Logcakes are available for pre-order from 1 November 2020, for delivery and collection from 30 November to 31 December 2020. An advance order of 3 days is required.
To order, shop online at festive-stregissingapore.oddle.me, call +65 6506 6813 or email [email protected]
Comments
If what you are looking for is a luxe Christmas then book in at Brasserie Les Saveurs. Located at the lobby level of St. Regis, the grandeur of chandeliers against a backdrop of tropical greenery, evoked a feeling of opulence as I stepped into this heart-warming space. I was there to try the festive indulgences put together by Master Chefs of St. Regis. Feeling a sense of "where has the year gone?" I had to remind myself it was November and I was tasting the Christmas menu. Walking around the Brasserie Les Saveurs, I noticed private dining alcoves that were perfect for patrons who opted for more privacy. The decadent setting of the remaining space was my preference though as it gave me a chance to enjoy the ambience while dining. As in Australia where Christmas boasts seafood rather than heavy roasts, here too at Brasserie Les Saveurs, we started with a platter of fine quality Alaskan King Crab, French oysters and shrimp. I love seafood broiled, served cold with sauces on the side. It's the only way to really taste the freshness of meat and enjoy full flavours. Getting down and dirty, there was no other way to eat it. The cold entrée of crab meat salad and Baerii caviar topped with gold leaves was the finest I had ever had. Obviously the imported top quality crab meat was evident, dressed with a touch of mayonnaise, shallots, chives and voila! Much to my surprise, the best farmed caviar hails from China. I thought Executive Chef Thibault was teasing me when he mentioned this but alas, world trends are tipping into new ways and traditional sources of food are no exception. The warm entrees at Brasserie Les Saveurs arrived. A cup with a beautifully poached egg sat amongst a Morel mushroom ragout and Parmigiana foam. So light, so fine, I was in awe of the artistry chefs must possess to produce these amazing meals. Much to my delight, a rather large piece of pan seared Foie Gras followed. Paired with a pumpkin compote and gingerbread coulis, it was so perfect on my palette. Undoubtedly, a calorific addition! If you plan to book in for this Christmas fare at Brasserie Les Saveurs, be sure to arrive on a very empty stomach as there were a lot more dishes available on the buffet menu that you could order. Priced at $328++ with free flow champagne, wines , beers for Christmas Eve dinner this is such a high quality menu for foodies to devour. When the main of grilled Boston lobster, roast turkey ballotine and beef Wellington was served, I looked at the beautifully plated dish and wished I had a reserve stomach. I seriously ate for three people, as it was just too good to leave and promised myself no dinner and no breakfast the next day, which I did. Just giving you a heads up for what is to come! The meal was not over yet. Dessert chef trolleyed the most visually exciting multi-leveled cart from table to table. This is why I would choose Christmas at Brasserie Les Saveurs. The style and quality of the entire experience exuded elegance. Discerning what might be slightly less calorific I chose a pistachio and raspberry roll that oozed raspberry compote, as I bit into the first mouthful of Viennoise sponge. This roving dessert cart had the most unusual flavoured fare. A rose and strawberry tart tasted light with rose Chantilly cream carrying the strongest flavour. The panettone with Gluhwein nitrogen ice cream marked the end of my sojourn at the Brasserie Les Saveurs. A type of mulled wine from Germanspeaking countries made from red wine, cinnamon and other spices, I was elated to have it in the form of ice cream. Mulled wine also signified Christmas for me though I know some who do not like the spiced flavours. For the latter group, fear not. Brasserie Les Saveurs now serve Champagne Barons de Rothschild Brut NV for their free flow menus. For Christmas Day champagne brunch priced at $268++ I feel it is well worth every penny. St Regis hits the spot on so many counts! The treats don't end here. Champagne brunch continues on Boxing Day and New Year's Day. So fret not if you don't make it on time to book in for Christmas, for the celebrations continue way into the new year. With luxuriant experiences specially curated for December, gourmet takeaways include whole roasted turkey, marinated salmon, cote de boeuf and whole roasted seabass. Decadent desserts that typically appear at Christmas time there are beautifully handcrafted log cakes on offer – Chocolate Decadence and Chestnut Pear. Pre-orders are available from 1 November. If you are looking for fine fare, an elegant venue and great service, this would have to be your top pick. I rolled out of Brasserie Les Saveurs feeling completely satiated. I knew that patrons would feel the same…..