Image Credit: Guilt SG Facebook Page 
Seasons change (well, not so much in Singapore...) and so does our taste for certain types of food. What tends to stay constant is our love for cookies - and if you are like me, you'd love to munch through our list of bakeries and bakers making amazing cookies, some even adding their unique touches to this classic sweet treat.
The circuit breaker period and beyond has clearly given an impetus to home bakers to bring cookie lovers these bite size delights. We have a list here to be enjoyed. So, go ahead and unleash your inner cookie monster!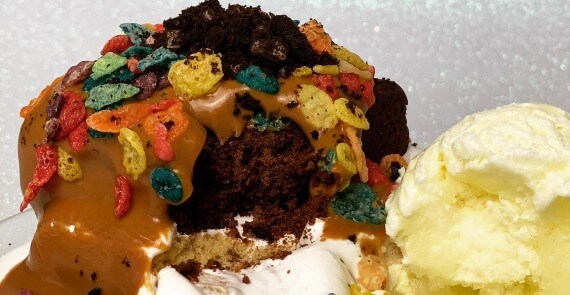 Image Credit: 3 Boys Dough Facebook Page
For all those who live their lives king-sized will appreciate the massive 160-gram cookies made by 3 Boys Dough. Their fillings will certainly make you drool - Hazelnut S'mores, Oreo Cream Cheese topped with Hershey Cookies N Creme, Peanut Butter with White Chocolate and Over the Rainbow. We also love their regulars like Rocky Road and The Classic made with chunky walnuts, dark chocolate chips and dark chocolate pieces. You can also sink your teeth in their Choco Pie Cookie which is Lotte Choco Pie stuffed in their original dough on one side and cocoa malt dough on the other.
INFORMATION
a. 670B EDGEFIELD PLAINS, #04-624, WATERWAY RIDGES, Singapore 822670
s. www.facebook.com/3boysdough/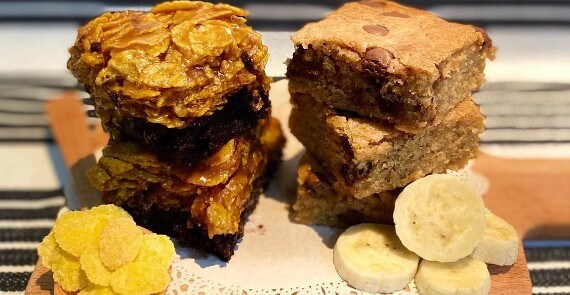 Image Credit: Dolce Dente Facebook Page
Syringes are usually pretty scary, even for us grown-ups but this can change with Dolce Dente for this unique bakery makes you inject your cookies with delicious cream. They make Cookie Med Sets which includes cookies and a pastry syringe with which you can pierce into your cookie at a 90-degree angle and fill it up with cream or simply glaze the cookie on top or while eating. These fun cookies come in delicious flavours and our favourite is Dark Velvetier, double chocolate with sea salt and an injection filled with red velvet and cream cheese filling. So good!
INFORMATION
s. www.facebook.com/Dolce-Dente-11001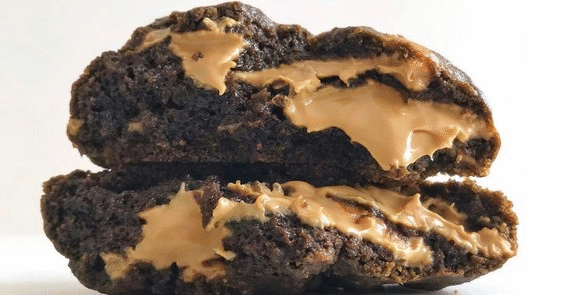 Image Credit: CookieBanter Instagram Page
We'd find it hard to believe if the bakers at Banter aren't binging on their flavoured cookie dough every once in a while, because the cookies taste so good! They have cookies like Peanut Butter Dough with Kaya Filling, PB Dough with PB & Strawberry Filling, and Pistachio Dough with White Choc. Insane, right? And they all taste heavenly. Even the ones with their classic dough are too good, be it their Double Chip with milk chocolate or Walnut with dark chocolate. We recommend their S'Mores made with Digestives Dough, marshmallow and dark chocolate or Speculoos Dough with Speculoos Filling.
INFORMATION
s. www.instagram.com/cookiebanter/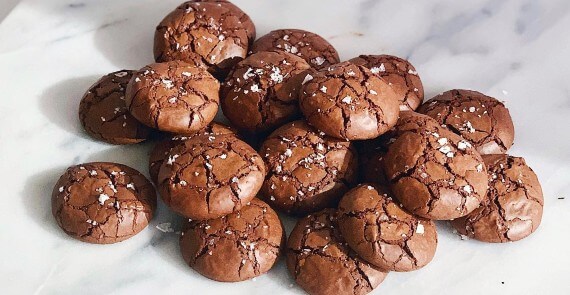 Image Credit: Lookie Cookie SG Facebook Page
Handmade cookies by Jessica Chowky are absolutely mind blowing and we'd straightaway ask you to go for her Giant Stuffed Cookies with fillings like Nutella, peanut butter, speculoos, uji matcha, hojicha and raspberry. Heat these up before eating and see the delicious filling ooze out as you break it open. Apart from these, she also makes divine tarts, tartlets and signature cookies - Classic, Sea Salt, Orange Chocolate, Peppermint Pistachio, Almond, and Walnut. The Classic is a thick and chunky, crackled chocolate chip cookie and we love ordering just these at times.
INFORMATION
s. www.facebook.com/lookiecookiesg/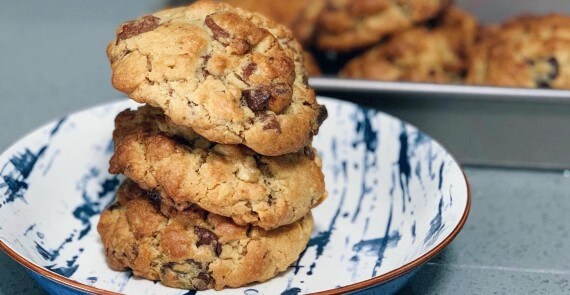 Image Credit: No.125SG Facebook Page
Crispy on the outside and chewy-gooey on the inside, cookies from No.125 Baked By J weigh 125 grams each. They are freshly baked on the day of delivery so you'll taste the freshness when you bite into them. We're always on the lookout for their seasonal offerings but their classics are oh so good - Chocolate Chips & Walnuts, White Chocolate with Cranberries & Biscoff, Triple Chocolates and Oatmeal Raisins. Their Triple Chocolates are made with Valrhona dark and milk chocolate with Ovomaltine Crunchy Cream in the centre. They also make amazing fudgy brownies with Valrhona dark chocolate or with speculoos.
INFORMATION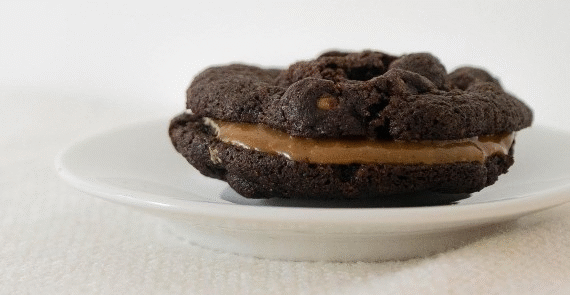 Image Credit: Folks And Stories Facebook Page
Perfect for gifting, Folks & Stories make cookies with a theme and so you'll find their names to be Inquisitive Wanderer, Nutty Professor, Curious Merrymaker and Ambitious Sailor. Apart from quirky names, these cookies have amazing flavours and are great for any occasion be it a themed party, corporate event or just another Tuesday. You can also create a whole new cookie with their customisable flavour options. Our favourites include Best Friend with yuzu cheesecake and brown butter, Care Bear with strawberry cheesecake and crumble, Daytime Dreamer with a chocolate brownie centre and Quirky Tastemaker with rosemary dark chocolate.
INFORMATION
a. Everton Park, #01-63 Block 3, Singapore 080003
s. www.facebook.com/Folksandstories/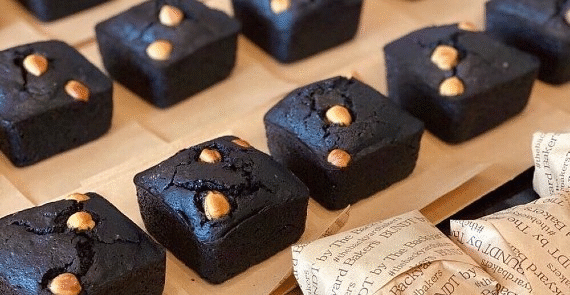 Image Credit: BUNDT by The Backyard Bakers Facebook Page
Come for your brownie fix at BUNDT be it delicious ones made with Valrhona Chocolate, Nutella Hazelnut, Biscoff or S'mores. Their menu is on rotation every single day and what we look out for are their Brookies which are a blast. They've done some awesome brookies in the past - Chocolate Chip & Smoked Sea Salt Flakes, Stuffed Nutella, Valrhona Dulcey & Smoked Sea Salt Flakes. You can walk and treat yourself to their freshly baked treats or tuck into their Legendary Otah which is a Triple Decker Sandwich and is so delicious!           
INFORMATION
a. 2 Havelock Rd, #01-22, Singapore 059763
w. thebackyardbakers.com.sg/index.html
s. www.facebook.com/thebackyardbake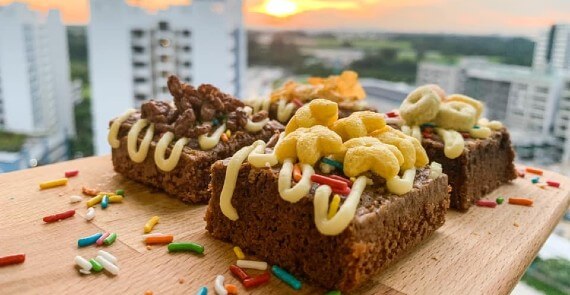 Image Credit: Butterspace Bakery Facebook Page
If you know someone who loves cookies more than a cake, give them the Birthday Cake Cookie by Butterspace. It is a delicious, crispy treat filled with marshmallow and Nutella, making it all gooey on the inside and is topped with rainbow sprinkles. Their other cookies are just as good - Colourful Circle Cookie filled with Nutella with M&Ms on top, Oreo Cookie filled with Nutella with an Oreo on top, S'mores Cookie filled with marshmallow and Nutella with more marshmallow on top. The bakery is also known for brownies and cupcakes and they're just as loaded as the cookies!
INFORMATION
s. www.facebook.com/butterspacebaker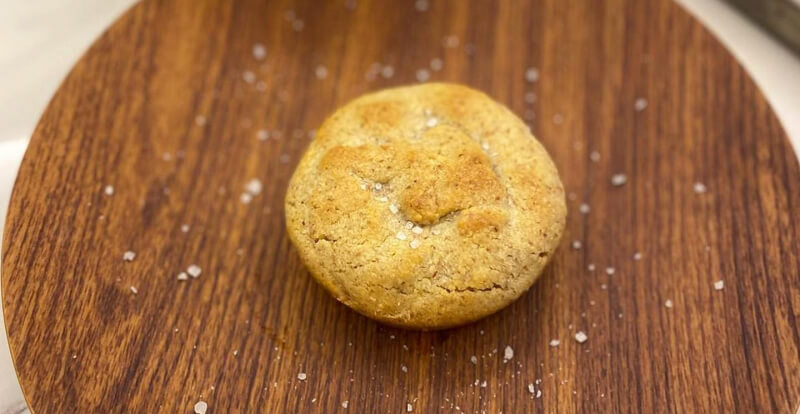 Image Credit: Ok Can Cookies Facebook Page
The right kind of cookies will feel like a warm hug on a cold day and the ones at Ok Can Cookies hit all the right spots. We love all their flavours - Choc Chunk, White Choc, PB Jelly, Kaya Sea Salt and Kosong. However, we are insanely partial towards their cookie loaded with just the right amount of peanut butter and the delicious grape jelly which smells so good when we open the box. Just as heavenly as their cookies are, we do recommend going for their newly introduced Apple Cinnamon Cake with a crisp sugar cinnamon crumble.
INFORMATION
s. www.facebook.com/okcancookies/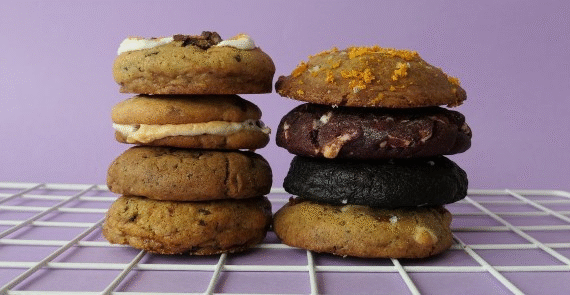 Image Credit: Guilt SG Facebook Page
Indulge guilt-free on cookies by Guilt because they are worth every sinful bite. And yes, we do have to warn you on this, you will get spoilt for choice because their flavours are so amazing. Letting you in on our favourites - Walk of Shame, dark chocolate chip, caramel infused vanilla cookie topped with extra dark chocolate chunks and marshmallow bits, toasted with a graham crumb crust; Tinder Surprise, vanilla chocolate chip cookie with a double chocolate fudge brownie and salted caramel filling; and Gluten-free Playboy Bunny, cinnamon oatmeal cookie with chopped walnuts and raisins filled with cream cheese frosting. Divine!
INFORMATION
a. 29 Arab St, Singapore 199728
s. www.facebook.com/cookieguilt/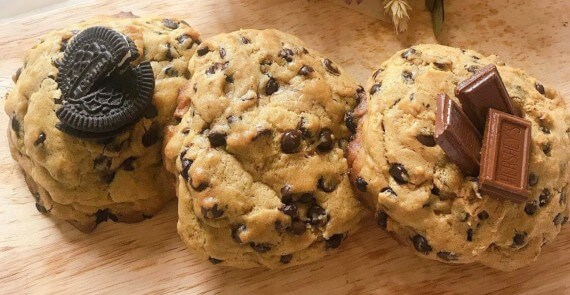 Image Credit: Sugary Bakez Instagram Page
Sink your teeth into the gooey inside of the Levain-style cookies by Sugary Bakez. The cookies come in a chocolate or peanut butter filling and the bakery even makes a super-delicious Messy Matcha Levain Cookie filled with white chocolate and walnuts. We are also crazy about their All Smores 4 You boxes featuring four cookies filled with homemade marshmallows, a different pastel shade of which is visible within each cookie. The crunchy biscoff biscuit on top takes the cake as it ties the flavours beautifully. We also recommend their Pandan Kaya Cookie with a gula melaka filling. So delicious!
INFORMATION
s. www.instagram.com/sugarybakez/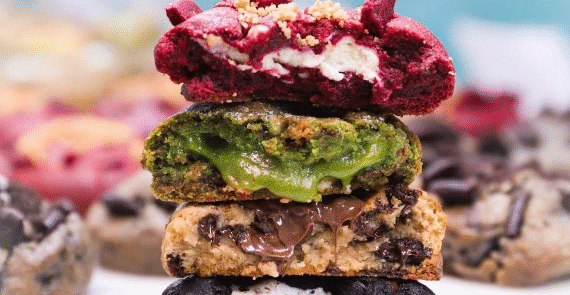 Image Credit: Nasty Cookie Facebook Page
In just two years, Nasty Cookie has become a popular cookie store established by the home baker Regine Sum who started off by taking orders online. The cookies can now be found both online and at two stores in Singapore where you can order your freshly baked treats with a scoop of soft serve on top. The cookies here are worth all the hype and their most popular ones are Biscoff Cookie topped with caramelised biscuits, Oh! Smores and Red Velvet Crumble. We love satiating our chocolate tooth with their Dark Chocolate Chip Cookie and Choco Bueno.
INFORMATION
a. 107, #02-35 North Bridge Rd, Funan Mall, Singapore 179105
s. www.facebook.com/nastycookiee/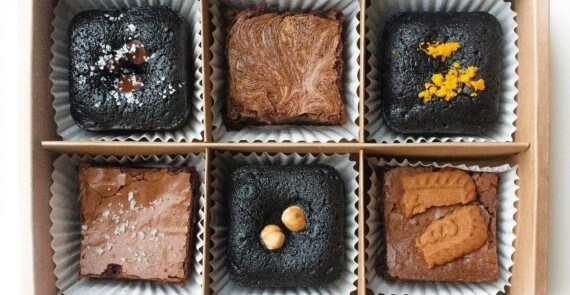 Image Credit: Flourworks Instagram Page
Fans of chunky cookies are going to love the amazing thickies at Flourworks. Their OG Choc Chip Thickies are great to dunk in cold milk and they've recently introduced Earl Grey Passionfruit Gold Cookie which is infused with earl grey, paired with Callebaut Gold and filled with Valrhona Passionfruit. Plus, they are forever introducing new ones like these so keep checking their menu for unique treats. Their brownies are as popular as their thickies and their recent bakes included Peanut Butter and Jam Brownie, Matcha Midnight Brownie and Cinnamon S'mores Midnight Brownie. Yum!
INFORMATION
s. www.instagram.com/flourworks.co/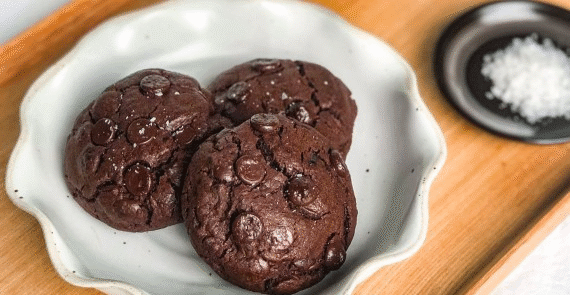 Image Credit: Miss Van Dough Facebook Page
There are cookies, then there are brookies and taking both of these many notches higher are Brookie Sandos, innovative and drool-worthy treats by Miss Van Dough. Two chocolatey brookies are sandwiched between light and velvety matcha cream making it taste like an explosion of sweet, nutty and creamy flavours all at once. Get your hands on these sandos at their next bake sale and do get some of their Chunky Chocolate Chip Cookies, Brownies, Pandan Biscoff Tarts and Basque Cheesecakes. The bakery also makes themed buttercream cakes and decorative cupcakes for birthdays and special occasions.
INFORMATION
s. www.facebook.com/missvandough/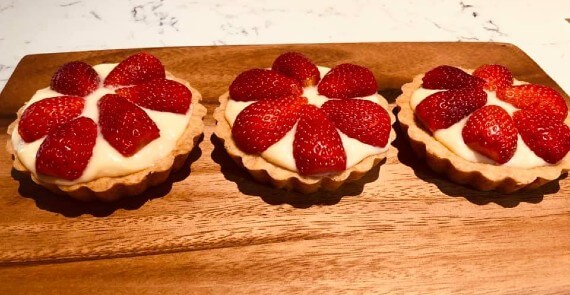 Image Credit: Brenda's Bakery Facebook Page
Shower yourself with a variety of cookies and brownies from Brenda's Bakery who makes delicious baked treats with branded ingredients of premium quality. They make delicious Brown Butter Madeleines made with browned French butter giving them a nutty taste. For a unique flavour, try their new Ispahan Levain-style Cookie made with raspberry, white chocolate, lychee nuggets and rose water. Their regular cookie range includes Black Gold, Double Chocolate, Caramelized Pecan and Ruby Pistachio. They also have a delicious range of Black Cocoa Brownies - 70% Callebaut Chocolate and Sea Salt, Nutella and Sea Salt, PB Raspberry, Toasted Walnut and Baileys.
INFORMATION
s. www.facebook.com/brendasbakessg/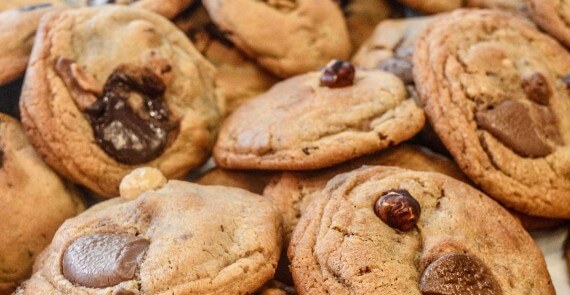 Image Credit: Ben's Cookies Facebook Page
Ben's Cookies originated in London but has found its place in the hearts of cookie lovers around the globe including Singapore. Bite into freshly baked cookies made with chunks of Belgian chocolate and strictly no chips at all. These chunks give the cookies a rich chocolaty texture making them the perfect treat for your milk dunk. We love their Double Chocolate & Nuts, Triple Chocolate Chunk and Dark Chocolate because we have a massive chocolate tooth. Don't miss out on their other cookies like Lemon, White Chocolate & Macadamia, Peanut Butter, Oatmeal & Raisin and Ginger Ginger which are also quite popular.
INFORMATION
a. 435 Orchard Rd, #B1-50 Wisma Atria, Singapore 238877
s. www.facebook.com/BensCookiesSingap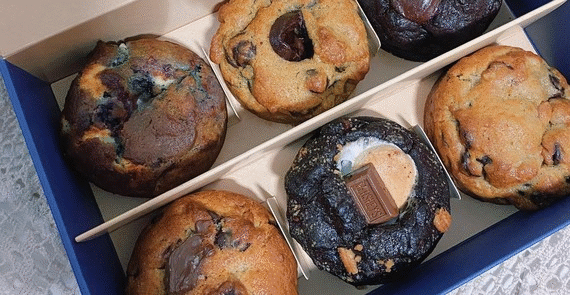 Image Credit: Whiskdom Facebook Page
The master of ooey gooey cookies and oozing brownies, Whiskdom has emerged as one of the most popular home bakers in Singapore. You can order their Bake Box every Monday containing delicious cookies and brownies like Pandan Cookie with red sugar & coconut filling, Berries and Crème Cookie, Teh Tarik Cookie & Brownie and Milo Dino Fudgy Brownie. The orders get sold out quickly so if you don't manage to get a box, join their waitlist which may not ensure when you'll get the box but does guarantee you getting one at some point. Yes, these cookies are worth all the wait!
INFORMATION
a. 321 Alexandra Rd, #03-16, Singapore 159971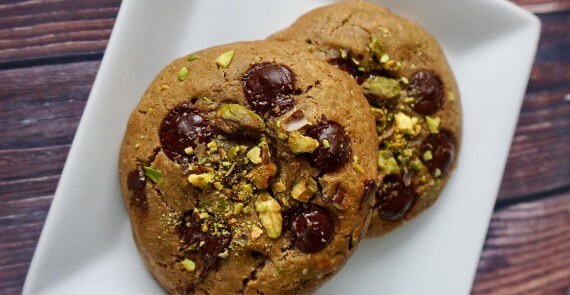 Image Credit: Butterlight Bakery Facebook Page
Light on your body, Butterlight Bakery bakes innovative Oakies, cookies made with oat flour. These healthy alternatives come handy especially when it's holiday season and we all tend to over-indulge on sweet treats. They've got some awesome variety and if you have kids, they would love to binge on Double Dark Chocolate with honey butter and the colourful, White Chocolate Funfetti with gummy bears. We love their Red Velvet with cookies & cream, Peanut Butter with pandan kaya and Earl Grey Apple with caramel. Delicious!
INFORMATION
a. Clementi Singapore, Singapore
s. www.facebook.com/butterlightbakery/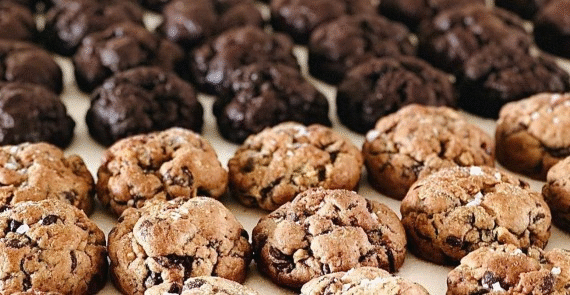 Image Credit: Joju Bakes Instagram Page
Bite into the crispy cookies by Joju and experience the gooey centre on your tongue as you devour it whole. Their no fuss menu features 'Jookies' which are absolutely mind blowing - Nuts About You, chocolate chunk cookies with toasted walnuts and a pinch of salt; Double Trouble, chocolate on chocolate; ILY So Matcha, matcha with white chocolate and macadamia nuts; Rose with pistachios. We love the idea of their Rose Jookies for a date night and we love dunking their Double Trouble in a glass of chilled milk.
INFORMATION
s. www.instagram.com/joju.bakes/?hl=en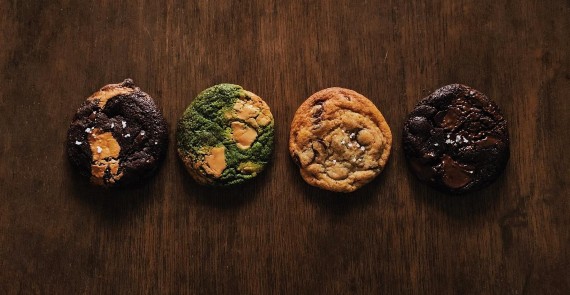 Image Credit: Of Feast And Field Facebook Page
Shower yourself with some homemade cookie love by Of Feast And Field. They make delicious and chunky, Levain-style Chocolate Chip Cookies. What we love about this home baker is their love for baking which they share with everyone. This is possibly why they have the recipes for all their cookies available on their website for everyone to try. If you're not much of a baker then simply order from them and you'll find some awesome treats like Ruby Chocolate Cookies with pistachio and cranberries, Midnight Brownies with rum and raisin, Matcha Canelés and fresh fruit tarts.
INFORMATION
s. www.facebook.com/offeastandfield/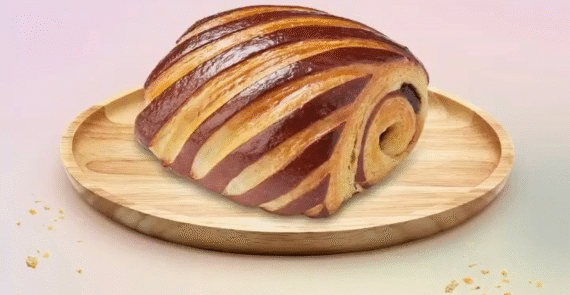 Image Credit: Charlie Tea Singapore Instagram Page
Charlie Tea boasts of flavourful, fruity, jade tea and pearl tea as well as a range of slushies but for us what gets dunk into the tea is of importance. Luckily, this little venture by the BreadTalk Group has it covered with their delicious chunkies - Red Velvet, Chocolate Walnut, Oatmeal Raisin, Matcha White and Double Chocolate. These macho looking treats are crispy when you bite into them and chewy as savour them. We love these terrific cookies with their hot and fruity green jade tea available in grapefruit, pineapple, orange and strawberry flavours.
INFORMATION
a. 391 Orchard Rd, #B1-30 Takashimaya Shopping Centre, Singapore 238872
s. www.facebook.com/CharlieTeaSg/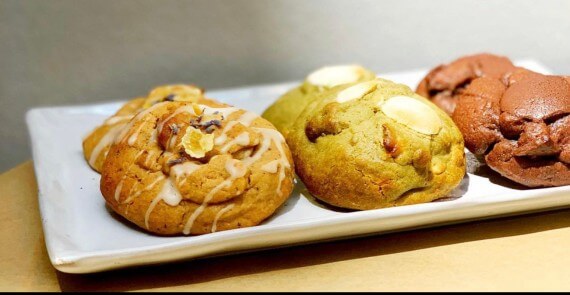 Image Credit: DatCookiePull Instagram Page
Specialising in mochi cookies, Dat Cookie Pull has fantastic flavours like Double Chocolate Chip and Hojicha & White Chocolate with an additional option of Azuki Red Bean Filling. You can customise these regular flavours with soya mochi or cookies & cream mochi. Indulge in their limited-edition flavours like Earl Grey Lavender with Yuzu Lemon Mochi and their latest hit, Biscoff with Chai Mochi & Salted Maple Glaze. The latter goes beautifully with a hot cup of tea and feels like autumn in a box. We recommend ordering a bunch of each of their variety; we're still enjoying our stock of red velvets!
INFORMATION
s. www.instagram.com/datcookiepull/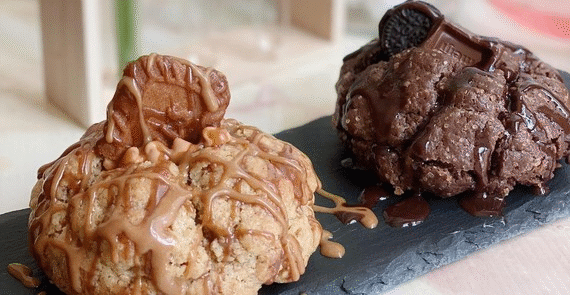 Image Credit: Crusty Bakes Facebook Page
The cookies at Crusty Bakes are special and not only because they are chunky and oh-so-delicious but because these are cookies filled with chunks of Maltesers, Bounty and Mars. Plus, they rotate the flavours weekly so you'll never be bored of eating the same kind. We also love investing in their grown-up cookies like Bailey's Irish Cream and Guinness Stout which come in handy for quick celebrations. Do try their delicious cheesecakes like Yuzu Mini Burnt Cheesecake, Mix Berries, Speculoos and Baileys' Mini and don't forget to pre order their decorative Christmas gift bundles.
INFORMATION
w. docs.google.com/forms/d/e/1FAIpQLSdQ5IiFwoT1JVcrCHfRWI_Amr6oPQvoJlogrBQwkf1OuhHKvg/viewform
s. www.facebook.com/crustybakes/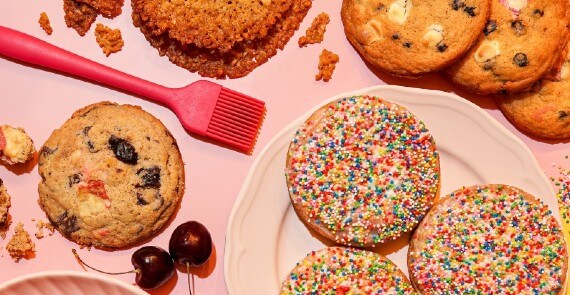 Image Credit: Vilcie's Monstah Kookies Facebook Page
Assemble all the cookie monsters in your house and order a box of baked goodness from Monstah Kookies. Their 5-inch Monstah Krisps made with rolled oats and chunks of almond and honey remain their most popular item and they even send mini versions of these in a jar. But don't just stop there, indulge yourself in their delicious, chunky cookie variety - Sprinkle Snickerdoodle, Tahini Zebra, MONSTAH Chocolate Chip, Dark Chocolate with Cherry and Blueberry with Cream Chip. If you have kids or an inner child, feed them all with their cute and delicious Jurassic Bite, a dinosaur shaped butter cookie.
INFORMATION
Comments
Charlie's Belief: "When there's tea, there is harmony." Charlie Tea aims to breathe new life into the intricate art of tea, blending traditions with modern tastes. Experience an original teahouse concept through freshly-brewed tea beverages crafted with a harmonious twist of contemporary flavours, where you can seek a moment of peace enjoying the old-world charm in the heart of the buzzing town. Be intrigued by our 3 remarkably fragrant tea leaves - Green Jade (green tea), Mount Wu (oolong tea) and Red Phoenix (black tea) and savour our unique tea concoctions made with only fresh fruits and fruit extracts for a healthy dose of vitamins.
We use only french butter, belgian chocolate couverture and australian cream cheese in our treats. All of our confections are made with only natural ingredients, with absolutely no artificial flavouring or colouring. We care a lot about the taste of our baked goods and love our cookies with textural contrast. When served warm, the soft baked cookies are lightly crunchy on the edges, soft and chewy in the center. We think that confections embody cultural significance, and is often associated with gifting for various occasions. To deliver that celebratory spirit and joy, we like to focus not only on delicious treats made with premium ingredients, but also on personalisation and expressing heartfelt messages. For creative individuals looking for unique treats, we enjoy creating customised flavours from scratch as well.