Join Expat Choice HK member Richard Dormer as he walks us through some bookshops any reader in Hong Kong should discover and explore!
"A reader lives a thousand lives before he dies. He who doesn't read lives only once". George R.R. Martin (Game of Thrones). 
There's something unique about browsing at a hard-to-find second hand bookshop, with vintage classics, recent bestsellers, rough diamonds and random novels best forgotten.
In these unprecedented times, now is a time to put down the kindle, broaden horizons, and indulge. We've produced a list of our favourite second hand bookstores in Hong Kong.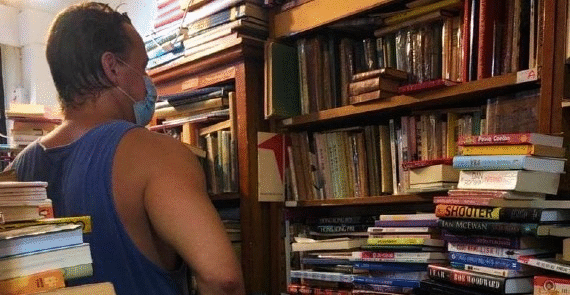 A charming ground floor store tucked on the slopes above Sai Ying Pun, Books & Co has recognised that books and coffee are an endearing combination. 
A helpful and welcoming staff makes this a great little place to browse and enjoy a respite. Particularly strong in non-fiction with stacks of travel memoirs, local history, humour and commentary, and more recent titles on self-improvement and philosophy.
A. 10 Park Road, Mid-Levels, Hong Kong
S. www.facebook.com/BooksAndCo/
How many books can you fit in one small 1st floor premise? That's a question that this goldmine in Sheung Wan is hell-bent on answering. Books at Flow are stacked on the floors, on shelves packed tightly together, and cascading from the ceiling. It's impossible to get around your fellow browsers. A bibliophile's dream. 
The upside is, of course, that there are literally countless books,  Whether you're into military history, tales of Hong Kong, paperback romance or random Hercule Poirot DVDs, chances are you'll find something to suit your tastes here.
A. 1F-G No.189 - 205 Queen's Road Central, Sheung Wan, Hong Kong Kai Fung Mansion
S. www.facebook.com/flowbooksnet
It's hard to believe that this store is in Mui Wo, nestled near the ferry terminal on the Silvermine Bay side of the village. Spacious and well organised, Vibe has a wide range of clearly categorised and alphabetised new and second hand books, vinyl, CDs, DVDs, and generally cool stuff. A great place to head before the beach.
The range of memoirs and biographies (music, sports, politics etc) is particularly impressive. Community focused and supported.   
A. Mui Wo Ferry Pier Rd, Mui Wo, Hong Kong
S. www.facebook.com/VibeSilvermineBa
Founded in 2018 by a former lawyer seeking a career change, Bleak House Books has quickly become one of Hong Kong's favourite and most unlikely bookstores. Not only a bookstore but also a community space, it sprawls across a spacious 27th floor in San Po Kong. 
A large, curated range across all categories of fiction and non-fiction, new and second hand. Vintage paperbacks, crime and classic literature are to the fore in table displays in what is clearly a labour of love. Thousands of titles across hundreds of categories are further itemised, pictured, priced and described on the website. 
A. 27/F Unit 05, 7-9 Pat Tat St, San Po Kong, Well Tech Centre
W. www.bleakhousebooks.com.hk/
S. www.facebook.com/bleakhousebooks/
*All of the above mentioned Bookstores are independent, and very deserving of support, with prices starting from $30HK. 
Comments