While many in Singapore found last year's circuit breaker an isolating experience, Expat Choice reported on how the pressure of the situation offered many people the time to explore their creativity in new ways. We again put the spotlight on four such courageous women.
People took up hobbies like baking, crafting, dancing and art, to name a few. For Miz Feiler, Dani Van de Velde, Naomi Makino and Genevieve Chase the circuit breaker sparked a life-changing musical awakening. For a feel-good story, read on to understand their personal inspirations, challenges and achievements.
Miz Feiler
When Singapore went into circuit breaker in April 2020, startup founder Miz Feiler found her creativity ignited in ways she had not expected. "Being in a heightened sense of stress from the pandemic made me think more about my mortality and whether I was truly expressing myself authentically." Miz found solace in poetry to help her process her emotions during lockdown.
"My husband's band, The Souls, had just released their first album and it inspired me to explore whether my poems could become song lyrics. I do not play an instrument and had never written a song before, so I approached an old friend of mine in Sydney to teach me how to write a song."
That friend is multi-platinum selling signer-songwriter Ilan Kidron who has written for the likes of Ricky Martin, Rita Ora and Chance The Rapper. During their first Zoom songwriting lesson, Miz and Ilan wrote their first song together. After three sessions, they had co-written two further songs. Over the course of 2020, Miz and Ilan Kidron continued to work together on finessing and arranging their songs. Ilan agreed to sing two of the songs and release them as singles.
Their first song, Dance The Dark Away was released on 5th May on all major streaming platforms. A post-COVID dance anthem, Dance the Dark Away tells the story of a couple who are separated by COVID and are finally reunited.
"Our universal desire is to dance the dark away. Many, especially expats, are separated from the people we love at this time. Some have tragically lost loved ones to the virus. Around the world humanity is reeling from the emotional darkness of this past year. We all miss being hugged. We miss the dancing and the music and deeply crave to have these moments back in our lives."
 "I started circuit breaker as an entrepreneur publishing business blogs and videos that encouraged business owners to adapt and pivot to meet the rapidly changing global landscape. I did not expect that I would be transforming my life direction at the same time." 
"If you had told me one year ago that a career as a lyricist and a writer was an option for me, I would not have believed you. This whole experience has been an awakening for me." 
Find Miz on Facebook,  Instagram and Linkedin​​​​​​​. Listen to Dance The Dark Away Here on Spotify and iTunes
Dani Van de Velde
Dani Van de Velde is one such entrepreneur who was forced to adapt as a result of the lockdown. A shamanic healer and meditation teacher, her in-person classes and training were forced to pause during circuit breaker.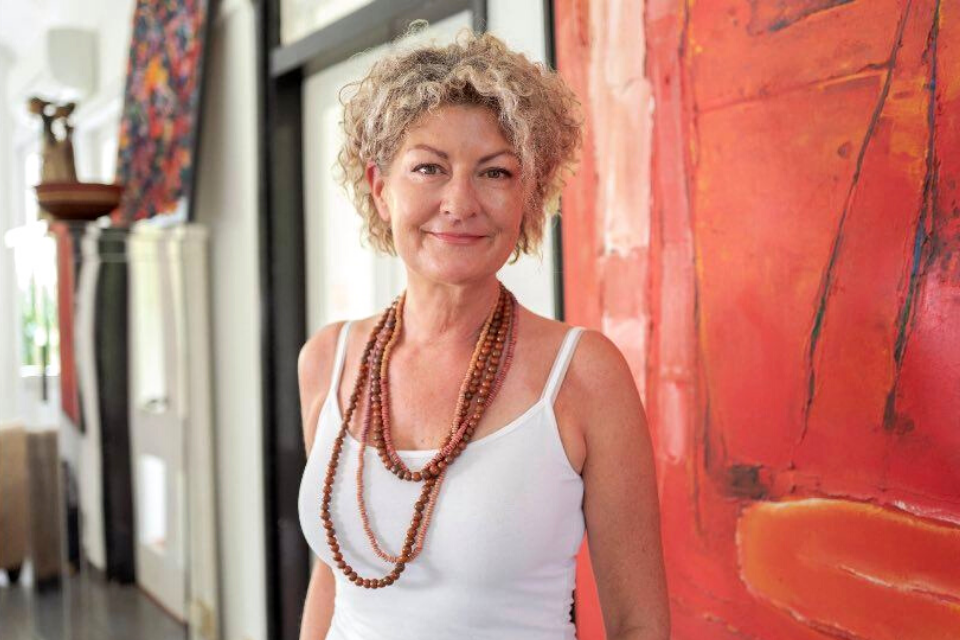 "The big shift for me was to find ways to facilitate lessons and guided practices digitally. I had planned to start offering online courses and guided meditation tracks, but it was a little further out in my business plan. COVID gave me a kick in the pants to move on it earlier."
Dani worked swiftly to bring her business online and sought out Sydney musician Sam Joole to help her bring her vision of meditation music to life. It was a steep learning curve that included understanding IP, music royalties and meta tagging, and digital platforms. Dani set up a makeshift recording studio in her son's bedroom and started collaborating remotely with her partners to build out her vision.
"When collaborating, it is very important for me to feel an alignment, mutual admiration for respective talents and to genuinely like the people I work with. To have people around me that love what I do and are invested in its beauty and success, makes for deeper creative processes and playfulness too - which all contribute to the end product."
The experience of expanding into the digital world has opened up three new offerings for Dani's business - online meditation courses, guided meditations tracks, and now music singles.
"With the COVID situation not lifting for the foreseeable future, I am now looking to convert all my previous group meditation and spiritual courses into digital workshops. What's wonderful about these new offerings is that the meditations, music and courses are now touching people from all around the world. It's so exciting to see."
Naomi Makino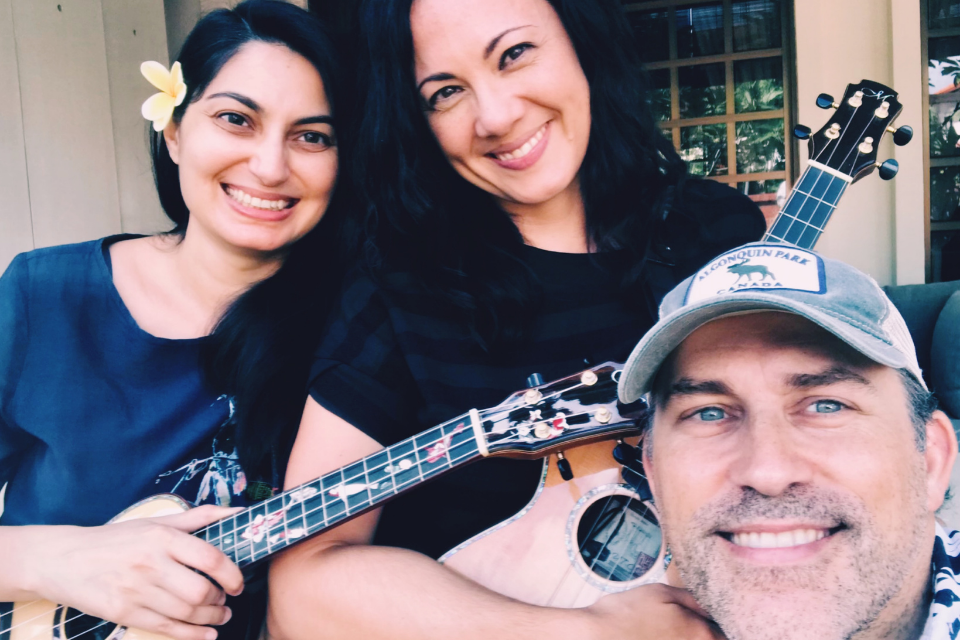 For Naomi Makino, the stress of the 2020 Singapore circuit breaker sparked a powerful need to connect with people and find points of commonality. A member of trio Total Fluke - with her husband James Hutchison and friend Nadia Syed - that connection was catalysed through music. Canadian nomads who met in Asia, they describe their music as a mishmash of cultural influences with ukulele, cajon, bass, and raw vocals at the core of their sound.
"Before COVID, Total Fluke had performed only covers, but this situation, while preventing us from getting together to jam or perform live, somehow inspired us to write original songs. I had never written a song before, but out of the blue Nadia sent me some lyrics she had written, I texted her back a few more, and "Bubble World" came together very quickly. That started a flood of creativity, which led to us co-writing four more songs in quick succession, mostly remotely."
The band released its first single "Bubble World" - a song about being in lockdown as a family - not anticipating it would still be relevant a year on.
"Everyone has their own unique experience of lockdown. Ours has been chaos with our families, but many of our friends and family who live alone have struggled with isolation and loneliness. With our new song, Ready & Waiting, we wanted to capture that feeling but also convey hope in finding little joys and in anticipating better days to come."
Both Naomi and Nadia feel strongly that creating music has brought them closer together as friends. They have also had the opportunity to collaborate with talented musicians in Singapore, Philippines and Portugal. The process of challenging themselves creatively in new ways has resulted in a more cohesive sound and style in their music, and overall has helped them cope better with the stresses of the pandemic.
"The common thread in our songs is that focus on connection and relationships that COVID has inspired. That we can continue to grow, create, and share our creativity and love out into the world beyond the new boundaries that keep us in has also been, in a small way, a victory over COVID."
Ready & Waiting is now available on all streaming platforms. Follow Total Fluke on Instagram, Facebook, Spotify and Apple Music
Genevieve Chase
Finding connection through music was also what motivated Genevieve Chase to unlock her dormant passion for singing during the 2020 circuit breaker. "Being stuck at home with nowhere to go, I needed an outlet. Spending more time than ever in front of the screen, I needed to engage my brain in a different way. I used to be in a choir when I was at university, so singing was a natural outlet."
Encouraged by a friend who had joined a new online choir a couple of months earlier, Genevieve joined amateur choir, The Viral Choir. Founded by Director of Soul Song Choirs, Jacqueline Larsen as a way of saving her Australian Choir business, The Viral Choir took off instantly. What started as a short term online experiment, The Viral Choir grown into a closely bonded online community with members joining from Australia, Singapore, Hong Kong, Germany, UK and USA. 
"That's been most amazing part of it - the close friendships that have been built. Everyone is so supportive of each other, and have been very empathetic during the various levels of lockdown, employment, happy times, and sad times, that each of us around the world are going through.Everyone has improved, and the productions are amazing. The last submission had much of our audience (and singers) in tears from the heartfelt performance."
Viral Choir release music regularly through their YouTube channel. Visit the main acebook group of the choir here on Facebook