Covid has impacted everyone's life. For the Sala Bai Hotel School in Siem Reap, Cambodia, the impact has been devastating. With tourist arrivals near zero, most hotels and restaurants have been forced to close.  An estimated 80 percent of Sala Bai's 1850 graduates are now unemployed. USD $200 monthly incomes, supporting an average of 5.5 family members—aging parents and young children—have been eliminated. The graduates' modest savings are wiped out.
In Cambodia, one of the world's poorest countries, there are no safety nets. And with a second wave of global Covid infections on the rise, the situation is dire. To support these young Cambodians and their families, Sam McGoun committed to running and biking 1850 kms—one kilometer in honour of each of Sala Bai's 1850 graduates and the 10,000+ family members that rely on them.
The journey began on Thursday, December 17 and ended on Sunday, January 3, 2021. As Covid prevented Sam from completing this journey in Cambodia, as he did in 2012 and 2013, he completed it near his home in Singapore, adhering to local safety protocols. Throughout the 18 days—one day for each of the 18 years the School has been operating—his team, the students, and Sam shared uplifting stories of triumph, explaining the harsh realities, and offered virtual school tours and a pre-New Year's cocktail making class.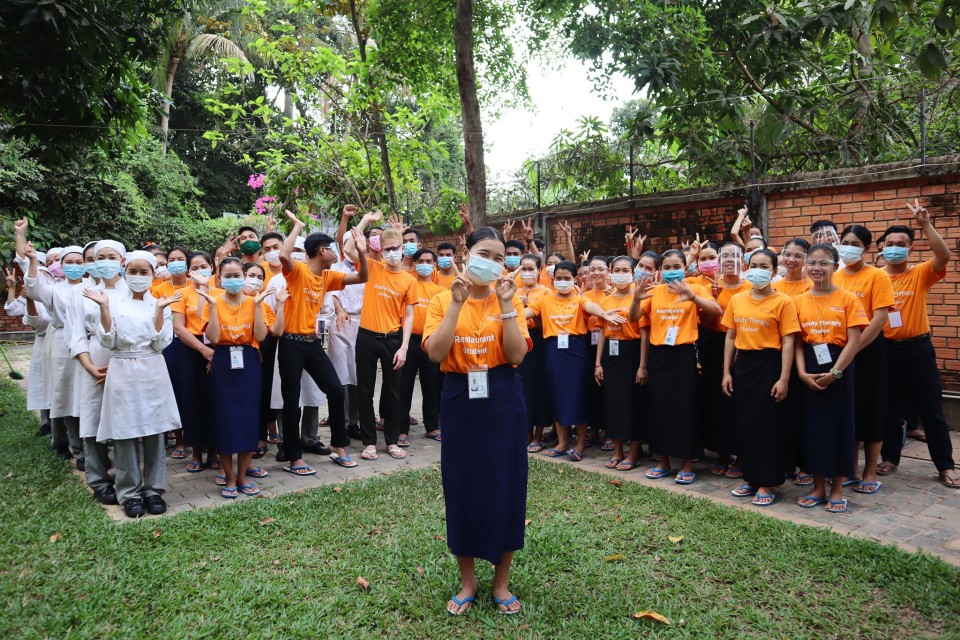 Image Credit: Sala Baï Hotel & Restaurant School in Siem Reap
What was Sam's goal? It's simple. He wanted to inspire family and friends to join him in supporting Sala Bai's current students, graduates, and their families overcome what has become the biggest challenge in their lives, and the biggest challenge since the country's genocide in the late 1970s.
The students and graduates of Sala Bai gave him what he believe's to be the greatest gift of life—perspective. Sam shares "I will be forever grateful for what they taught me, and forever committed to supporting their futures."
It's a privilege to have supported Sam through TouchSala Bai in his crazy triathlon mania to raise awareness to Sala Baï Hotel & Restaurant School in Siem Reap.
Over the years the school has provided underprivileged Cambodian youth a valuable opportunity to upskill themselves with a free vocational education which has enabled them get good jobs in the hospitality sector and support their families.
Understandably now with the pandemic and lack of tourism for a prolonged period, the need for all rounded support is critical.
Feel free to explore the school pages, but also if you have a chance to ever visit the school when things are bit more normal again that will definitely be an awesome experience for you as it was for me the 3 opportunities I have personally have to visit and to run the Angkor Wat International Half Marathon with The Chain Reaction Project TCRP
Meanwhile you can also consider donating to Sam's campaign from which all proceeds goes to the school that help the graduates to survive this difficult period.
Due to the current situation in Siem Reap, to respect the governmental decision and to protect students, 𝗦𝗮𝗹𝗮 𝗕𝗮𝗶̈ 𝗦𝗰𝗵𝗼𝗼𝗹 𝗶𝘀 𝘁𝗲𝗺𝗽𝗼𝗿𝗮𝗿𝗶𝗹𝘆 𝗰𝗹𝗼𝘀𝗲𝗱. At time of publishing, the students will stay safe in their dormitories and continue their training online.
Sincere gratitude to all our readers for learning about Sala Bai and the plight of its students
Regards
John