The historic locale of Duxton Hill welcomes a new addition with BTM ('Back to Mussels') Mussels & Bar.
A concept by Olivier Bendel, the playful and dynamic space with friendly neighbourhood vibes serves up the best seasonal mussels from France and across Continental Europe; cooked to perfection with a variety of recipes and paired with a curated selection of wine, beer and house-made Fruit-Infused Summer Beer.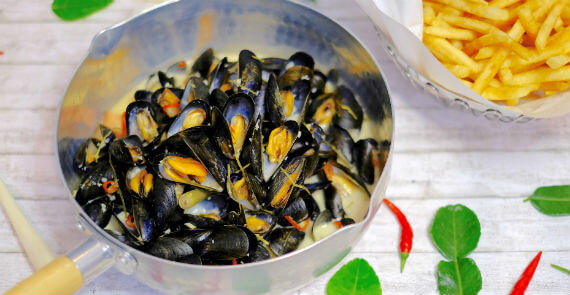 Kitted out with casual outdoor seating, along with low lounge tables, dining tables, bar counters and high tables indoors, BTM Mussels & Bar's flexible 74-seater space welcomes all types of gatherings, from quick drinks to relaxed get-togethers. 
BTM Mussels & Bar marks Olivier Bendel's return to one of the most delicious chapters in his personal culinary history – by going 'back to mussels'! Olivier is a long-time restaurateur, chef and founder of Déliciae Hospitality Management (DHM), a Singapore-based restaurant and hospitality group dedicated to serving authentic European culinary experiences.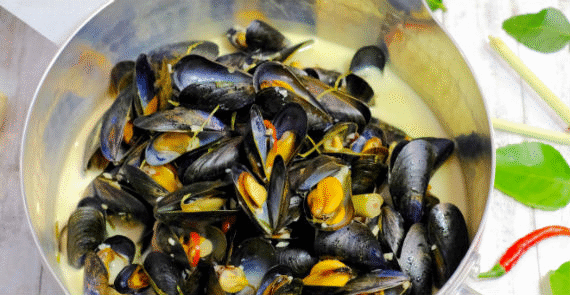 Before establishing DHM in Singapore, Olivier's first major foray into the food and beverage industry was at the Léon de Bruxelles group, which was the first moules-frites (mussels and fries) focused restaurant chain to open locations across France. During his 10 years with the group, Olivier innovated and developed over 250 original mussel recipes, and forged strong relationships with some of the best mussel producers in the region.  
 
"Mussels are sustainable, great for the ecosystem and full of Omega-3. But the real reason why we love them, is because the best mussels are naturally sweet, delicate and very versatile for flavour pairings. With BTM Mussels & Bar, we want to bring to table, the best mussel experience in Singapore – the fun of sharing and slurping through a delicious pile of amazing, seasonal mussels, while sipping on a refreshing beer or wine," shares Olivier.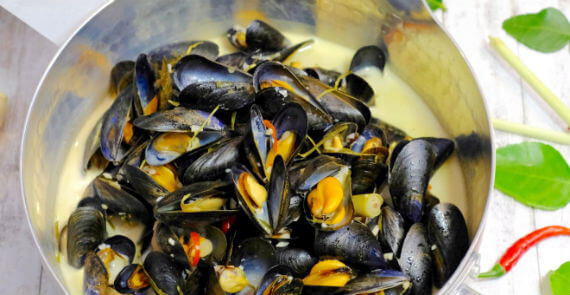 Served in seven different recipes to cater to every palate preference, each recipe is developed to bring out the natural sweetness of these gems of the sea. All mussels are served with French fries, and available in portions of 500gm ($36++), 750gm ($48++) and 1kg ($58++). 
Marinières is a classic French style of preparation consisting of White Wine, Butter, Parsley and Onion. For a tinge of smokiness, there is the Ardennaise, which is prepared with Mushrooms, Fresh Cream, White Wine, Butter, Parsley, Onion and Bacon.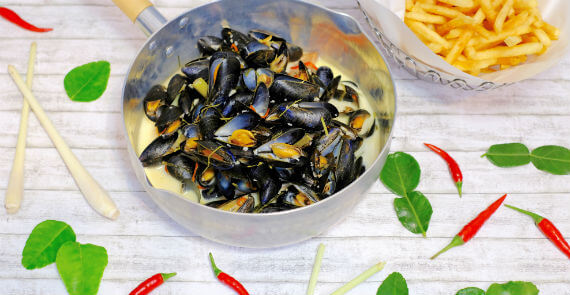 The Thailandaises is a Thai-inspired recipe of Chilli, Kaffir Lime Leaf, Lemongrass, White Wine and Coconut Milk; while the Au Roquefort boasts the strong, savoury flavour of 'the King of Blue Cheese', along with Fresh Cream, White Wine, Butter, Parsley and Onion.  
Other than their signature moules-frites, BTM Mussels & Bar's extensive menu of comforting bar bites from France and the Benelux (Belgium, Netherlands and Luxembourg) region of Europe have been specially curated for guests to share.
Signatures include the Le Croq-Truffle ($18++), a playful take on the 'Croque Monsieur', with fresh Black Truffle from France, Comté and Serrano Ham; Tartes Flambées, or Alsatian ovenbaked flatbreads ($24++ to $28++), which come in a variety of toppings such as Smoked Bacon and Caramelised Onion;  and Escargots, Garlic, Parsley Butter and Onion; and  Bitterballen ($8++), Holland's number one bite-sized snack made from a thick roux with beef and a rich beef stock, then fried until golden.  
Les Planches or "Boards to Share" include French classics like La Planche de Charcuteries et Fromages ($38++), a selection of Camembert, Comté, Sainte-Maure, Duck Rillette, Pâté en Croûte, Country Pâté with Pistachio, Duck Foie Gras Terrine, Walnuts, Dried Apricot, Gherkins, Onion Confit, Djion Mustard and Baguette.  
Nothing complements the pristine sweetness of the mussels like a refreshing sip of beer or rosé. The beverage menu at BTM Mussels & Bar offers a selection of low alcohol by volume Summer Fruit-Infused Beers that are steeped in tropical fruits such as Passionfruit, Raspberry, Lychee and Pomelo Grapefruit (Happy Hour $10++ / Regular $12++).  
A. 5 Duxton Hill, Singapore 089591
Comments
Another gem tucked away in Duxton Hill, BTM Mussels & Bar has opened right on our doorstep. Showcasing mussels cooked in a variety of styles including Asian flavours of Thai and Indian, there is something for everyone. If you are not a mussels fan don't worry. There are small plates, tartes, charcuterie and cheese boards, all of which are well worth a try, at value prices too. Not being a beer drinker, neither one for cocktails, I was urged to go against my norm and try the summer fruit – infused beer. It wasn't the sweet sugary drink I was expecting. Probably downplayed by the bitter beer. With refreshing flavours like passion fruit, pomelo grapefruit, lychee and raspberry, these proved to be a fantastic partner to mussels. I would highly recommend this….for everyone, whether you like beer or not! For avid wine drinkers there are also options to have chilled white and rose by the glass. Just ask for the amazing Samantha who looks after the bar with a smile and has customer service figured out! When you do visit I'd say the more the merrier. BTM Mussels & Bar's menu offers a lot of bar food that is substantial and recommended to be eaten down and dirty – with fingers. So I shared a few small plates like Bitterballen, Holland's number one snack. Crisp fried balls made from a thick roux with beef. Of course a bite into some croquettes which come in 3 pieces for about $12 a plate. I was glad that the jamon croquettes were subtle and not overpowering. There were shrimp, cheese and truffled porcini croquettes too. This is where it pays to be in a large group which affords diners greater varieties. In fact BTM Mussels & Bar was packed with groups of young people, with some couples choosing to sit at the bar for greater personal time. A full house on a Wednesday night? The best testimony to good fare! My favourite Croque Monsieur was laced with black truffle, an indulgent take on the famous French snack, one I never miss when in Paris. Crisp French fries were perfectly cooked – chewy on the inside. The expected accompaniment to a pot of mussels, I dunked mine into the different sauces. So finger-licking good! While you might only see seven varieties of mussels on the BTM Mussels & Bar menu, there are more than 250 ways that Chef & Restauranteur Olivier prepares them. So be assured of a change of flavours when you visit next. Popularising Belgium's "moules et frites" BTM Mussels & Bar relived my time in Brussels. Hearing the clickety clack of horses ride along the lovely cobble-stoned streets in my mind, I reminisced the alfresco cafes I sat at, eating this delicious gem of the sea. A definite "must" on the mussels list is the Thailandaises – chilli, kaffir lime leaf, lemongrass, white wine and coconut milk. It is outstanding to say the least. I was glad that the sauces I tried didn't overpower the taste of the fresh mussels. To the contrary they brought the flavours out. Nothing like a predictable, plain vanilla pot of Marinieres mussels cooked with white wine, butter, parsley and onion. My preference always is a smorgasbord of flavours rather than the monotony of one taste. Hence I would recommend ordering a few 500g pots of mussels until you have frequented BTM Mussels & Bar a few times and found your favourite. If you are still hanging out for more, the Tartes Flambees - freshly baked French pizzas, offer some amazing toppings. My biggest problem at BTM Mussels & Bar was the hard choices I had to make – they were all so delicious! From smoked bacon & caramelized onion to porcini, wild mushrooms & comte, they were so easy to enjoy with a glass of refreshing summer fruit-infused beer. You can tell I was sold! Having spent a wonderful evening devouring Belgian fare, I was adamant that I should end the night with one last treat, waffle "BTM" – a Belgian waffle with vanilla bean ice cream, hot chocolate sauce and Chantilly cream! Large enough to be shared by 2 diners, I thought the price of $18 was reasonable. In fact throughout my meal, I could not help but think how much cheaper and more accessible this meal was! I saved myself an air fare and could come down to BTM Mussels & Bar anytime I craved for imported mussels. Cooked in traditional and new ways, I had so many options right in front of me. What else could I ask for?
Served in seven different recipes to cater to every palate preference, each recipe is developed to bring out the natural sweetness of these gems of the sea. All mussels are served with French fries, and available in portions of 500gm
The BTM Mussels & Bar team will be spending Christmas Day (25 December) with family and friends! You can still enjoy our tasty moules-frites, sharing boards and refreshing drinks with your loved ones on both Christmas Eve and Boxing Day (during our regular opening hours)! We look forward to having you join us for the festive period!