COVID-19 may have changed the way we travel but not the way we all dream of taking holidays. David Bowden sows the seeds for future vacations with his tales, 'Wish You Were Here'.
Maybe it's the weather or the laidback lifestyle but Aussies love to abbreviate words so that my ferry from Fremantle to Rottnest Island in Western Australia is communicated amongst the locals as travelling from 'Freo' to 'Rotto'. While not located in the tropics, the island's waters will please travellers, as they are tropically warm due to the Leeuwin Current (what the locals may call 'troppo').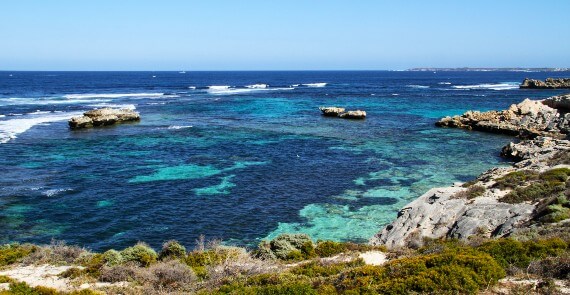 Coastal scenery Rottnest Island
Perth residents are blessed to have this island paradise just 19 km offshore and they know how to maximise the recreational activities on the mostly vehicular-free island. Many explore its 19 km2 on foot, bicycle or e-bike.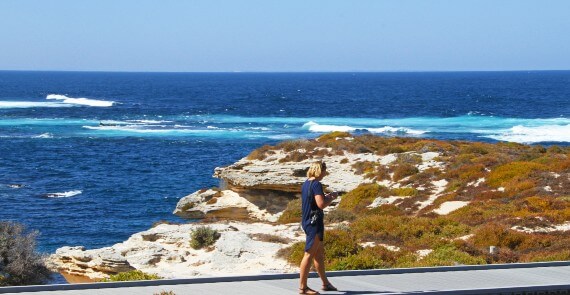 Boardwalk across heath vegetation Rottnest Island off Perth
QUAINT QUOKKAS
Known as Wadjemup to the local Noogar people, the island was first visited by Dutch sailors in the 17th century, when Australia was known as New Holland. In 1696, Dutchman Willem de Vlamingh named the island Rottnest meaning 'rat's nest' as he mistook the native Quokka for oversized rats.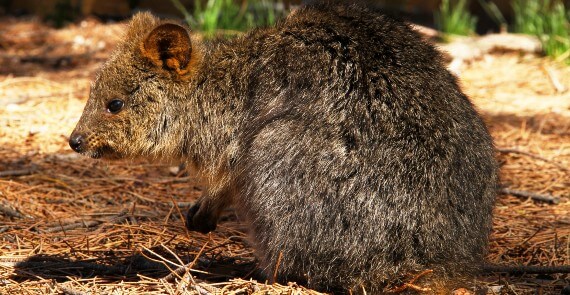 Quokka Rottnest Island
De Vlamingh didn't get everything wrong though as he described the island as a 'paradise on Earth'. The furry, cat-sized Quokka is the island's official mascot with a must-do activity, to take a selfie with these slow-moving, docile marsupials.
Chris Hemsworth, Matt Damon and Roger Federer have posed with what is now considered the world's cutest and happiest animal. While mostly nocturnal, Quokkas are found all over the island grazing amongst low, shaded vegetation.
RECREATIONAL RETREAT
Rottnest Island appeals to families as its waters are sheltered by offshore reefs and the beaches are safe for swimming.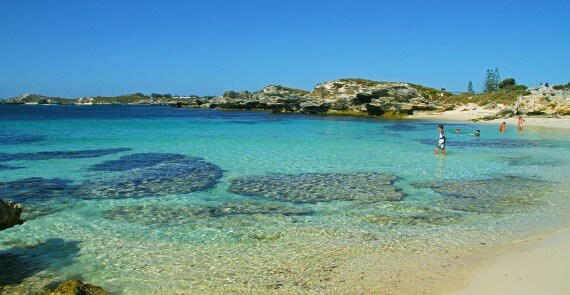 Swimming Rottnest Island
While the Island Explorer Bus makes regular circuits stopping at all attractions, I chose to cycle on an e-bike that made negotiating the hills much easier. Armed with a towel, sunscreen, snorkel and flippers, I enjoyed exploring the underwater world at Geordie and Salmon Bays.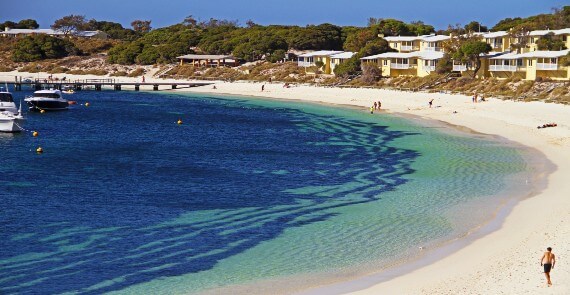 Beach Geordie Bay Rottnest Island
There is a short train line with tourist trains travelling between Thomson Bay and Oliver Hill Guns. The line was used during World War II to supply ammunition to defensive guns on Oliver Hill and the 64-seater Captain Hussey train is unique and a must for train lovers.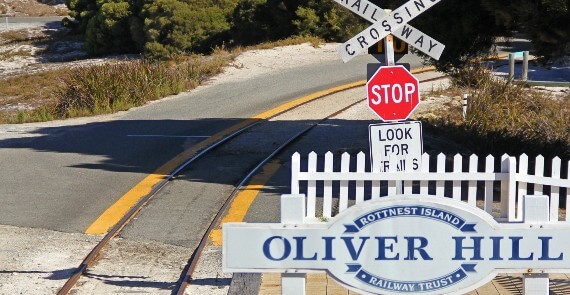 Oliver Hill Station Rottnest Island WA          
There are numerous recreational activities on the island and in the surrounding waters. Boating is popular with limited moorings keenly sought by local boaters. There is a family-oriented aqua and fun park with mini golf and trampolines.            
Adults can play golf at Karma Rottnest Golf Club and scenic flights and tandem skydiving are also available.        
I enjoyed my leisurely cycle to photograph the varied natural landscapes including multi-coloured lakes once used for harvesting salt.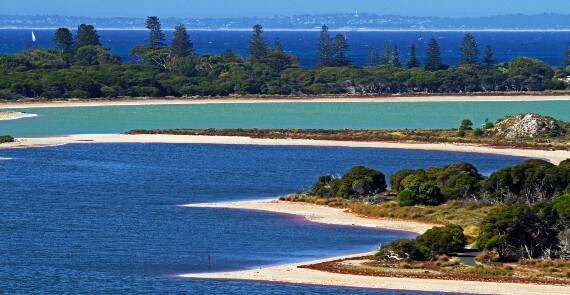 Lakes from Oliver Hill Rottnest Island
Eating and drinking are important with visitors and there are some inviting restaurants and cafés as well as shops for stocking up on drinks and snacks. One of the most popular restaurants is Thomsons Rottnest Island, which serves an excellent selection of salads, pasta and seafood. The beachside restaurant also offers a range of fine Western Australian wines and premium labels from celebrated global wineries.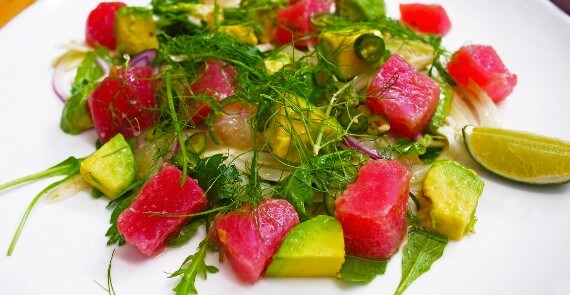 Yellow fin tuna and avocado salad
For something more casual, there's Dôme, Simmo's Ice Cream and Rottnest Bakery at Thompson Bay.
BEACH GLAMPING
Whatever your idea of camping is; forget it. The 83 luxury, eco-tents Discovery at Pinky Beach dispels any idea of discomfort as the superb 'tented' accommodation offers comprehensive hotel facilities. The closest these chalets come to camping is that they have canvas roofs and are located in the outdoors beneath towering trees immediately on the beach.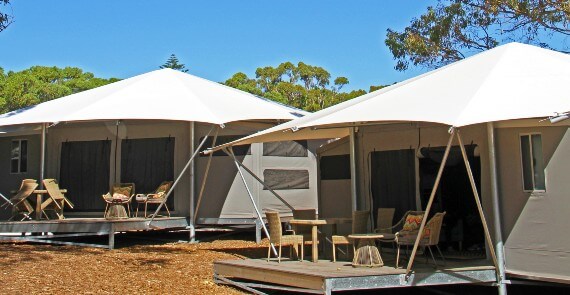 Glamping Discovery Rottnest Island
Various accommodation options are available at Discovery with the finest located amongst beachside dunes and with uninterrupted ocean waters. Here, Pinky Beach Club sprawls across beachside lawns at the base of Bathurst Lighthouse.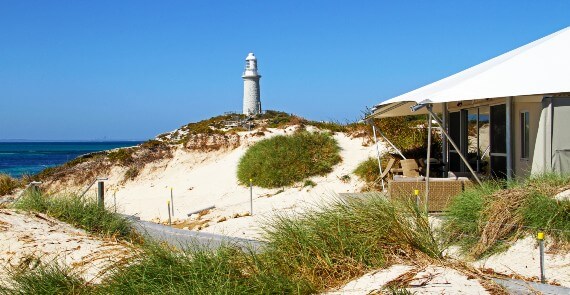 Discovery glamping Pinky Beach Bathurst Lighthouse
Rottnest Island is an essential visit for visitors to Perth as it offers a relaxed, safe, friendly and appealing lifestyle enhanced by a selfie with a Quokka.
TRAVEL FILE
Getting There
Several airlines fly from Asia to Perth. Ferries operated by Rottnest Express and SeaLink Rottnest depart from Fremantle with the crossing taking 25 minutes. North of the river, Rottnest Fast Ferries also depart to the island from Hillary's Boat Harbour. There is a small airport for flights arriving from the mainland.
Where to Stay
Discovery Rottnest Island is an eco-sustainable 'glamping' (glamourous camping) experience while there are various other options on the island.
Contacts
Rottnest Island and Tourism Western Australia
David Bowden is a freelance journalist based in Malaysia, specialising in travel and the environment. While Australian, he has been living in Asia longer than he can remember, and returns to his home country as a tourist. When not travelling the world, he enjoys relaxing with his equally adventurous wife Maria and daughter Zoe. He is the author of Enchanting Borneo, Enchanting Malaysia and Enchanting Singapore. Also in this series, you will find Enchanting Vietnam, Enchanting Penang, Enchanting Indonesia, and Enchanting Langkawi.
Comments
Maybe it's the weather or the laidback lifestyle but Aussies love to abbreviate words so that my ferry from Fremantle to Rottnest Island in Western Australia is communicated amongst the locals as travelling from 'Freo' to 'Rotto'.
As the world prepares to retreat from its COVID-19 hibernation, some countries lead the reopening process with Austria one of the first, recently suspending its Movement Control Order. While some protective measures remain, small shops have re-opened with restaurants, hotels and sightseeing attractions, to follow very soon. The Austrian capital of Vienna (known to locals as Wien) is the historic centre of the former Habsburg Empire known for its culture, music and refined living. Vienna is more than the venue to hear the Vienna Boys' Choir and admire skills at the Spanish Riding School; it's rated the world's most liveable city. While cultural heritage is paramount, its modern technology, quirky design and premium wines make Vienna one of Europe's hottest destinations. Read More Here: https://www.expatchoice.asia/travel/wish-you-were-here-waltzing-through-vienna