Hero Video: Lightfoot Travel Hero Image: Thailand
The great thing about Thailand is that there's always somewhere new to discover. Here's where to put on your hitlist for the rest of 2019, as recommended by Lightfoot Travel.
Best For Peace & Quiet
Golden Triangle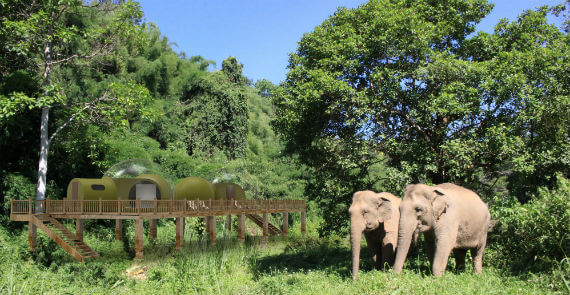 Thailand's most northern province is the perfect place to pitch up with a book by the river, trek to ancient settlements and visit the colourful hill-tribes. Rest your head at Anantara Golden Triangle in Chiang Rai a tranquil property which offers guests the chance to interact with elephants and learn about Mahout training. It's also home to two brand new Jungle Bubbles – transparent domes with a bedroom, living space and bespoke furnishings - offering uninterrupted views of the pachyderms.
Best For Activities & Escape
Phuket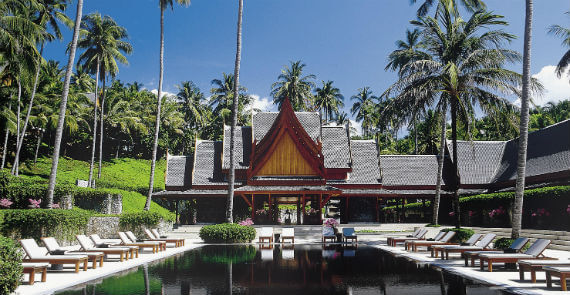 Venture away from the throngs, pearly-white beaches, national parks and plentiful watersports and Thailand's largest island of Phuket will provide you with a thoroughly relaxing getaway. Stay at Amanpuri where there's a host of activities for all ages, from beach safaris, video workshops, cooking classes and Pilates lessons. Alternatively, the black swimming pool, beautiful private beach, tennis courts and fleet of yachts will keep you just as occupied.
Best For History & Culture
Kanchanaburi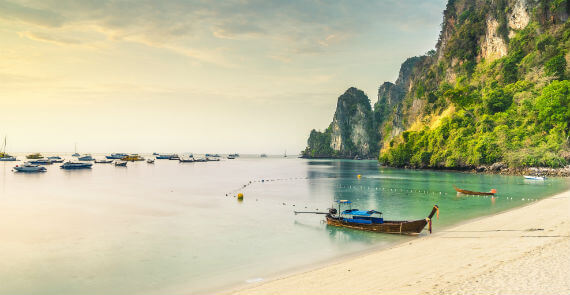 Peppered with natural and historical attractions, Kanchanaburi is the place to pack in some Thailand sightseeing. World War II memories include the Death Railway, Bridge over the River Kwae (Kwai) and the Allied War Cemetery, but there's also Khmer temple ruins, caves, bamboo rafting and shopping to discover. Living up to its name,The Floathouse River Kwai is located right on the River Kwai, and along with being a unique stay with homely rooms, guests can jump from their villa into the water!
Best For Privacy & Glamour
Koh Kood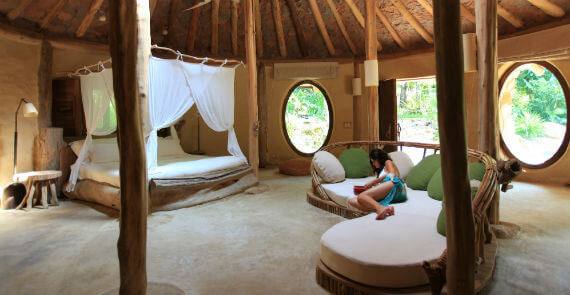 Koh Kood is home only to snazzy Soneva Kiri, a stunning property which can only be reached by private plane from Bangkok. Upon arrival, a five-minute trip on a speedboat will deliver you to a paradise where life is slow and shoes are unnecessary. If you're travelling with children, there's a high chance you may not see them at all as the kids' club - The Den - will lure them away. As for grown ups, put sunbathing by the beach, trying a Watsu treatment or free yoga class, and chartering a private yacht on your schedule.
Best For Crafts & Cool
Chiang Mai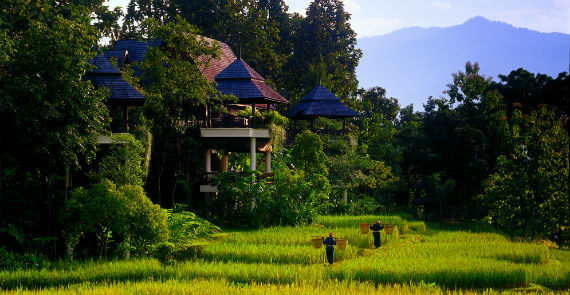 Before tourism, Chiang Mai was the hub for Thailand's handicrafts. The city has since flourished, but the ancient history and culture has remained. Pack sensible footwear and uncover the cultural complex filled with boutique hotels, street stalls and temples. After a few hours of pounding the pavement, rest up at the Four Seasons Resort Chiang Mai. Family Residences are available and the kids' club offers a busy schedule of fun and games.
Best For Beach & Style
Koh Samui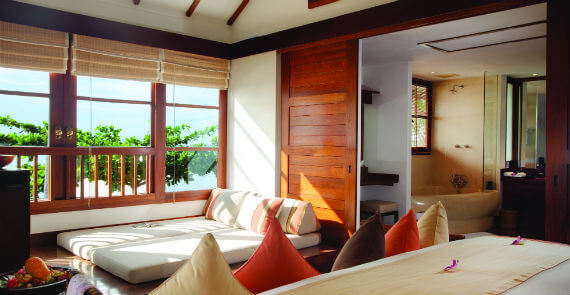 Laidback Koh Samui is always a great go-to thanks to its calm bays and soft sands. Escape the more commercial areas at Belmond Napasai where the private residences – spacious, modern, and with large swimming pools – are brilliant for larger groups, there are daily activities laid on for children, leaving adults to explore by bike, go snorkelling, check out the indoor boxing ring…or just nap under a coconut tree.
Lightfoot Travel is a luxury tour operator with offices in Singapore, Hong Kong, Dubai and London specialising in designer holidays around the world. Tel: Hong Kong +852 2815 0068, Singapore +65 6438 4091.www.lightfoottravel.com
Comments
Wow what a fantastic article. Thanks for sharing!
This was our second visit to Soneva Kiri. The previous one being seven years ago when the resort was quite new. I must say that we enjoyed our stay even more this time despite being the rainy season. It helped that we were very lucky with the weather and that we got a huge upgrade. It only rained once during our week at Kiri so that was fortunately not an issue this time. We were very fortunate to be upgraded to villa 31, a huge five-bedroom villa, with lots of outdoor space and a beautiful view. The kids loved the waterslide. Huge pool, upstairs terrace with fantastic dining area where you could watch the stars after dinner. Walk in wine-cellar. Lots and lots of daybeds and places to just hang out and read a nice book. Some other reviewers have noted that the resort is starting to wear a bit. However, I would not agree that this was a problem. I think the general design could give that impression of you were comparing to more regular five-star resorts. In this case Kiri is all built out of sustainable natural materials that ages with weather over time. I think that our villa was in great shape and was well maintained if you are ok with the fact that wood changes naturally when exposed to rain and sun. Maintenance was going on in many surrounding villas so it's obvious that they are doing upkeep continuously. You just have to come here with the right expectations. Don't expect Dubai. This is more of a Robinson cruise experience. Although it comes with huge villas and six-star service. One of the things that I appreciate with Soneva is that they try as much as possible to preserve the natural environment surrounding the resort. Here you really feel that you are in the jungle and close to nature. The north beach was absolutely great. Even better than the now closed south beach. The only disadvantage is that you have to get there by boat and that it was closed many of the days because of high waves that made it difficult to transport guests and supplies there. The new restaurant at North beach was excellent with a limited but very good menu and fantastic service. As many other reviewers have said I agree that service is excellent at Kiri. Genuine friendliness and a lovely team all the way from housekeeping to management. Our Friday Ms. Jom was very good and proactive. Fantastic chefs that willingly offered to cook us anything we liked. Absolutely nothing was too much trouble. Very good food in general and exceptional breakfasts. One highlight was when we booked the Cinema Paradiso for a private viewing with dinner and drinks. A memorable experience indeed. GM Antony, a very pleasant and kind person, was always there making sure that we had a good time and interested in hearing our feedback. In summary Soneva Kiri is now better than ever and I can recommend visiting in the low season when rates are considerably more favourable. Review Credit: https://www.tripadvisor.com.sg/Profile/Richard_L73 on tripadvisor Richard_L73 wrote a review 21 July 2019 Stockholm, Sweden93 contributions32 helpful votes
Remote yet accessible, Soneva Kiri sits on Thailand's fourth largest but least populated island, Koh Kood, in the Gulf of Siam. Surrounded by lush, vibrant tropical vegetation and white beaches, fringed with palm trees, the resort has been tastefully and cleverly designed to complement the landscape and blends seamlessly into the outstanding natural beauty. Soneva Kiri epitomises the Soneva concept of 'intelligent luxury'. Only an hour's flight in the resort's private plane from Bangkok, it feels a million miles from the real world. The sense of tranquillity, seclusion and harmony with nature is second to none. Far away from the beaten track and well-trodden tourist attractions this is Thailand as it used to be thirty or even fifty years ago, genteel and untainted. And also just one hour by boat from the wonders of Cambodia. The 35 pool villa resort is perfect for groups or families, as it provides villas with up to 6 bedrooms. It also has a unique children's den in the form of a manta ray, and a newly launched Intrepid Explorer's Club for the children under 5 years old. It was recently awarded with The Smith Award "Best for Families" from Mr. & Mrs. Smith.