COVID-19 may have changed the way we travel but not the way we all dream of taking holidays. David Bowden sows the seeds for future vacations with his tales, 'Wish You Were Here'.
Rotterdam – The American Connection
While Europe's busiest port may not sound like a tourist hotspot, I recently discovered Rotterdam to be a vibrant, lively and cosmopolitan city that offers fascinating contemporary architecture and, a very significant place in history.
Holland's second largest city of 625,000 is where the 1,230km-long Rhine River enters the North Sea. It originates in the glacial peaks of the Alps and flows through several Western European nations before crossing the Netherlands.
My map of Rotterdam didn't refer to the Rhine but I discovered later that the river splits into several channels near its mouth with Rotterdam situated on one known as Nieuwe Meuse.
Maritime Matters
Not surprisingly, Europe's busiest port has a constant flow of river traffic with boats and barges moving up and down, loading and unloading goods for and from all parts of the world.
One of the best ways to appreciate this is to join a Spido river boat tour that lasts just over an hour and provides the best way to orient oneself to much of the city.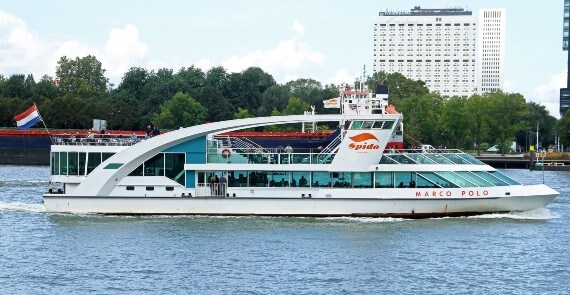 While the riverbanks are lined with ships and container terminals of all description, there are also many historical references including sailing ships and windmills that made me appreciate just how important Rotterdam is in global history.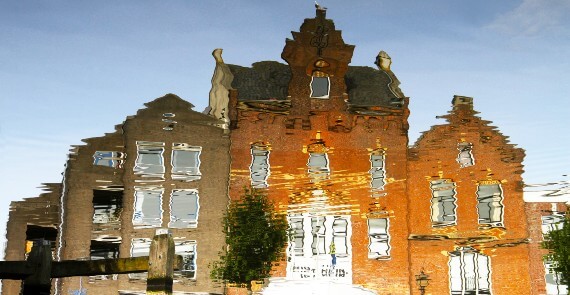 In the historic riverside precinct of Delfshaven I learned that the Pilgrim Fathers set sail from here in July 1620. This year marks the 400th anniversary of when the pilgrims set off from Leiden and sailed from Delfshaven on the Speedwell en route to Plymouth and then America.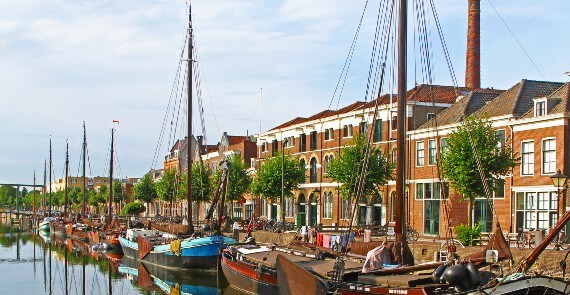 They changed from the leaking Speedwell to the Mayflower and crossed the Atlantic Ocean to start the first European settlement in North America. Today, some 30 million Americans can trace their ancestry to the passengers or crew of the Mayflower.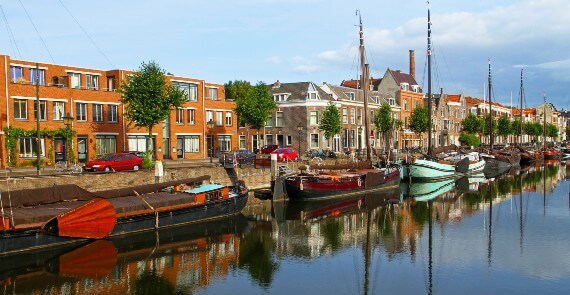 Rotterdam was also a departure point for many migrants who later headed off to the United States to what was known as the 'promised land'. The Holland Amerika Lijn (Holland America Line) arranged many trips from their headquarters in Rotterdam and later on the ss Rotterdam that is now moored near the famous New York Hotel.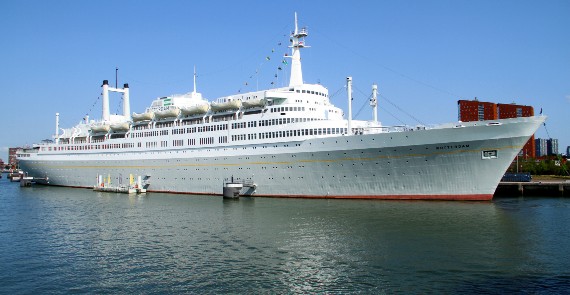 Both have been refurbished and now accept guests rather than passengers as they are now hotels.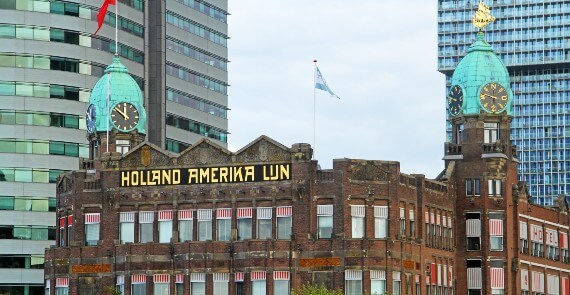 Rotterdam was also one of several ports used by the Dutch East India Company, instrumental in developing trade between Europe and Asia. The Dutch settled in Malacca (Melaka) and imported goods while exporting Malayan produce to the world. Malacca also played an important role in the spice trade that saw highly prized Asian spices exported to Europe.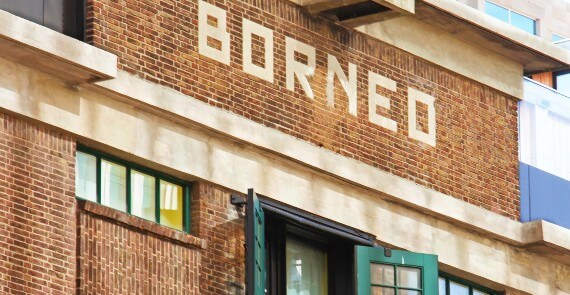 Just near Rotterdam's Erasmus Bridge there is a row of warehouses that have the names Borneo, Java and Sarawak displayed on their streetside façades. The Borneo mention is, no doubt, a reference to Indonesian Kalimantan that was once part of the Dutch Empire.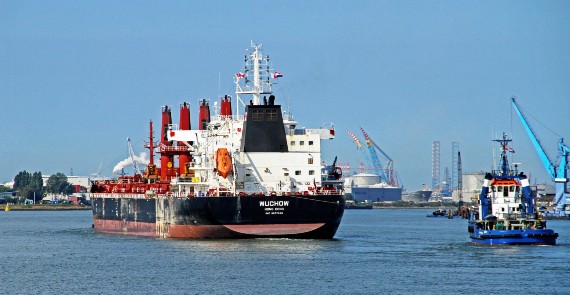 Bold Architecture
Modern day Rotterdam is a city with bold architecture with most landmark buildings being erected after the devastation of World War II.
The building that most impressed was Markthal a modern European market with a lively ambiance of restaurants and fresh produce stalls located beneath the colourful and contemporary graphics that adorn the interior ceiling.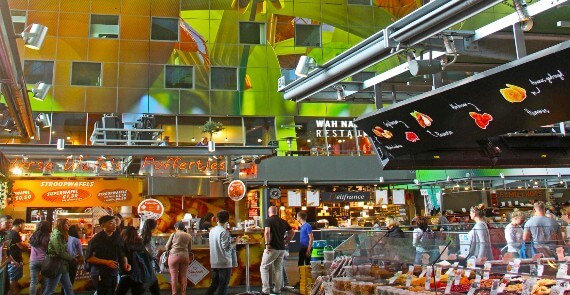 Just adjacent to Markthal is the whimsical and topsy-turvy Cube Houses designed by Dutch architect Piet Blom in 1977. While residential homes, they look like they have been upended by an earthquake as they are tilted 45o to a normal cube.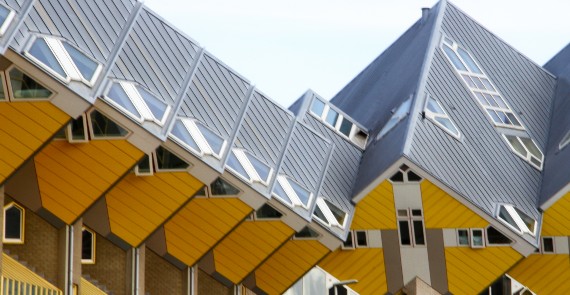 Open-air markets on the Binnenrotte in front of Markthal are held every Tuesday and Saturday and are popular with the locals for fresh produce and clothes.
The architecture of Rotterdam Centraal Station is impressive for its stainless steel cladding but also its efficient functionally as a public transport node. Trains, the Metro, buses and trams all meet at Rotterdam Centraal.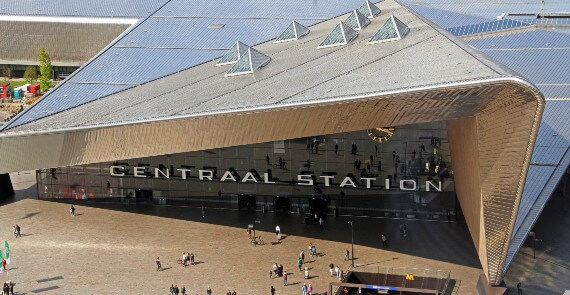 Cosmopolitan Rotterdam
Rotterdam is a cosmopolitan city that is exceptionally flat (the world's flattest marathon is contested here). The city also has a sizeable student population so there is an energetic nightlife, restaurant scene and many parts are accessible by public transport or cycle paths.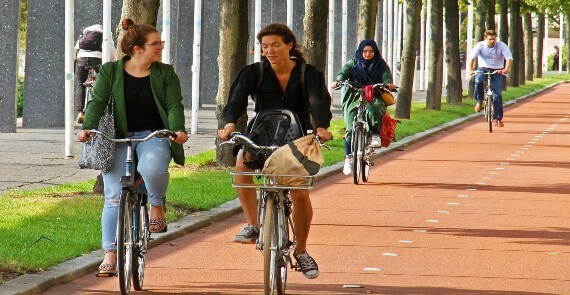 Witte de Withstraat near the cultural precinct is Rotterdam's food and bar street with outlets like Wagamama (modern Japanese), Bazar (Turkish), Switie (Surinamese), Satebar (Indonesian), Wijnbar Het Eigendom (wine), De Ijsmaker (luxe ice cream) and Wunderbar.
Travel File
Getting There
Royal Dutch Airlines (www.klm.sg) is one of the leading European carriers flying direct daily flights from Singapore to Europe. Passengers depart from Singapore (or Kuala Lumpur and Jakarta) late in the evening and arrive into Amsterdam at sunrise. Schiphol Airport is a regional hub for KLM with connecting flights all over Europe.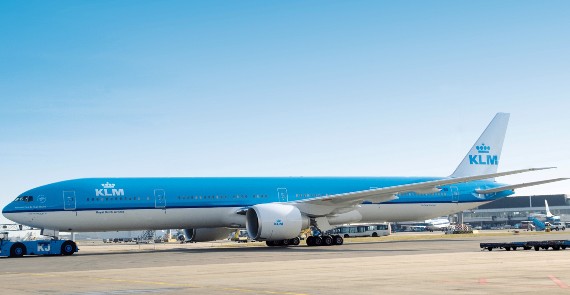 Getting About
Frequent train services operate to Rotterdam, just 30 minutes to the south. For travellers planning to explore more of Holland and Europe, the most convenient travel mode is by train with the best-valued tickets offered by Rail Europe. A Eurail Pass is an all-in-one train ticket offering travellers flexible access to many trains across Europe. Eurail travellers can go wherever they want and whenever they want. However, single tickets to Rotterdam can be purchased at Schiphol Airport.  
Where to Stay
Hotel Novotel Rotterdam Brainpark is an extremely comfortable four-star property located in the leafy suburbs and university precinct of Rotterdam. It offers excellent services such as Restaurant Urbn with an adjoining bar that has nightly specials such as whisky, beer, wine and tap and tapas nights. The hotel is just a short walk from tram, metro (Kralingse Station) and bus lines that link conveniently to Rotterdam Centraal.
Contacts
Rotterdam Tourism for all tourism enquiries. There is a tourism office on the concourse of Rotterdam Centraal where value-for-money day passes on the city's transport system are sold. The Rotterdam Welcome Card provides free use of public transport and discounts to attractions, museums and some restaurants. Log onto 400th anniversary for all the planned events.
David Bowden is a freelance journalist based in Malaysia, specialising in travel and the environment. While Australian, he has been living in Asia longer than he can remember, and returns to his home country as a tourist. When not travelling the world, he enjoys relaxing with his equally adventurous wife Maria and daughter Zoe. He is the author of Enchanting Borneo, Enchanting Malaysia and Enchanting Singapore. Also in this series, you will find Enchanting Vietnam, Enchanting Penang, Enchanting Indonesia, and Enchanting Langkawi
Comments