Video Credit: Insider TV The Fullerton Hotel | Singapore
I've long admired the majestic grand dame that is The Fullerton Singapore, perfectly poised at the mouth of the Singapore River and one of Singapore's most iconic landmarks. Steeped in history, on the former site of Fort Fullerton (a fort built in 1829 to defend against naval attacks) and later the General Post Office (from 1874), The Fullerton Building as it was originally known was opened in 1928.
It is an impressive and imposing site, which was commissioned to commemorate the British colony's centennial celebrations. Today it is the home of The Fullerton Hotel, a 5 star luxury hotel and a fitting occupant for this stately property, where my husband and I were fortunate to be able to experience a special adults only staycation.
We arrive to the circular entranceway and are greeted by a most dapper doorman, a throwback to old charms and customs. The first thing that hits you on entering is the incredible scent – the lobby literally smells like a florist shop in bloom. It's a beautiful floral and memory inducing aroma, immediately taking me back seven years to a high tea we celebrated here for my hen's weekend.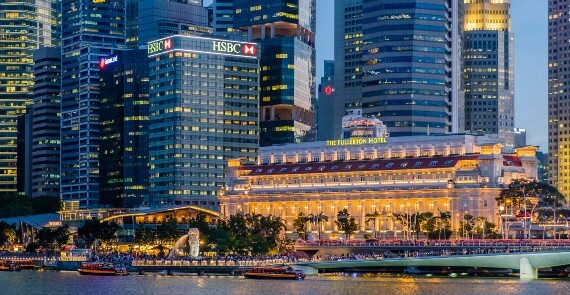 We are comfortably seated in the lobby lounge (no queuing here thank you very much) which is splendidly open and provides a grand atrium up to the apex of the building. We fill out the necessary paperwork and admire the diners nearby enjoying their Pink Afternoon Tea (a special themed high tea during October to raise money for breast cancer). Our check-in is warm and efficient and we are soon being escorted to our room on the Quay side.
Living a long time in Asia and travelling extensively for work, we are fortunate to have enjoyed more than our fair share of 5 star hotel experiences over the years. The downside of this is that I have become very particular about what constitutes a true 5 star luxury experience. The room of course ticked all the boxes – it was light and tastefully decorated in warm, subdued tones – oozing a sense of comfort and serenity. The rich building history dotted throughout in subtle and charming artwork. A spacious balcony gave way to an envious view of Boat Quay with the imposing skyscrapers of the CBD jutting up beside it providing a contrast between old history and new successes.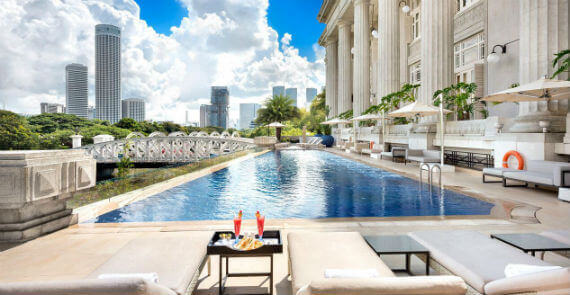 But it is the little details that really make or break a true 5 star hotel for me. My first "test" is the tea and coffee selection. Not a coffee drinker myself, I was less concerned with the fancy Nespresso machine but straight away delved into the tea caddy where I was pleased to see a broad selection of TWG luxury teas (green, black and herbal – something for everyone, including a tea addict like me).
My second criteria is the quality of the bath. With three young kids at home, a bath is a true luxury for me so having one in my hotel room is a must. But this wasn't just any hotel bath, both my husband and I commented on how truly comfortable and well-designed it was – spacious, long (he's 180cm) and with a perfectly angled end so one could easily lay back in true bliss (and enjoy that cup of tea.).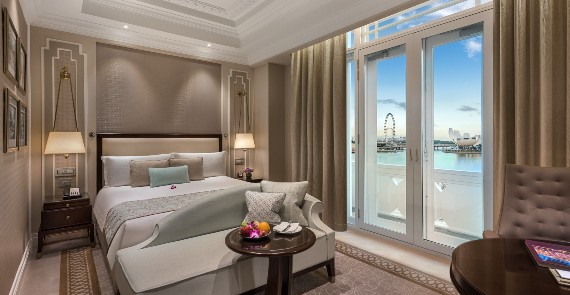 My final mark of quality comes down to the towels (there's nothing worse than exiting the aforementioned bath to have the experience ruined by a barely there towel). Again, the Fullerton Hotel scored top marks here – generously oversized and luxuriously fluffy, these were proper, high-end bath sheets – the kind that engulf your entire body in comfort and warmth. So it was straight to the top of the class, 3 out of 3 means The Fullerton Hotel passed my own personal 5 star rating with flying colours.
Refreshed and ready for a lazy afternoon poolside, we find the pool subtly situated on the Quay side of the building. With its infinity design and elevated setting, it provides perfect views out to the river and beyond on one side while flanking the bottom of the hotel's giant concrete columns on the other, giving an opportunity to admire the building's grand architecture. After a restful reading session and a refreshing dip, it was now time for The Fullerton Spa experience.
The Fullerton Spa is a hidden oasis just down a level from the pool complex at The Fullerton Hotel. Awarded Winner of Luxury Business Spa Asia in 2019 by World Luxury Spa Awards, this is true luxury inner city spa and again it's the little details that make this experience standout. I am served an eco-friendly carton of Alkaline Water to ensure I am sufficiently hydrated pre-treatment.
My therapist then discusses the type of massage I want (I chose Intensive Muscle Release) and explains the different types of oils on offer. The oil I selected was an exotic combination of rosemary (easing pain and tension), lavender (relaxation), ginger (anti-inflammatory) and pepper (toxin reducing) – not a combination I had come across before but it sounded incredible and I was eager to try it. Not passing a single soul, we move down to the therapy room and I get changed for the treatment.
The treatment begins with the all-important and indulgent foot cleanse, the warm soothing water inducing immediate relaxation, allowing my mind to unwind. I then move onto the welcoming massage table, firm but comfortable and adorned with thick, luxurious towels. It has the added special touch of being heated (a must for me as I am too often cold in treatment rooms) and it's not long before I am in state of pure bliss.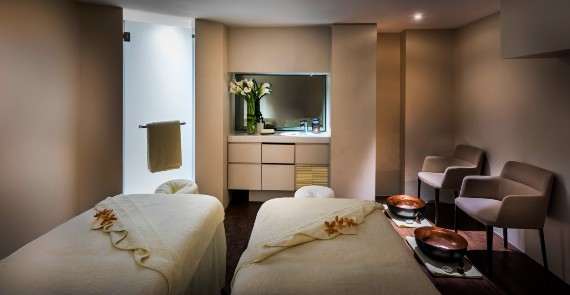 My therapist, who has been working there for six years, adeptly and expertly works her way around my body using Swedish and cross muscle fibre techniques, along with stretching and draining that effectively removes any pain and tension. It is not often I fall asleep during a deep tissue massage, but somehow I find myself dozing off – the combination of techniques, oils and pressure, along with the calming ambience is providing the ultimate relaxation experience.
When the treatment comes to an end, I feel restored, regenerated and deeply relaxed. I indulge a little further by using the sauna and steam room facilities to finish this luxurious, pampering afternoon. An all-important opportunity to get some "me time" away from the stresses of family, work and life in general. A final point to note, I found the treatments here extremely well-priced given the quality on offer, with 60 minute treatments under $200 and many express treatments under $100, it is definitely 5 star spa luxury at an appealing price point.
Video Credit: The Fullerton Hotels and Resorts, Welcome to The Fullerton Family
Relaxed and ready for our evening ahead, we decided to check out The Fullerton Bay Hotel's Gin Parlour experience and boy are we glad we did! Situated on the stunning al fresco terrace of The Clifford Pier we were seated front and centre to soak up the stunning views of Marina Bay as it headed into dusk. The Gin Parlour bar and surrounds offers a nostalgic, colonial ambience with splashes of neon and a modern soundtrack to get the mood going. But more than this, it is home to over 200 top-shelf international and local gin brands, yes that's right 200!
The menu is vast and extensive and being a gin lover (but by no means a gin expert) I appreciated the service from resident gin expert, Alan, as he helped guide my choices. As the gin choices are vast, so are the ways in which you wish to enjoy them. From cocktails, to boutique tonics or even straight up on the rocks.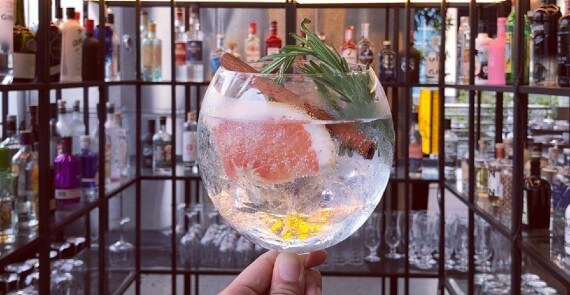 My preferred approach was to choose an exotic tonic, such as Strawberry and Basil, and then get Alan to recommend a gin to match along with a suitable garnish. My husband, on the other hand, preferred to choose an exotic gin, such as Paper Lantern from Vietnam or Gunpowder Irish Gin and then let Alan recommend an accompanying tonic and garnish.
The portions are very generous as well, being served in a sizeable fish bowl style glass and there are plenty of local snacks to satisfy one's appetite. For the teetotallers among us, they have a whole page on non-alcoholic offerings including Pierre zero wines, Heineken 0.0 beer and Seedlip spirits. Truly something for everyone to enjoy so it's well worth heading down to shoot the breeze and enjoy a romantic al fresco evening like no other.
Be sure to check out their Happy Hour offers as well – daily from 5pm-8pm where you can take your pick from selected G&TS, wines and cocktails for just S$11**, or beers for just S$9** - the view alone is worth more than this.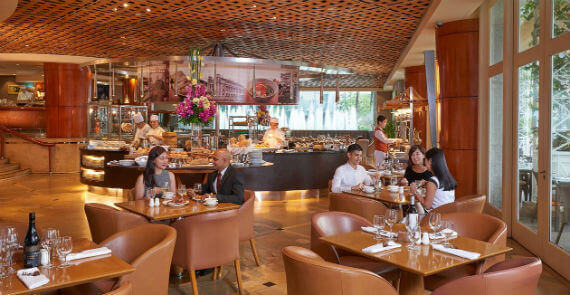 A glorious sunset walk along the waterfront followed the Gin Parlour experience and we took the opportunity to take a few photos of The Fullerton Hotel in all her glory, especially adorned in pink for October's breast cancer awareness month. After we enjoyed a very comfortable and peaceful night sleep complete with an indulgent sleep in, we head down to Town Restaurant for a full breakfast spread by the idyllic Singapore River (included in staycation rates). With prompt and friendly service ensuring efficient delivery of the hearty meal, we were happily satisfied and ready for the rest of our morning taking in the glorious blue skies poolside.
The Fullerton Hotel is indeed an excellent and refined choice for an inner-city staycation, with both a slice of history and an abundance of little touches that elevate the experience to be truly 5 star.
INFORMATION
ABOUT THE AUTHOR REBECCA (WATSON) ASSICE
Rebecca is the Founder and Director of Virtual Room in Asia Pacific. The future of entertainment is now here with Virtual Room – the world's best team-based virtual reality experience located right in the heart of Chinatown, Singapore.Expat Choice readers enjoy a 15% discount when you book Virtual Room experiences with code EXPATCHOICE15 and receive a 15% automatic discount when booked online at https://singapore.virtual-room.com/booking/​​​​​​​