Hero Image: David Bowden Terraces near Cully above Lake Geneva
COVID-19 may have changed the way we travel but not the way we all dream of taking holidays. David Bowden sows the seeds for future vacations with his tales, 'Wish You Were Here'.
SWITZERLAND'S RIVIERA
Switzerland is a mountainous country renowned for its picture-perfect alpine landscapes. There is probably nothing more impressive in this land-locked nation than the steep terraced slopes rising above the tranquil northern foreshores of Lac Léman (Lake Geneva) between Vevey and Montreux. This popular destination is known as the Swiss Riviera.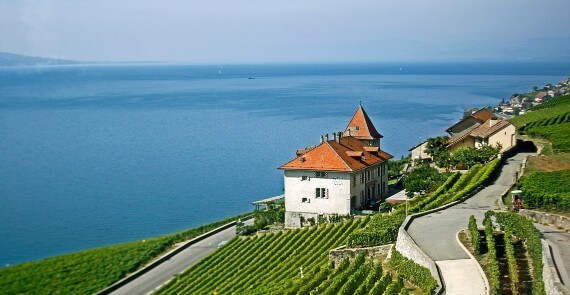 Queen's Freddie Mercury (statue in Montreux) and Charles Chaplin (museum near Vevey) chose to live here and the annual Montreux Jazz Festival in July attracts an eclectic mix of the world's finest musicians.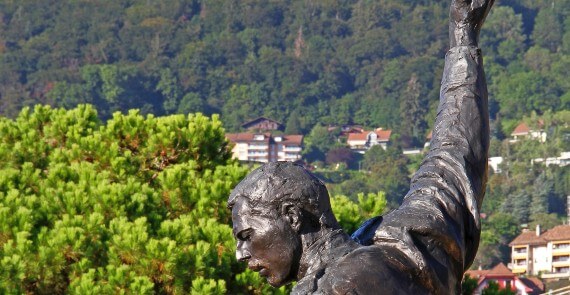 Vineyards rising along a 35-km stretch of foreshore, known as the Lavaux, are inscribed on the impressive UNESCO World Heritage List. This dramatic and picturesque cultivation dates back to the 11th century when monks planted grapevines for producing sacramental wines. Some 10,000 terraces are home to grape varieties that produce some of Switzerland's finest wines including Chasselas and Pinot Noir.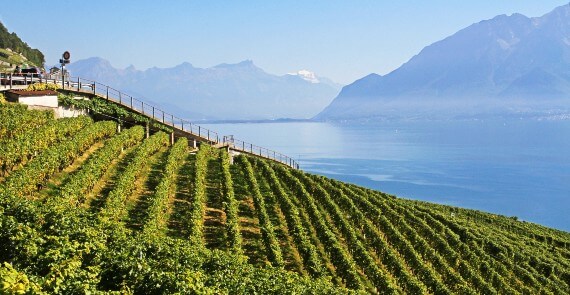 Image Credit: David Bowden Vineyards Cully (Lavaux) and Lake Geneva
A FAMILY ESTATE
One of the most welcoming wineries is the family-owned estate of Cave de Moratel belonging to Famille Longet-Voruz. It is located in Cully, a lakeside village accessed from Montreux and Vevey by train or Belle Epoch paddle steamers that ply the lake.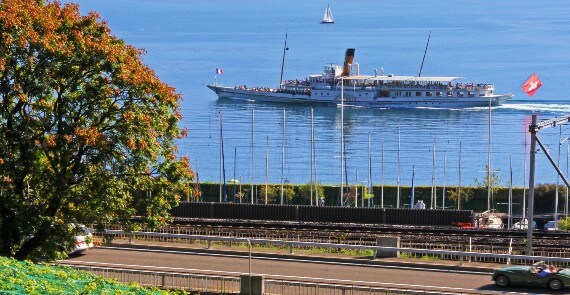 Image Credit: David Bowden Vineyards Lake Ferry Cully
The estate produces red, white and Rosé table wines including whites of Chasselas (the most popular local variety in Switzerland) and Viognier and reds of Pinot Noir and Diolinoir (a cross between Rouge de Diolly and Pinot Noir). Visitors can enjoy a glass or bottle of wine in the semi-rural surroundings and wine lovers can stay onsite in a two-bedroom, renovated barn with all modern conveniences.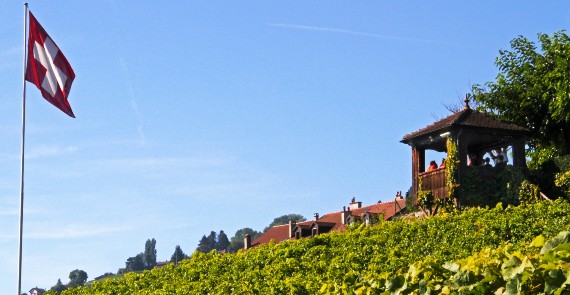 Image Credit: David Bowden Vineyards Cully (Lavaux)
GASTRONOMIC DELIGHTS
France is on the southern side of Lake Geneva so it isn't surprising that French is the main language spoken here and the food is French-influenced.                                          
For fine dining, the restaurant terrace at Hôtel de Trois Couronnes in Vevey has a magical setting. Choose à la carte or one of several set menus such as the Gourmands Menu of gastronomic delights chosen by the one-star Michelin chef. While the menu changes with the seasons expect dishes like gazpacho and dried local beef, zucchini flower stuffed with goat's cheese, lobster with beans and strawberry soufflé for dessert.                              
Another excellent dining experience is Le Deck at the Baron Tavernier Hotel in Chexbres. Diners can enjoy premium Lavaux wines and dishes like char (perch sourced from Lake Geneva). The smart, streetside restaurant in Montreux's Hotel La Rouvenaz is another outlet that specialises in lake-caught perch.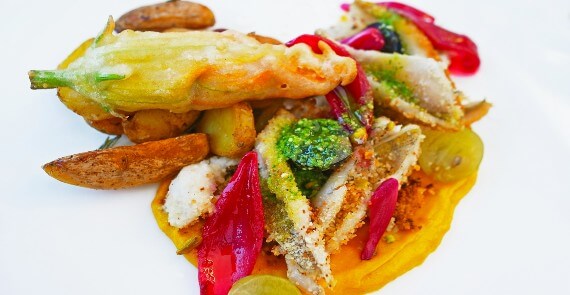 Image Credit: David Bowden Lake Perch and Courgette Flowers La Rouvenaz Restaurant Montreux
Vevey is also famous for being the headquarters of Nestlé. Food Alimentarium is a museum located in the town centre and operated by Nestlé as a contribution to those wanting to learn more about the origins of food. It's easy to locate being situated in front of a statue to Charlie Chaplin and a large fork protruding from the lake. Its summer gardens are productive and the interactive displays emphasise healthy food and living.
TRAVEL FILE
Getting There and About
SWISS flies daily from Singapore to Zurich. Travelling by train is a wonderful way of exploring Switzerland with a travel pass issued by Swiss Travel System offering excellent value for rail travel as well as access to ferries and buses. Vevey is a scenic 2.5-hour rail journey from the station located below Zurich Airport.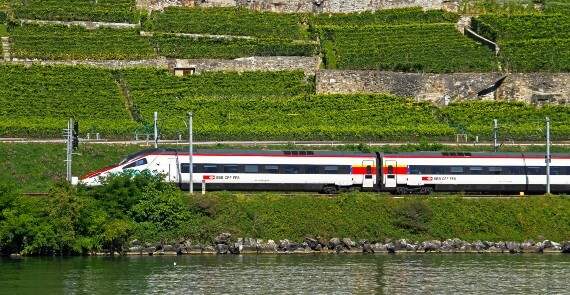 Where to Stay
Stay in the lakeside resort towns of either Montreux or Vevey. Montreux has a casino and is the departure station for the Golden Pass Railway to Interlaken. The Charlie Chaplin Museum near Vevey is well worth a visit.
Appreciate the grandest accommodation in Vevey at the Hôtel de Trois Couronnes or in Montreux at the centrally located Hotel La Rouvenaz. Both are close to the lake with Hôtel de Trois Couronnes having commanding views over Lake Geneva and the snow-capped mountains in France on the lake's southern side.  
Contact
Montreux-Vevey Tourism and Switzerland Tourism.
ABOUT DAVID BOWDEN
David Bowden is a freelance journalist based in Malaysia, specializing in travel and the environment. While Australian, he's been living in Asia longer than he can remember, and returns to his home country as a tourist. When not travelling the world, he enjoys relaxing with his equally adventurous wife Maria and daughter Zoe. He's the author of Enchanting Borneo, Enchanting Malaysia and Enchanting Singapore. Also in this series, you will find Enchanting Vietnam, Enchanting Penang, Enchanting Indonesia, and Enchanting Langkaw
Comments
COVID-19 may have changed the way we travel but not the way we all dream of taking holidays. David Bowden sows the seeds for future vacations with his tales, 'Wish You Were Here'.
The Opera House and Harbour Bridge are the iconic landmarks that continue to attract global travellers to Sydney. Both landmarks are located within walking distance of each other in a precinct that includes Circular Quay and The Rocks. In 1788, the 'First Fleet' arrived from England to establish the colony of New South Wales. They stopped briefly at Botany Bay but the site was unsuitable and they sailed onwards to Sydney Cove. The setters moored at Port Jackson on the harbour's southern shores where the bridge now stands. It was a motley crew of 1,300 including convicts banished from England for petty crimes, naval officers, sailors and their families. A freshwater stream named the Tank Stream ensured the colony's success. READ MORE https://www.expatchoice.asia/travel/sydney-rocks-wish-you-were-here
Its isolation in Tropical North Queensland (1,800km from the capital Brisbane) ensures Cairns and the Great Barrier Reef remain an adventurous destination. While isolated, Cairns and resort towns further north like Palm Cove and Port Douglas, are sophisticated with excellent resorts, endless adventures and a cool scene enriched by young international travellers who start their Australian travels here. Cairns is a haven for sun-seekers out to discover the world and themselves. Tropical North Queensland is a rite of passage for global travellers with the star attraction being the Great Barrier Reef. The UNESCO World Heritage reef is supported by attractions on the land with Mossman, Port Douglas, Palm Cove, Daintree, Cape Tribulation and the Atherton Tablelands essential stops on a weeklong adventure. Read More Here https://www.expatchoice.asia/travel/north-queensland-wish-you-were-here