Want some thrills in 2020? Make it your year of luxurious adventure with a stylish, sophisticated and super-cosy glamping holiday.
Going back-to-basics has never looked so good as revealed by Lightfoot Travel.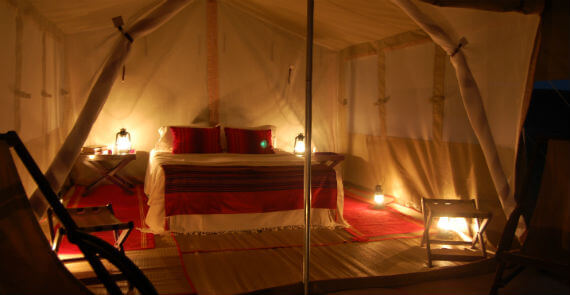 After a hard day of, um - camel riding – Hud Hud Camp is a magical place to rest your head. This stylish cluster of boutique Bedouin tents are located in Oman's Wahiba Sands. Large beds, Arabian rugs and elegant furnishings will make you feel right at home and the private open-air shower is an idyllic spot in which to wash off pesky sand. The camp really comes alive as night falls and the tents are lit with candles and oil lamps; find a scatter cushion and enjoy gourmet food, solitude and stillness.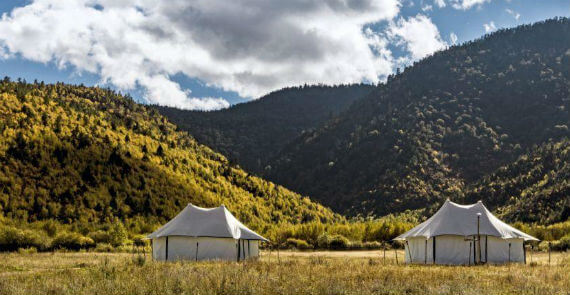 For a glimpse into traditional Tibetan life go in search of the real Shangri-La at The Hidden Valley Resort in Yunnan. Spend your days roaming the stunning surrounds with Simba, the resident Tibetan Mastiff, learning local crafts or visiting monasteries before returning to your bolthole. Each of the five tented villas come with a king-sized bed, headed mattresses, large bathtub and wood-burning stove to keep you feeling snug.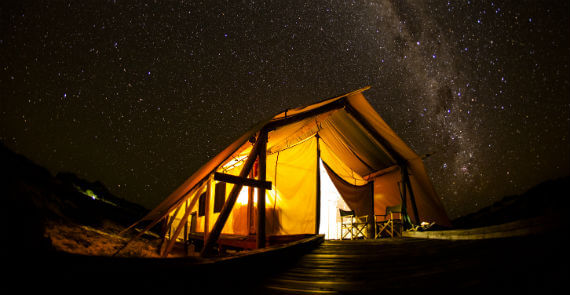 Sal Salis brings wild bush luxury to the Western Australia coast. Fifteen tents and one honeymoon tent are tucked away in the sand dunes, each featuring dreamy bed linen, eco-friendly toiletries, a pumped-up shower and hammock. The chef provides contemporary cuisine with twists of bush food; there's a bar you can help yourself to; and the open lounge filled with books is the ultimate in chill.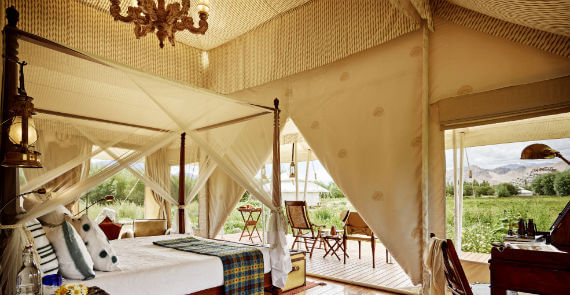 Located between the Kunlun Mountains and the Himalayas in Northern India, look for Chamba Camp's fleet of cream-coloured Maharaja-style tents camouflaged in the landscape and you've found paradise. Each one is exquisitely furnished with ornate king-size beds, signature camp furniture, and en suite bathrooms with hot showers. Relaxed evenings are spent by the fire listening to talks from experts and tucking into expertly prepared cuisine.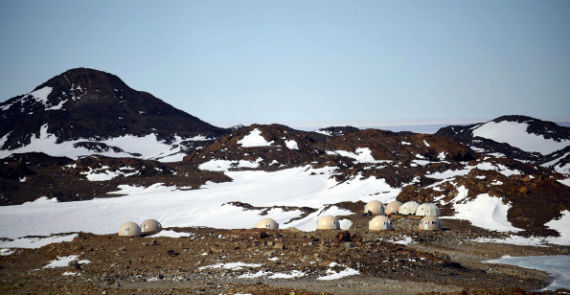 The Antarctic season takes place between mid-October to March meaning that the tents at Whichaway Camp only open for half of the year. Despite being one of the most remote camps on the planet, it doesn't scrimp on chic. Six state-of-the-art dome-shaped pods merge old world safari décor with space-age style and modern comforts; think cushy beds, a writing desk, and en suite toilet and wash basin. Indeed, they're the cosiest place to return to after time spent exploring ice caves and sharing picnics on glaciers.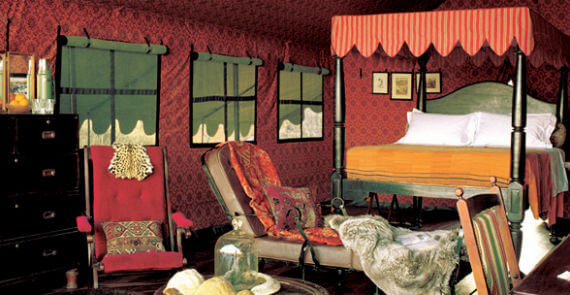 Step back-in-time at Jack's Camp set on the edge of the Kalahari Desert's Makgadikgadi Pans National Park in Southern Africa. Small and intimate, their 10 tents feature 1940s-style opulent décor, Persian rugs, and cool cotton sheets which keep you snug while marvelling at the rugged wilderness outside. Days are spent walking with San trackers looking for meerkats, zebra, wildebeest and other wildlife that live in - or migrate through - this landscape.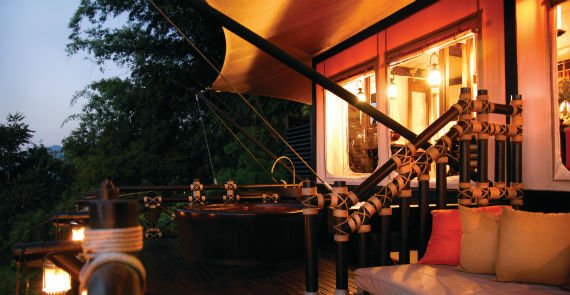 Four Seasons Tented Camp Golden Triangle in Chiang Rai is a nature lover's dream nestled in the heart of the Golden Triangle's bamboo jungle at the border of Thailand, Laos and Myanmar. Boasting a 19th-century safari adventure theme, prepare for elephant-tusk-styled door handles, leather furnishings and hurricane lamps. After a morning interacting with the elephants and their mahouts, head to your wooden hot tub on your outdoor deck. There's also a gorgeous spa and swimming pool.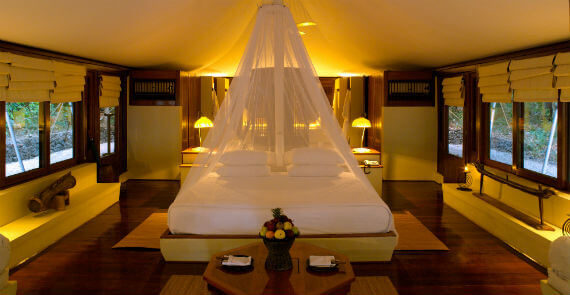 Amanwana is a unique and exclusive tented camp set within a wildlife reserve on the island of Moyo, to the east of Bali. Twenty eastern-colonial-style tents blend into the forest canopy and lead onto a gorgeous white sand beach. The tents have either a jungle or ocean view, hard wooden flooring, a spacious sitting area with facing divans, large bathrooms, glass window sides and a soft canvas roof. There's also a communal lounge, spa tent and library.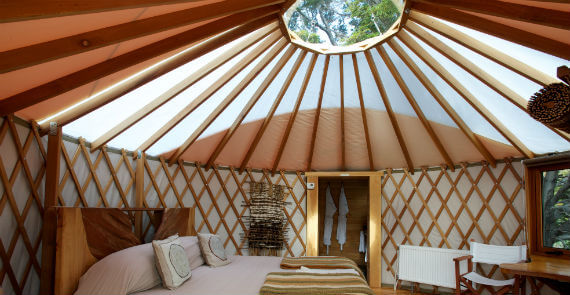 Welcome to the ultimate wilderness retreat! Perched above a dazzling lake this quirky and cool eco-camp combines a camping experience with the comforts of a hip hotel. Patagonia Camp in Chile offers 18 circular-shaped yurts nestled in the forest. Each one features a king-size bed, handcrafted textiles and furniture, a private bathroom, and a terrace with views across Lake Toro and Paine Massif. The icing on the cake? A window in the roof for stargazing.
Lightfoot Travel is a luxury tour operator with offices in Singapore, Hong Kong and Dubai, specialising in designer holidays around the world. Tel: Hong Kong +852 2815 0068, Singapore +65 6438 4091. Visit Website Here or email: [email protected]   
Comments
The charming Jack's Camp is surrounded by the vast and pristine landscapes of the Makgadikgadi Pans National Park. Reminiscent of a traditional East African, 1940s safari camp, this spectacular retreat offers seven twin and three double canvas tents, all of which are spacious, stylish and embellished in textiles from India. Each tent features a lovely ensuite bathroom, with an indoor and alfresco shower, and a private veranda. Enjoy the warmth of the wood-burning morso stove, the coolness of the overhead bed cooling system, and beautiful natural history cabinets. Relax on your private veranda overlooking the Makgadikgadi that includes a sparkling plunge pool, a glorious respite from the heat.
Sal Salis Ningaloo Reef Australia is an exclusive beach safari camp nestled in the dunes of the Cape Range National Park near Exmouth in Western Australia. Each of the fifteen eco-luxe wilderness tents offers views of the surrounding bush and over the Indian Ocean and the fringing Ningaloo Reef. These safari style tents are the ultimate in bush luxury. Wake to the song of a butcher bird, the raucous squawks of a galah or the thump of a wallaroo passing by. At night fall asleep to the sound of the waves on the beach and under a blanket of hundreds of thousands of stars. Fill your days however you choose, relax in your tent's hammock and watch the world go by, or laze on the beach and paddle in the warm Indian Ocean waters. The most popular experiences are in the water, because on the Ningaloo Reef you can swim alongside the majestic whale sharks and the magnificent humpback whales. Brilliant experience.