Hero Video Credit: Relaxing Soundzzz
Once you visit Thailand, every fibre in your body will ache to revisit this beautiful country.
The place, with its charismatic nightlife and mesmerizing beaches, is ideal for backpackers, honeymooners, as well as solo travellers. Other than this, if you want to experience Thai culture, you will have to delve into its arts, food, and history.
In Thailand, one can appreciate the warmth, humility, friendliness, different smells and tastes, and spiritual peace. Here are five ways to truly enjoy Thailand on a holiday trip.
1. Thai Food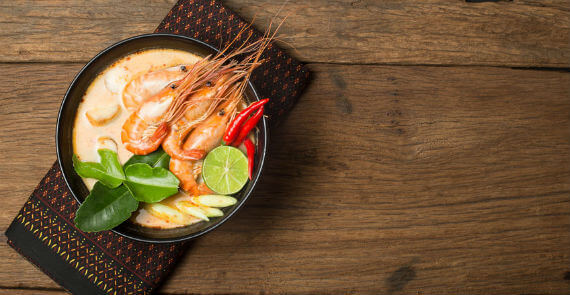 Tom Yum Goong
Thailand is a food paradise for food lovers and the cuisine is one of the most famous cuisines in the world. Given that the first thing Thais ask each other is 'gin khaoyung' when they meet which literally translates to 'have you eaten yet', it is evident that the country has a very food-oriented culture. Rice is the main staple food here and the Thais enjoy two kinds of rice which are the standard white kind and glutinous or sticky rice.
Thai food is a blend of sweet, salty, sour, and bitter. Also, often dishes in Thailand are region-specific. You may not be able to find some of the local dishes anywhere else, including other regions in the country. If you enjoy a dish in southern Thailand chances are that you will mostly find it difficult to find it in northern Thailand. Some of the popular Thai dishes include Tom Yum Goong, Som Tum, Tom Kha Kai, GaengDaeng, Pad Thai, Khao Pad, Pad Krapow Moo Saap, and GaengKeow Wan Kai.
2. Floating Markets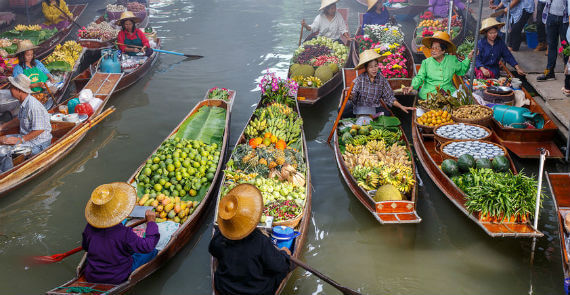 Damnoen Damnoen Saduak floating markets in Ratchaburi
The floating markets of Thailand are popular tourist attractions and they allow tourists to experience the culture of riverside shopping. The entire experience of a floating market is quite unique. You can either go there in a boat on your own or hire a boatman to take you through the market. You will be fascinated by the exotic fruits, extraordinary clothes, and hand-made souvenirs.
Floating markets is also one of the best places to taste delicious, local food so as to enjoy Thailand on a holiday trip. Some of the most popular floating markets in Thailand are Amphawa, KhlonglatMayon, DamoenSadauk, Bang Nam Phueng, and Taling Chan.
3. Yoga Holidays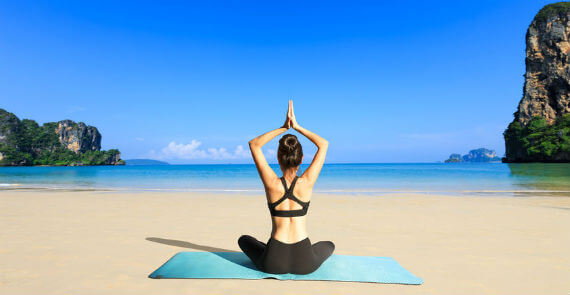 Out of all the ways, yoga holidays are probably the best way to enjoy Thailand on a holiday trip. You can find some amazing yet affordable yoga retreats and workshops here which will allow you to withdraw and immerse in meditation and reflection. Thai yoga holidays are fulfilling as well as life-changing. The yoga retreats are organized either nearby beautiful beaches or amidst majestic mountains.
On a yoga holiday in Thailand, one can experience ancient practices, meditation, detoxification, and overall wellbeing. Rejuvenate your body and mind during your yoga holidays in Thailand.
4. Jungles and Wildlife 
With natural forests covering around 25% of Thailand's total area, the country is home to more than 10% of the world's animals. One can find elephants, leopards, tigers, Malaysian sun bears, otters, and deer along with monkeys, macaques, and gibbons.
There are many national parks which are perfect for bird watching, spotting rare apes as well as wild boars. The tourists can also enjoy one-day tours that include hiking and safari drives which allow them to explore and admire the stunning wildlife of Thailand.
5. Thai Massage 
Thai massage is famous all over the world and one can easily find a place to experience authentic Thai massage here. It is a traditional healing practice which incorporates assisted yoga postures, Indian Ayurvedic principles, and acupressure. A good massage from the trained masseuse work wonders for your mind and body and promotes overall healing.
These famous Thai massages improve circulation, boost mental wellness, helps in stretching, gives relief from pain as well as reconfigure your brain. Thus, pampering yourself with a Thai massage is also one of the best ways to enjoy Thailand on a holiday trip.
Besides this, there are various temples, shrines, and pagodas in Thailand for you to visit and better understand the Thai culture and architecture. Most unique ancient temples are found in Bangkok. Moreover, Thailand is never cold regardless of the season and there is always ample sunshine to lift your mood. Thus, this tropical paradise has something for everyone which distinguishes the kingdom from other tropical destinations around the globe.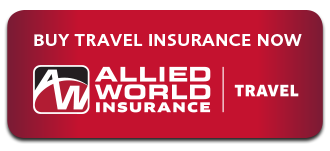 Comments
The beautiful Video in the header of this article offers Tropical island beach ambience sound, ocean sounds for relaxation and a well-deserved holiday feeling. Enjoy this relaxing video of a tropical beach in Thailand with clear blue water and palm trees. This beautiful beach is recorded at Sunrise Beach, Koh Lipe Thailand. You must go visit while living and working in Singapore. Only a 90 minute flight.