Image Credit: Capella Singapore - Sentosa Island, Singapore Facebook Page
We get it. Need to travel? that is a resounding yes, for the Expat Community especially. Imagine the days when you had to take a boat across from Vivo to Sentosa. This entry was only 25 years ago.
Have a luxurious staycation over the weekend or even better during the week, at splendid hotels on Sentosa and while there, explore the life of the island - beaches, cable cars, wildlife, museums, parks, golf, and a whole lot of fun for the family as well.
Or you can simply chill at one of these fantastic staycation suggestions we've curated for you and soak up in luxury, amenities and prompt services so you can unwind, take a much-needed break and for once, enjoy doing absolutely nothing.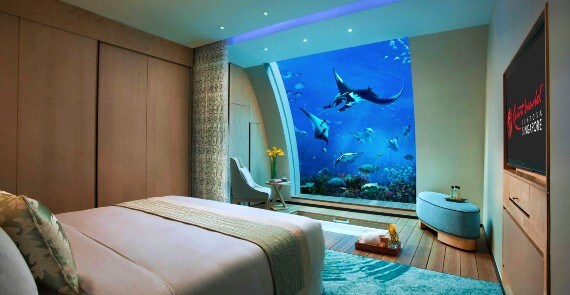 Image Credit: Ocean Suites, Resorts World Sentosa Facebook Page
Got an anniversary weekend coming up? There couldn't be a quicker, more romantic way to celebrate it than a stay at Ocean Suites. We absolutely love the underwater view of the fishes and marine life in the private suites on the lower levels of the hotel and as you lift the panel to see this view, the lights of the room go dim. You can also enjoy a private jacuzzi and an outdoor patio in the upper level suites and awesome hotel amenities like 24-hour butler service and a free-form swimming pool.
INFORMATION
a. 8, Sentosa Gateway, Singapore 098269
w. www.rwsentosa.com/en/hotels/ocean-suite/overview
s. www.facebook.com/ResortsWorldatSen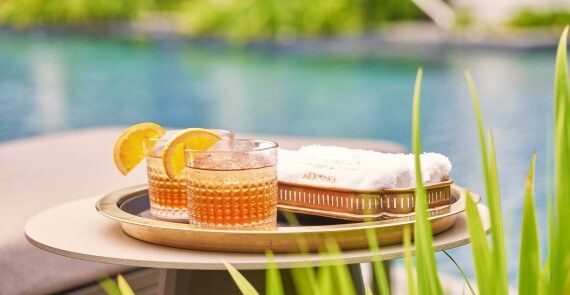 Image Credit: The Barracks Hotel Facebook Page
Soak yourself in history and heritage at The Barracks Hotel Sentosa with rooms reflecting a colonial aura complete with leather chairs, dark wood tones and vintage curios. Accentuating the room's decor are brass lamps, rattan accessories and small touches like quill and ink to write on the letter pad. Depending on the luxury room you choose, you get access to a private balcony, patio, or a semi-private jacuzzi. Out of the myriad of pools they have, we love the pool bar where the bar cuts between the pool and you can enjoy a tipsy cocktail seated in the pool itself.
INFORMATION
a. 2 Gunner Ln, Sentosa island, Singapore 099567
w. www.thebarrackshotel.com.sg/en/
s. www.facebook.com/TheBarracksHotel/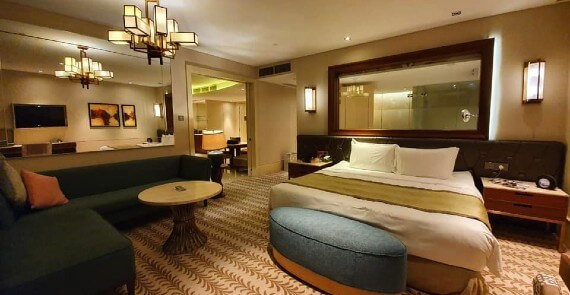 Image Credit: Equarius Hotel Facebook Page
Wake up to a gorgeous view of the lush forest or tranquil waves of the sea after a snug, comfy sleep in one of the rooms at Equarius Hotel. There's nothing more serene than a retreat in nature's lap to wash away the woes of everyday life. The room decor complements the outdoors with earthy tones and panels to let in the sun. You can also take a long stroll in their beautiful lawn, take a refreshing swim in the pool, workout in the gym and enjoy an exquisite dining experience at the much raved about in-house restaurant, Forest.
INFORMATION
a. 8 Sentosa Gateway, Singapore 098269
w. www.rwsentosa.com/en/hotels/equarius-hotel
s. www.facebook.com/rwsequariushotel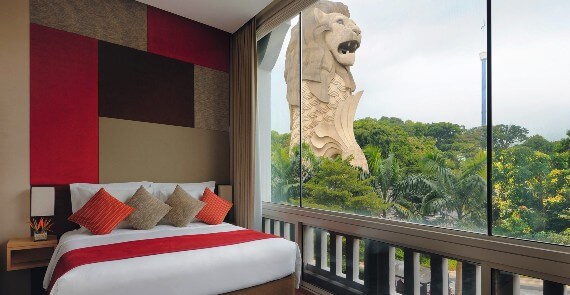 Image Credit: Le Méridien Singapore, Sentosa - Facebook Page
Live the luxe life by booking the onsen suite at Le Meridien Singapore and get access to a private Japanese jacuzzi. All the rooms at the hotel are comfy and snug plus you get access to amazing amenities like 24-hour room service, in-room safe and a work desk. The hotel is stone's throw away from Palawan Beach and hangouts like Universal Studios and S.E.A. Aquarium. The food served at their restaurant Latest Recipe is too good to resist and the decor and vibe at The WoW - World of Whisky is unmatched; both these experiences shouldn't be missed.
INFORMATION
a. 23 Beach View, Sentosa, Singapore 098679
w. marriott.com/hotels/travel/sinmd-le-meridien-singapore-sentosa/
s. www.facebook.com/lemeridiensingapo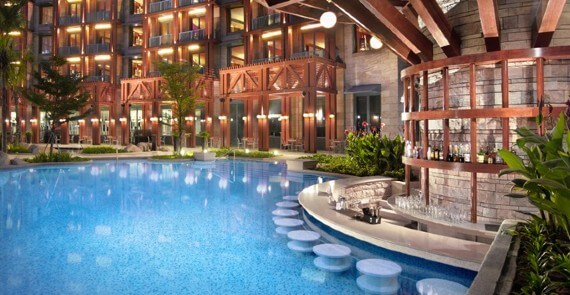 Image Credit: Hard Rock Hotel Sentosa Resorts World
Live the rockstar life at Hard Rock Hotel, the coolest hotel in Sentosa with a jaw-dropping pool and a breath-taking property. You can have a blast by taking a group of friends to stay at one of their Rock Bar Cabanas or even by making use of their terrific amenities like the Rock Bar Terrace, Pool Bar, splendid dining at Sessions, tipsy cocktails at The Rock Bar, Kids Club, fitness centre, business centre and of course the magnificent pool. Hard Rock experience is incomplete with a visit to the Rock Shop, where you can get all their rock and roll merchandise.
INFORMATION
a. Resorts World Sentos, 8 Sentosa Gateway 098269
w. www.rwsentosa.com/Homepage/HotelsAndSpa/HardRockHotel
s. www.facebook.com/rwshardrockhotel/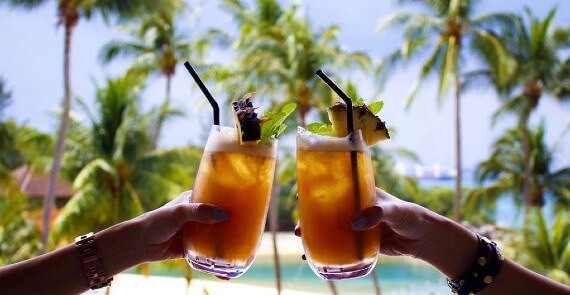 Image Credit: The Outpost Hotel Facebook Page
Rekindle the romance amidst nature, fireworks, and an al fresco pool party at The Outpost Hotel Sentosa. Book yourself a sea view room and wake up to serene views after a comfy night's rest. Step out for sightseeing and come back to have a delicious dinner with the amazing views of the Singapore Strait and if you're here in the evening, you might want to pick the best seat for viewing the fireworks. Enjoy a delicious, adults-only brunch and tipsy concoctions at their super-cool rooftop day club.
INFORMATION
a. 10 Artillery Avenue, #03-01 099951
s. www.facebook.com/TheOutpostHotel/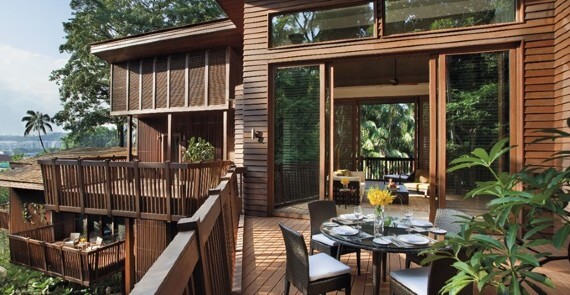 Image Credit: Resorts World Sentosa
TreeTop Lofts™ will remain temporarily suspended until further notice.
If you've always wanted to live on treetops amidst lush greenery, TreeTop Lofts fulfils your dream while giving you your privacy and providing all the comforts of a luxury hotel. Built 12-metres above the ground, this gorgeous hideout has two lofts to pick from - Angsana and Tembusu. Both feature a spacious living room, walk-in wardrobe and private outdoor terrace where you can relax, dine or simply enjoy some tea amidst the birds chirping while witnessing a beautiful sunset. We'd recommend it for a romantic getaway or spending a weekend with your family.
INFORMATION
a. 8 Sentosa Gateway, Singapore 098269
w. www.rwsentosa.com/en/hotels/treetop-lofts/overview
s. www.facebook.com/ResortsWorldatSen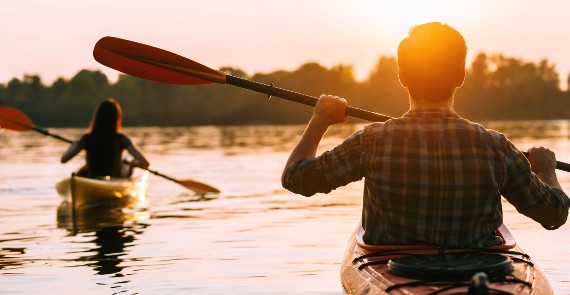 Image Credit: Shangri-La's Rasa Sentosa Resort & Spa Facebook Page
Boasting of being the only beachfront resort in Singapore, Shangri-La is one of the best places for a family vacation where you might just be able to steal some time for yourself too. They've got all kinds of activities available for kids at their activity centres, a play space called Nestopia and a dedicated pool, slides and splash pads for the tots. So, go ahead and book the spa session without any stress or have a splash in the pool yourself as your children have a gala time under the watchful eyes of the trained staff.
INFORMATION
a. 101 Siloso Road, Sentosa 098970
w. www.shangri-la.com/singapore/rasasen
s. www.facebook.com/rasasentosa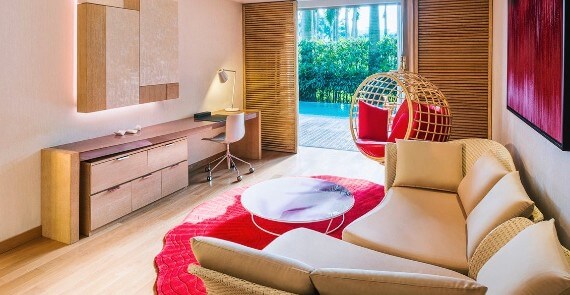 Image Credit: W Singapore - Sentosa Cove Facebook Page
Say yes to breath-taking views of the gorgeous pool, lush greenery and the coastal beauty of Sentosa at W Singapore. We absolutely love the vibrant rooms, most of them with balconies or plunge pool, cabana and terrace. The mood lighting in the chic rooms is fantastic and adds the oomph to the decor. Besides the pool parties, the splendid spa and dining, we love the hotel's trademark Whatever/Whenever service available round-the-clock and happy to fulfil all your demands right from an unexpected proposal to rubber duckies in the bathtub.
INFORMATION
a. Sentosa, 21 Ocean Way 098374
w. www.wsingaporesentosacove.com
s. www.facebook.com/wsingaporesento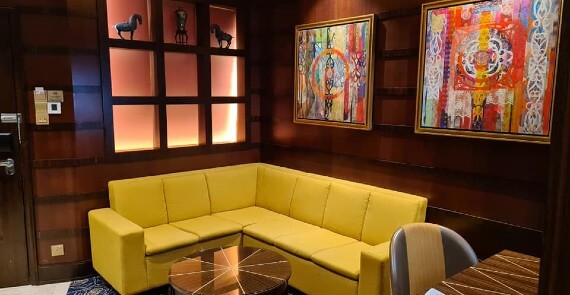 Image Credit: Crockfords Tower Facebook Photos
Suite? Mansion? Or a villa? Crockfords Tower is a luxury hotel in Sentosa with only the luxe type of rooms and they are oh-so cool, you'll feel like you're in a movie scene. The baths have a magic television and a steam room plus you get awesome room amenities like an LCD television, turndown service, seasonal fruit platter, fresh flower arrangements, a wine cabinet, mini-bar, round-the-clock butler and room service. Enjoy your palatial room but do explore their gym, kids club and a fantastic meal at their restaurant, Feng Shui Inn.
INFORMATION
a. 8 Sentosa Gateway, Crockfords Tower, Singapore 098269
w. www.rwsentosa.com/en/hotels/crockfords-tower/overview
s. www.facebook.com/ResortsWorldatSe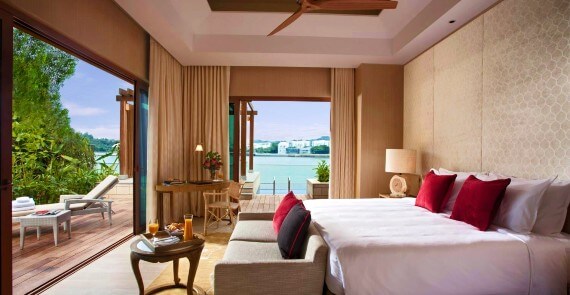 Image Credit: Beach Villas, Equarius Hotel, Resorts World Sentosa Facebook Page
Lounging by the poolside on a sundeck was never this luxurious. Check yourself in one of the villas at Beach Villas or book The Palace if you're going with a group of friends. The latter has a lovely private lap pool, a snazzy living room with a television, karaoke and iHome docking station, a pretty kitchen and a dining area. The rooms are quite elegant with a spacious design and amazing views of the harbour and the tropical rainforest. Enjoy their kickass amenities like private jacuzzi, free-form swimming pool, private spa treatment and 24-hour butler service.
INFORMATION
a. 8 Sentosa Gateway, Beach Villas, Singapore 098269
w. www.rwsentosa.com/en/hotels/beach-villas/overview
s. www.facebook.com/ResortsWorldatSent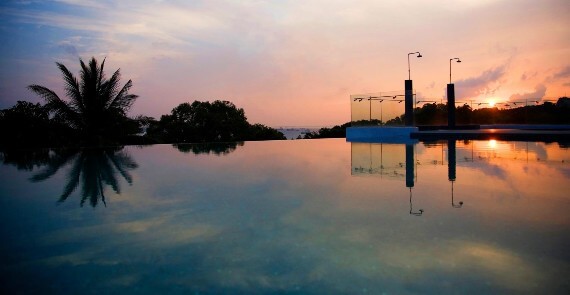 Image Credit: Amara Sanctuary Resort Sentosa Facebook Page
Live in colonial luxury surrounded by lush greenery and a gorgeous view of the sea at Amara Sanctuary, a little haven tucked away in Sentosa. Pick from a myriad of rooms choices, suites, villa or a whole mansion to yourself. The couple suite has a direct pool access whereas a family suite boasts of a private outdoor veranda. Their villas are splendid with private pools and an outdoor bath. Their service is exemplary and you'll quite enjoy their dining and bar services especially the latter, set outdoors amidst beautiful gardens and a tropical rainforest.
INFORMATION
a. Sentosa Island, 1 Larkhill Rd, Singapore 099394
s. www.facebook.com/AmaraSanctuaryRe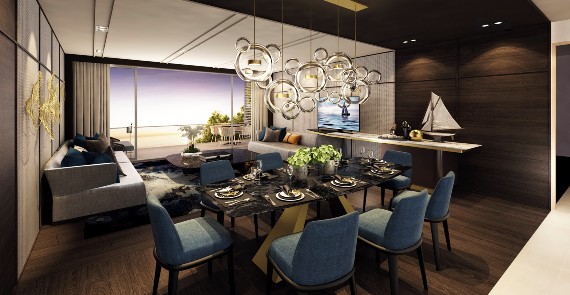 Image Credit: ONE15 Marina Facebook Page
Sink your head in a comfy memory foam pillow at the gorgeous oceanfront hotel property of ONE°15 Marina. After the much-needed siesta, take a long bath in the sunken bathtub or book a spa session to rejuvenate your senses. Their rooms have amazing views of the hill and the marina. Spend your time in the infinity pool, the arcade room, the gym, or simply head to the yacht club for some leisure. Their restaurants cook up a storm and we love the myriad of bars in the hotel - Pool Bar, Boaters' Bar and Bar Nebula.
INFORMATION
a. Sentosa Cove, 11 Cove Drive, #01-01 098497
s. www.facebook.com/ONE15Marina/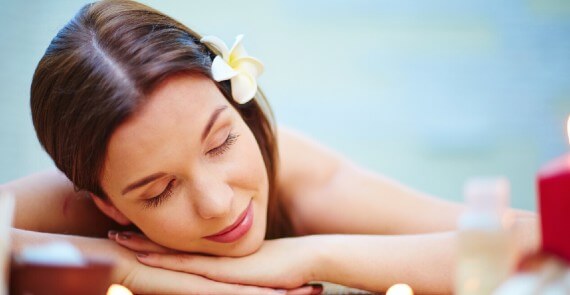 Image Credit: Sofitel Singapore Sentosa Resort & Spa Facebook Page
Find a massive French haven in the midst of Sentosa at Sofitel Singapore and soak yourself in indulgence as the resort offers you peace, tranquillity and splendid service. The rooms are adorned by Parisian touches like the garden room featuring a manicured green patch inspired by Luxembourg Gardens. Find your stress washing away with a rejuvenating spa session, a delicious concoction at the bar or a swim in their lavish pool surrounded by palm trees. Feel French all the way but we do recommend tucking into a hearty Italian meal at their restaurant, The Cliff.
INFORMATION
a. Sentosa, 2 Bukit Manis Road 099891
w. www.sofitelsingaporesentosa.com
s. www.facebook.com/SofitelSingaporeSe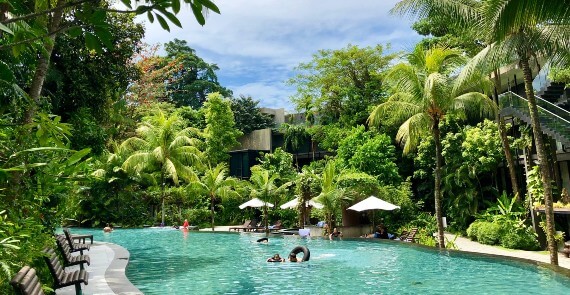 Image Credit: Siloso Beach Resort Sentosa
A stay amidst foliage and greenery doesn't get any more up close and real than the one available at Siloso Beach Resort, a luxury resort with a green heart. You'd actually find trees coming through the floors of the villas encased tastefully in a glass wall, a pool which is a part of a natural spring and a naturally cascading waterfall making it all the more enchanting. The villas have an open air jacuzzi and their roof garden suites are perfect for couples as it includes an open-air private garden with a bathtub complete with hydrotherapy bubbles.
INFORMATION
a. 51 Imbiah Walk, Singapore 099538
s. www.facebook.com/silosobeachresorts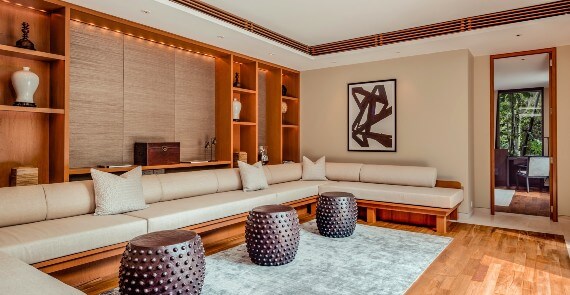 Image Credit: Capella Singapore - Sentosa Island, Singapore Facebook Page
Snooze away surrounded by verdant views of the jungle and the calming South China Sea, all ensuring a peaceful sleep at Capella Singapore. Wake up to amazing views in your snug room as you look out the balcony followed by a bath in your private jacuzzi. Take a long walk on the beautiful, expansive lawn or simply take a serene swim in the pool while taking in the greenery around you. Watch the sunset as you sip on some tipples at Bob's Bar and proceed to dine at one of their wonderful restaurants, Cassia and The Knolls.
INFORMATION
a. Sentosa Island, 1 The Knolls 098297
s. www.facebook.com/capellasingapore.se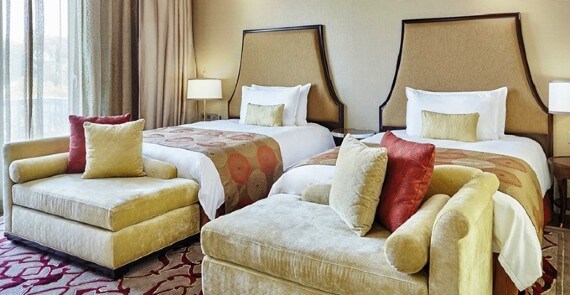 Image Credit: Hotel Michael
A tribute to the famous architect, Michael Graves, Hotel Michael apart from being a luxe haven is also entrenched in art with murals, artsy furniture, motifs and mosaics all around. The attention-to-detail will rapture you as will their service and amenities like a free-form pool, a covered walkway to the monorail, kids club and gorgeous rooms with the views of the harbour. You can head to the Universal Studio located quite close to the hotel and also treat yourself to some delicious food at their awesome restaurants, Fratelli Trattoria, Pizzeria and Tunglok Heen.
INFORMATION
a. 8 Sentosa Gateway, Singapore 098269
w. www.rwsentosa.com/zh-cn/hotels/hotel-michael
s. facebook.com/ResortsWorldatSentosa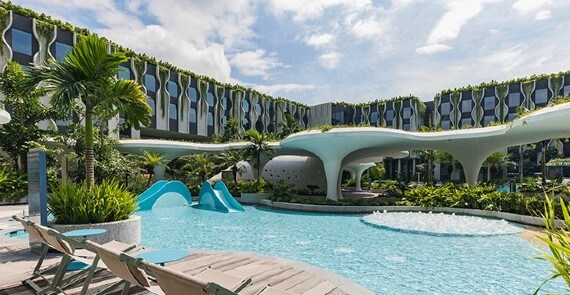 Image Credit: Village Hotel Sentosa Facebook Page
Planning a family vacation can get on your nerves with a things-to-do list and the hotel booking. Village Hotel Sentosa takes care of everything as it provides for fun activities and a delightful stay. Book their special Family Room with a separate sleeping area for your kids and bond with your family as you watch the fireworks together or a movie under the stars, go on a scavenger hunt, chill inside the pool or the pool bar as your kids' swim in their separate pool. Enjoy a delightful French, Indian, Japanese or Eurasian meal at one of their amazing restaurants.
INFORMATION
a. 10 Artillery Ave, #02-01 Singapore 099951
w. www.villagehotels.asia/en/hotels/village-hotel-sentosa