Image Credit: wisataliburan
There's plenty to do and get around in Singapore but for those of you who want a little more can head to some offbeat places on the island.
Get enchanted with nature, spirituality and scenic beauty away from the hustle and bustle of the city, its busy streets and your routine. The places we've curated can very well pose as day-long escapades for the time being as we're refraining from making travel plans to stay safe.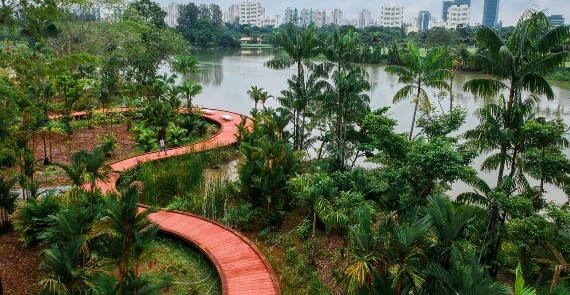 Image Credit: NParks
Surrounded by the tranquil Jurong Lake, each garden segment at Jurong Lake Gardens opens up a new avenue to douse yourself in nature. You can take a boardwalk along the Rasau Walk, let your kids bathe in crystal clear waters of the Clusia Cove or let them make nature their playground at Forest Ramble featuring a play area mimicking natural movements of the critters in the garden. For adults there are beautiful streams and wildlife creatures to see up close, a plethora of water sports to enjoy and after a day well spent retreat to Fusion Spoon for a delectable meal.
INFORMATION
w. www.nparks.gov.sg/juronglakegardens
s. www.instagram.com/nparksbuzz/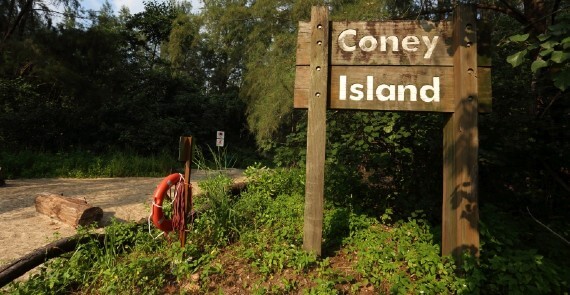 Image Credit: NParks
Always wanted to make nature photography a hobby? Start out at Coney Island, a nature park with unmatched scenic beauty and gorgeous greens all around. Take along a pair of binoculars and spot rare species of birds and the best way to get around is on a cycle. We recommend enjoying a picnic out on the beach once you're done exploring the flora and fauna but refrain from sharing your food with the critters especially the commonly found macaques.
INFORMATION
a. Punggol Promenade Nature Walk, Singapore 829325
w. www.nparks.gov.sg/gardens-parks-and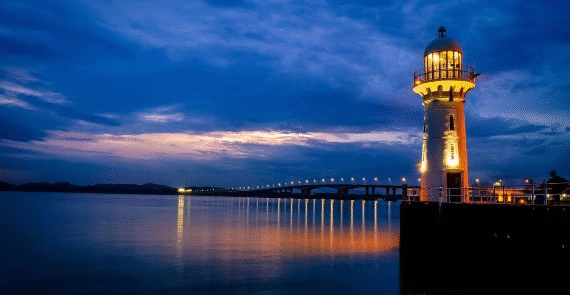 Image Credit: Raffles Marina Facebook Page
Lighthouses are a great place to bring a date or for spending some time in peace and tranquillity with yourself. Raffles Marina Lighthouse is a stunning place overlooking the Tuas Second Link and is a paradise for photographers. The lighthouse looks picturesque in the evening while the sun is ready to set and is leaving golden hues all around. It's even more fascinating at twilight when the club lights it up and it shines, standing tall with a backdrop of the city skyline.
INFORMATION
a. 10 Tuas West Dr, Singapore 638404
s. www.facebook.com/rafflesmarina/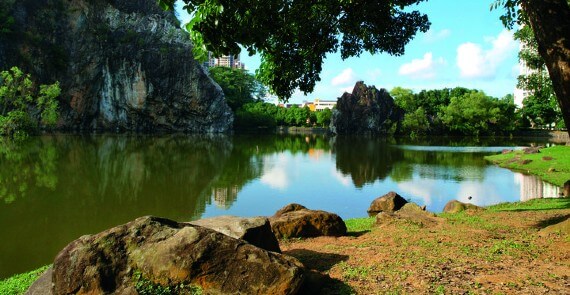 Image Credit: NParks
One of the most beautiful and serene places in Singapore is Little Guilin or the Bukit Batok Town Park. The granite rock is strikingly similar to Guilin in China and is a great place to sit, bask in the beauty of nature and enjoy a whole day away from city life. An awesome place to click amazing shots, don't forget to take your camera along as well as books if you read or some outdoor games you can play with your friends. You can even book their lawn for an uninterrupted photo shoot.
INFORMATION
a. Bukit Batok East Ave 5, Singapore 650242
w. www.nparks.gov.sg/gardens-parks-and-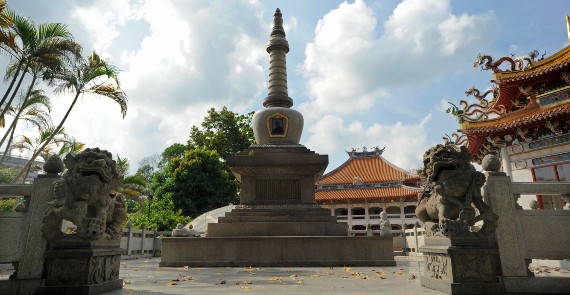 Image Credit: Kong Meng San Phor Kark See Monastery Facebook Page
Spend some time for your spiritual well-being as you step into the peaceful forest monastery in Singapore. The oldest of its kind on the island, Kong Meng San Phor Kark See Monastery is a place where you can practice gratitude and mindfulness as well as spend some time meditating in the quiet ambience of the temple or under the Bodhi Tree outdoors. The magnificent bronze Buddha statue and the detailed Avalokitesvara statue are absolutely stunning. The monastery also organizes activities like retreats, courses and talks on health, family and children as well as gives out free books on Buddhism.
INFORMATION
a. 88 Bright Hill Rd, Singapore 574117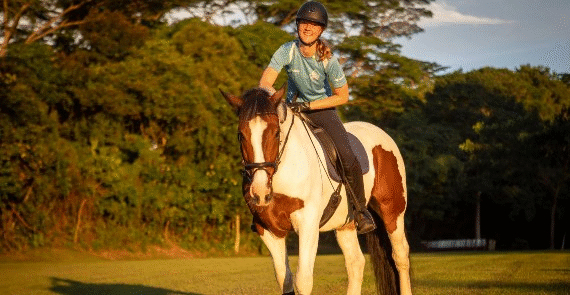 Image Credit: Bukit Timah Saddle Club Facebook Page
Love horses? Head to Bukit Timah Saddle Club and you can ride on beautiful horses, take riding lessons for you or your kids and even buy your own horses. It is a great place to hang out on weekends in case you'd like to become a member; the fields are verdant and the horses love to run around freely plus the sunsets here are worth the wait. Do take your camera along because one stroll amidst the horses and you're sure to turn into a photographer if you're not one already.
INFORMATION
w. btsc.org.sg/
s. www.facebook.com/bukit.saddleclub/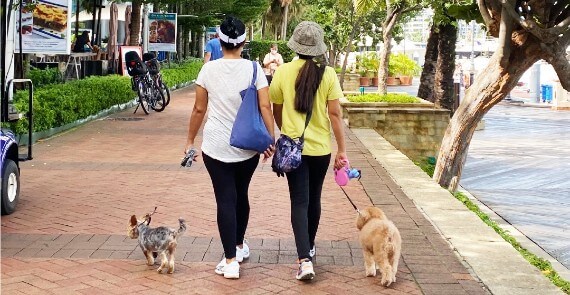 Image Credit: Quayside Isle Facebook Page
Head out from the bustling city life and head to Sentosa Cove to explore the Quayside Isle. Check yourself in W Singapore - Sentosa Cove for an exhilarating staycation and spectacular views of the water and the yachts. You can also spend the whole day here shopping, taking romantic strolls on the boardwalk or spending time with friends or family as you explore the place. There are amazing restaurants here too offering a variety of cuisines - Asian, Italian, Mexican and Spanish to name a few plus the marina-front is lit-up in myriad of colours in the evening, perfect for picture time.
INFORMATION
a. 31 Ocean Way, Singapore 098375
s. www.facebook.com/quaysideisle/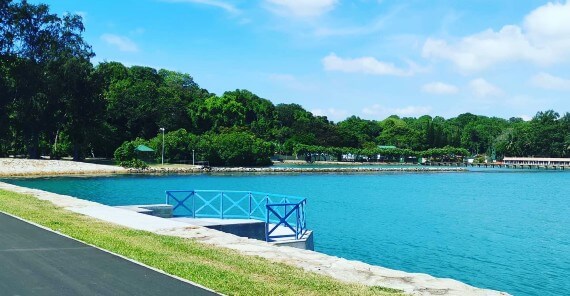 Image Credit: Singapore Island Cruise & Ferry Services Facebook Page
Beach fun is always an option in Singapore but what makes it all the more exciting is island hopping. Make a trip to St. John's Island for a trek or even book yourself a staycation with your friends. Bored out? Head on to Sisters' Island for some snorkelling and diving. Need a rest? End your island hop retreating to Lazarus Island, plenty of chill time with fewer people around and there's just something so serene about this beach, you're sure to come home refreshed.
INFORMATION
a. Marina South Pier, 31 Marina Coastal Drive, #01-04 018988
w. www.islandcruise.com.sg/st-john-island
s. www.facebook.com/singaporeislandcr
a. 60 W Coast Ferry Rd, Singapore 126979
w. www.nparks.gov.sg/gardens-parks-and
a. 31 Marina Coastal Dr, Singapore 018988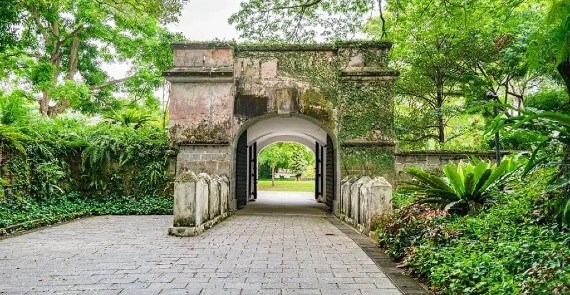 Image Credit: wisataliburan
Soaked in history, artefacts and lush greenery, Fort Canning Park features nine historical gardens, each of them with a unique concept and worth seeing. You can go on a trail as you look around, soak yourself in the greens and historical facts and explore plants like never before in their First Botanic Garden, Sang Nila Utama Garden and Spice Garden. Be sure to pack up a picnic and a camera for you'd surely want to capture yourself amidst the scenic beauty.
INFORMATION
a. River Valley Rd, Singapore 179037
Comments
Legend of Haw Par Beach Villa Decided to take a stroll to visit a lost friend located on the island of Coney. The Haw Par Beach Villa is located at the mangrove area in the central part of Pulau Serangoon aka Coney Island. Before the fifties, Pulau Serangoon was known as Haw Par Island. It was then owned by the prominent Burmese-born Aw brothers, Aw Boon Haw (1882-1954) and Aw Boon Par (1888-1944), who built a huge business empire with their trademark Tiger Balm ointment. In 1937, Aw Boon Haw built his beach villa on Pulau Serangoon after purchasing the island. At their peak, the Aw family owned many properties in Singapore, including the famous Haw Par Villa & the Jade House. During the Japanese Occupation, many of the Aw family's properties were heavily damaged. The destroyed villa and the death of his beloved brother affected Aw Boon Haw badly. He passed away in 1954 on his return trip to Hong Kong. Haw Par Island was sold off by Aw Boon Haw after the war to a local Indian businessman named Ghulam Mahmood. It was, by then, a popular spot for picnicking and organised water sports. In 1950, Ghulam Mahmood planned to invest $100,000 to convert Haw Par Island into a holiday resort island. Calling the isle "Coney Island", Ghulam Mahmood wanted it to be specially catered for the working and middle class people, where they could enjoy various facilities used for swimming, boating, fishing, skating and other indoor and outdoor activities. He also visioned the island to have restaurants, bars, dance halls as well as cottages for honeymoon couples. The proposal, however, did not work out well. Over the years, the 32-acre island changed ownerships several times. It was owned by a Thai businessman in the early seventies, who tried to sell it off at $1 million without success. In 1974, Coney Island and its foreshores were reclaimed and expanded by the Port of Singapore Authority (PSA) in a $20-million project, which also included the construction of a bridge between the island and the mainland. The planned conversion of the island into a recreational centre, however, came to nothing. Designed in Modern architectural style, likely by Ho Kwang Yew, a leading architect during the 1930s, the beach villa consisted of a main building and a service block that occupied 600 square metres and 100 square metres respectively. The main building was built with a central hall and an open veranda that surrounded the house. At one corner, there was a water well, presumably to supply fresh water to the occupants. For many years, Coney Island was only accessible from Punggol and Changi Points. It was a popular destination among the locals for fishing, swimming, bird-watching, water-skiing, picnicking and camping activities. Hence, it was no surprise that the Haw Par Beach Villa was once a popular haunting topic among the picnickers and campers. The stories ended when the island was closed in the late nineties during the Punggol 21 development, when its size doubled to 50 hectares through land reclamations. As for the beach villa, it remains forgotten until recently, when Coney Island opens up to the public once more and hard core explorers looked for it once again. Credit to contributor: Ho Ee Kid
During the evenings, soak in the expanse of the beautiful sunset as you take a stroll down the pier to the lighthouse. While the lighthouse is open to the public for photo-shoots, visitors to the Club are required to respect and abide by the Club rules and regulations at all times.
Jurong Lake Gardens, built around the beautiful Jurong Lake, will allow for visitors to experience the natural landscapes of swamp forests and wetlands. In the southern portion of Lakeside Garden, native wetland plant species such as the Nibung Palm (Oncospermum tigillarium) and Lipstick Palm (Cyrtostachys renda) have been replanted to restore the natural swamp forest habitat that was once thriving in the area. Nature Areas Visitors can stand on the boardwalk which overlooks into Alstonia Island, a man-made island planted predominantly with Alstonia spatulata. The island is greatly influenced by the changes in the water level of Jurong Lake and visitors can observe the changes in biodiversity with the tides. Nature trails within the gardens will showcase coastal plants such as Clusia to create various coastal habitats for biodiversity. Immerse yourself in a flower field with butterflies fluttering around in the Butterfly trail. Right beside the Garden House, you will see an expansive grassland habitat with bird hides scattered around to allow for wildlife observation at close quarters without alarming them. Take a stroll along the meandering Rasau Walk along the water's edge to learn more about riparian vegetation and animals. In the southern portion of Lakeside Garden, the Neram Streams features a series of de-concretised and naturalised tributaries that mimic the natural streams in the environment to channel stormwater runoff from the gardens into Jurong Lake. The banks of the streams are planted up with semi-aquatic plants that provide a suitable habitat for dragonflies and damselflies such as the Common scarlet (Crocothemis servilia). Adjacent to the streams is the Heron Island which has natural platforms that encourage our resident herons to roost and nest away from human disturbance. Nature Trails Aside from these attractions, visitors can take a walk through the various nature trails at various areas in Lakeside Garden. These self-exploratory forest trails can be found outside the PA Water Venture building, behind the Dog Run as well as the southern-most section of the gardens. Look out for woodland birds such as the Spotted wood owl (Strix seloputo) and Laced woodpecker (Picus vittatus) roosting amongst the tree canopies as you stroll through the forest. There are also educational billboards placed around the gardens that provide information on the attractions and the biodiversity that can be found in the area. Use these billboards to plan a DIY trail around the gardens for your family or an educational tour for your children and students!