Image Credit: STPI - Creative Workshop & Gallery Facebook Page
Apart from Singapore's renowned national art museums, these independent galleries have been making profound, artful waves of their own accord and celebrated merit.
Singapore is infamously known for its varied spots spread throughout the region, which unfailingly attract those with an appreciation and love for diversified works of art. However, if you are zeroing focus on contemporary art and debut artists emerging on the art scene, Expat Choice beckons you to explore these private art galleries in town, for unadulterated experiences that will bring to light memorable gems in your viewing pleasure.
Founded at the start of 2018, by Singapore artist Seelan Palay at Golden Mile Complex, Coda Culture has well-used its independent art space as a platform provision for home-grown artists to practice and present works of art with both freedom and autonomy. The establishment has recently relocated to a new address, in the buzzing Aliwal precint. They remain open only whilst exhibitions are on.
Image Credit: Coda Culture Facebook Page
Don't miss their upcoming event Precious Things, where 14 Singapore artists produce artworks with extant objects. This intriguing exhibition takes a look into how the "value" of art has been called into question due to the ongoing pandemic, and how (for some artists), their methodologies and works have always existed at the margins of presumed "value." This event is a part of the 'Proposal for Novel Ways of Being' initiative by the National Gallery Singapore and the Singapore Art Museum. The exhibition begins on 21 November 2020, and will run till 12 December 2020, with timings set for 2PM-8PM (weekdays), 12PM-8PM (Saturdays), and 12PM-5PM (Sundays). 
Note: In light of Covid-19 precautionary measure, entrance to the gallery will be limited to 5 entries at a time. 
INFORMATION
a. 67 Aliwal St, Singapore 199942
w. www.facebook.com/codaculturesg
Since it's establishment in 2002, the STPI gallery promotes artistic experimentation in the mediums of print and paper, boasting contemporary artworks in collaboration with various international curators, collectors and gallerits. In the Creative Workshop front, you'll find artists in residency (both local and international), that challenge convention in art with etching, screenprint, lithography, paper making and relief print. STPI stands alongside National Gallery Singapore and the Singapore Art Museum as part of the national Visual Arts Cluster of leading regional art institutions.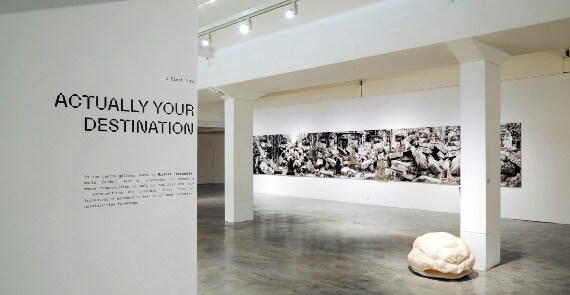 Image Credit: STPI - Creative Workshop & Gallery Facebook Page
The soon-to-be shown pop-up exhibition Pulpable Moments (20-22 November 2020), will be highly worth your time and experience. In conjunction with AGAS Gallery Weekend in November, STPI is pleased to present an intimate group showcase developed by five significant contemporary artist in STPI's in-house paper mill. Imbued with a sense of creative pursuit and material discovery, this presentation brings into dialogue organic, fibrous works that have been innovative and delicately curated into existence. The weekend pop-up exhibition will be supported by experiential paper-making workshops, as well as a 'discovery corner' of raw fibres and pull material over the three-day course.
INFORMATION
a. Robertson Walk, 41 Robertson Quay 238236
s. www.facebook.com/STPICreativeWorks
With an establishment history of nearly 25 years, Gajah Gallery sits in a humble space within Monk's hill, and has been actively supporting contemporary Southeast Asian works of art. Since 1996, the gallery has grown expansion into a beautiful warehouse art space along Keppel Road, with exhibitions and collections by prominent leading artists in the region, along with the brightest emerging talents in contemporary art today.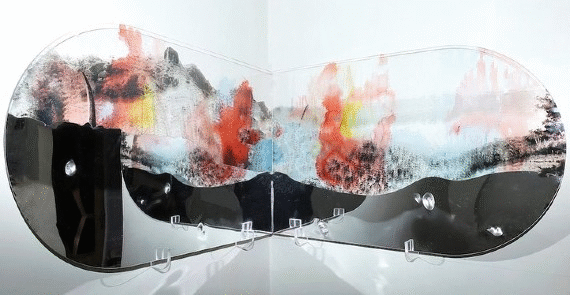 Image Credit: Gajah Gallery Facebook Page
The current art display proudly featured in November, Navigating Entropy: Artists-in-Residence (6-29 November 2020), is a collaborative exhibition championing regional artists who have partnered with Yogya Art Lap [YAL], a subsidiary of the Gallery set in the beating heart of Indonesia's burgeoning art scene, Yogyakarta. This culmination of art gathers a diverse array of radical, invaluable works created by artists in their residency at YAL, allowing a wide range of works spanning across experimental mediums — from bronze to glass to clay — to converse in a single space.
INFORMATION
a. 39 Keppel Road, #03-04 089065
s. www.facebook.com/gajahgallery
The next-generation Cuturi Gallery has been building a place of prominence in the Singapore art scene, from the time of its inception, and has recently relocated into a beautiful conservation shophouse in the ethnic enclave of Kampong Gelam. Kevin Troyano Cuturi, founded the gallery with a strong belief that art should be empowering and meaningful for everyone. A winsome factor that sets Cuturi Gallery apart, is its ground-breaking discoveries initiative, an incubator for new creative talents in the city to make a noteworthy appearance.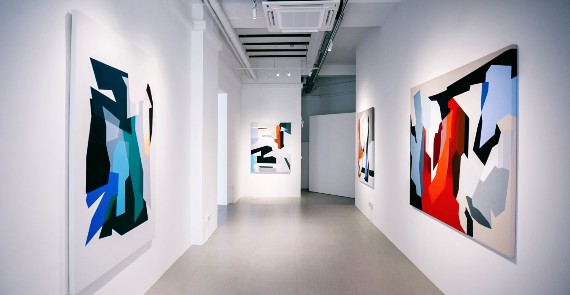 Image Credit: Cuturi Gallery Facebook Page
The ground floor is dedicated to the gallery's exhibition spaces, while the second and third floors house multi-functional art spaces. However, the stand-out space for the gallery's crowing gallery, is an open-air patio overlooking the surrounding neighbourhood — old red terraces, golden-domed mosques and everything else that's picturesque in between. 
Visit now, to witness two astounding presentations currently ongoing: Firstly, The Third Force (7-29 November 2020), Delphine Rama's first solo exhibition at Cuturi, which explores the human psychology and the uniqueness of the individual through challenges. This young Belgian artist's work is constantly evolving, as she experiments and pushes the boundaries of art with her own artistic expression. Secondly, Past Forward (14 November 2020 to 6 December 2020), a solo exhibition Vincent Fournier. In marking the French artist-photographer's inaugural expo in Singapore, this showing brings together a selection work from his critically acclaimed series Space Project (2007–), Brasilia (2012–), and from his latest Kosmic Memories (2020—).
INFORMATION
a. 61 Aliwal St, Singapore 199937
s. www.facebook.com/cuturigallery/
If you're in the Dempsey neighbourhood, make sure you drop by Siri House. This welcoming spot contains all the essential elements for a sought-after hang out destination. It's best known as a lifestyle, social and dining space that brings people, art, design, food and retail together. From the onset of its launch, this art gallery has allured many a contemporary art lover through its doors, by playing host to a respectable number of rising international artists, who've showcased bedazzling works of original creativity by their art displays.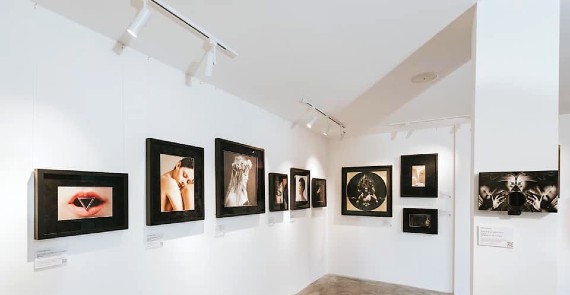 Image Credit: SIRI HOUSE Dempsey Facebook Page
The most recent attraction found here, is the installation by multi-media artist Mojoko (aka Steve Lawler), named The Secret Room. The exhibition celebrates Mojoko's signature style — his ability to cleverly bring together historical and contemporary pop imagery, with a touch of genius behind cross-cultural fusions. You will discover 20 new artworks featured in the installation, by means of taking varying traditional mediums and presenting it with an eye-pleasing, modernized twist.
INFORMATION
a. Dempsey Hill, Blk 8D Dempsey Road, #01-02 249672
w. www.sirihouse.com/singapore/thehouse
s. www.facebook.com/sirihousesg/
Strategically located in the hip neighbourhood of Tiong Bahru, the chic ArtBlue Studio is Singapore's leading purveyor of Vietnamese contemporary art to a global client base. This spectacular and sophisticated gallery aims to engender awareness and showcase the vast and diversified talents of present-day Vietnamese artists. The gallery consistently partners with renowned International museums, galleries along with private collectors to curate unique art creations from Vietnam's well-established up and coming artists.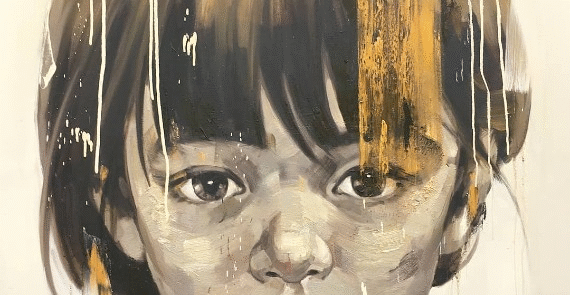 Image Credit: ArtBlue Studio Facebook Page
Join in for the Singapore Gallery Weekend, 20-22 November 2020, 10AM-7PM (Wednesday to Sunday). In conjunction with Art Galleries Association SG, ArtBlue proudly presents: 'Old Masters and Young Geniuses' — an art exhibition vehicle that will transport you to the vibrant scenes of Vietnam, with senior masterminds and brilliant young talent, who together, artfully reveal the exploration of society and the transformation of their individual selves. 
INFORMATION
s. www.facebook.com/artbluestudio/
The stringent focus of Art Porters Gallery is on contemporary art and developing relationships with International artists. Housed in a Peranakan shophouse in Spottiswoode Park Road, the gallery was co-founded by Guillaume Levy-Lambert and Sean Soh in 2013, who spear-headed the mission to provide the accessibility of art to a wider range of people. The establishment represents global artists, showcasing works in a variety of media, including painting, drawing, sculpture, photography and digital animation.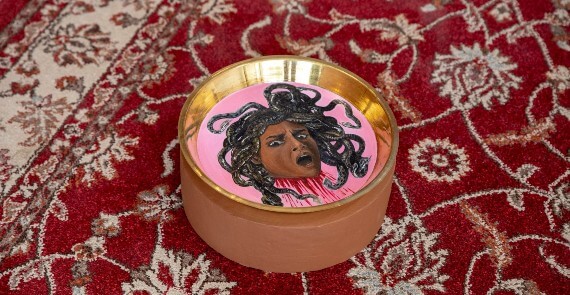 Image Credit: Art Porters Facebook Page
Art Porters has scheduled the exciting showing of Online Colour for over a month's duration (21 October 2020 to 9 December 2020). As the title implies, the exhibition is a journey to slow down, to relearn sighting tonal existence in non-digital colours and to become aware of how we perceive colour subjectively and objectively. Huge props to the artists behind the display of mind-boggling, abstract paintings, Jamie Tan and Jamie Teo — and their highlighted feature, a first-time collaborative piece that bridges their differing art practices, and common interest in colour. 
Furthermore, catch two of their upcoming online events featured this month: 'Online Colour vs. Offline Colour' (20 November 2020) & 'David Chan Converses with Jamie Tan and Jamie Teo' (22 November 2020).
INFORMATION
a. 64 Spottiswoode Park Road 088652