Richard and his team are working in challenging times to make sure you, your family, your friends and colleagues are not only properly fed while working from home, but now also in house at Rabbit Carrot Gun on East Coast Road. They are also thinking up new, creative ways to keep your cupboards full and your family entertained. Get to know Richard, and learn more about Rabbit Carrot Gun with MultiCo and Expat Choice Asia.
Tell us a bit about you, Rabbit Carrot Gun and the story behind the restaurant 
I created Rabbit Carrot Gun in 2012 from a derelict building in Katong. In 2012, the restaurant scene in Katong changed as more venues moved into the area.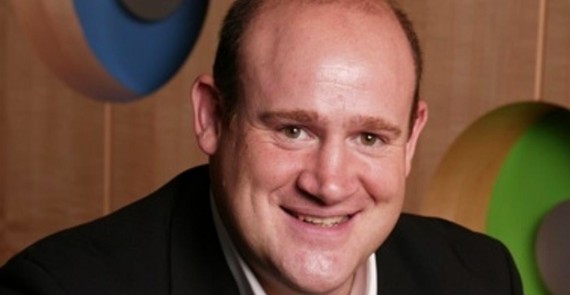 Meet Richard Huggins of Rabbit Carrot Gun
Over 120 new F&B concepts opened in the area over the next 4 years, well, at least I think it was 120 as I have stopped counting. The vision I had when I founded Rabbit Carrot Gun, which is also the driving sentiment fuelling our business is doing things the way they should be done. By this I mean servicing our customers properly, with care and with a sense of fun. 
What does 'service' and 'hospitality' mean to you Richard?
Currently, we are striving to retain the Rabbit Carrot Gun authenticity and we are finding new ways to retain and nourish our connection with our loyal customers. For example, we have launched a new Rabbit Carrot Gun online Groceries and Essentials site. This site is providing people with a great alternative to the large Goliath supermarkets and other online options. Our online Groceries and Essentials site provides products of far better value, and offers more reliable delivery. We are also currently working on expanding our range of Ready Meals and daily essentials.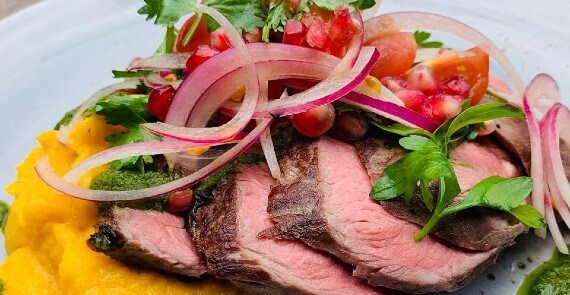 Image Credit: Sous Vide Lamb Rump, Pumpkin Purée, Eggplant Chutney, Chimichurri, Pomegranate, Fresh Herbs
To make the ordering experience more fun, you can choose the option of having products delivered in collectable wicker baskets, or on antique farmers' trays. You can of course also simply collect your pre-ordered food by bringing your own containers. While you wait, grab a cup of our excellent coffee, or pick up a bag of our locally roasted Rabbit Carrot Gun coffee beans! 
What impact has COVID-19 had on your business? 
First thing first, as you can all understand, Covid-19 has been a blow to us financially, as revenue has been soaring. Since the 8th of April, we have experienced a 96% decline in revenues.
But! On a positive note, through our new initiatives, such as the Rabbit Carrot Gun Market site and through increased deliveries, we have become more connected to our customers. We know more about them now than we ever did before. We know what they need to stay safe at home, for instance, perhaps they need a quick delivery of Tasmanian Scallops (sustainably farmed), or a packet of perfect Danish Back Bacon, or a simple packet of Rabbit Carrot Guns own label unsalted butter. We know and have what they need, and we are happy to deliver it to them. 
What steps are you putting in place to help your business during these times? 
We are taking many steps in effort to ensure our survival. In addition to the above initiatives, we do the usual tasks of managing our cash flow, we streamline lists of suppliers, improve our credit terms and so on. Most importantly, we try to be innovative by developing our new products such as ready meals, and new concepts, such as what we did for Mother's Day.
Our Mother's Day Zoom Masterclass package really struck a chord with our customers! We delivered ingredients and fresh cut flowers and held a Zoom masterclass, starting with preparing your family roast and then having everyone learn how to make Mum and wonderful flower arrangement at home! This initiative was an instant success, and we are very happy with the results! We're following up with more Zoom Masterclasses - Sashimi & Chablis, Virtual Tour of Scottish Gin Distillery & Tasting, and may more.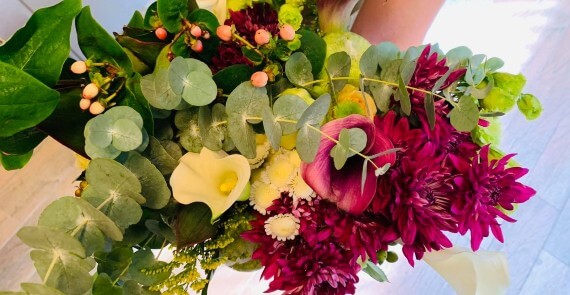 We've recently launched Rabbit Carrot Gun Flowers, with our own florist as well as International Floral Designer Andie Duthie. We are very excited about this new initiative.  Omakase Arrangements in 3 color schemes, Pastels, Brights or Pastels & Bold, and we'll introduce more arrangements soon. Rabbit Carrot Gun Flowers will soon launch in London & Sydney too.
In the end, it is important that we take note and react to the change in customers behaviour. As our customers continue to stay at home, it is important that we reconsider our products and services, and tailor them to fit the new reality. We have to continue to innovate, and offer products and services that are more suitable for a customer base that is currently locked in at home.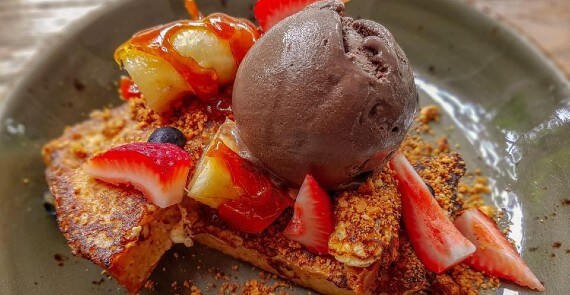 French Toast Special with Nut Crumble, Caramelised Banana, Fresh Berries, Chocolate Ice Cream
I have to say that I am so proud of our resolve, and of what we have achieved over the past 8 years! I am proud of how we have grown, proud of all the creative new initiatives, and of course - our resilience throughout Covid-19. Resilience is the single most important quality we look for in every member of our growing team. None of it would be achievable without a great group of loyal customers.
How do you see the industry post-covid? 
From September 2020, I believe the industry may recede by as much as 40%- 50%, as Government subsidies will phase out, rental deferment ends and balance sheets become overstretched. 100% of independent restaurants are currently insolvent, and only those with separate funding will be able to weather the next phase of opening up. It is important to remember that us in the F&B industry will experience double impact due to the social distancing regulations that will continue to be put in place for the unforeseeable future, effectively limiting the revenue sq/ft and absorbing deferred costs. The hardest decision of anyone operating with sunk investment is to preserve or retreat to fight another day. 
What are your most popular dishes?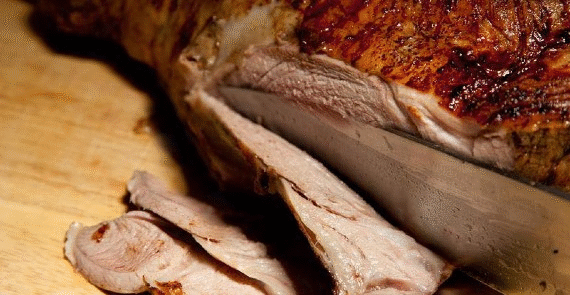 Award Winning Scotch Eggs and full menu available for takeaway, via Deliveroo & GrabFood. Or for islandwide delivery WhatsApp +65 9875 3661
We are probably best known for our multi-award winning Scotch Eggs. We also developed the World's First Impossible Scotch Egg (Vegan)! If you haven't tried them yet, you definitely should. They are highly recommended by our customers!
But, although we are known for our famous Scotch Eggs, our Sunday Roast is arguably our most popular dish. You will have to look far and wide to find a better quality roast in Singapore.
Mouth watering yet? You can do your bit towards ab F&B revival Singapore. Check out Rabbit Carrot Guns Market, for your daily shopping needs and make a reservation to enjoy a wonderful meal at their restaurant on East Coast Road.
Did you know that you can order food from Rabbit Carrot Gun using the MultiCo app? Download the app today, and receive $10 simply for joining!


Why wait? Download the app today and become a part of the MultiCo community! 
Do your part in supporting local business! 
INFORMATION
S. www.facebook.com/rabbitcarrotgun