LWC Pte Ltd, an established player in workspaces, is delighted to announce the launch of MultiCo's new application. MultiCo is a revolutionary concept that addresses the needs of agile workforces.
Unlike existing workspace offerings, MultiCo does not tie its members down to a single space.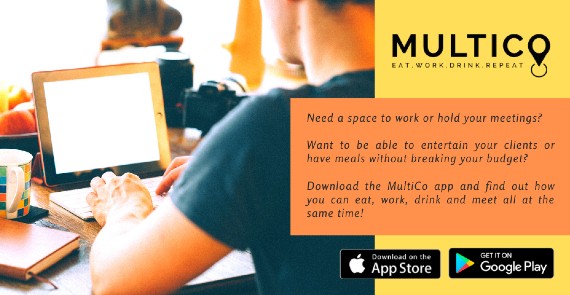 MultiCo offers membership packages that include access to a network of working spaces (including F&B venues, co-working spaces and hotels), and credits to spend on partner services, such as food, drinks or meeting rooms. This makes MultiCo the perfect solution for mobile workforces or entrepreneurs that don't want to be tied to their desks.
All partner spaces are equipped with WIFI and power points, and members will have access to exclusive sections within the venue where they can meet clients or work in peace. This makes MultiCo ideal if you frequently meet clients outside the office. Members sign in and pay seamlessly through the MultiCo app, and can purchase additional credits conveniently when required. Members will also become part of the MultiCo network, and receive invitations to a range of unique events.
Membership packages start from just $250/month for the Standard Plan. Most users would prefer the Premium Plan, which offers $500 in credit for $500/month subscription. If you have a large team, MultiCo can also offer a customized pricing plan to suit your needs.
For a limited time only, MultiCo is offering members on the Premium plan 10% extra spending credits, three 1-day passes to ClubCo, and 2 hours of meeting room usage at any ClubCo venue, a total value of $800!
For more pricing details, please visit MultiCo's website or contact us at +65 6222 8662
Comments
As some readers will know, ClubCo has launched MultiCo which replicates the collaborative membership at ClubCo- but now in multiple locations. So, how does a MultiCo Membership Work? For $500 per month members can work in any of MultiCo partnering F&B locations across Singapore and receive $500 in vouchers to spend at the venues. Join MultiCo today and benefit immediately. http://www.multico.co/ As this is the initial go-to-market phase, some manual operations will be expected but this will soon become automated. In addition, ClubCo and the team are working towards adding more co-working locations across Singapore to give you greater convenience and variety. Check out more here: http://www.multico.co/