The following article was originally published on The Stafish
Tell someone you've been on a bike excursion in downtown Kuala Lumpur and they'll probably raise an eyebrow or two.
From a safety standpoint, the humble treadly may not seem to be the ideal mode of transport in a big, bustling, traffic-crammed, metropolis.
But the experience worked for us. We rode 'em, survived, and loved it!
We'd set our alarm clock at our digs, Lanson Place (a Small Luxury Hotels of the World property), for an early start. If you are going to spend hours negotiating the vaporous boulevards and alleys of tropical KL, then you're best to do it before it gets too toasty.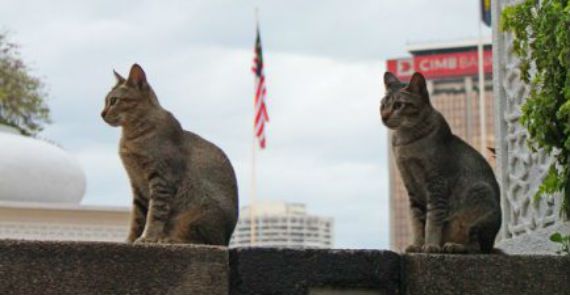 Early morning spectators at City Gallery
As the morning street sweepers were still at work, we cabbed it to nearby KL City Gallery, a popular gathering place, to meet our guide, Elena Mei Yun, principal of Bike with Elena and Kindoyo Nature Biking.
Elena was easy to spot. Surrounded by folding bikes, she looked ready for the Tour de France. Originally from Sabah, she is one of KL's best known cycling enthusiasts.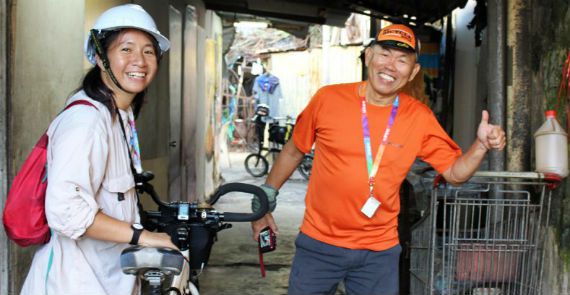 Elena and Sin
Elena introduced us to her business partner, Sin Tai Lim, also a keen cyclist, who knows KL like someone who's lived there all his life, which he has.
Having retired from a career in construction he now delights in showing people around this vibrant town and its regional surrounds on bikes. He and Elena make a trusty and professional two-wheeled team, keen to share their city's secrets with tourists.
Sonny, a local chap who works in the travel industry, and was keen to brush up on Elena's tour, also joined us.
Soon it was helmets on, and our intrepid quintet scooted out of the square, through the rush-hour traffic and onto the main drag. Then we disappeared like a little wheeled conga line into the city's heart.
We quickly got used to cycling in the traffic– you've got to – learning that an observant, yet assertive, approach is all that separates you from making an impromptu acquaintance with the grill of a delivery truck.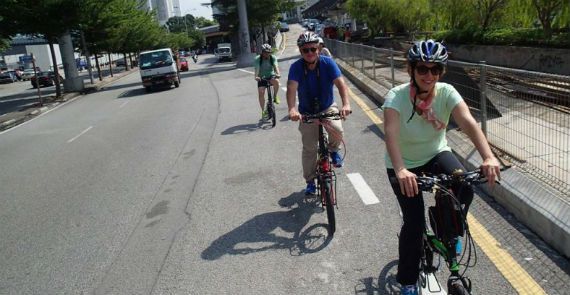 After a short pedal through the CBD we pulled up at KL's oldest continually operating eatery, the Kafé in Old Market Square.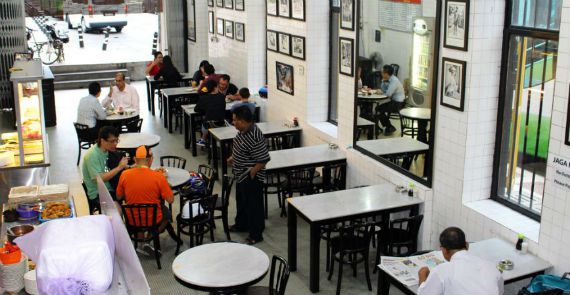 Kafe Old Market Square
Nearly 90 years of age, it's a favourite with locals who come here to sip fine, sweet black coffee, gossip and discuss the day. They tuck into the much-loved local breakfast of extremely soft-boiled eggs (two seconds in boiling water?) with salt, soya sauce and bread.
There's a traditional method of eating these ultra-sloppy ova, which my limited Malay gastronomical etiquette failed to compute, raising much mirth among our hosts and Sonny. I was using the old occidental lop-the-top-off-the-goog technique, and most of it was ending up in my jeans and shirt pocket. I was supposed to smear the runny cackleberry on the bread, apply the condiments, and wolf it down as a glutinous mass. I managed, like a puzzled toddler.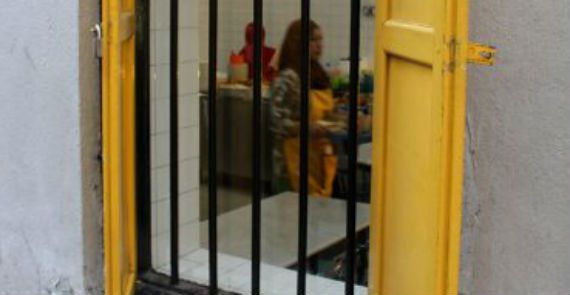 The Kafe features fantastic historic black and white photographs dating back to British colonial times – or lots of pompous mustachioed chaps in pith helmets, blazers, cricket whites and braids sitting at the club being eyed by wary locals.
"This is one of the few cafes where all the key ethnic groups of the city are represented under the one roof," Elena explained.
Sure enough, around us were diners of Indian, Malay, Chinese and European extraction, united in their love of good food and mixed company.
On our way out we noted a more recent photo on the wall of that chubby-cheeked, flaxen-haired Brexit Man, Boris Johnson, flanked by crowds, on a recent visit.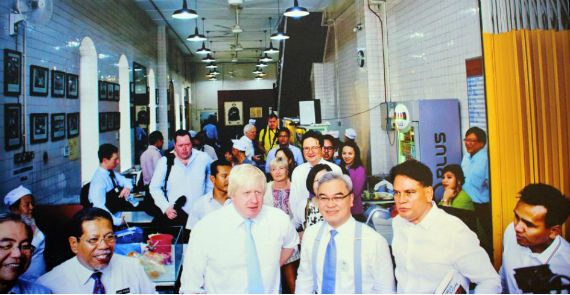 Boris was here!
Borrie looked a tad furtive, and was probably in town aware that he might have to return to the old colony cap-in-hand one day on a trade mission, and now the disgruntled Poms have given Europe the flick, he might be back sooner than he thinks.
We stroll one block away to check out the Jemek Mosque from the river bridge. Designed by Arthur Benison Hubback and located at the confluence of the Klang and Gombak rivers, the mosque is one of the oldest in KL, built in 1909. The Arabic name "Jamek" means a place where people congregate to worship.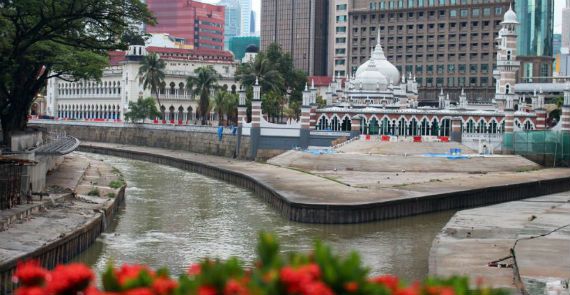 The Jemek Mosque, where two rivers meet. A bit less mud nowadays
The mosque was built riverside so devotees can wash their feet and cleanse before popping in to prayer.
This spot was also the founding point of the city. In 1857, Chinese prospectors in search of tin landed at the meeting of the rivers and set up camp, naming the spot Kuala Lumpur, meaning 'muddy confluence'. The name stuck like, well, mud.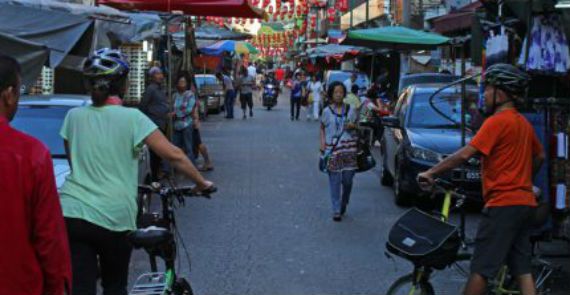 Jacqui and Sin mosey into Chinatown
Mounting our steely steeds, we rolled over to Chinatown and peddled down Petaling Road, the famous hub flanked by small shops and endless enticing eateries. The locals here are friendly and persuasive, many inviting us to sample their morning delicacies.
But Elena and Sin weren't putting on the skids just yet. We were soon whizzing down narrow alleys and hidden recesses.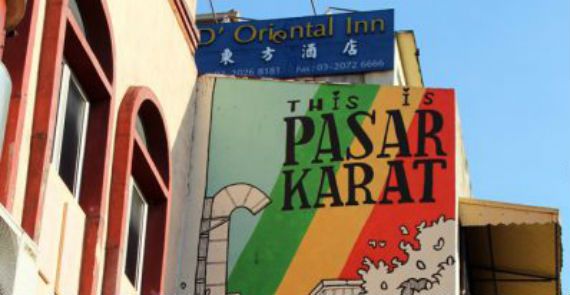 We ended up in Pasar Karat, the shifty flipside of KL, an alley jam-packed with hawkers, petty thieves and not a few Soapy Sid types.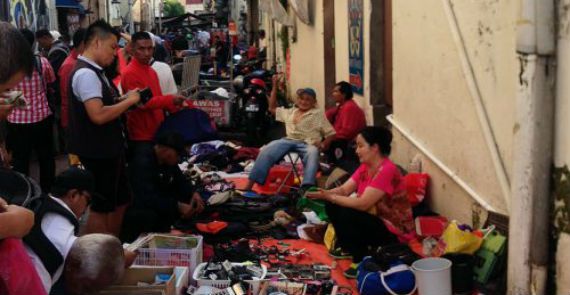 "I'm sure that's my old Nokia!"
Elena whispered, "If you've been robbed, just come here and you'll find your belongings!"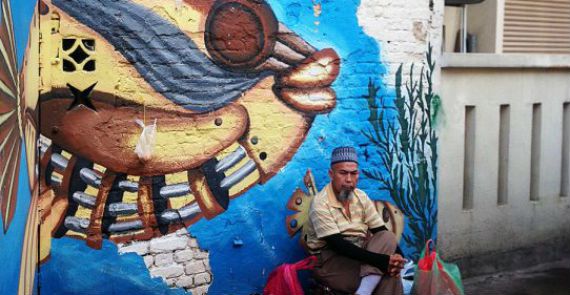 For 500 metres, the alley was strewn with folk sitting on blankets flogging second hand and stolen iphones, tired-looking dolls, used lip-gloss, lighters, underpants, CDs, bird cages, TVs, battered boots, cheesy T-shirts – you name it, it's on the pilfered blankies.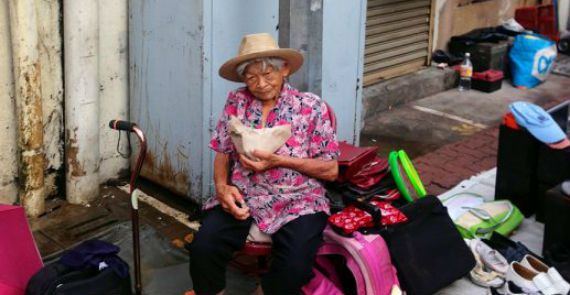 One man even had three neon lights blazing away, clearly extracted from some sucker's ceiling but a few hours prior to alley opening hours.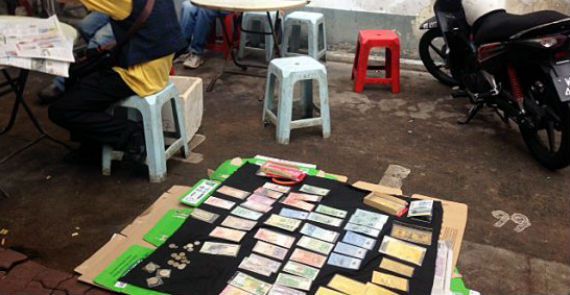 Few folk here wanted to be photographed with their dubious wares, let alone appear in The Starfish.
But we were thrilled to be here. It's the kind of hidden, lively underbelly you don't read about in the tourist brochures.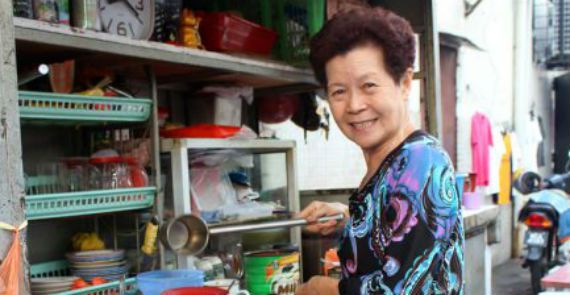 Aunty will do you the best Milo in town
A dignified lady they call The Aunty runs a snack and drink stand in the alley and asked us over for tea or Milo (Milo's huge in Malaysia), but with places to go and pockets to protect, we continued our urban odyssey.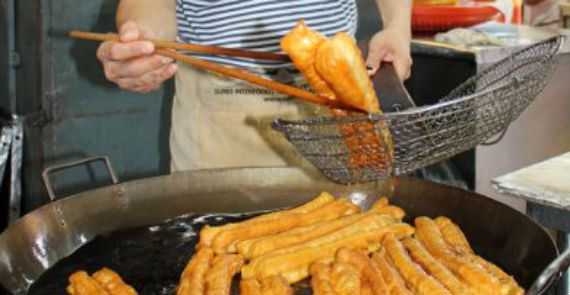 Workin' the breakfast wok
While the food-stand in Asia is an ancient tradition, modernity is here and now, and we noted that many had their website, Twitter, Facebook and Instagram details writ large across their signage. "If you can't get it here, we'll send it anywhere in the world!" said one hopeful sign. Not too sure we'd be tackling that morning's pork dumplings after a trip via Cape Horn.
Back on the treadles we did a round of some of the temples in the immediate area. KL's many resident ethnic groups practise a number of religions and the city prides itself on religious tolerance.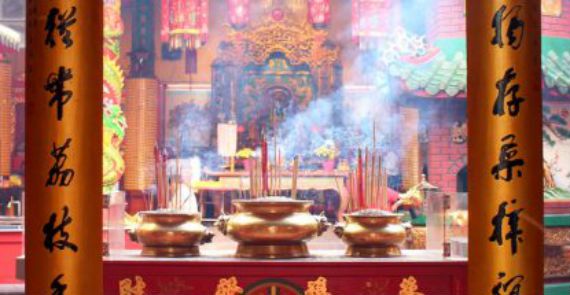 Kuan Ti Taoist Temple
Kuan Ti Temple is a 121 year-old Taoist temple located along Jalan Tun HS Lee. It's hard to miss: the building sports a bright orange-red façade and is dedicated to Guandi, the Taoist God of War and Literature. There is a red-faced, long beard statue of Guandi at the rear of the temple – quite a looker.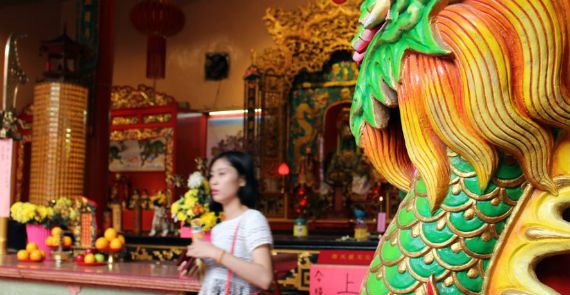 The Sri Mahamariamman Temple is the oldest Hindu temple in KL. Founded in 1873, it is situated at the edge of Chinatown in Jalan Bandar.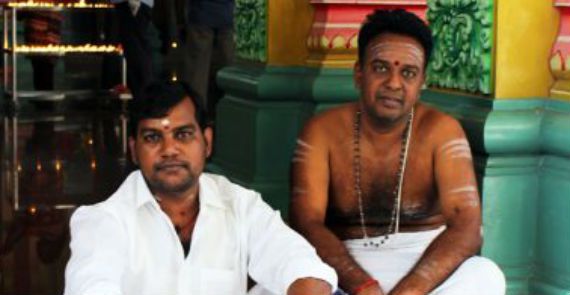 Hindus at Sri Mahamariamman Temple
In 1968, a new structure was built, featuring the ornate Raja Gopuram tower in the style of South Indian temples.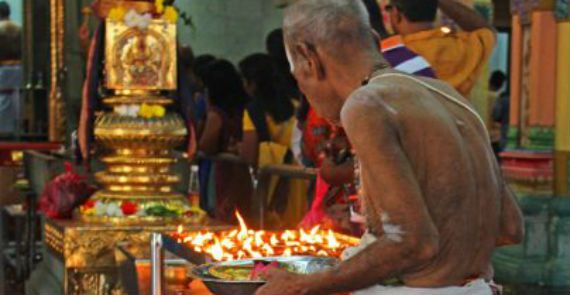 From its inception, the temple has provided an important place of worship for Indian immigrants and is a national heritage site.
Elena and Sin then led us to Lorong Panggong (Theatre Lane) for coffee and refreshments at Black Dog Kopitiam, a third-generation cafe run by the ebullient Uncle Ho Kau. The Good Uncle trotted out some excellent cups o' joe and we chatted to some of the laid-back locals and old-timers from around the neighbourhood.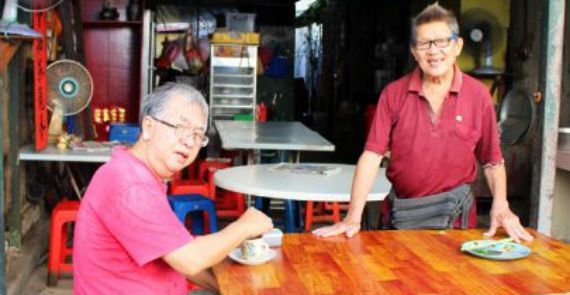 Uncle Ho Kau (Right) with an old friend at his coffee house
We were in the one of the oldest sections of town and the small street features rare Chinese shop-lots with coloured Venetian windows. The fear is that unchecked development may spell the end for this atmospheric heritage district, which would be a great cultural loss for the city. These are the places and people that visitors want to see and meet when travelling. Don't do it, KL!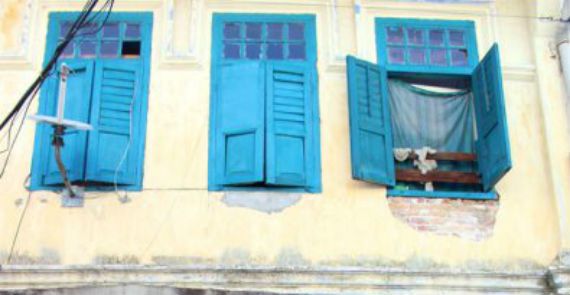 Then it's back on our bikes. We pedalled to Jalan Panggong to see Julia Volchkova's towering mural.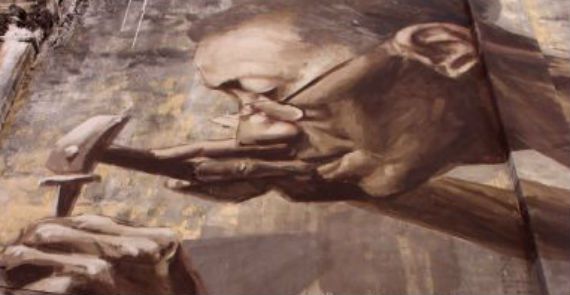 The celebrated Russian artist has completed a number of impressive pieces in KL, a town where they like their murals on a grand scale.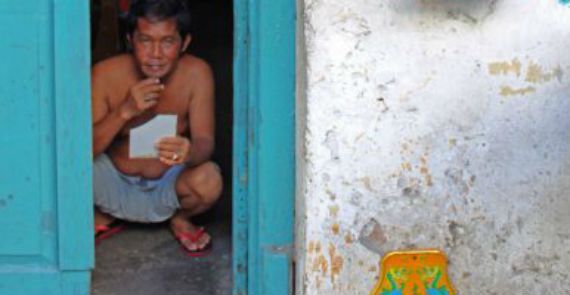 By now the day was starting to heat up, as was the traffic and our good selves, but we were now at least adept at ducking and weaving. We swooped through the crowded streets on our way to the Central Market, a facility that has been in continuous operation since 1881.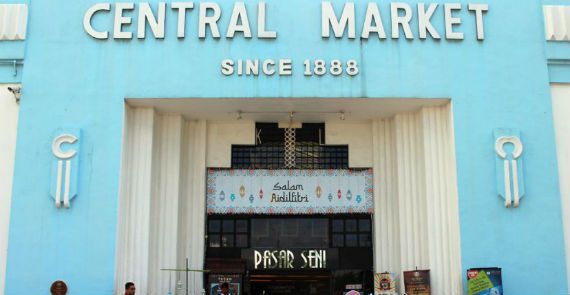 It's cool inside so we ventured through the enclosed space taking in the many shops and people-watching.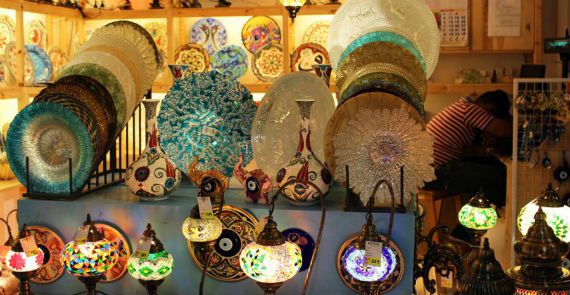 We visit the Annex Gallery where they specialise in self-portraits and you can have a very respectable likeness drawn of yourself for RM50.00, about $15 Australian. (Needless to say, shopping and eating in KL is always great value!)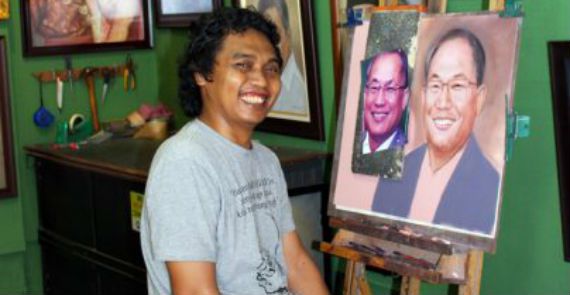 It seems some pretty famous folk have come here to have the mug immotalised (Stalin? Einstein?), but we didn't have time to pose and rode on.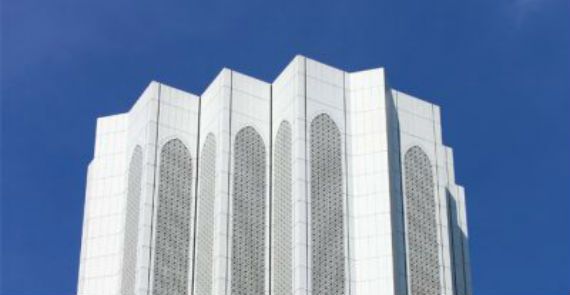 One of the most striking modern buildings in KL is the pearly white Islamic-style General Post Office and Dayabumi Tower, completed in 1984. Viewed from behind the Central Market, it's a picture against the blue sky.
Unlike many modern cities, KL's juxtaposition of old and new facades works well and expresses the passing of time without losing important and iconic structures from past eras.
We then pushed our bikes through the covered Kasturi Walk where outdoor vendors have their stalls selling food and knick-knacks. Situated right outside the Central Market, this is a great place to taste numerous ethnic foods, day or night.
At each entrance of the Walk is a giant stylized copper Wau (or Malay kite), a design that appears in many forms throughout the country. Elena tells us the elaborately decorated kites originated on the East Coast of Malaysia where a Wau competition is held annually at Kelantan.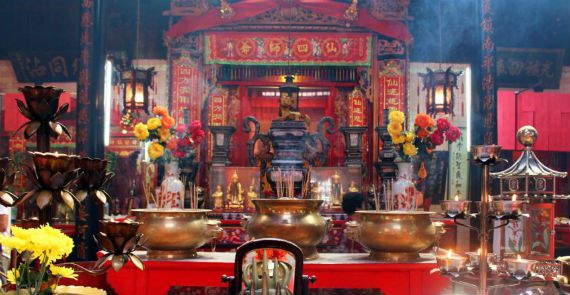 Interior of Sin Sze Ya Temple
Back on our bikes, we weaved our way over to the colourful Sin Sze Ya temple, the oldest Taoist temple in KL. Impressed by the fine religious edifices we had seen, I decided it was time to donate a few Ringers to this one.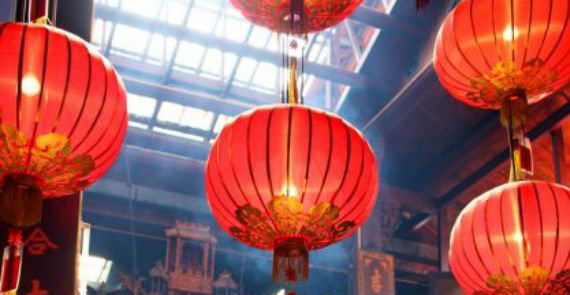 Despite my trifling largesse – I'd been cycling with a wafer-thin wallet – a temple assistant struck a gong and a bell for me, to alert the deities Sin Sze Ya and Si Sze Ya of my offering. I'm sure I heard a deep and ethereal "Terima Kasih" come down through the temple rafters. Riding the streets of KL, it's always nice to know a God or two is on your side, even if the traffic's not.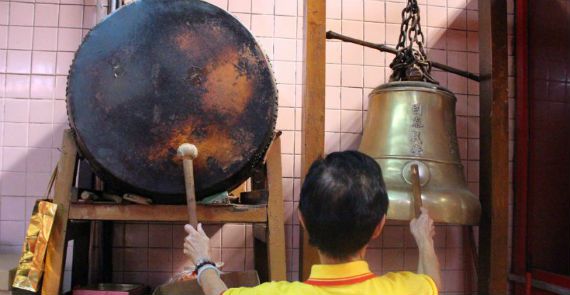 The gong and bell toll for moi
We set off towards the Brickfields area, the original source of mud for bricks used to rebuild KL after a disastrous 1881 fire, which was followed by a devastating flood. Prior to this time most of the town's buildings were made of wood and thatch.
Frank Swettenham, then British Resident of Selangor, decreed that all new buildings be constructed of brick and tile. So the town leader, Kapitan Yap Ah Loy, acquired land for the setting up of a brick factory, and Brickfields was born.
Here we were pleased to get our wheels on a purpose-built cycling lane (still a rarity in KL) as we zipped through a shady, less urban part of the city. Along Jalan Tebing (Riverside Road) we saw ficus and old rainforest trees such as pokok hujan-hujan.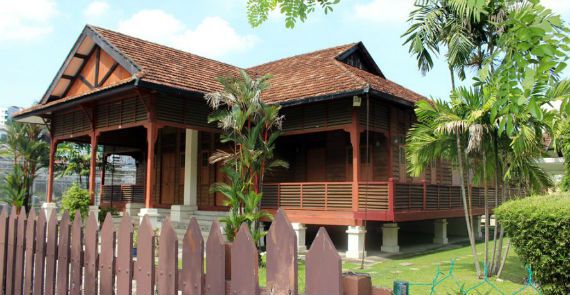 We passed through back lanes intersecting the Methodist Girls' School, founded by Rev William E. Horley in 1897. We also viewed the Temple of Fine Arts and stopped at a traditional home owned by billionaire Ananda Krishnan, the mover and shaker behind Malaysian telco Maxis.
Stopping for a rest, we looked around the Maha Vihara Buddhist temple, founded in 1894 by the Sinhalese community brought in from Ceylon during the British colonial times.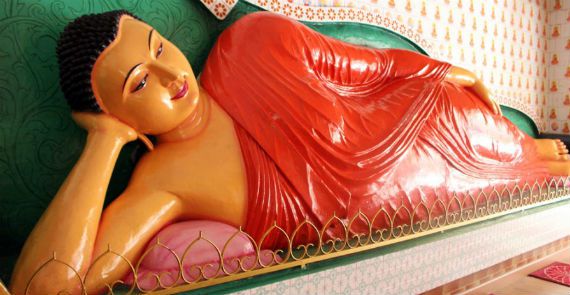 We pulled up at Little India Brickfields for a touch of Bollywood on the Boulevard.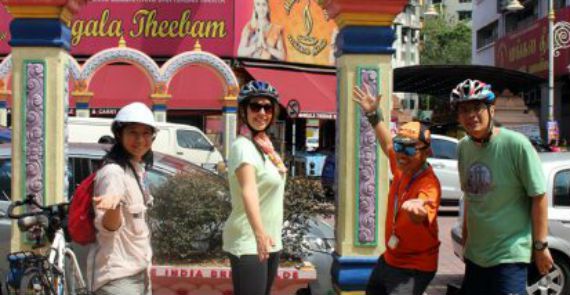 Colourful arches line the pavement and Indian pop music blasts from the stores. Soon we'd broken into a ridiculous Punjabi caper, to the astonishment of peering shopkeepers.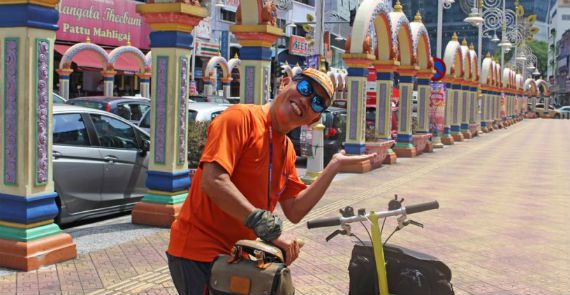 Our next stop was KL's cycling central, Pods Café and Backpackers, for a rest on the couches, cool fruit drinks and a chat with the owner.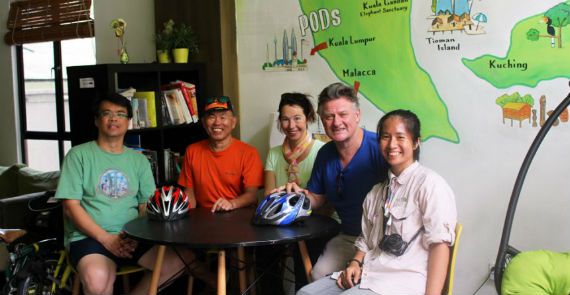 KL's avid cycling community, we hear, is determined to see bike touring grow in the city and moves are being made to make it happen. More bike lanes are high on the list of municipal requests. We think it's a great move!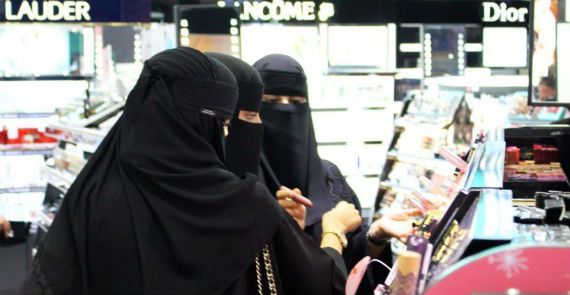 Back on the road we passed new shopping mall, Nu Sentral at KL Sentral, and zipped into the historic train station, Keretapi Tanah Melayu, distinctive for its onion-shaped domes and ornate Moorish architecture.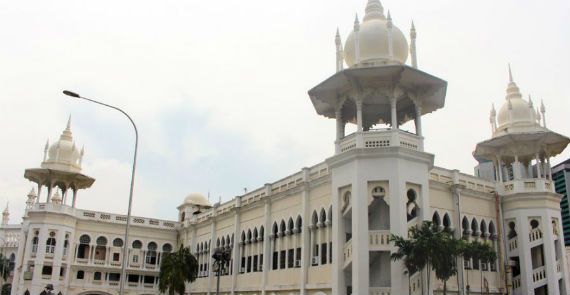 A rather spectacular train station
This classic colonial terminus is worth a gander. You've got to give it to the Brits: in the days of Empire they certainly built some spanking choo-choo stations. It would seem they never thought the sun would set on it all.
By now it was getting hot, smoggy and the traffic was bumper to bumper as we panted, weaved and wobbled along some of KL's main arteries.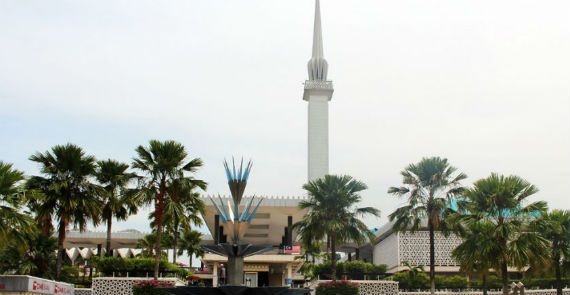 Our last stop was the National Mosque, a major work of architect Howard Ashley and a fine example of modern religious design.
Built in 1965 on the site of a church, the Venning Road Brethren Gospel Hall, which had stood since 1922, the site was appropriated by the Malaysian government. It's not clear what the Brethren thought of being turfed out, but we all know the Lord works in mysterious ways. The mosque is already listed as a heritage site, which is a little controversial with some.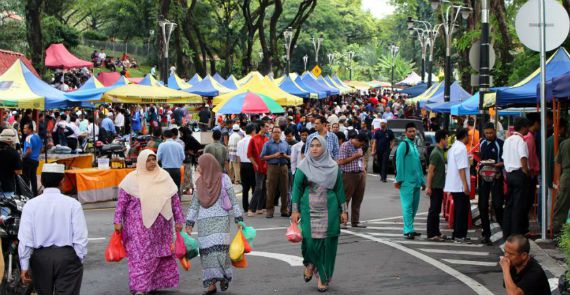 By now a bit weary (not of religious shenanigans, but pedalling), we didn't go into the mosque, as it was Friday prayers and very crowded with the devout. It's also hard to warp oneself into convincing genuflexions and prostrations after hours erect in the saddle.
We cycled back to Dataran Merdeka, KL City Gallery, where it all began at sunrise. It seemed like we had been out on our wonderful trek of discovery for about a week, but it was only 1pm!
Sin suggested a cold drink and a bit of lunch and kindly invited us over to the adjacent Royal Selangor Club, where he is a member.
The charming old colonial club does a roaring trade, but nowadays you won't hear the crack of a cricket bat or the biff of a rugby ball on the front lawn too often.
(The following day they were holding earsplitting motorcycle drag races in front of the club, and I couldn't help but titter at what those long-gone haughty Residents and colonels would have thought of such high-octane tomfoolery. Ah, wonderful young Malaysia!)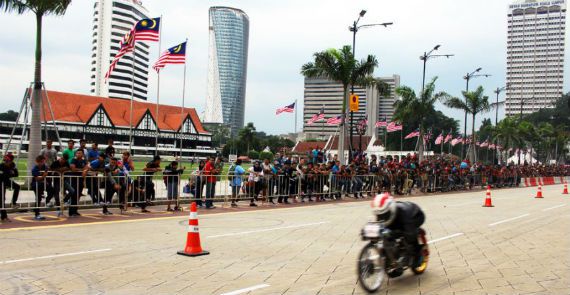 A drag bike roars past the Royal Selangor Club
After a few beers and softies we indulged in a traditional curry and fruit lunch served on banana leaves, eaten with hands only, of course (if a tad clumsily).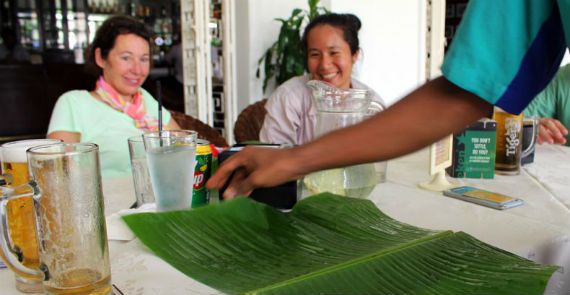 It was a delectable way to finish our enlightening bicycle adventure. Bikes are the only way to go! We will be back before long to do Elena and Sin's countryside excursion.
Many thanks, Elena and Sin – see you again soon!
A Big Thanks to:
Elena Mei Yun & Sin Tai Lim
City, Village and Countryside Bike Tours Bookings: Facebook: bikewithelena or Email: [email protected] or Phone: +6013 8500500
Instagram: Elena Mei Yun @Kindoyo_Nature_Biking  https://www.instagram.com/kindoyo_nature_biking/
Lanson Place Boutique Hotel and Serviced Residences
Sally Morgan, The Unique Tourism Collection
Air Asia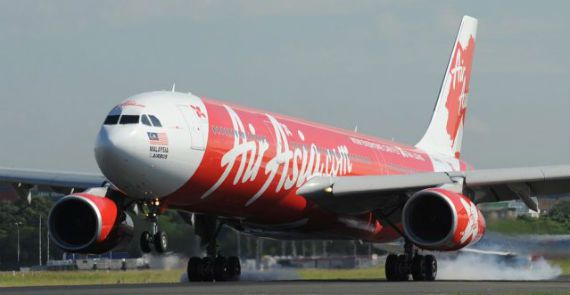 AirAsia X flies daily to Kuala Lumpur, Malaysia, from Singapore (22 flights per week) Perth (14 flights per week) Sydney (11 flights per week), Melbourne (14 flights per week), and Gold Coast (11 flights per week).
AirAsia also flies to the following destinations in Malaysia – Penang, Kota Bharu, Kuala Terengganu, Langkawi, Kuching, Miri, Sibu, Bintulu, Labuan, Kota Kinabalu, Sandakan and Tawau.
For bookings or further information visit Air Asia or book on your mobile HERE.
Brought To You By Expat Choice