As we get ready to usher in the year of the Rat, ethical kids fashion brand The Extra Smile has designed two outfits that combine the Rat's favourite colours, comfort and style, with a sustainable fashion message for generations to come. 
The environmental cost behind the annual clothing purge and splurge impacts the health of our planet and prosperity for future generations. How can ethical fashion brands play a role in safeguarding the world for our children?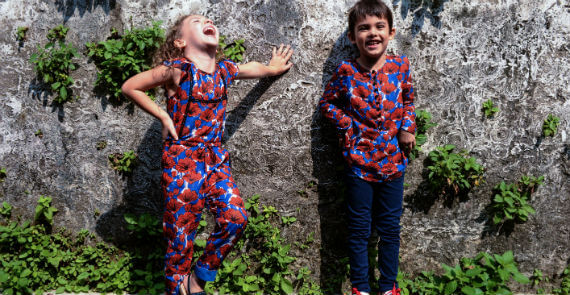 Heleen Devos, co-founder of The Extra Smile, said: "The questions for mums and dads to ask this Chinese New Year is not just about their choice of new clothes but to ask what kind of world do we want our kids to grow up in? Can we choose to buy less but choose better to reduce textile wastage? Can we extend the life of children's clothing by reusing, up-cycling and recycling?"
At The Extra Smile, workers are making a conscious effort to be kind to the environment in every step of the manufacturing process- from mills using as little water as possible, to cotton growers not using pesticides or GMOs.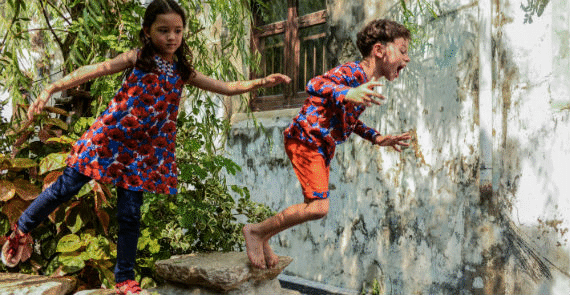 Ivy's tunic with Milo pants
The Extra Smile designed Ivy's tunic with fun girls in mind, wearing it as a short summer dress, or as a long mid-season blouse with a pair of leggings or our Milo trousers. Slantwise seam at the bottom, its cotton embroidery, the halter top and of course the unique cotton poppy print is the ultimate ethical chic look for any occasion.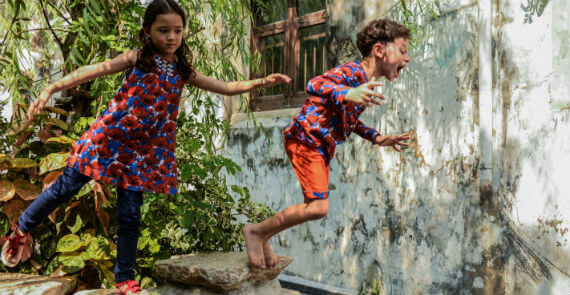 Milo's trousers are the best because of their wonderful cut and comfortable touch.
The metal buttons, visible pocket seams, printed belt and classy turn-up hems give these comfy trousers a swanky flair.
Ivy's tunic is made of printed made-to-order Cambric organic cotton (GOTS certified), and embroidery is 100% cotton. Milo's trousers are made of solid azo-free Twill Lycra (GOTS certified), with wooden buttons, a YKK zipper and a metal snap closure. 
Emory's tunic with Tiago shorts
Emory's tunic, with its long sleeves and bright print, is a favourite. Chinese buttons give this tunic a delicate touch.
Tiago's shorts are a must-have for sunny days. Wear it in different ways, with the colourful turn-up hem up or down.
Emory's tunic is made of printed made-to-order Cambric organic cotton (GOTS certified), with synthetic buttons. Tiago's shorts are made of solid azo-free Twill Lycra (GOTS certified), the lining is printed on made-to-order Cambric cotton (GOTS certified), YKK zipper, wooden and metal buttons.
Both outfits are made in Cambodia by Fairsew, a socially responsible garment manufacturer that commits to better livelihoods for their local skilled team and implements environmentally friendly manufacturing standards.
"It's encouraging to see more parents who are aware of the social and environmental impact of their lifestyle and are actively looking for sustainable fashion alternatives. As parents, we can safeguard the world for our future generation by choosing brands that are kind to the planet," added Samantha Thouret, co-founder of The Extra Smile. 
Incorporated in Singapore, The Extra Smile offers sustainable, hand-made, high-quality fashion for children, that is fair to everyone involved and kind to the planet. The brainchild of Samantha Thouret Livet and Heleen Devos, the high-end kids' fashion brand aims to improve the lives of workers in the fashion industry and collaborates with fair workshops which guarantee safe working conditions and decent wages for their employees. 
The Extra Smile launched in Singapore at The Conscious Festival in November 2019. The brand was launched in 2018 and is available in Belgium, France, Germany, Ireland and the United Kingdom. 
Comments
We are part of the #fashionrevolution. What does that mean? It means that we believe in business as a force for good, and making fashionable clothes for kids in a way that is fair to people and kind to our planet. We apply our creativity throughout the whole process, from design to production, marketing to logistics. We create colourful, fresh and lasting fashion for kids. Our designs are comfortable, easy-to-wear and fun. We are lively, open, curious, enthusiastic and creative. We are part of a new fashion world of free spirits, no matter where they are or where they live. We bring The Extra Smile to you! Visit Us https://the-extrasmile.com/