Keeping kids busy during the summer holidays can be a challenge for parents, and with months of summer fun coming up, it's good to have as many options as possible for keeping your kids happy, challenged & active. To that end, here's a list of the best summer camps where kids can learn & have some fun in the process. 
Focus: Sports, technology, creativity, enrichment and multi-activity
Ages: 3 to 16 years
Duration: 17 June to 31 July, Monday to Friday, 9am to 3pm
Location: Stamford American International School Off Upper Serangoon Road, 1 Woodleigh Lane 357684
Cost: From $650 per week. 10% discount before 19th May
Registration: +65 6593 3691 | campasia.asia
Camp Asia is one of the top camps in Singapore, and it's not hard to see why! Their wide variety of exciting and interesting activities means that there is definitely something there for every child. For those interested in sports, there's soccer, basketball, gymnastics & parkour. Creative kids can go to art, drama, Super Chef, Arcade Architect or magic camp. For kids who are more interested in the academic side of things, there's English, mathematics, science, aviation & Mandarin. Those more technologically inclined can choose between coding, electronics, robotics and drones. This year, Camp Asia is also launching two new camps: the multi-adventure camp (a great choice if you're finding it hard to pick one!) and netball camp. 
At Camp Asia, kids get to have a great time while making friends, learning something new, and staying active. Each member of the staff at Camp Asia has undergone a background check and is trained in first aid, while Education Managers ensure that each activity is safe and running well. The camp has its own transport for drop-offs and pick-ups and provides freshly cooked meals for the children. 
Focus: Science, multi-activity and technology
Ages: 4 to 12 years
Duration: Monday to Friday, 24 June to 16 August, 9am to 2pm
Location: UWC South East Asia (Dover and East campuses), GEMS World Academy, GESS, Canadian International School (Lakeside and Tanjong Katong campuses) and Kidzland
Cost: $550 to $650
Registration: +65 6271 1478 | whizzkidz.com.sg
Whizz Kidz' summer camp is all about making learning fun. Their week-long camps have an educational theme, with activities like Robotics, Coding, 3Doodler Printing, Fun Science and multi-activities, as well as two new activities introduced this year: Speech Drama & Junior Doctor. The instructors are lively & enthusiastic, experienced with children, and proficient in their subjects. Kids get a chance to experiment, learn exciting new skills that they can show their parents, and make lots of new friends in the process. The campers also get to take home everything they made and receive a certificate of completion after the camp. Meals & transport are available, but at select locations and an additional cost.
Discovery Camps
Focus: A mix of activities, languages, mathematics, art & drama
Ages: Three to 14 years
Duration: Monday to Friday, 3 June to 16 August, 9am to 3pm
Location: Lorna Whiston at United Square and Parkway Parade, and SJI International
Cost: $625 for a week, or $100 for a one-day trial
Registration: +65 6664 8122 | discoverycamps.com
Discovery Camps offers a mix of different activities for different interests. Kids who love the stage get a chance to be in the spotlight performing for their parents in Actor's Studio. There's Lego Robotics, Movie Maker and Coding Academy for tech-loving kids, where the 9-12 year olds learn game design and 12-14 year olds focus on topics such as entrepreneurship in technology and VR. For a mix of activities, you can choose the multi-activity camp, and there's also English Explorers, Life Skills, Magic Maths & Art Studio, among others. The staff are all specialists in their chosen fields and have years of experience behind them. Parents receive weekly reports and kids receive a certificate of attendance when camp is over.
Focus: A mix of activities, from sports to languages and STEAM
Ages: Four to 14 years
Duration: Monday to Friday, 17 June to 26 July, 9am to 3pm
Location: CIS Lakeside and Tanjong Katong campuses
Cost: $650 (one week); sign up before 31 May and enjoy a 10 percent discount
Registration: online.cis.edu.sg
CIS has over 70 summer camps across five different categories, including creativity & performance, sports & wellness, global languages, STEAM and multi-activity. Many of the overseers at camp are teachers at CIS and, as such, have a lot of experience with children. Some camps on offer are: Chefs Around the World, Scuba Diving, DJ Music Camp, Bilingual Buddies, STEAM Machine, Xtreme Adventure (activities like bubble soccer, escape room, raft-building and archery), Urban Art Scene, Planet Warriors (hands-on activities such as farming, gardening & recycling), Sporting Spartans, Music Video Camp and Lights, Camera, Action, among others. Snacks & lunch are included at CIS, but transport will come at an additional cost.
Focus: Mandarin language Ages: 4 to 9 years
Duration: Monday to Friday, 3 to 28 June (9.45am to 12.45pm) and 1 July to 2 August (9.45am to 2.15pm)
Location: Little Mandarins, Block 71 Loewen Road, #01-03
Cost: $350 per week (three-hour camp) and $530 per week (4.5- hour camp)
Registration: +65 6473 8377 | little-mandarins.com
If you're looking for a place that makes learning Mandarin fun, this is the camp for you. There's a multitude of interactive activities for kids to enjoy including role play, games, storytelling, crafts & songs, all of which work together to provide an immersive experience in which children become comfortable with using the language. The camp has new themes every year and 2019's themes are 'Zipping through China', 'Something Old, Something New' & 'Hi There'. This camp is great even for kids who don't speak any Mandarin as the Mandarin-speaking environment at camp naturally encourages practice, confidence & progress in children. All the camp teachers are already qualified Little Mandarins teachers, and many of them are mothers as well.
Ivy Camps Singapore
Focus: Multi-topic
Ages: 5 to 12 years
Duration: 24 June to 2 August, Monday to Friday, 9am to 3.30pm
Location: GEMS World Academy (Singapore), 2 Yishun Street 42
Cost: $1,480 (two-week programme, including meals) and $150 (optional bus transport)
Registration: ivycampssingapore.com
GEMS World Academy is partnering with Ivy Camps USA for their summer camp this year, focusing on skills such as public speaking, performing arts, business and STEAM, whilst also including enjoyable camp style activities. Campers get a unique opportunity to interact with instructors from some of the world's top universities, and learn new things while having a great time. Among many other benefits, campers learn to think independently, motivate themselves, and receive mentorship from successful role models. A daily lunch, morning & afternoon snack are provided, plus a certificate of completion at the end of camp. Transport is available at select locations.
Focus: Coding
Ages: 4 to 18 years
Duration: 3 June to 16 August 2019 (Monday to Friday), with options of two full days (9am to 4pm), five two-hour sessions, or five 3.5-hour sessions
Locations: 264 Upper Bukit Timah Rd, #03-06 588208; #10-06 Parkway Parade; and The Grassroots' Club
Cost: $395 to $745
Registration: +65 6528 2282 | codinglab.com.sg
For kids who love tech, Coding Lab has some fantastic courses that they can enjoy, including app creation, game design and courses that help demonstrate the link between math and science and coding. Each member of the team is highly qualified and Coding Lab's award-winning curriculum is comprehensive, covering all the key skills needed for coding, as well as teaching other skills such as critical thinking, creativity, inquiry-based learning & innovation. Younger attendees can enjoy kinesthetic activities, learn to code scenes from stories they like, program robots to carry out certain activities, and much more, while older campers learn advanced programs such as Java and Python. All the kids receive certification at the end of the camp. For the 2-day camps, lunch and tea are provided.
British Football Academy
Focus: Football
Ages: 5 to 14 years
Duration: Weekdays, 1 to 5 July, or 8 to 12 July, 9am to 12pm
Location: Dulwich College (Singapore)
Cost: $250 for a week or $50 per day
Registration: [email protected] | bfasingapore.com
Fresh air, exercise, and learning –  The British Football Academy (BFA) Summer Football Camp is both for newcomers who are just starting out, as well as kids with more experience who want to improve. There are two focuses at this camp: learning the basics and skills of the sport, as well as a social focus that encourages children to hone skills such as leadership & teamwork, among others. The training sessions are run by coaches Andy Gillespie and Dave Phelps, both of whom worked in the professional football sector in England, have many years of experience working with children, and are trained in first aid (bonus!). One important thing to note is that children will have to bring their own snacks and drinks, as it isn't provided at the camp. Overall, it's a wonderful opportunity for kids to learn something new, stay active and make some new friends.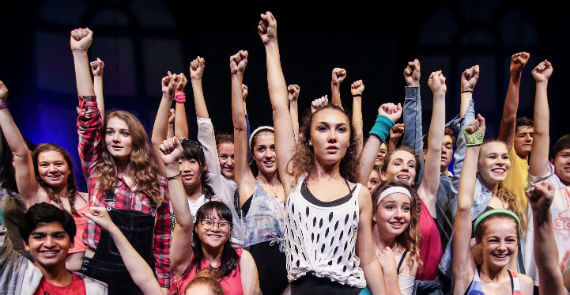 Focus: Drama, music, movement, musical theatre &  film
Ages: 3 to 14 (four age groups)
Duration: 10 June to 16 August, with five-day and four-day options, 9am to 12pm or 2pm to 5pm
Location: Centre Stage HQ Blk15 Woking Road, Portsdown Road 138694 and East Coast Centre (5000G Marine Parade Road)
Cost: Between $395 to $445 for a week
Registration: centre-stage.com
A creativity-centred camp, Centre Stage has a performing arts themed range of activities for kids including drama, theater, dance and arts & crafts. Their specialist camps, which include "Play in a Week", "Film in a Week" and "Musical Theatre Mashup", focus on specific stories, themes, plays or musicals. One big pro is that all the teachers have performing arts backgrounds, though CS also brings in professionals from the UK for the duration of the camp. The staff is trained in first aid, and campers receive a certificate of attendance, group photo, a 10% discount on the next camp, as well as a free trial for a regular class when camp is over. Kids get to have a great time, learn some new creative skills, and showcase them. Some of the camps also include a performance at the end of the week, which parents love!  
Tanglin Trust School
Focus: Multi-activity
Ages: 5 to 10 years
Duration: 8 to 12 July, Infant & Junior Full Day (9am to 3pm) and Infant Half Day (9am to 12pm)
Location: Tanglin Trust School, 95 Portsdown Road
Cost: $695 for the full-day programme (early-bird discount of $650, until 9 June); $445 for the half-day programme
Registration: +65 6778 0771 | tts.edu.sg
Tanglin Trust School's summer camp is a great place for kids to stay active, with activities such as swimming, cycling, rock climbing, yoga, cooking, art and music, among others. The low camper to staff ratio means that your child will be safe and supervised continually, allowing them to take advantage of their surroundings and enjoy their adventures. In addition to these activities, the camp also focuses on teaching mindfulness & open-mindedness and promoting teamwork. The camp is run by the Tanglin teachers, teacher assistants and coaches – all of whom are skilled & qualified in their respective fields. Meals are not provided, but Tanglin does provide a bus service to all its campers.
Comments
Fantastic article. Thanks for sharing. Great ideas.
My 13 year old boy had recently completed Python I class with teacher Yong Ning, and is now solving challenging Python tasks as part of his Python Perfect classes, which will ready him for Python II. I am glad we found Coding Lab as it has ignited my boy's passion for coding -- largely because Yong Ning is such an engaging and passionate coder and teacher. My kid has gone on to explore coding online on his own e.g. i was pleasantly surprised recently to receive WhatsApp messages from him which he had sent via code. Coding is such a great way to engage restless teenagers of the digital generation who would otherwise only find their kicks in reaching new levels in gaming! Liew Hui Li reviewed Coding Lab – 5 star on Facebook