Image Credit: Jelebu Dry Laksa Facebook Page
Whether it's ramen in Japan, chicken noodle soup in the USA, or Khow suey in Burma, people all around the world love their hot broths and noodles.
Understandably so - it's the perfect cosy dish for when you're sick, sad or just generally in need for something comforting.
Laksa is Singapore's comfort dish. Spicy and aromatic, laksa generally consists of rice or wheat noodles in a rich broth, generally accompanied by chicken, prawns or fish.
There is a huge variety of different kinds of laksa that can be found in Singapore. For those looking to get out and try it, here's cheat sheet on where you can find different kinds of laksa.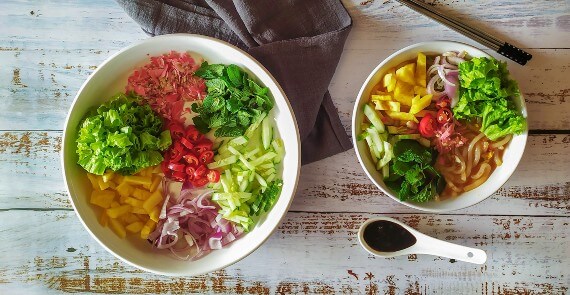 Image Credit: Smashing Foods Asia
In the mood for something warm, tangy and spicy as you lay in bed on a rainy day? Then Penang Asam laksa is a great choice. The main ingredient of the dish is mackerel, with a lip-smacking broth made of tamarind, lemongrass, galangal and chilli, topped with sliced cucumbers, pineapples, mint leaves, limes, onions and/or a sweetened dark prawn paste. A great place to have a hearty and satisfying bowl of Penang Asam laksa is at Penang Kitchen, a place which is also known for its deliciously crispy Belachan Chicken Wings and its delectable Nasi Goreng.
A. 5 Coronation Road, #01-05 Singapore 269406
S. www.facebook.com/PenangKitchen/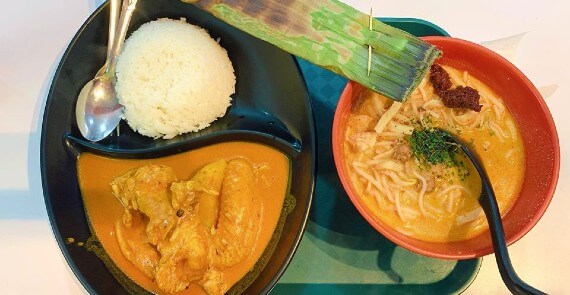 Image Credit: 328 Katong Laksa Facebook Page
Nyonya laksa, also known as curry laksa, is probably the most common type of laksa found in Singapore. It generally contains a variety of spices, chicken, fish and/or prawns steeped in a delicious coconut milk-based soup. It can be served with thin rice vermicelli  or 'laksa noodles' and is frequently topped with crunchy bean sprouts. Nyonya laksa, though common, is made slightly differently everywhere. Each place adds its own special touch. This is especially true of 328 Katong Laksa, our pick for grabbing a delicious bowl of Nyonya laksa. Its soup base is thick and creamy, and it leaves a fantastic aftertaste of coconut and spices in your mouth. You can even add cockles for an additional $2 for a pulpy kick.
A. 51 E Coast Rd, Singapore 428770
W. www.328katonglaksa.sg/franchise
S. www.facebook.com/328katonglaksa/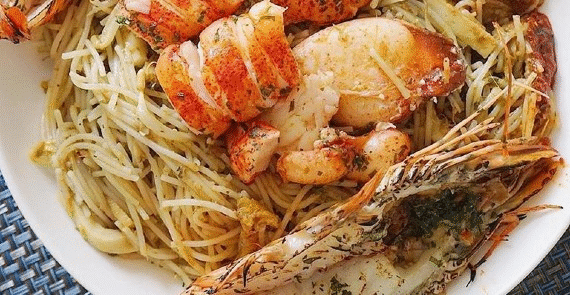 Image Credit: Jelebu Dry Laksa Facebook Page
Not in the mood for anything soup based? No problem! Try a bowl of dry laksa! Like curry laksa, the dish is coconut-flavoured and generally come with fish or prawns. Instead of coming in broth, however, the noodles are tossed in the laksa paste and served with a variety of different additions including fishcakes, beancurd and/or bean sprouts. Jelebu Dry Laksa goes one step further by serving dry laksa with lobster, clams, and tiger prawns, delivered right to the comfort of your home.
S. www.facebook.com/jelebudrylaksa/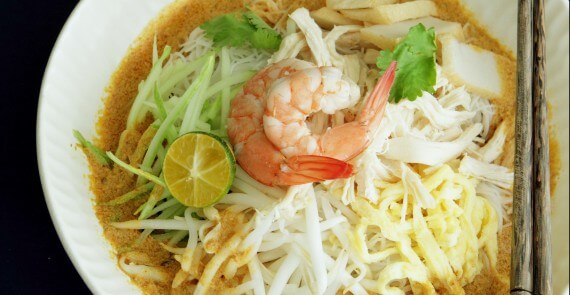 Image Credit: Kuali.com
Sarawak laksa may look like curry laksa, but it is far milder, with more subtle flavours. In fact, it gained popularity after celebrity chef Anthony Bourdain called it 'Breakfast of the Gods' in 2015! Sarawak laksa contains many of the same ingredients as curry laksa, but has more of a balance between the tangy and the spicy. The dish can be topped with strips of omelette, shredded chicken, peeled boiled prawns and/or fresh coriander leaves. A great place to grab a bowl of Sarawak laksa is Sarawak Delicacy Laksa & Kolo Mee. They are also known for their authentic Kolo Mee and Kampua.
A. BLK 204 Bedok North Street 1, Singapore 460204
Comments
Whether it's ramen in Japan, chicken noodle soup in the USA, or Khow suey in Burma, people all around the world love their hot broths and noodles.
Did you know Laksa is a spicy noodle soup popular in the Peranakan cuisine of Southeast Asia. Laksa consists of thick wheat noodles or rice vermicelli with chicken, prawn or fish, served in spicy soup based on either rich and spicy curry coconut milk or on sour asam (tamarind or gelugur). Laksa is found in Indonesia, Malaysia, Singapore, and Southern Thailand. The name comes from the Hokkien luak sua, meaning "spicy sand", which refers to the taste and texture of ground dried prawns. However some etymologists believe the word laksa comes from an ancient Persian word for "noodles". So there you have it !