As shopping malls radically reinvent themselves to cater to the hyper-kinetic, ever-changing needs of modern consumerism obsessed with instant gratification, where "fast" is in demand in everything from food to fashion.
Singapore's premier French bakery Tiong Bahru Bakery takes the opposite approach by adopting a slow food approach to today's fast casual dining concept with the launch of Tiong Bahru Bakery Diner, an all-day breakfast "diner" spin off at two of its shopping mall locations.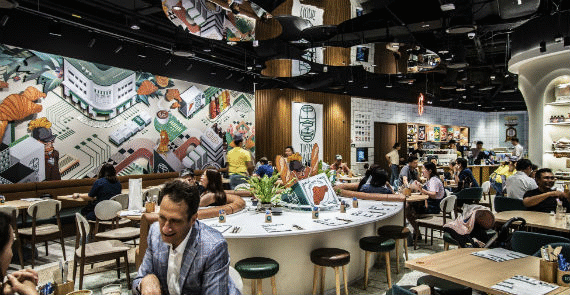 With two of its six outlets located within two of Downtown Singapore's most iconic shopping malls - Raffles City and Funan - each visited by thriving throngs of shoppers constantly on the lookout for good food throughout the day, while noting a dearth of quality all-day breakfast offerings, founder Cynthia Chua saw an opportunity for both bakeries to offer more than just a morning coffee run or midday pastry pitstop.
"Nothing can capture the hearts and attention of Singaporeans more than food. We witnessed this when we first introduced our beloved croissants in 2012, and we've now grown manifold with Tiong Bahru Bakeries the stronghold of multiple neighbourhoods across the island.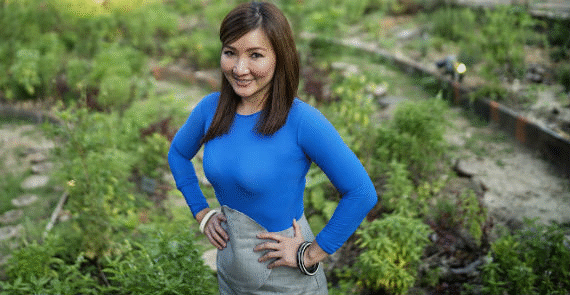 We're vying with a lot more noise at our shopping mall locations, and wanted to create a truly all-day dining offering that differentiated itself by offering time-starved city dwellers a culinary change of pace from any time they can steal away from their fast-paced lives – whether it's a hearty breakfast stack or a late afternoon lunch," shares Chua.
Having been enamoured with Parisian bistronomy culture since living in France, Chua has been bringing some of the movement's most exciting names such as Paris Pop-up and Aux Deux Amis to collaborate with her establishments over the years, but have yet to find a permanent home for the movement – until now.
"I've always loved the idea of creative young chefs applying their haute cuisine training into cooking honest food that is close to their heart. We brought one of the first French artisanal bakeries to Singapore and revolutionised the way locals enjoy bread with top-notch bakes. It is simply natural progression for the brand's all-day diner offering to be a platform where Singaporeans can fall in love with yet another facet of French gastronomy."
To that end, Chua found the perfect candidate in an exciting, young bistronomy chef by the name of Paul Albert who was freshout of his gastronomy training and working in some of Paris' most exciting cafes and bakeries when they met.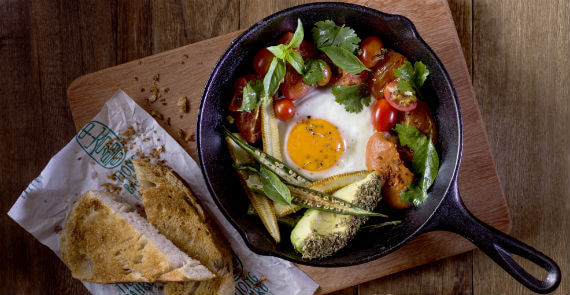 Oeufs à la poêle
Having built his foundation on the French tradition of haute cuisine and cuthis teeth across an enviable list of Michelin starred restaurants in France and Rio, it was a chanced encounter at Rio's foremost sourdough bakery, The Slow Bakery, that led him to spend the next 18 months learning all he could learn from the slow food bakery about the colourful cacophony of wild fermentation - crafting all manner of sourdough, cheese, kombucha and butter from scratch - and the rest, as they say, is history.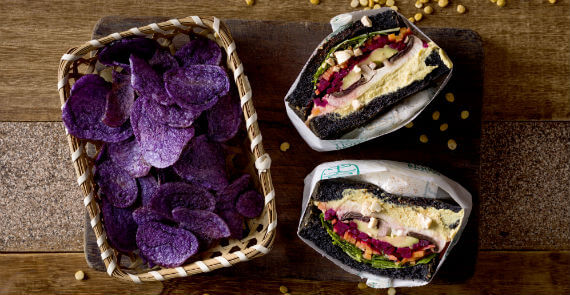 Portobello Avocado Humus Black Sandwich
Fast forward to present day, Paul now helms both Tiong Bahru Bakery Diner kitchens at Raffles City and Funan as the newchef de cuisine. His debut menu bears all the hallmarks of his culinary past and present. 
A gut-friendly, plant-rich menu that's rich in taste and exacting in technique, with dishes versatile enough to be enjoyed any time of the day. Recipes that requirean unusual amount of dedication are rooted in the best ideas of the slow food movement - almost every element of each dishis made from scratch, with ingredients sourced from close to home and little that goes to waste, brimming with new flavours and health benefits coaxed out of wild fermentation techniques that span from days to months.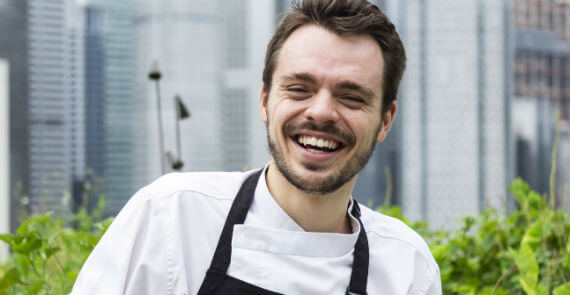 Bistronomy chef Paul Albert 
Vegans and vegetarians options are no longer an afterthought with half the menu comprising plant-based dishes - a result ofchef Paul's attempt to work with locally sourced ingredients as much as possible.
Local greens are cast in a delicious new light with starters like Chayote Kimchi and Mung Bean Salad (S$18), an oddly satisfying toss-up of slow-cooked mung beans, blanched local snake beans and an old-style Korean kimchi made using local chayote and turnip with a smattering of crispybuckwheat and toasted peanuts; and Super Green Warm Soup (S$16) a true-to-name, vision of health that blends Chinesespinach, bok choy, shanghaigreen, chye sim, kaffir limeand lady's finger in a flavourful mushroom broth, served with a dollopof beetroot picked ricotta, toasted candle nuts, sautéed shimeiji and green parsley oil.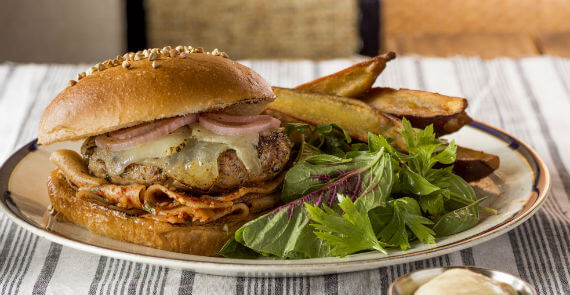 Kimcheese Burger
Dishes that sound simple peel away to reveal layers of intricacies, much like the Hot Chicken Salad and Caramelised Pumpkin(S$20).
Marinated overnight in a long list of ingredients the likes of tamarind paste, lemongrass, garlic, turmeric, ginger,cinnamon, thyme, rosemary and lemon zest, chicken breast and kabocha pumpkin are left to slow-cook in its own goodness - the former sous-vide and finished in a pan with a good ol' basting of house-made brown butter until it develops a gorgeousshade of golden-brown, while the latter is left to confit in the oven before being toasted à la minute over brown butter.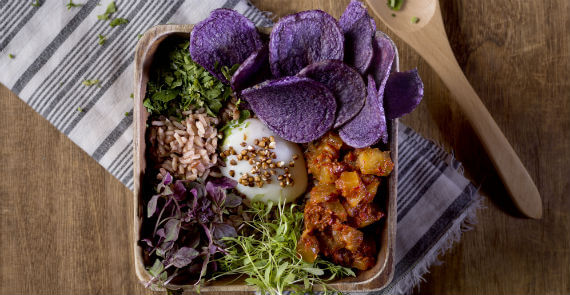 Rainbow Rice Bowl
The caramelised sweet and savoury flavours from both components are balanced out with bursts of raw diced pomelo that cuts right through, and finished with a wicked kick of acidity from a yogurt wasabi sauce with drizzles of parsley oil.
Pastas are created for pure comfort with crowd-pleasers like Miso Whole Wheat Spaghetti with Broccolini (S$19) that seesmiso-glazed whole wheat spaghetti, local eggplant confit, broccolini and finely grated grana padano cheese brought together with a generous dollop of basil and almond pesto; and Pulled Pork Creamy Risoni Pasta (S$22) - the classic American pulled pork with all its spices is left to marinate for two days in its own jus and shiitake broth, then slow cooked for 24 hours before being tossed in a panàla minute with risoni - a short-cut pasta shaped like rice - and finished like a creamy risotto withbutter, broth and cheese.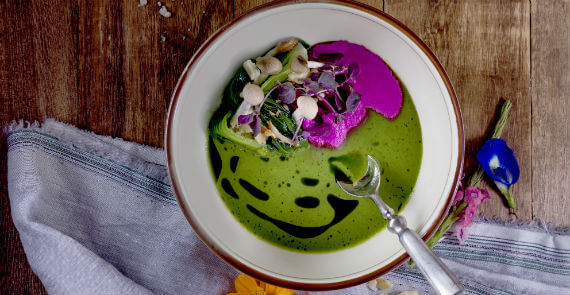 Super Green Warm Soup
Raw enoki is tossed in at the end to bring a woody, fresh zing that keeps the decadence in check. Modelled after the classic breakfast diner that's "experiencing a bit of a renaissance in the European countryside," notes Chua, all-day breakfast at this Diner is no shabby affair.
Classics bearing the same plant-rich, made-from-scratch qualities across the menu come in plates of Oeufs à la Poêle (S$19) - a sunny side up in an iron skillet with all the fixings of roasted cherrytomatoes, mini grilled sweetcorn, lady's fingers, creamy chorizo, za'atared avocado, fresh herbs and toasted sourdough - and Organic EggsBenedict (S$22) on brown butter toasted brioche with wilted baby spinach, kale, and shiitake mushroom relishsmothered in a zesty calamansi hollandaise sauce.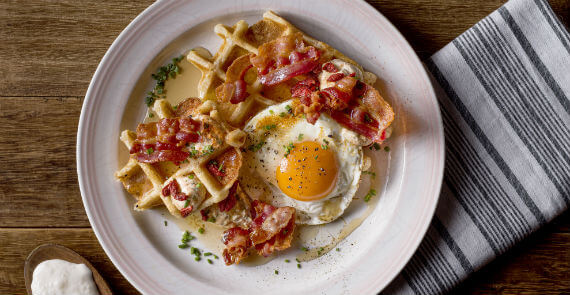 Sourdough Waffle
If one could only order one dish from the menu - let it be the100 percent Sourdough Waffle, a dish that has been years-in-the-making for chef Paul. Using a 158-year-old starter he obtained from The Slow Bakery in Rio and a two-day fermentation process that allows the natural reaction of wild bacteria between the flour, air and water to take its course, the result is a thick, gut-friendly batter with an undeniable tang that's prepared the traditional Liege style, with pearl sugar added in the waffle iron to balance out the flavours.
"You really can't find another café ordiner offering food with such care and attention. We've created the Diner to be an outlier in the construct of a shopping mall, but we can easily imagine this being exported to the suburbs and fitting in just as well. The possibilities truly excite me," says Chua.
Comments
As shopping malls radically reinvent themselves to cater to the hyper-kinetic, ever-changing needs of modern consumerism obsessed with instant gratification, where "fast" is in demand in everything from food to fashion.
Debuted in May 2012 on Eng Hoon Street in charming Tiong Bahru, offering the neighborhood a range of French pastries and artisanal breads made with the best French flour and butter. As one of the very first French bakeries in Singapore, Tiong Bahru Bakery revolutionised the way locals enjoy breads with topnotch bakes, and sparked the French bakery trends. Our croissants have been voted by many as the best in Singapore and the Kouign Amanns are much raved about. All best enjoyed with an aromatic cuppa from the specialty coffee bar by Common Man Coffee Roasters. And Tiong Bahru Bakery is not only about great bakes and amazing coffee. It is about people, baked goods and culture coming together. We are dedicated to celebrating the individuals, embracing the stories and transforming the living space for people around us. We are dedicated to celebrating neighborhoods