Hero Video: Expat Choice Asia
My second visit to Kilo Kitchen reinforced the first. It was a weekend brunch I was about to review.
Just launched a month ago, brunch is now available on Saturdays from 11am to 2.30pm and on Sundays from 11am to 3pm. 
The relaxed ambience of Kilo Kitchen is just magic. Created in a casual setting, the open French doors allow for light cool breeze to flow through. Chef Manel who hails from Spain prides himself on creating different dishes to the stock standard expected brunch fare.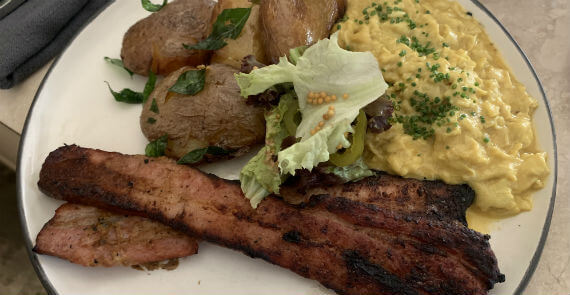 On that note I decided to have something different. The BBQ grilled thick bacon called out to me. Totally devilish it sounded tempting with curried scrambled eggs and potato tostones. 
This was simply delicious! The curry was Japanese, a tad milder than the over powering tones of Indian curry spices. Paired with a chunk of bacon it was a perfect accompaniment to the eggs and potato. 
I would go back for this and highly recommend that you try it the next time you are at Kilo Kitchen. So tasty and delicious!
Much to my delight the brunch menu was limited with eleven items to choose from and two desserts. I prefer restaurants like this that specialise in a few things and make them really well. I totally detest restaurants that try to be everything to everyone.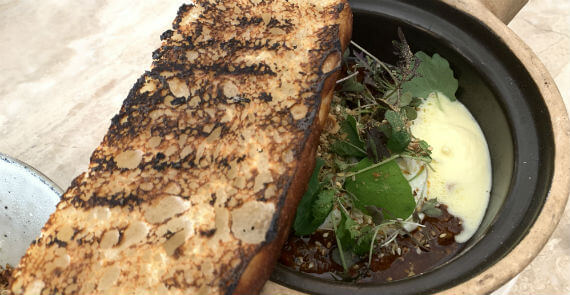 My next choice at Kilo Kitchen today was the shakshouka. A Turkish dish very popularly eaten at breakfast. Cooked with labneh and dukkah spices it was served to the table with a huge baguette length piece of toasted sourdough. 
The shakshouka was served in a clay pot and the piece of bread sat angled on the top of the pot. A stunning presentation!
I was meant to dunk bread into the sauce which had a poached egg in it. The lightly spiced gravy of tomato base made it all the more delicious. I could not stop pulling the bread apart to have more mouthfuls of this delicious sauce – a very apt dish for brunch and truly appetizing to my palette. 
There were so many interesting dishes on the menu – chorizo huevos rancheros, Catalan breakfast and friend chicken & waffles. I saved these different treats for the next time and decided to do one known standard dish.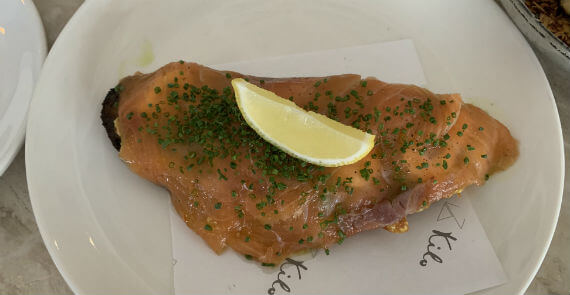 I ordered the open faced smoked salmon which consisted of Scottish salmon with spicy avocado and crème fraiche. Chef Manel obviously loves a bit of spice as he put his mark on this dish too. It worked every time as it was just a light touch of spice that added to the overall taste of the dish.
Of course a glass of white wine always helps to further create the brunch mood and this time I had the Italian Anselmi Pinot Grigio 2017. The fruity tones brought out the flavor of the spicy tones and made it all the more special. 
Reasonable priced at $15 a glass there were three free flow options for those who would like more than one glass. Ranging in price from $70 to $120 I guess one could choose based on the depth of pocket and alcohol appetite.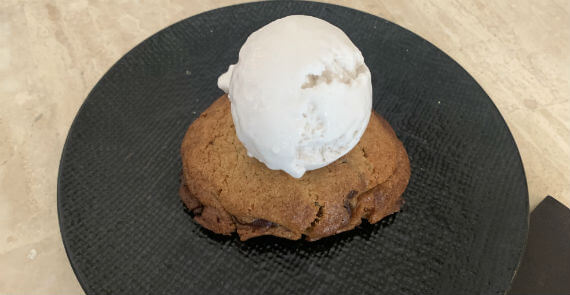 I was about to order dessert at Kilo Kitchen when Chef Manel joined me for a chat. He asked that I try the chewy chocolate chip cookie rather than the gula melaka, lemon and blueberry muffin. I acceded to his request and was not disappointed.
As an extra he added a scoop of dairy free coconut gelato on top of the cookie. A complete indulgence! This gelato was made from coconut milk so vegans and diners who are dairy intolerant can have their fix here and feel totally satiated. 
The cookie was crunchy on the outside and full of chocolate on the inside. It made this dessert chewy and yummy. Not found in too many places I might add!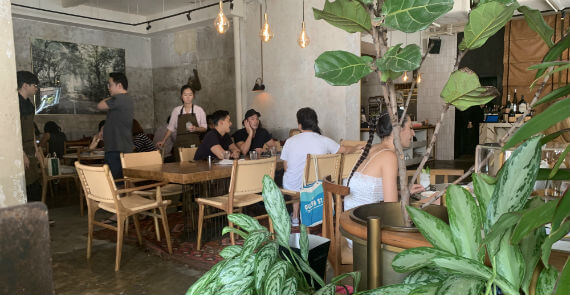 So if you are looking for a place to have dessert and coffee anytime, I would urge you to consider coming down to Kilo Kitchen to try this. 
There were too many things I found different and interesting that I hadn't tried. It just summoned the thought in my mind that I would have to come down again to try them. 
Kilo Kitchen in my mind is a perfect weekend brunch venue, created with superb atmosphere to kick back and relax. With great personal service and passion that is felt from the staff, you will certainly walk out feeling complete. 
All prices listed are subject to service charge and GST. For more information please visit www.kilokitchen.com
Comments
As soon as I walked in to this roomy, relaxed restaurant I loved the seating options available. The bar, table seating - main dining and al fresco outdoors plus lounge, creates a fantastic chill atmosphere immediately. The spicy margarita infused with slices of jalapeno warmed my tummy making way for the Pan which could have been mistaken for bread. Fermented potato focaccia with an adobo dip, this was a yummy start to the array of snacks to come. Grilled avocado was a new experience with crunchy buckwheat puffs. I preferred the crab croquettes though, the stunner being the basil vinaigrette accompaniment. Looking forward to the beef tongue tacos which are one of Kilo's signature dishes, I was more enthused by the light, refreshing tones of the wasabi tuna tartare with nori dusted crisps. My absolute favourite was the Atas lentils. How could it not be when cooked with 4 major flavours of manchego, bacon, truffle and iberico? Another small plate I would highly recommend is the squid ink rice. Served in a clay pot with crispy baby squid and ikura this was filled with flavour. I also loved the light lemon tones of Kilo's seafood ceviche which served as a cleanser to the other snacks. By the time I finished tasting snacks I found the large plate of sea urchin rigatoni pasta a bit heavy. For lovers of sea urchin, I would recommend having this dish on its own with perhaps one snack. To complete my night my pick of the two desserts served was definitely the coconut tembleque. The light pineapple tones came through like sorbet to the palette. Kilo hit the mark on food quality, ambience and great service. Make a reservation before you head there as it was full house and it wasn't the weekend yet......