Offering a completely different experience from the Esplanade branch, the new VivoCity outlet shines the spotlight on dry-aged Australian beef and Josper oven-grilled lamb, poultry and seafood dishes. Join Rebecca Assice as she discovers this new venue and the menu it has on offer.
One thing I think a lot of expats take a while to get used to is the idea of eating at a decent restaurant within a shopping mall. It's just not really something we are used to doing back home but of course with the premium on land in Singapore (and the rest of Asia) it is commonplace here. One of my most memorable dinners ever was at Joel Robuchon's L'Atelier in Hong Kong – a truly stellar experience housed within the Landmark shopping centre. So I am more than open to fine meals within the expanse of the spending populous.

A recent outing to Vivo City had me eager to try the newly opened Barossa Bar & Grill, would it be a casual steak outlet suitable for a quick bite like the Barossa Gastrobar in Esplanade? Or was something else in store?
Let me tell you this is an entirely different experience altogether – and I was absolutely impressed.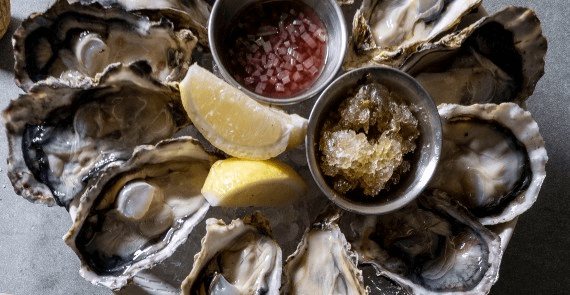 First up the compact restaurant is designed more like a modern, American style steakhouse – with cosy booths, a stocked bar and an impressive display of their fine Australian dry aged beef cuts. Premium meat is most definitely the focus here and they source all their beef from four renowned Australian producers. There is also an alfresco terrace which overlooks the tranquil water leading to Sentosa Island, making it an ideal locale for a casual evening of drinks and tapas.

The service is professional and attentive while still being friendly and not at all stuffy. We started with a couple of their signature cocktails – comparable to ones you'd fine in a trendy inner city bar – the Paloma mixed with Jagermeister, agave, grapefruit and lime and a Dear Rosemary – blending vodka, elderflower, vanilla and grapefruit.
Onto the food and this is where Barossa Bar & Grill is offering something quite unique – the use of the Josper Oven to perfectly grill all its beef, chicken, lamb, pork and seafood dishes. The Josper Oven is an internationally-recognised charcoal oven, which enables the chef to achieve the perfect Maillard reaction - juicy and flavourful with golden-brown crust each and every time. We were certainly excited to see the result.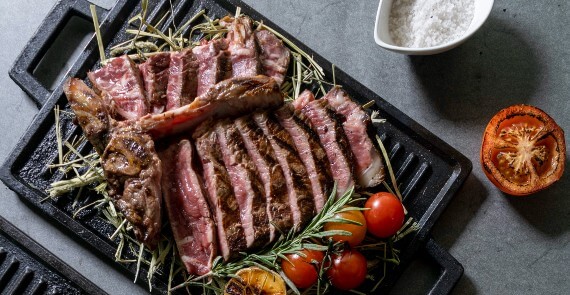 Our appetisers began with Ah Hua Kelong's Tiger Prawn ($26++) – three enormous and perfectly grilled tiger prawns served with charred Kale, shio kombu, garlic beurre noisette and pickled onion. The prawns were pump and delicious and I was instantly addicted to the kale – it was oh so mouth-wateringly crunchy and bursting with flavour. Next up was the Barossa Steak Tartare ($26++) – now this is always a hard dish to impress my French hubby as it is one of his all-time favourites. But we are pleased to say this dish passed with flying colours – served with smoked oyster aioli, ponzu jelly, pickled red onion, wasabi zuke, egg yolk and crisp bread, he would have asked for more if I had let him!

Time for the mains and our eyes almost popped out of our heads as two grill plates arrived laden with 600g of Australian Premium 50-day Dry Aged Porterhouse ($138++) and 300g of Australian Full Blood Wagyu Ribeye MS7/8 ($98++). We would need big appetites here – the porterhouse could easily feed two to three and even the ribeye would be suitable to share. Thanks to the Josper Oven, our medium rare meat was perfectly pink and tender inside contrasting with the brown, flavoursome charry crust on the outside. Just divine.

A third dish graced our table, the Ōra King Salmon "The Wagyu of Salmon" ($35++) – a delectably juicy portion of New Zealand King Salmon, smoked romesco, grilled broccolini and yuzu beurre blanc with Ikura (fish roe). Dessert tantalised our tastebuds with the Jasmine Infused Smoked Fig Mochi Cake ($18++) a delicious combination of of jasmine white chocolate ganache, passion fruit gel and fig mochi cake infused in jasmine smoke. My personal favourite was the Frozen Dark Chocolate Whisky Soufflé ($18++), with fresh berries, chocolate pearls and spiced crumble.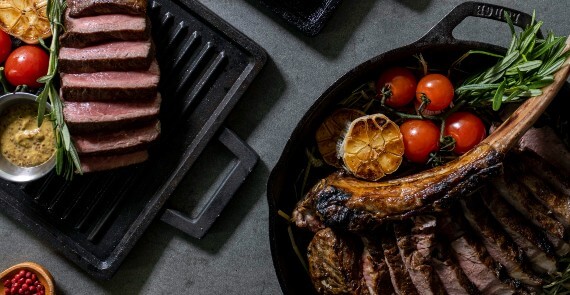 Next time you're visiting Vivo City this is one restaurant to add to your list and in fact with the food comparable to many high end steak houses but without the exorbitant price tag, I would definitely recommend Barossa Bar & Grill for those seeking a premium meat experience in an unpretentious, casual atmosphere.

Be sure to check out their incredible lunch specials as well – with weekday two and three course lunch sets starting from $22++ it's incredibly good value for the quality of the meals they produce.
At Barossa VivoCity, all dining sessions begin with the fragrant focaccia bread drizzled generously with Australian olive oil. Appetisers include Ah Hua Kelong's Tiger Prawn (S$26) — the meaty and juicy prawns are charcoal grilled, and hence have a smoky finish. They rest atop charred kale, shio kombu garlic beurre noisette and pickled onion.
A cold appetiser, the Barossa Steak Tartare (S$26) features smoked oyster aioli, ponzu jelly, pickled red onion, wasabi zuke, egg yolk and crisp bread. Cap off the session with Jasmine Infused Smoked Fig Mochi Cake (S$18) where the chewy fig mochi cake infused in Jasmine smoke is accompanied by Jasmine white chocolate ganache and passion fruit gel. The Frozen Dark Chocolate Whiskey Souffle (S$18) is a wonderful medley of fresh berries, chocolate pearls and spiced crumble.
INFORMATION
a. VivoCity, 1 Harbourfront Walk, Singapore 098585, #01-161/162
s. www.facebook.com/BAROSSA.sg/
ABOUT THE AUTHOR REBECCA (WATSON) ASSICE
Founder and Director of Virtual Room in Asia Pacific. The future of entertainment is now here with Virtual Room – the world's best team-based virtual reality experience located right in the heart of Chinatown, Singapore. Experience a truly immersive and mind-blowing adventure with your friends, family or colleagues as you communicate and work together in a totally realistic virtual world. Perfect for team building or company events - Virtual Room has corporate packages for up to 44 people.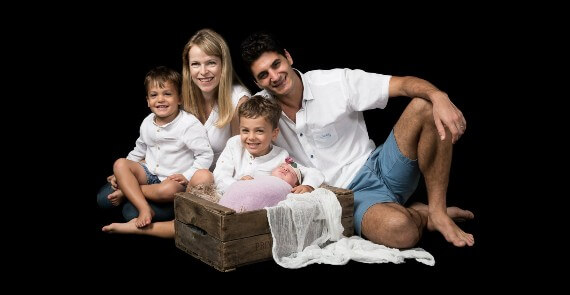 Image Credit: Rebecca Watson Assice and her family in Singapore.
Virtual Room is one of the world's best team-based virtual reality experiences and is now in Singapore. Blending the escape room concept with a full 3D cinematic experience to deliver a unique, immersive and mind-blowing adventure. Played in groups of 2, 3 or 4 players where each player has their own dedicated room – you will talk to each other, walk around, bend, throw objects and collaborate together to solve the puzzles and challenges.
Expat Choice readers enjoy a 15% discount when you book Virtual Room experiences with code EXPATCHOICE15 and receive a 15% automatic discount when booked online at HERE