Almost ten years ago I arrived in Singapore to take up a role with a prominent management consultancy. On joining the firm, I was assigned a buddy to help me integrate and get to know the ropes.
One of her first tasks was taking me on the all important buddy welcome lunch and being the classy local foodie that she was, she chose the stunning marina locale of Forlino. I remember the lunch vividly and fondly from the stunning views to the classic Italian cuisine – bellisimo! When my husband and I were embarking on a staycation recently at The Fullerton Hotel, I immediately jumped at the chance to return to Forlino.
Well to our very pleasant surprise, Forlino as we knew it was no more! The freshly reinvigorated Riviera Forlino (as it is now known) is a drastic and stunning modernisation of this fabulous waterfront location.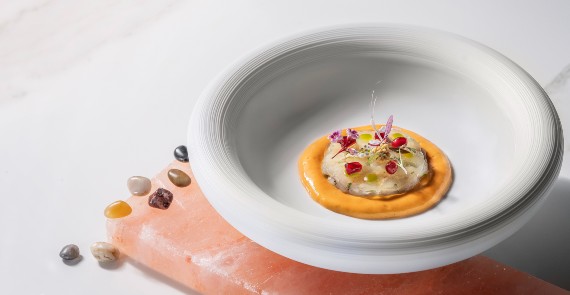 Wild-Caught New Zealand Langoustine
The newly appointed star-studded team of Executive Chef Rémy Carmignani (previous Sous Chef of Guy Savoy in both Paris and Singapore) and Executive Pastry Chef Nicolas Vergnole (ex Odette and La Dame de Pic at Raffles Hotel) are proudly bringing a dynamic vibe and innovative Mediterranean coastal cuisine to one of Singapore's most celebrated dining destinations.
We arrive to a tropical themed reception area and are warmly greeted by our fashionable hostess. We barely make it up one flight of stairs before we must stop for an Instagram worthy photo of a very sassy pink neon sign (which I cannot repeat here, so you'll have to read it for yourself) – this place is trending in all the right ways.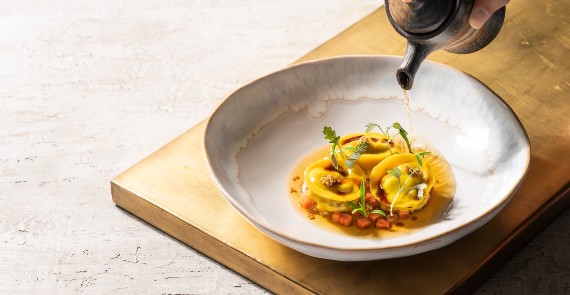 Remy's Handmade Tortellini
Through the rabbit warren of renaissance style corridors, we pass a classy and intimate bar space before entering the main dining area that can only be described as "a room with THE view". Floor to ceiling windows flank the space which is glittered with gold accents, hanging chandeliers and eclectic wooden shapes creating a modern and seductive ambience.
We are shown to the "proposal table" – an intimate corner with an unrivalled view across Singapore's marina to the iconic flyer and Marina Bay Sands where we admire the lights twinkling across the bay. Straight away my husband messages his colleague – "I've found the perfect spot for your girlfriend's upcoming birthday dinner".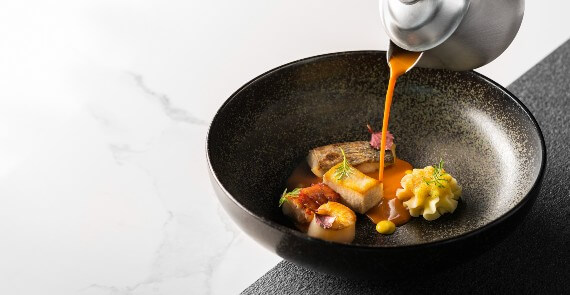 Lobster Bouillabaisse with Boston lobster, scallops and tender fresh catch
Not to be outdone by the view, the fabulous food begins to arrive – commencing with two delicate amuse bouche creatively presented like miniature desserts. The "ice cream cone" is in fact cured salmon mousse on a seaweed cone – a delectable melt in your mouth reminder of the sea we are gazing upon. The "parfait" is crafted from cauliflower and served on a parmesan sable (type of French biscuit), adorned with smoked herring caviar – bellisimo indeed!
We eagerly await the next course – a firm favourite of ours – Wild-Caught New Zealand Langoustine (from my homeland too). This is one of Chef Remy's signature dishes and perfectly exemplifies the new Riviera Forlino menu - light, fresh, health-conscious Mediterranean cuisine (so yes you can most definitely indulge here without experiencing any unwelcome side effects).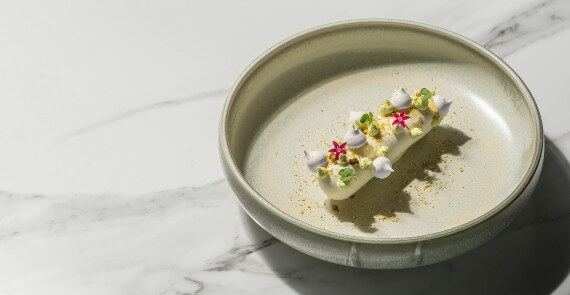 Riviera Vacherin a product of Chef Remy and Chef Nicolas' first collaboration
This delicate dish consists of sliced raw, fresh langoustine topped with a tomato jelly and a flavourful tomato vinaigrette which brings a bold taste of the Mediterranean to the light and fresh seafood. Inspired by one of Chef Remy's favourite childhood dishes, his grandmother's Langoustine à l'Américaine, the dish evokes memories of our long sun-soaked lunches along the French riviera (my husband's homeland).
Being a proud kiwi, I faithfully order lamb dishes whenever I can and of course the lamb Hand Made Tortellini was most definitely another highlight for me – slow-cooked for seven hours with cumin and preserved lemons, this traditional Moroccan Tangia-style lamb shoulder is expertly wrapped in handmade pasta to make beautiful tortellini.
The succulent dish is topped with a saffron and goat cheese cream and is a perfect representation of Chef Remy's international background – from his French-Italian heritage to his time spent working in Marrakesh, Morocco.
Our stunning and salubrious journey across the sun-drenched coasts of the Mediterranean peninsula continues with more stand-out dishes including the Lobster Bouillabaisse and the Grain-Fed Bresse Pigeon before drawing to a close with Chef Nicolas' acclaimed Riviera Vacherin.
This striking, light and fanciful dessert is a product of Chef Remy and Chef Nicolas' first collaboration after they were both inspired by Chef Corrado Assenza's Ricotta Di Pecora Pistachio gelato dessert that was famously featured in an episode of Chef's Table: Pastry. The dessert features ricotta di pecora gelato embellished with Sicilian pistachio chantilly, Amalfi lemon gel and meringue. A wonderous creation to conclude this most spectacular experience.
As all restauranteurs know, recommendations are critical to survive in Singapore's very competitive dining scene and it is testament to our outstanding experience at Riviera Forlino, from the ambience, to the food, to the friendly and sophisticated service that we have already widely spread the word about this wonderful reinvention. Having already been in the game for over 12 years, the revival of Riviera Forlino has surely secured its place in Singapore's fine-dining echelons for many years to come.
ABOUT VIRTUAL ROOM
Virtual Room is one of the world's best team-based virtual reality experiences and is now in Singapore. Blending the escape room concept with a full 3D cinematic experience to deliver a unique, immersive and mind-blowing adventure. Played in groups of 2, 3 or 4 players where each player has their own dedicated room – you will talk to each other, walk around, bend, throw objects and collaborate together to solve the puzzles and challenges. Expat Choice readers enjoy a 15% discount when you book Virtual Room experiences with code EXPATCHOICE15 and receive a 15% automatic discount when booked online at https://singapore.virtual-room.com/booking/
Comments
I got to know Chef Nicolas Vergnole earlier this year through good old Instagram - which is such an amazing platform in connecting groups of people with similar interests and passion from all across the world. And my passion is definitely food... whilst his is art - and that's where our paths crossed. Not only did I quickly realise that his passion is not only art, his past creations at Odette and La Dame de Pic were amazing works on art on a plate. So, when Executive Pastry Chef Nicolas Vergnole started at the revamped Riviera Forlino by the Marina Bay waterfront, I knew I had to experience his creations for myself - and I am not even a dessert person. My first experience was about a month ago, after whetting our appetite at the nearby Kinki restaurant, our group of three ladies proceeded to Forlino for dessert at 9pm. We had no idea what to expect (except the spectacular view of the waterfront from our table) - and boy, were we blown away. So much so, that I had to bring my husband - who IS a dessert fan, back for more (which is what this blog is based on). So, Forlino has this very cool 4-Course Plated Dessert Flight, which is basically, four amazing (full size) plates of dessert that takes you on this journey to the Mediterranean and back. When we went in early November, we were still in Autumn - so all his dishes were autumn inspired, down to shipping of the seasonal fig from his hometown. I cannot tell you how much this sings to me because I think that too many restaurants in Singapore stopped working with the seasons because everything is just so readily available here. Read More Here... https://www.expatchoice.asia/things-do/4-course-dessert-flight-menu-riviera-forlino-wows
Like the ever-gorgeous Monica Bellucci, who never fails to serve up a slice of cinematic magic, Forlino has satiated diners' taste buds with tempting Italian repasts, served amid a scenic backdrop of the Marina Bay waterfront, for the last 12 years. Not one to rest on its laurels, the restaurant reinvents itself with a spruced-up dynamic interior, brand new chef, innovative menu, and name – Riviera Forlino – that draws parallels to the diverse flavours of the Mediterranean coast while serving up a uniquely sensual experience for every guest. The new menu, conceptualised by the star-studded pairing of Executive Chef Rémy Carmignani and Executive Pastry Chef Nicolas Vergnole, will take diners on a gastronomic tour across the sun-drenched coasts of the Mediterranean peninsula . Executive Chef Rémy and Executive Pastry Chef Nicolas bring a combined 30-plus years of experience working in some of the most acclaimed Michelin-starred restaurants in the world. Chef Rémy's Franco-Italian heritage merges with over 15 years of experience working in ethnically diverse cities like Paris, Doha, Marrakech and Singapore, which has allowed the 33-year-old to develop a great appreciation for international cuisines. With notable appointments in the famous three Michelin-starred kitchens of Guy Savoy, where he was the Sous Chef in Paris and Singapore, Chef de Cuisine in Doha; and experience working in the award-winning five-star palace-hotel, La Mamounia, in the heart of the old city of Marrakech, Morocco; Chef Remy brings his international mindset and innovative approach to every plate. "The dishes at Riviera Forlino not only pay homage to my roots, they reflect the fresh bounty of the Mediterranean region and my multicultural culinary experiences, presenting a colourful and exciting experience for our guests," says Chef Rémy. Continue Reading https://www.expatchoice.asia/eat-drink/riviera-forlino-wows-patrons-exquisite-new-menu-new-era