My family and I booked a staycation at the Mandarin Oriental recently and of course the second most important decision for me (other than where to stay) was where could my husband and I celebrate our 7th wedding anniversary?
As we are very much experience people (and less about material gifts), we each take turns to book a celebratory dinner and this year I was up. It didn't take long for me to reserve Morton's, The Steakhouse, one of the premium restaurants at the Mandarin Oriental. Part of my attraction to this place was most definitely the succulent steaks on offer, satisfying Singapore since 1998 – a sure fire way to impress my carnivorous French husband.
Entering the contemporary dining space, the ambience is serene and sophisticated – muted yet warm tones would impress even the most discerning chairperson or C-suite executive. We are warmly greeted and seated at a comfortable and spacious booth with fine linen adorning the table – classic sophistication with nothing pretentious. One look at the menu and I am transported back to my days working in Chicago (the original home of Morton's), with world-famous dishes such as the maine lobster cocktail, jumbo lump crab cake and USDA prime aged steaks catching my eye.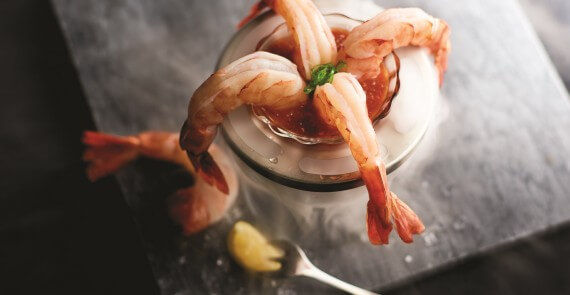 A stunning bottle of red is opened and we are delighted to discover this is Morton's signature wine – the Raymond "Primal Cut". A Cabernet Sauvignon produced by Raymond Vineyards in the Napa Valley specifically for Morton's – this bold and structured red is pleasantly smooth with medium tannins and well-balanced with fruity notes. It will be a perfect match for the upcoming meat dishes.
A waft of delicious warm bread tickles our noses before the famous (and complimentary) cob of onion bread descends to our table. This baked slice of heaven is fluffy, sweet, melts in your mouth and is topped with crunchy minced onions. We have to be careful here – layered with melting butter, this is the kind of bread that could spoil our dinner. It was quite the achievement to stop the French husband from ordering more.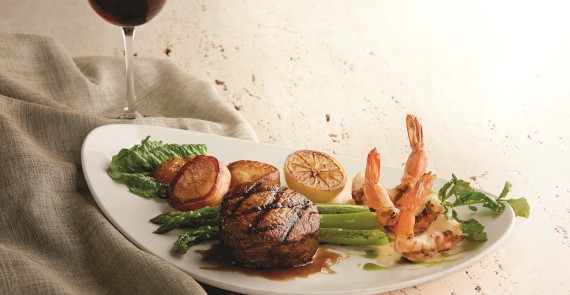 Onto the menu and knowing this is a classic American steakhouse, I also know the dishes will be VERY generous in size and yet there were sooooo many we wanted to try. We eagerly relied on the well-informed and articulate staff to help narrow our choices and began the meal with one of their signature dishes – the Jumbo Shrimp Cocktail. The arrival of this dish is a presentation in itself – with dry ice oozing from the silver goblet as the five enormous shrimp hang adeptly off the edge. These prawns are perfection – plump and flawlessly prepared, with just the right amount of crunch that gives way to a juicy explosion of flavour with each bite. Our other appetiser choice was the equally impressive Ahi Tuna Tower – layers of crispy wontons, avocado, mango and the freshest raw tuna seasoned with sriracha, sesame oil and coriander to create a towering temptation for our tastebuds.
It would be tough to beat these seafood sensations but I had faith in Morton's steak reputation to ensure our mains would be just as memorable. The look on my husband's face said it all – when his very generous 24oz (nearly 700 grams!) porterhouse steak arrived, his smile beamed ear to ear as the meticulously prepared medium-rare morsel engulfed his entire plate. At this moment I knew I had surpassed even his high standards for anniversary experiences.
I chose something a little more ladylike, having the mixed grill of a 6oz (170g) filet mignon with grilled shrimp and bacon wrapped sea scallops. Filet mignon has long been my favourite cut of meat, being the most tender of the steak cuts. Like all Morton's steaks, only the finest grain-fed USDA prime cuts containing some of the highest grade of marbling are used before being broiled and seasoned to perfection. The filet offers a charred, caramelised exterior that gives way to a juicy centre which is perfectly complemented by the shrimps, bacon wrapped scallops and oh so crunchy asparagus.
Onto the grand finale and seeing as it was our anniversary, the signature Souffle For Two was recommended – a divine, light, fluffy egg-based dessert with just the right amount of wobble. With chocolate, Grand Marnier, raspberry and lemon it was a unforgettable combination of some of my favourite flavours adorned with the words "Happy Anniversary" in chocolate script around the plate.
Not to be outdone by the food and while their service had been impeccable, the staff had a few extra surprises up their sleeves. First was a photo opportunity with our sumptuous souffle – taken both on our phone and by Morton's themselves. Mere minutes later the photo arrived, printed, framed and with a hand-written message. Joining it was a scroll of the menu with a printed message congratulating us for our 7th wedding anniversary – a classy and memorable touch.
Morton's certainly lived up to its reputation of providing a classic American steakhouse experience – but it went beyond our expectations with the quality of the food, elegant, attentive service and special touches. From corporate dinners to intimate birthday dinners or romantic dates (especially if you are wining and dining the man in your life), Morton's The Steakhouse is perfect for celebrating momentous occasions.
As a final note, they are offering a limited time Steak & Lobster menu which is incredible value at $118++ - inclusive of an appetiser, 6oz filet mignon, lobster tail, side dish and dessert. An experience we cannot wait to try on our next visit.
ABOUT VIRTUAL ROOM
Virtual Room is one of the world's best team-based virtual reality experiences and is now in Singapore. Blending the escape room concept with a full 3D cinematic experience to deliver a unique, immersive and mind-blowing adventure. Played in groups of 2, 3 or 4 players where each player has their own dedicated room – you will talk to each other, walk around, bend, throw objects and collaborate together to solve the puzzles and challenges. Expat Choice readers enjoy a 15% discount when you book Virtual Room experiences with code EXPATCHOICE15 and receive a 15% automatic discount when booked online at https://singapore.virtual-room.com/booking/
Comments
A crowd-favourite with steak and seafood lovers, Morton's The Steakhouse is extending its premium Steak & Lobster three-course menu for a limited time only, at the incredible price of SGD$118++ per person. To further satisfy the aficionados, upgrades from the popular menu are now available for an enhanced gourmet experience. Guests can replace the 6oz. Filet Mignon with a choice of 16oz. Centre-Cut Prime Ribeye, 20oz. New York Strip as well as 8oz. or 12oz. Filet Mignon at a nominal fee. Light, fresh and simple - Morton's starters include a choice of the refreshing Center-cut Iceberg, the classic Caesar Salad with a rich and tangy dressing or the luscious Lobster Bisque featuring chunks of lobster simmered in a house-made broth. This is followed by the 6oz. Filet Mignon, the most tender of steaks, as well as a choice of the fragrant Crab Cake, Lobster Tail or the crowd-pleasing Bacon Wrapped Sea Scallops. For those looking for extra indulgence, upgrade to the 16oz. Centre-Cut Prime Ribeye (add $32) for its rich, buttery flavour and tender texture with generous marbling throughout. The 20oz. New York Strip (add $66) is a great upgrade option with its intense flavour featuring bold and beefy notes. The rich marbling inherent in the New York Strip elevates the dish further for an unforgettable dining experience. Faithful Filet Mignon fans can go for the 8oz. (add $20) or 12oz. (add $32) options. A choice of the Jumbo Asparagus or the Sour Cream Mashed Potatoes, Morton's signature side dishes, will also be offered. A grand way to end the lavish Steak & Lobster dinner, have a taste of the must-try Crème Brulee, which is a stunning combination of a crispy caramelized top and a creamy custard base, or Morton's Legendary Hot Chocolate Cake, a heavenly cake with hot chocolate oozing out from the centre, topped with Haagen-Dazs Vanilla Ice Cream. The three-course Steak & Lobster menu, priced at SGD$118++ per person, is available in the main dining room for a limited time only.