Get into the spirit with our Naughty or Nice Limited Time Menu & Cocktails until 26 Dec at the Hard Rock Cafe Singapore and Sentosa.
Choose from a selection of 4 different menu items that include something Naughty and delicious to something Nice and Healthy.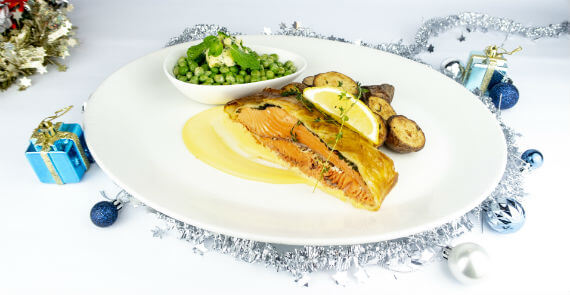 The Naughty and Nice line-up includes a fabulous Salmon in Puff Pastry which consists of Norwegian Salmon (pictured above) wrapped in puff pastry, wholegrain mustard and Dill Basil butter, served with Minted Peas, Roast potatoes & Hollandaise Sauce.
Or for something a bit more game oriented order the Duck Confit; a crispy duck confit serve with Fondant Potatoes, grilled Vegetable and Juniper berries sauce.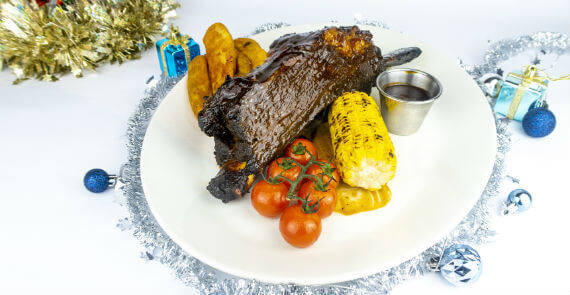 The hero of the Christmas menu is certainly the massive serving of Bourbon Glazed Beef Short Ribs (pictured above). A slow cooked marinated beef short ribs with crispy potatoes wedges and corn, glazed with bourbon whiskey BBQ sauce. Then to give a sweet ending to an awesome Hard Rock experience order the Sticky Date Pudding (pictured below); a warm date pudding with creamy vanilla ice-cream, red berries and salted caramel sauce.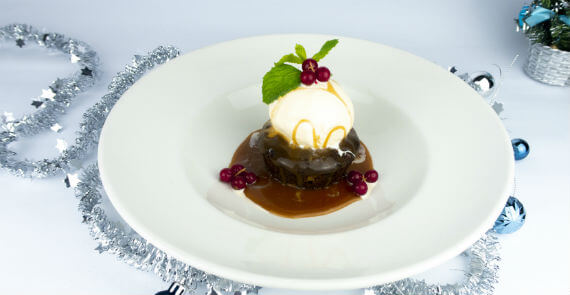 Hard Rock is also offering a limited-time beverage menu which is amplified under the Christmas spotlight. There's a Gummy by The Fireside: Earl Grey infused with Hendricks gin, orange marmalade and agave nectar, Cointreau orange liqueur and fresh lemon juice and the Candy Cane Crush: Skittles infused Absolut Vodka with pink guava juice, garnished with a candy cane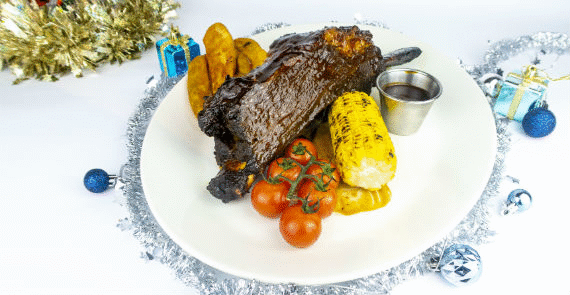 The Berry Merry Bourbon is certainly a Christmas must consisting of Jim Beam Bourbon with homemade rosemary syrup topped with cranberry juice and soda with a squeeze of lemon or last but not least, the non-alcoholic option, the Winter White Shake; Vanilla ice cream blended with white chocolate and frosted mint syrup topped with whipped cream and  Order any 2 main courses from the menu and stand a chance to win a gift from our box
Hard Rock Cafe Singapore 50 Cuscaden Road #02/03-01 HPL House 249724
Call: +65 6235 5232
Hard Rock Cafe Sentosa The Forum, Resorts World Sentosa, 26 Sentosa Gateway, #01-209 098269
Call: +65 6795 7454
Comments
If you are ready to rock in December, the Hard Rock Café is ready for you. With a "Naughty or Nice" specially curated menu from the 2 – 26 December you will be in for treat. Known for its ribs the Hard Rock Café has introduced the Bourbon Glazed Beef Short Rib. Served with its unique BBQ sauce this meat dish is accompanied with crispy potato wedges and corn. I was amazed at the size of the short rib. Plenty for four to share if you are planning to have a three course meal or share platters. We heard from the Chef that this was the product of an 8 hour slow cook in the oven. Simply divine and by any stretch of the imagination, a stunner to order if you are a meat lover! So typical of traditional Christmas fare, the Hard Rock Café in Orchard Road and Sentosa also have added the much-loved duck confit to their repertoire of offerings. Served with fondant potatoes, grilled vegetables and juniper berry sauce the duck meat was thankfully moist. I dived for the crispy skin knowing it's probably the most unhealthy thing to do but what the heck……it's December and time to usher in the Christmas tide. If you are ever thinking of having some seafood then the Norwegian salmon in puff pastry would appeal. Wrapped with wholegrain mustard and dill basil butter, this added to the moist texture of the fish. Coupled with mint peas, roast potatoes and hollandaise sauce it was the first time I enjoyed a puff pastry dish so much. A must try when you are next at the Hard Rock Café! To add to the amazing desserts already on the menu, the warm sticky date pudding served with red berries and salted caramel sauce was a no brainer. Served with vanilla ice cream this portion could be easily shared amongst three people. You may not think of the Hard Rock Café when you next wonder where to go for traditional fare but RE-THINK! Portions are large and tasty which make them good value meals. Hurry down to catch this December offer with a choice of four cocktails to match the Season. I had the Candy Cane Crush – skittles infused Absolut vodka with pink guava juice topped with a candy cane. With only three weeks on offer, make your way down to the Hard Rock Café soon. The food, ambience and value will leave you pleased that you did!
I was impressed by these new menu items for the Christmas menu at Hard Rock Cafe. Hard Rock in Singapore strive to deliver their valued guests exceptional value and highest of quality, but the standout today is the Ribs. OMG experience this massive Rib where the meat falls off the bone and there is so much to eat it is almost enough for two adults... mind you...It was a huge portion but so tasty I just had to eat the lot. Hard Rock is a brand that is international for sure and there are always critics saying how Hard Rock is cookie cutter menu selections but take this menu for exactly what it is - large portions, hearty, family friendly, communal christmas dining. Give it a go.