Video Credit : Insider TV
Good advice regarding Coronavirus. C Side has your best interests in mind - fresh air and sunshine with the addition of Vitamin C through some freshly squeezed orange juice. Can't beat it!
C Side is a combination of three outlets, each with its own distinct vibe and concept: Coastes, Bikini Bar and Sand Bar. Now you can experience the epitome of beach culture at C Side Sentosa.
The ultimate escape from the hustle bustle of the city is right here at your doorstep. With a mix of entertainment, activities, parties, food & beverage options, C Side has something for everyone.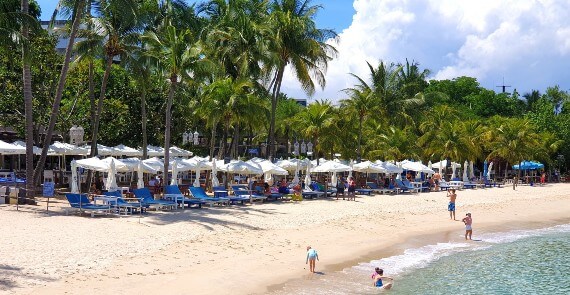 The ideal place for a family outing, romantic date or a day out with friends, C Side is the most convenient beach getaway in Singapore. Lay on the sunbeds for that sun-kissed tan, dine on the beach or breezy deck area, sit back and relax to a mix of music with a cold beer or a refreshing cocktail in hand or dance to your hearts content, at C Side you are spoilt for choice.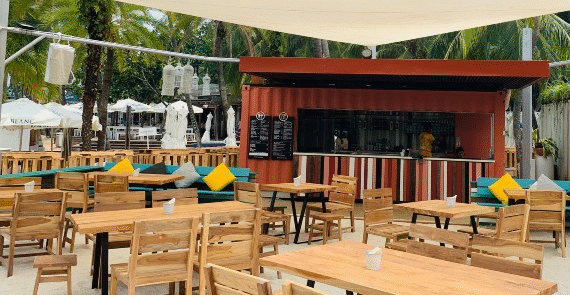 With panoramic views of the Siloso shoreline, C Side offers a great vantage point to take in glorious sunsets and beautiful displays of fireworks every evening.
With an expansive beach and deck space, C Side is a perfect venue for small and large scale events whilst keeping that intimate feel. At C Side, beach-lovers can truly unwind and enjoy the sun, sand, sea and good food!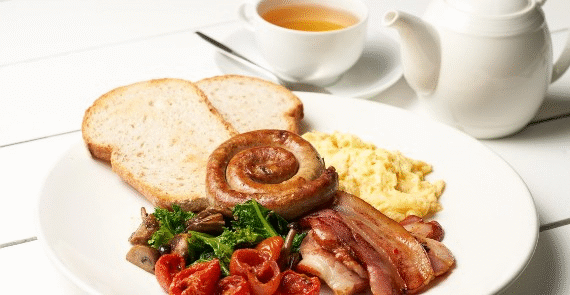 Situated along a golden stretch of Sentosa's Siloso Beach, Coastes beach bar offers a rustic charm and casual, laid-back beach vibe where the sunbeds and deck chairs flow right to the water's edge. This breezy beach bar serves premium beers, house pour spirits and hearty beach food. Tuck into generous servings of Coastes mouthwatering burgers, pizzas, pastas and delicious fresh seafood.
Inject laidback vibes and breezy charm into your event, whether it be a corporate retreat, beach wedding, solemnisation or private party. Add personalised touches with Coastes' list of exclusive event services.
Bringing the likes of Bali beach bars to our shores, this upbeat and vibrant beach bar boasts a wide range of ice-cold beers, cocktails and radio friendly tunes.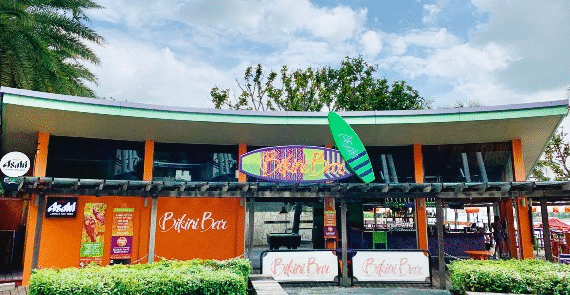 Buzzing with life on a sunny afternoon all the way till late night, Bikini Bar is the place to let down your hair and strut your beach bods. Whether it's catching live sports, lazing the afternoon away or simply playing some beach games, Bikini Bar has it all!
Enjoy Beerkini Rocks beach party quarterly with great beer promotions, beach games and bikini babes! Life's a Beach at Bikini Bar.
Last but not least by any means....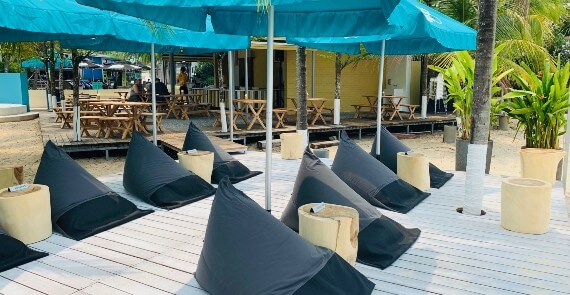 Tucked away at the edge of Sentosa with front-row views of the glittering Siloso Beach coastline, Sand Bar offers a tropical retreat. Take respite in this elegantly vibrant and cozy beach hideaway enhanced with a specially-curated menu of zesty grills and beach-inspired fare.
Be spoilt for choice with a list of refreshing frozen cocktails, specially-concocted sodas, ice-cold beers, premium wines and house pour spirits served from a cargo container while mouth-watering aromas of roast and sizzling sounds of the grill fill the air from the open-concept kitchen, forming a unique and striking bar concept. A distinctive contrast of sophistication and industrial charm.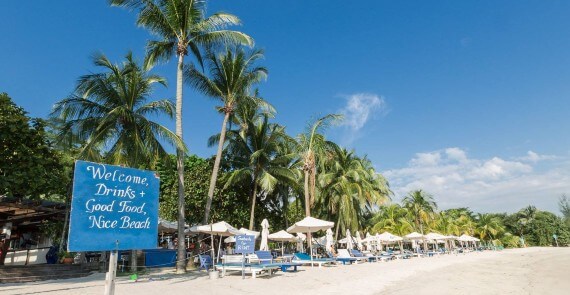 Dip your toes in the sand and dine in Sand Bar's feature oasis of swaying palm trees or alternatively whet your appetite on spacious sheltered decks. Lap up the sunshine and settle in for glorious views of the sunset on one of Sand Bar's beanbag loungers and deck chairs overlooking Siloso Beach.
A. 50 Siloso Beach Walk, #01-05 Sentosa 099000
Comments
Good advice regarding Coronavirus. C Side has your best interests in mind - fresh air and sunshine with the addition of Vitamin C through some freshly squeezed orange juice. Can't beat it!
Contrary to belief, on top of washing your hands and disinfecting surfaces, people need to switch off the air-conditioner, turn on the fan and get fresh air to reduce the chances of getting infected by the novel coronavirus. Great excuse to head to the beach this weekend. Check out C Side​ which is made up of three excellent venues Coastes Singapore​, Bikini Bar Singapore​ and the recently opened Sand Bar​ all located on Siloso Beach - certainly there's nothing better than the great outdoors....
I'm a regular and love it. Surprised to hear such negative feedback. Sure, lining up can be a pain but it's the beach! I'm not expecting someone to wait on me. Never had a problem with the staff, they've always been hospitable and the food and beverage has always been consistent. The only complaint I have is with the Sentosa management for not blocking the beach front of the establishment from gawking labourers/tourists. No, I'm not being prejudiced but I do resent it when patrons and their children are being videoed without consent. The Sentosa management should be held liable. Ann-Marie Pereira reviewed Coastes, Singapore – 5 star on Facebook We went on a weekday with 2 kids. Staff were friendly and nice and we felt comfortable. I was kinda contemplating going there coz the place looks like it's more for hotties and dudes but not 2 rowdy kids and 2 frustrated parents. Luckily, the staff helped to warm up food for my babies and watch out for birds trying to steal our food while we are chasing our kids from running away! We get to enjoy the food, kids get to play in the sand and parents not frustrated! Thank you team! Wendy Poh reviewed Coastes, Singapore – 5 star on Facebook Definitely not a dog friendly cafe. I was there with my buddy for her dog's birthday. Somehow we were warned by staff 3 times not to let the dog touching the bench and table. It has to be on the sand all the time they said. But the dog has to be with us and touching the table or chair with just his two front paws up sent the very watchful eyes of many male waiters to approach us and even the leader came approaching us in a very angry tone. What the... His voice even draw all the attentions from passers by toward us. They seriously spoiled our mood flatly till the end of the day of 29th March around 5pm. We even went all the troubles just to choose Sentosa for this Coastes to celebrate our favourite dog's special day and also expected to enjoy ourselves for their services. What a letdown for Singapore. So very disappointed. Emily Teng-Hon doesn't recommend Coastes, Singapore.