Singapore's weather usually stays within the range of hot and humid, even during typical 'winter' months, and we know that means – ice cream year-round.
Whether you're looking for the creamiest soft serve, vegan options, the perfect gelato, or are looking to try more local, artisanal flavors – we've got the scoop on the best ice cream places to frequent in Singapore! Even though you might be stuck indoors right now, some of these parlors deliver; but, even if they don't, mark down your favorite places for a post-quarantine, ice cream parlor hopping expedition for all ages!
We've got some classic ice cream parlors, that serve up some straight-up delicious ice cream! If you don't have any dietary preferences, or a particular style of ice cream you're craving, these spots won't disappoint.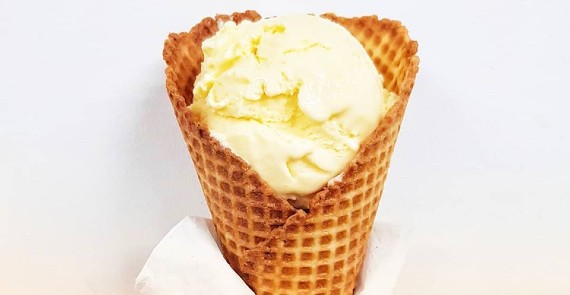 Dancing Elephant Ice Cream offer small batch artisanal ice cream in crafted flavours. All ice creams are crafted with good ingredients and contain no artificial preservatives, colouring or flavours, emulsifiers or stabilisers.  That said, Dancing Elephant still do not refer to their ice cream as organic. The makers do have vegan friendly flavours, and they make sure to list whether an ice cream flavour has dairy or eggs, or alcohol in the descriptions.
A. 20 Ah Hood Rd, Singapore 329984, Singapore
W. www.dancingelephanticecream.com/
F. www.facebook.com/dancingelephantic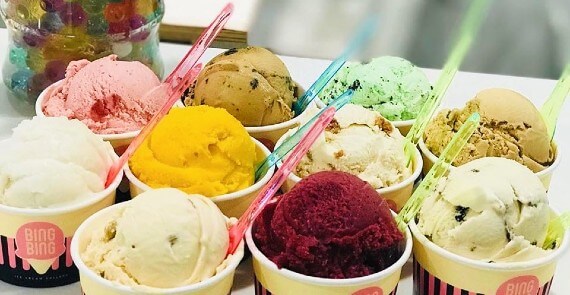 Bing Bing ice cream is eggless, trans fat free and made with organic unrefined sugar. Over time, Bing Bing have reduced the sugar level in their ice cream as customers get more health conscious. Bang Bang produce ice cream in small batches and use fresh, local ingredients as much as possible so that you can taste the freshness and goodness of the ice cream in every scoop. Ice cream have three different price points because of the cost and number of the ingredients we use in them. The three price brackets are premium, super premium and super duper. 
A. 242C Tanjong Katong Road Singapore 437030
F. www.facebook.com/The-Ice-Cream-Gall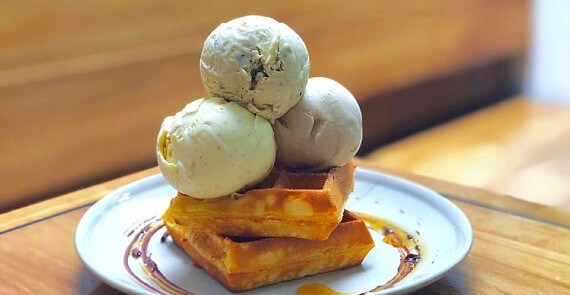 Image Credit: Creamier Handcrafted Ice Cream and Coffee Facebook Page
Creamier initially opened its doors in Toa Payoh, but now they have two more locations at Tiong Bahru and Gillman Barracks. Craftsmanship is a priority here, so expect to find flavors that are simple and refined to perfection. Don't miss trying the Sea Salt Gula, Thai Milk Tea, and Earl Grey Lavender flavors that they're famed for! They also have door-to-door delivery island wide, with free delivery on orders above $65, so stock up.
S. www.facebook.com/creamier.singap
Video Credit: SETHLUI.com The Most Beautiful Desserts In Singapore : 2am:dessertbar by Janice Wong
With dessert queen Janice Wong at the helm, you can expect to find exquisite, innovative creations with a fine dining twist at 2am: dessertbar! Sip on some scrumptious dessert cocktails, and try their unique sorbets like the Kochi Yuzu Sorbet, or a classic scoop of Sea Salt Caramel, or Espresso ice cream.
A. 21A Lor Liput, Singapore 277733
W. www.janicewong.com.sg/2amdessertbar
S. www.facebook.com/jw.retail.1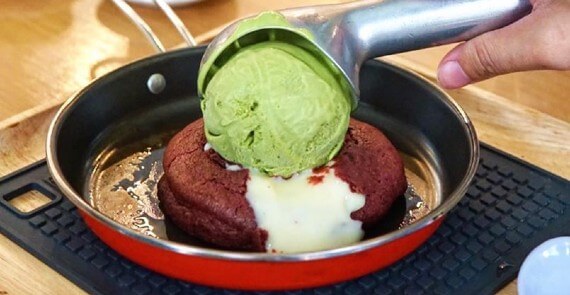 Image Credit: Creamery Boutique Ice Creams Singapore Facebook Page
Founded in Bangkok in 2012, Creamery Boutique Ice Creams is famed for their freshly-baked, piping hot lava cookies, served with artisanal ice cream! Popular items on the menu include the Choc-a-lot Lava Cookie, and the Salted Egg Yolk Lava Cookie which you can combine with delicious ice cream flavors like Banoffee, Milo Dinosaur, or Berry Ice Cream. Got a birthday coming up? Customise your very own ice cream cake three days in advance and enjoy free delivery across the island on orders above $80.
A. 139 Tyrwhitt Rd, Singapore 207557
S. www.facebook.com/creamerysg/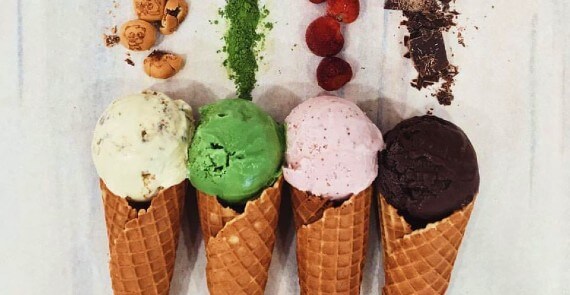 Image Credit: Merely Ice Cream Facebook Page
While Merely ice cream might not have the largest selection of flavors, you won't be disappointed by what's on offer. Merely creates flavors with the highest quality ingredients at that price point, and debunks the myth that ice cream is full of artificial flavoring and additives! The boozy flavors are a hit, along with the Milo Fudge, Grape Yakult, and Earl Grey Tea.
A. 91, #01-13 Bencoolen St, Singapore 189652
S. www.facebook.com/Merely.Ice.Cream/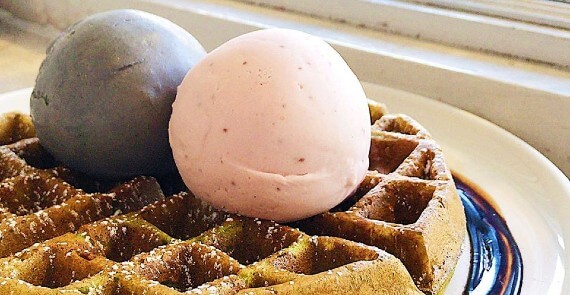 Image Credit: Apiary Facebook Page
Quite literally a 'sweet spot', at Apiary you'll find those comforting ice cream flavors that are always a hit. Think Baileys and Brownie, Ferrero Rocher, and their signature Blue Milk flavor! Don't miss pairing your sweet scoop with their charcoal waffles, or their delicious, moist brownies. You can also cleanse your palate with their range of sparkling teas. They've also got takeaway tubs on the menu where you can mix and match your favorite flavors.
S. www.facebook.com/apiary.sg/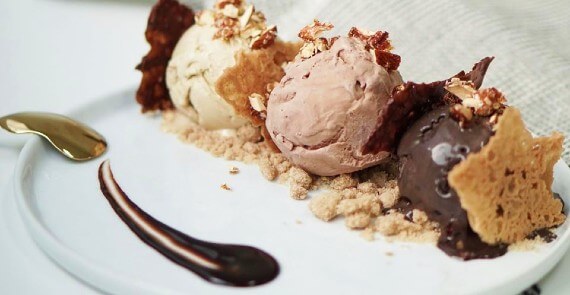 Image Credit: The Dark Gallery Facebook Page
The Dark Gallery uses only the finest grade single origin chocolate in their creations! Their artisanal ice cream is made batch by batch after thorough testing so the chocolate can really shine! Apart from some delectable ice cream cakes and pralines, they also deliver pints of ice cream! Try the Signature 80% Dark Chocolate, Dark Chocolate Sorbet (vegan), Sea Salt Butterscotch and more! P.S. The Dark Gallery is currently running a promo for 3 pints of ice cream at $49 so order away.
A. 9 Raffles Boulevard, Singapore 039596
S. www.facebook.com/discoverthedark/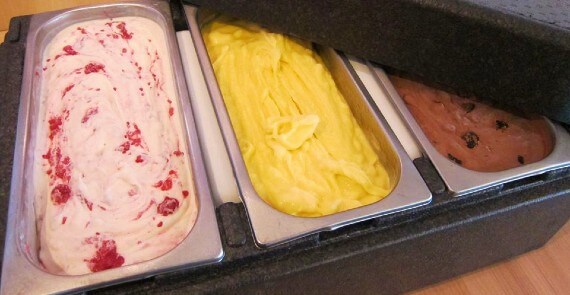 Image Credit: Island Creamery Facebook Page
A Singapore original, Island Creamery was founded by Stanley Kwok, and is dedicated to churning out premium ice creams that highlight local flavors, so you won't find 'plain old boring vanilla, chocolate, or strawberry' here! The ice cream is whipped up fresh every morning, and has a loyal fan following. Embrace flavors the locals love, and try the Teh Tarik, Pulut Hitam, or Durian flavors, or try one of their boozy flavors like the Pear Sake or Kahlua Latte.
A. Serene Centre, 10 Jalan Serene, #01-03 258748
S. www.facebook.com/pg/IslandCreame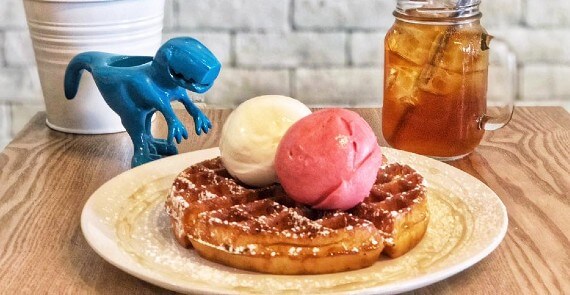 Image Credit: Holy Cow Creamery Facebook Page
Located in the laidback old Yishun town, Holy Cow Creamery does ice cream and waffles like no other! This quaint corner churns out a wide variety of flavors in their very own kitchen, so you know you can trust the experience here. Try their more mainstream Salted Caramel ice cream, or experiment a little with the Grey Earl Lavender flavor. As a plus, this northern joint won't burn a hole in your pocket either.
A. 292 Yishun, Street 22, Singapore 760292
T. www.facebook.com/HolyCowCreamer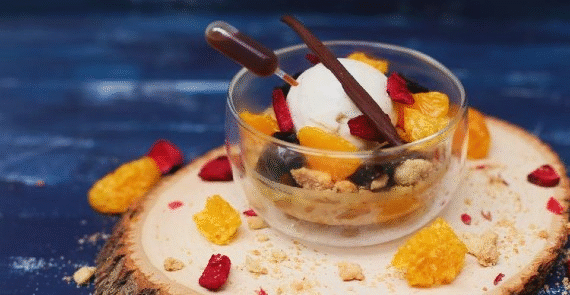 Image Credit: Udders Ice Cream Facebook Page
Started in a tiny shop in 2007 by David and Peck Lin, their motto was to create Asian and alcoholic flavors (why should kids have all the fun) in a cheeky, flavorful avatar! The ice cream served at Udders isn't as sugar and cream heavy, so the natural flavors really shine through. Sample the Mao Shan Wang Durian, a local favorite, or try the booze-heavy Baileys & Bourbon flavor. You can even order a tub (or two) of your favorite flavor home from one of their five outlets with a minimum order of $30.
A. Bukit Timah Outlet, 17 Lorong Kilat, #01-09 598139
W. www.udders.com.sg/home-of-ice-cream
S. www.facebook.com/uddersicecream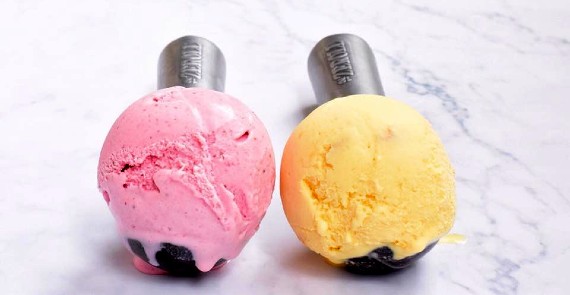 Image Credit: The Daily Scoop Ice Cream Cafe Facebook Page
This one is for all the lacto-vegetarians out there, because The Daily Scoop serves up a range of egg-free flavors, with low-fat milk – so you can stick to your dietary preferences. Grab a scoop of the homemade ice cream in flavors like Lychee Martini, Mao Shan Wang, and the cheekily named oKAYAlah! If there's a flavor you're really craving, place an order online and they'll whip up a batch just for you.
A. Chip Bee Gardens, 43 Jalan Merah Saga, #01-78 278115
W. thedailyscoop.com.sg/#location
S. www.facebook.com/thedailyscoopsg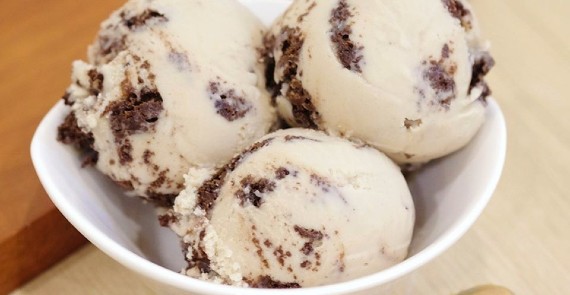 Image Credit: Tom's Palette Facebook Page
The OG ice cream go-to spot since 2005, Tom's Palatte has churned out homemade ice cream using fresh and raw ingredients without the addition of stabilisers, premixes, or artificial flavouring! Go nostalgic with Granny's Favorite, or mix things up with the White Chocolate and Nori ice cream – the Rum and Raisin is also extremely popular! They have island wide delivery, and you can conveniently mix and match two flavors if you can't decide on just one.
A. Shaw Leisure Gallery, 100 Beach Road, #01-25 189702
S. www.facebook.com/TomsPalette
Comments
Singapore's weather usually stays within the range of hot and humid, even during typical 'winter' months, and we know that means – ice cream year-round.
One of My All Time Favorites. Founded in Bangkok in 2012, Creamery Boutique Ice Creams is famed for their freshly-baked, piping hot lava cookies, served with artisanal ice cream! Popular items on the menu include the Choc-a-lot Lava Cookie, and the Salted Egg Yolk Lava Cookie which you can combine with delicious ice cream flavors like Banoffee, Milo Dinosaur, or Berry Ice Cream. Got a birthday coming up? Customise your very own ice cream cake three days in advance and enjoy free delivery across the island on orders above $80. LEARN MORE https://www.expatchoice.asia/shop/ice-cream/creamery-boutique-ice-creams-singapore#
Alongside the Cherry Ripe, Violet Crumble and the Chomp, the Polly Waffle is Australia's Gift to the Confectionery World. Sadly, the Polly Waffle – a chocolate tube full of overly-sugary meringue – met an untimely demise when it was discontinued back in 2009 due to poor sales but howls of anger from devotees. And now one of the stranger aspects to the current global pandemic will see the iconic chocolate return to supermarket shelves. The patent for the Polly Waffle is held by South Australian confectioner Robern Menz who had been planning to resurrect it for some time now. But with a cash injection from the federal government designed to boost local manufacturing, Robern Menz says it will be fast-tracking the Polly Waffle. READ MORE https://www.expatchoice.asia/eat-drink/alongside-cherry-ripe-violet-crumble-and-chomp-polly-waffle-australias-gift