With an incomparable range of restaurants, from traditional heritage to New Wave global fusion, Singapore is undoubtedly a dining paradise.
However, for those who seek something a little more intimate and unconventional, private dining is certainly the way forward. We speak to seven private kitchen chefs who blend their training, travels and heritage together with bold culinary vision and newfound creativity. At Expat Choice, we help break down the parts of Singapore's private dining scene that need exploring.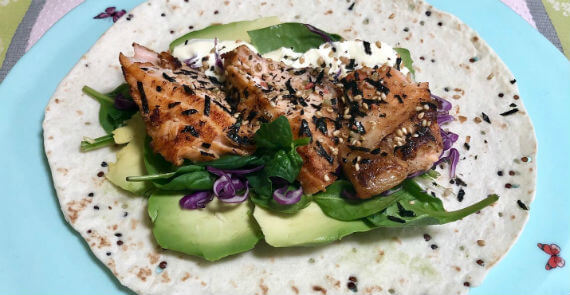 A founding member of the Singapore Symphony Orchestra and a pioneer of private dining in Singapore, Lynnette is all about preserving the taste of tradition. Recreating the flavours of her mother's kitchen was what inspired Seah when she opened Lynnette's Kitchen at her home in the trendy, cafe-jammed Tiong Bahru neighbourhood in 2014."I am a self-taught cook with a sensitive palate and good memory for taste, which helps when I recreate my mum's traditional flavours," says Seah.
"The trick of pulling off Peranakan flavours is in balancing the spices with sour, sweet and savoury flavours, which makes it the most complex of all cuisines, in my opinion," she says.
Her signature favourites include a mix of Peranakan, Indonesian and French dishes such as Spicy Beef Rendang, Grilled Squid with Stuffed Mushrooms, Roasted Lamb and Stewed Chicken and an aromatic Belgian Cocoa-infused Tiramisu.
FB. https://www.facebook.com/lynnetteskitchensg/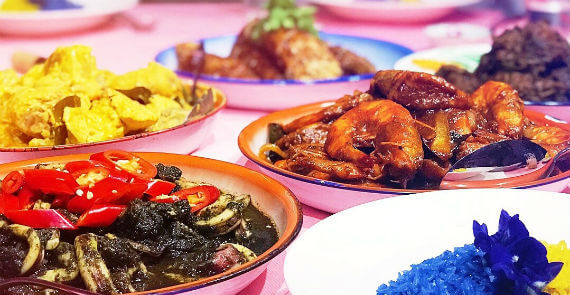 Peranakan cuisine seems to be the rage when it comes to private dining but not all chefs prepare Peranakan with the similar approach. Chef of Pasir Panjang Boy, Tinoq Russell Goh puts personal touches to a cosy, quirkily decorated private kitchen space that recreates an old school kampung (village) vibe.
Goh's kampong-style concoctions, such as ngoh hiang (crispy fried meat rolls), lemongrass chicken and nonya bakwan (a soup made from pork and crab meatballs) are made with produce sourced from wet markets as well as home-grown vegetables, herbs and edible flowers.
"Be it fresh herbs, braised or steamed meat, or the density of vegetables in Peranakan food, everything has to be perfected patiently." says Goh.
IG: www.instagram.com/pasirpanjangboy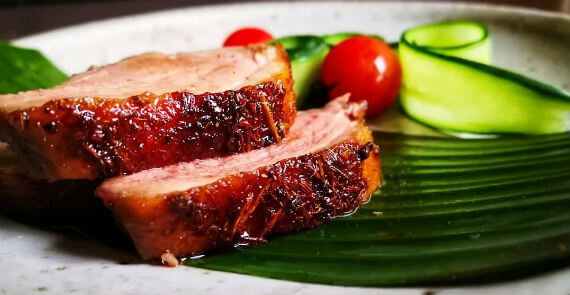 For Shen Tan, she believes the freedom and versatility of a private kitchen allow the creation of cuisine that is truly exceptional. Tan swears by integrating traditional ingredients in order to create something new yet relevant. Her dishes involve a layering of flavours that characterises Peranakan cuisine, with spices from Thailand, Indonesia and Malaysia.
One of her signature dishes is a seafood congee blended with a briny sauce typically used in mee siam (a chilli paste vermicelli noodle). Must trys include her take on nasi lemak, that comes with crispy fried chicken and white bait, and bak chor mee pasta (a twist to Teochew minced pork noodles), blending fettuccini with tossed pork slices.
FB. https://www.facebook.com/OwnselfmakeChef/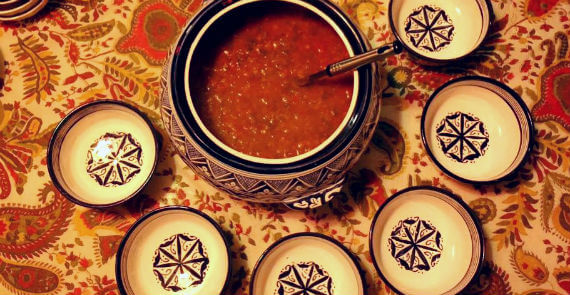 Singapore's cultural milieu is constantly broadening especially when it comes to the food front. This diversification is what inspired television producer turned chef Rose Sivam to create a menu featuring 'cuisine of the world'. At Relishdotsg, dinner could be African, Cajun, Sri Lankan, Indonesian or Moroccan.
"We constantly offer new themes blending food and music. Among the nights I've hosted, highlights include belly dancing with Middle Eastern cuisine, Bollywood night with north and south Indian cuisine, New Orleans jazz night paired with French Creole cuisine, and Shanghainese and Rasa Singapura themed menus," she says. Some of the superb creations of Sivam and her head chef Chris Choo, also her husband, include a tender milk-soft beef rendang, Moroccan lamb tagine and Sri Lankan crabs in a savoury herb-infused sauce.
IG. www.instagram.com/relishdotsg 
F. https://www.facebook.com/Relish.Sg/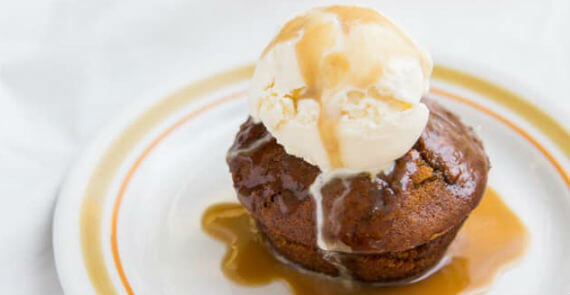 Home Cooking Supper Club by chef Serene Yeo, pays homage to Nikkei cuisine, the food of the Peruvian Japanese community. Asian cuisine such as Japanese and Chinese, have been archetypal offerings in Peru due to an early influx of immigrants. The exotic yet comfortingly delectable dishes that will soothe your hunger pangs include Sea Bass Rice with Yuzu and Green Jalapeno – a Nikkei interpretation of Tai Gohan; Pastels of Chicken with Cream Cheese and Green Olives; Chilli-Marinated Cod Roe and Lumpfish Caviar Spaghetti; and Red Snapper and Seafood Nabe in Soya Milk and White Miso Broth.
F. https://www.facebook.com/serenesupperclub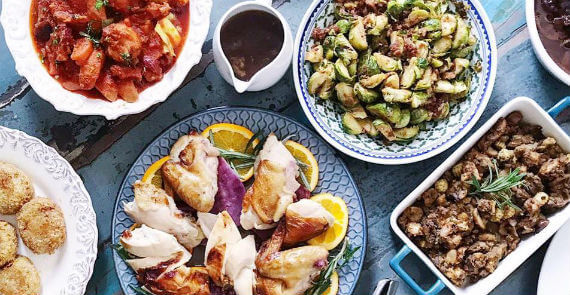 Annette Tan, of mixed Peranakan and Eurasian heritage, is a food writer who turned the tables on her passion, to the kitchen. Again, Peranakan, the cuisine of the Straits Chinese is given a novel twist by fusing Eurasian elements. Be it the succulent Wagyu Beef Cheeks, scrumptious Devil's Pie or the Spicy Biryani Rice, Tan's cuisine is soul food that merges a distinct Peranakan fieriness with hearty Eurasian flavours. The unusual moniker Fatfuku, translates to "fat luck" and echoes the Chinese beliefs of "good fortune through being fat".
F. https://www.facebook.com/fatfuku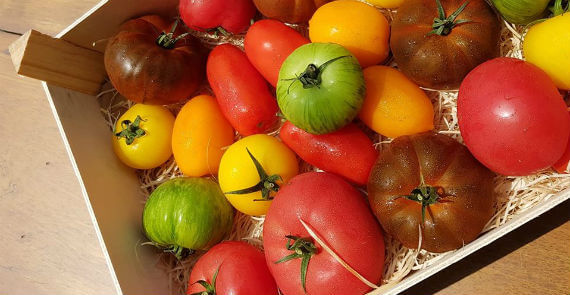 Chef Leong has lived in places as far-flung as Argentina, Germany, Spain, Italy and Hong Kong and brings her breadth of travel to her cuisine. Her "Eat the Seasons" menus – offered throughout the year – include ingredients such as Piedmont white truffle during November and December, and sea urchin between May and July.
"Being able to work with seasonal produce is a privilege … where I can, I try to incorporate as much of the produce of that [specific] region," Leong, who is passionate about menus with a range of cultural influence, says. "When I host my Piedmontese 'Truffle Eats: The Season' dinners, I specially bring back hazelnuts and fassona beef from there. I also source for marbled beef from Argentina, saffron and dried fruits from Morocco and ham from Spain depending on their timeliness."
As Leong is currently sourcing for produce as well as training in Argentina, the next availability for her private kitchen will be in November 2019.
Comments
When tasked to cook the best Chinese New Year dinner, once again The Gluttonous Temptress went far above any of my expectations. The food was absolutely delicious, and our guests were beyond delighted. Bravo, and thank you, Gluttonous Temptress! Julien Arnaud recommends The Gluttonous Temptress on Facebook Finally had the opportunity to dine at Serene's Supper Club and I was definitely not disappointed. Each dish was delicious but my favorites were the beef sukiyaki and the Nikkei seabass with yuzu & green jalapeño rice. Serene has applied her attention to details to her cooking and the entire supper club experience! Had a really fun evening and would totally do it again! EeTeng Lee reviewed Serene's Supper Club on Facebook It's our 1st private home dining experience and Chef Shen didn't disappoint! Not only it was delicious, it was also very beautifully presented. Everyone of us had different favourite dish but I can't decide because they are all so so good! We had such a good time eating, drinking and chatting. If you are looking for a place with good food, relaxed ambience, unpretentious, this is the place to go! Thanks for the great evening, Chef Shen! We will be back! Jan Chia recommends OwnselfmakeChef on Facebook.
Craving some home-cooked food this weekend but not in the mood to fuss around in your kitchen? Let Singapore's growing legion of private home chefs feed you. Violin and cooking are Lynette's true passions in life and she take's much joy in sharing both with friends , old and new. Watch her video above and enjoy everything you learn about this awesome individual.