The Fullerton Spa is a hidden oasis just down a level from the pool complex at Fullerton Hotel Singapore. Awarded Winner of Luxury Business Spa Asia in 2019 by World Luxury Spa Awards, this is true luxury inner city spa and it's the little details that make this experience standout.
On arrival, I am served an eco-friendly carton of Alkaline Water to ensure I am sufficiently hydrated pre-treatment. My therapist then discusses the type of massage I want (I chose Intensive Muscle Release) and explains the different types of oils on offer. The oil I selected was an exotic combination of rosemary (easing pain and tension), lavender (relaxation), ginger (anti-inflammatory) and pepper (toxin reducing) – not a combination I had come across before but it sounded incredible and I was eager to try it.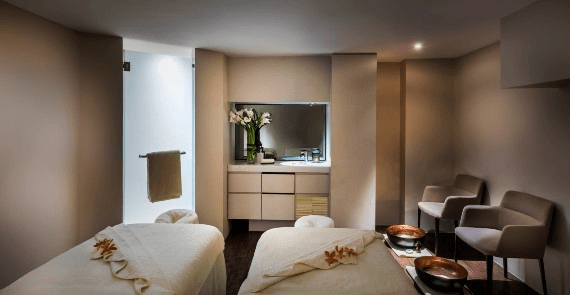 Not passing a single soul, we move down to the therapy room and I get changed for the treatment. The treatment begins with the all-important and indulgent foot cleanse, the warm soothing water inducing immediate relaxation, allowing my mind to unwind. I then move onto the welcoming massage table, firm but comfortable and adorned with thick, luxurious towels. It has the added special touch of being heated (a must for me as I am too often cold in treatment rooms) and it's not long before I am in state of pure bliss.
My therapist, who has been working there for six years, adeptly and expertly works her way around my body using Swedish and cross muscle fibre techniques, along with stretching and draining that effectively removes any pain and tension. It is not often I fall asleep during a deep tissue massage, but somehow I find myself dozing off – the combination of techniques, oils and pressure, along with the calming ambience is providing the ultimate relaxation experience.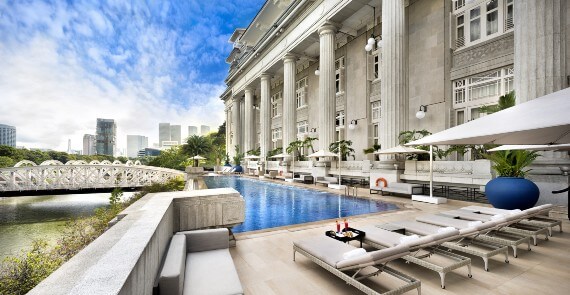 When the treatment comes to an end, I feel restored, regenerated and deeply relaxed. I indulge a little further by using the sauna and steam room facilities to finish this luxurious, pampering afternoon. An all-important opportunity to get some "me time" away from the stresses of family, work and life in general.
A final point to note, I found the treatments here extremely well-priced given the quality on offer, with 60 minute treatments under $200 and many express treatments under $100, it is definitely 5 star spa luxury at an appealing price point.
Guests can look forward to a comprehensive range of restorative treatments at The Fullerton Spa, including the Asian Heritage Signature (90 minutes, S$260++), consisting of a stress-relieving scalp massage and deep muscle massage, as well as The Fullerton Signature Facial (60 minutes or 90 minutes, from S$220++), an innovative treatment that rapidly transforms the visible health of one's skin.
The Fullerton Spa also offers the Men's Deep Cleansing Facial (60 minutes, S$200++) tailored to one's unique skincare needs, as well as a selection of Express Treatments (up to 30 minutes, from S$90++), ideal for time-strapped individuals or those seeking a quick refresh in between appointments.
For the ultimate indulgence, the Hero Treatment (90 minutes, S$320++) takes one on a highly personalised wellness journey that combines a targeted back, face and scalp massage with the purest aromatherapy oils – delivering an end-result of complete relaxation and radiance.
INFORMATION
ABOUT THE AUTHOR REBECCA (WATSON) ASSICE
Founder and Director of Virtual Room in Asia Pacific. The future of entertainment is now here with Virtual Room – the world's best team-based virtual reality experience located right in the heart of Chinatown, Singapore. ​​​​​​​Expat Choice readers enjoy a 15% discount when you book Virtual Room experiences with code EXPATCHOICE15 and receive a 15% automatic discount when booked online at https://singapore.virtual-room.com/booking/