Video Credit: Expat Choice TV, Main image Credit Tim Cushway:  Bawah Private Island is connected to Singapore by its own seaplane. 
"Travel is never a matter of money but of courage" – Paulo Coelho
Indonesia is a country with beautiful flora and fauna, beaches and private islands for your perusal. Yes, it is possible to stay at one of these untapped islands privately for as long as you like and there would be no one to disturb you, and indulge in Indonesia yoga retreats. It would be very romantic to have your better half with you as you get lost in your thoughts staring at the mighty green forests, the vast blue seas and more in the Indonesia islands.
Here are nine of the best private and untapped Indonesia islands that you would find around Indonesia for your pleasure.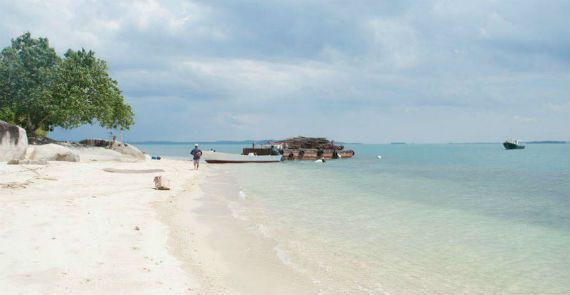 If you are a nature lover, then it would be Cempedak where you should be heading. This place will offer you an experience that will long be etched in your mind and soul. Bamboo is the primary building material in the island and there is a lot of focus on sustainable growth and eco-development in this island, which protects the ecosystem of the island. You can go on guided walks and maybe would see some rare species and endangered animals, such as sea otters, hornbills, pangolins and sea turtles too. If you are travelling with family, there is a lot to do with some bonding time here. Kids can splash about in the wading pools, and there is also a private cinema which is perfect for some intimate time and snuggling.
Snorkeling, sailing and kayaking can be done in any part of the world, but when it comes to the experience you get for the same at Pangkil, there is none to match the same. Here you get the island to yourself with all the vast water surrounding it. You can stay in one of the cozy Pangkil's 9 Driftwood Palaces that has been made out of logs salvaged from the surrounding islands and the sea. And if you are more adventurous and want to chill more, there is always a leisure stroll that you can take on the jungle track, which is also perfect for jogging.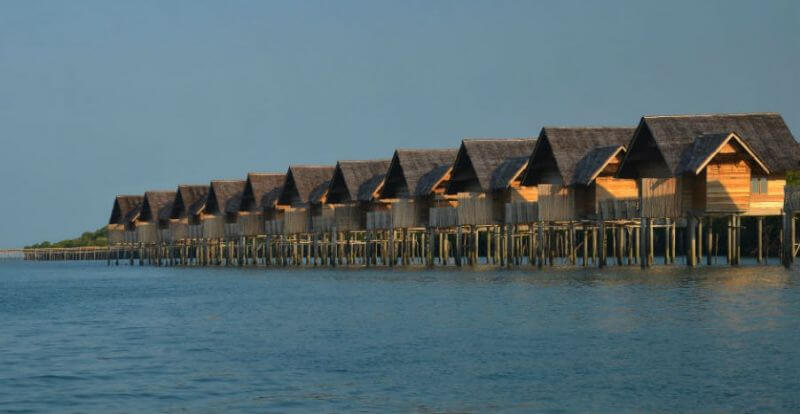 This island is located just an hour and a half away from Singapore's hustle and bustle city life. Telunas resort is a paradise to be at, a whole new world away from the noise and crowd of the city. Here you would find over water villas which as all over the island, and you get to have the stunning views of the sea from them.  You can sleep, dine and even enjoy your massages directly above the sea waters in these special stilt houses. You don't only get to immerse your senses in these beautiful waters of the sea, but you get a total rejuvenation experience. If you love hiking, you can request the local guide to take you on a ten kilometer route which leads to the Black Pool Waterfall of Teluna.
The main attraction on the Raja Ampat Island is truly the waters it holds. You can stroll along the white powder beaches and feel the sand between your toes as you take in the splendors of the mighty sea that spans out into the vast horizon beyond. There are water activities that you can participate in, such as snorkelling and diving, and you get to see an exclusive glimpse of the beautiful coral reefs as well. You can also see the release of baby turtles, or go on a village trip, and even attend a cooking class by the locals to learn how to make their cuisine.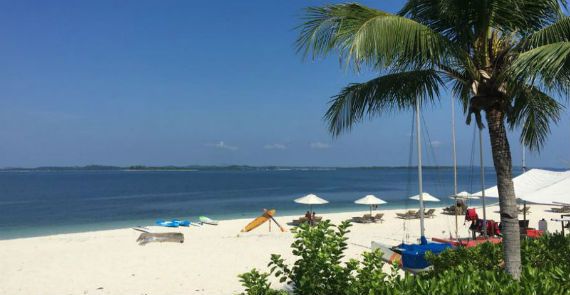 If peace and tranquility is what you are looking for, then Nikoi Island is the place to go. Here you get to relax and unwind amidst nature and the beautiful flora and fauna. Some serious relaxation is what you would have while you bask in one of the beach villas on Nikoi island. This place has all the serene seaside spots for you to enjoy your own 'me time' at. This is a gorgeous island and a private one too, so there are no chances of you being disturbed at all. If you are adventurous, you can island hop, or maybe go windsurfing and there are nature discovery tours that you can attend too.
In Sanskrit, Amanwana means a peaceful forest. This place is known to be a wilderness which is a hideway on the well-known Moyo island of Indonesia. Over here, you can be fully expected to be surrounded by Mother Nature, as you chill out, unwind and relax. This is an experience that you would never ever find in the bustling city life. The island is blessed with beautiful turquoise waters and enchanting reefs of the Flores Sea which is just ten minutes away. You also get to experience some of Indonesia's best snorkelling spots and scuba diving sessions too. Thus, it makes a great getaway for diving enthusiasts. There are hiking trails to follow that crisscross the jungle and you can witness the animals in their natural habitat too. And if you are looking for an intimate time with your partner, you can go on a romantic midnight cruise on the starlit waters of the famous Amanwana Bay as well.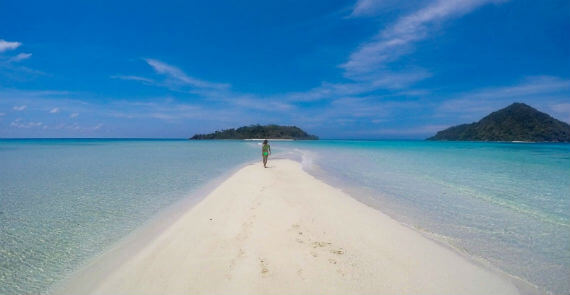 Image Credit: Tim Cushway
Bawah is known for the clearest and the prettiest waters ever to be found in Indonesia. Perfect for shoots, this place is where you can live your Disney Princess dream and be Ariel, taking a dip into the waters of the beautiful sea. If you want to fully experience the bounty of the gorgeous waters, there are many water sport activities that you can partake in, such as sailing, snorkelling, and diving. Even if you are not too much into water sports, you can laze around all day or frolick in the sea. To make this trip more romantic, you can even sit under the night sky and star gaze for long.
Isle East Indies is a small island compared to the rest we have spoken about, but it is not less impressive to say the least. You would feel as though the world is your oyster here, when you set foot on this island and take a stroll along the private islands perimeter. The Isle East Indies is a haven for all things artsy and handicraft like, and you would find that to be true when you see the interiors of the resorts, which incorporate traditional Indonesian motifs and patterns.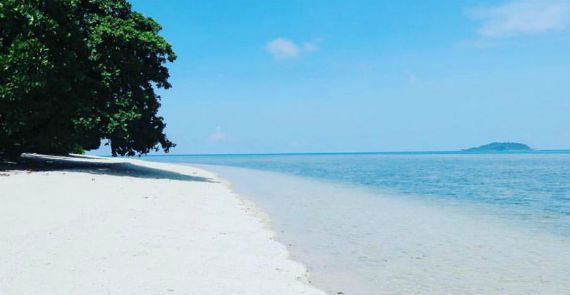 Pulau Joyo is an idyllic beach getaway for those who seek fun and adventure for the family or even solo. There are a lot of activities that you can do here, such as beach volleyball and shell hunting, kids can be sent of to the Kids Day Club as you and your partner dine by the sea and enjoy the sunset. There are customized packages for all your needs at Pulau Joyo. You can have a romantic beach wedding here or have corporate retreats and even yoga retreats here as well.
In a nutshell…
If you have not visited one of these untapped private islands in and around Indonesia, the time is now to book yourself into one of them. Apart from  Bali yoga retreats, there are many other things that Indonesia has to offer, and we hope you discover them all.
Comments
Moyo Island, Indonesia offers unspoiled, pristine beaches and crystal-clear waters, incredible marine life and beautiful coral reefs – Moyo Island is a snorkelling and scuba diving dreamland. In addition to its gorgeous beaches, Moyo is about two-thirds a game reserve, inhabited by wild boars, oxen, deer, and a huge variety of bird species. Amanwana is the only accommodation on the island, a resort boasting 12 luxury tents – some of which come with an unparalleled ocean view. Relax with their waterside spa experiences, go diving with experienced instructors, or board their yacht for an adventure into the Indonesian archipelago. Rates here start at SGD 1,245 per night. https://www.aman.com/resorts/amanwana
Bawah Reserve, Indonesia is an 80-minute journey from Singapore by private seaplane will get you to the Bawah Reserve, which is situated on what is said to be the most beautiful island in the Anambas archipelago. The island activities are a sea-lover's dream, from stand-up paddle boarding, to kayaking, snorkelling, diving & sailing on the transparent, dazzling blue water that surrounds the island. You can also spend your days hiking one of the three trails, or lounging in their infinity pool. At night, you'll be able to witness a spectacular sky full of stars as you lounge at their beach cinema, or enjoy some delicious food with an unmatched view of the sunset. As far as accommodation, there are five different options to choose from, the most sought-after being the Overwater Bungalow, which stands on stilts in the ocean and is accessed by a private walkway. Enjoy 360-degree views from your private veranda while you sip on a delicious cocktail. Rates start at USD 1,980 for a Garden Suite. https://www.bawahreserve.com/