Image Credit: Robbery At the Museum Smoke & Mirrors
Renowned destination rooftop bar Smoke & Mirrors welcomes the arrival of new Head Bartender Jorge Conde and the launch of his creative cocktail menu, Illusion of Flavours.
Developed by Jorge, the list consists of sixteen progressive drinks that combine artistry and chemistry, inspired by classic cocktails.
With over fourteen years of industry experience and a background in graphic design, Jorge has a keen eye for detail, a love for art and a curious spirit about the world around him.
Drawing from his training in bars across his home country of Spain and his experience in London before moving to Singapore, Jorge provides world-class warmth and hospitality to every guest. 
With his endless creativity and flair, he has curated a collection of cocktails influenced by his love for the arts that stay true to the Smoke & Mirrors name, combining spirits and magical illusions while pushing the boundaries of expectations with modern techniques.
"For this menu, my goal was to reimagine classic cocktails, focusing on traditional flavour profiles and exploring new ways to create them," says Jorge,
"By using techniques such as distillation, preservation and fermentation, we are able to create unconventional combinations that will surprise and intrigue our guests.
I find that people often have preconceptions about how a drink will taste, and I wanted to challenge those expectations with our drinks.
While the presentation may appear to be simple, the flavour profiles are quite complex and layered, evolving as you enjoy the drink. As you may expect from the name, there is more than meets the eye." 
"Illusion of Flavours" is divided into six categories, each featuring a selection of cocktails inspired by different flavour sensations. Bringing the menu into the digital age, QR codes for top cocktails invite guests to discover more about the preparation if they choose.
Art is a consistent theme of the menu, with cocktails paying homage to renowned classics which have inspired Jorge such as Andy Warhol, Pablo Picasso, Salvador Dalí and Vincent van Gogh. A few favourites include:
Fizzy & Elegant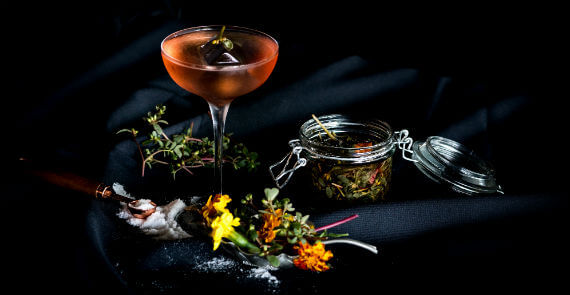 Image Credit: The Heart of Vincent Smoke & Mirrors
The first section of the menu features offerings such as the agave-based The Heart of Vincent (SGD 28), inspired by a famous quote from The Letters of Vincent van Gogh. "The heart of a man is very much like the seas. It has storms, it has its tides, and, in its depths, it has its pearls too." Savoury elements are woven throughout the drink with a depth of flavours from sea salt, quinine, sparkling wine and pickled purslane, an edible local succulent plant.
Sour & Neat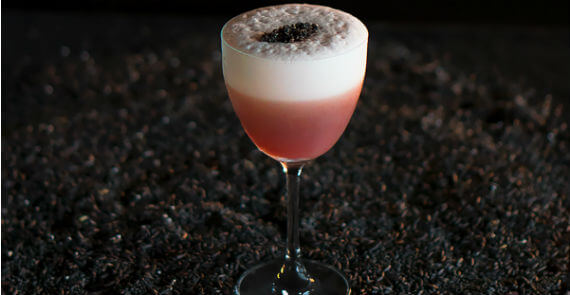 Image Credit: The Japanese Gang Is Still Alive Smoke & Mirrors
The traditional acidic component of cocktails comes to life through unexpected ingredients in this section, exemplified in The Japanese Gang is Still Alive (SGD 25), an experimental twist on a whiskey sour infused with local ingredients. Black sesame and black rice are used in two forms, first fat-washed with butter and whiskey, then dehydrated and repurposed as a garnish to give an additional layer of texture. Adding rice vinegar and aquafaba – a substitute to frothy egg whites – the resulting combination comes to life with bubbly effervescence as the drink is enjoyed, evolving the overall flavour profile which every sip.
Long & Refreshing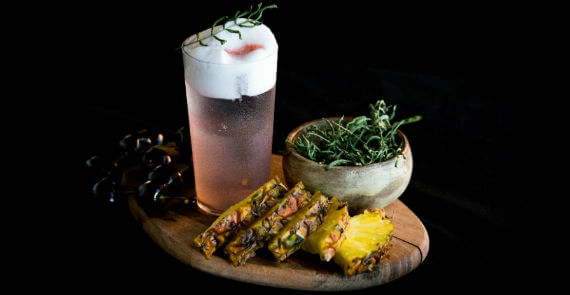 Image Credit: Robbery At the Museum Smoke & Mirrors
Putting a Smoke & Mirrors spin on the classic Singapore Sling, Robbery At The Museum (SGD 28) introduces several variations of sour cherry to the traditional mix of gin and pineapple. Maraschino liqueur, cherry brandy and house-made cherry bitters blend with gin, local herbs, fermented pineapple and a fizzy foam of aquafaba and soda water for a playful take on the local favourite.  
Savoury & Umami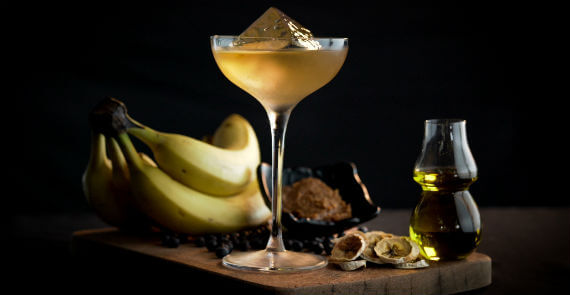 Image Credit: Peel & See Smoke & Mirrors
Moving in a more culinary direction, this section features the banana-infused Peel and See (SGD 28), inspired by Andy Warhol's iconic piece for The Velvet Underground. The unlikely combination of banana, miso and olive oil are integrated into the gin base through a multi-step process of sous vide, dehydration and fat-washing, then combined with quinine aperitif and served with an additional dash of olive oil for garnish.
To Be Continued…
Constantly playing around with new concepts and techniques, Jorge sees the launch of "Illusion of Flavours" as just the beginning. The menu will evolve over time, continuing to entice guests and push the boundaries of creativity.
Comments
If you've not been to Smoke & Mirrors it's time you did. Positioned on the rooftop of the Singapore National Art Gallery, the views as you can imagine are breath taking. I was there to taste the new "Illusion of Flavours" cocktail menu and meet the new Head Bartender, Jorge Conde. I couldn't have timed it better! Arriving at 6pm to enjoy a few cocktails as the sun was about to set was the way to do it. Calm and soothing over the street bustle below it is a little oasis tucked away above the madding crowd. Jorge produced his first creation Jack of the Jungle. While this was sweet I wasn't too worried about the sugar spike, as it was made from sugar cane spirit and 48th fermented agave. Smoke & Mirrors have created a small distillery in the back where Jorge does his magic. From a very varied background Jorge started off as a graphic designer, mixed cocktails in a part time job and played trombone in a jazz band. He believes that creating cocktails is like creating a brand and therefore creating an experience. Feeling totally spoilt as I had 16 cocktails to choose from, I decided to continue with the Le Paix 75. It had citrus notes with a gin infusion, sparkling wine and a green olive. Great drink if you are like me, preferring a dry tone rather than sweet. Martini lovers this would be a must try. Smoke & Mirrors also presents delicious bar bites to complement the cocktails. Roast pork perfectly done, was very welcome as it absorbed the strong alcohol well. I had some salt and pepper calamari and truffle fries too that were amazing and I would highly recommend. Something quite unique to me was the savoury and umami cocktails. I had always kept away from cocktails fearing the high sugar content so I decided to try The Farm is Burnt. Seeing the flamboyance of Jorge behind the bar and his deep creativity in distilling flavours, he was also inventive with names. This cocktail at Smoke & Mirrors was unlike anything I had tasted before. Bloody Mary fans would love this. A spicy variation with unexpected additions such as fermented tomato, radish brine and smoky mezcal combined with celery, spices and chipotle, I loved the spicy notes. Made me want to eat more so that was the danger in this cocktail! By this time the sun had set and it was time to go. Short and sweet though it may have seemed I felt it I had been there for hours. From the six categories available, there would definitely be something for everyone. If you'd like a full sensory experience I would recommend a visit to Smoke & Mirrors. You will enjoy the music, food, drinks, ambience and hospitality from a true professional!
What are people saying on social Media about Smoke & Mirrors? Vidya R. Pillai reviewed Smoke & Mirrors – 5 star on Facebook: Smoke and Mirrors is one of the most memorable bars I will ever visit. The location offers a stunning panoramic view of Singapore's skyline. Be sure to make a booking for a balcony view. The menu hosts wildly creative cocktails that were designed by each of the very accomplished bartenders working there. The bartenders will come to your table and explain the creative process behind the cocktails you ordered. Each ingredient in a given cocktail is well considered intricately prepared, and oozing with conceptual depth. Every cocktail we ordered was nothing short of spectacular. Compliments to Kavinn for presenting our drinks. Hats off to Yugnes for envisioning a hell of a bar Smoke and Mirrors truly is the quintessence of creativity. Nicolas Travis reviewed Smoke & Mirrors – 5 star on Facebook: Location and view aside, the thing that makes Smoke & Mirrors so special is the great staff and their attention to detail. From the menu to the level of service. It's the perfect location to bring any friends who are visiting - never fails to impress! Satha Shelby Shivam recommends Smoke & Mirrors on Facebook: On top of the picturesque views and delectable selection of drinks, the service was excellent. Staff were attentive, (and particularly the lovely lady who was at the door this evening) went above and beyond to accommodate us and ensure we had a wonderful time. Will definitely be back!